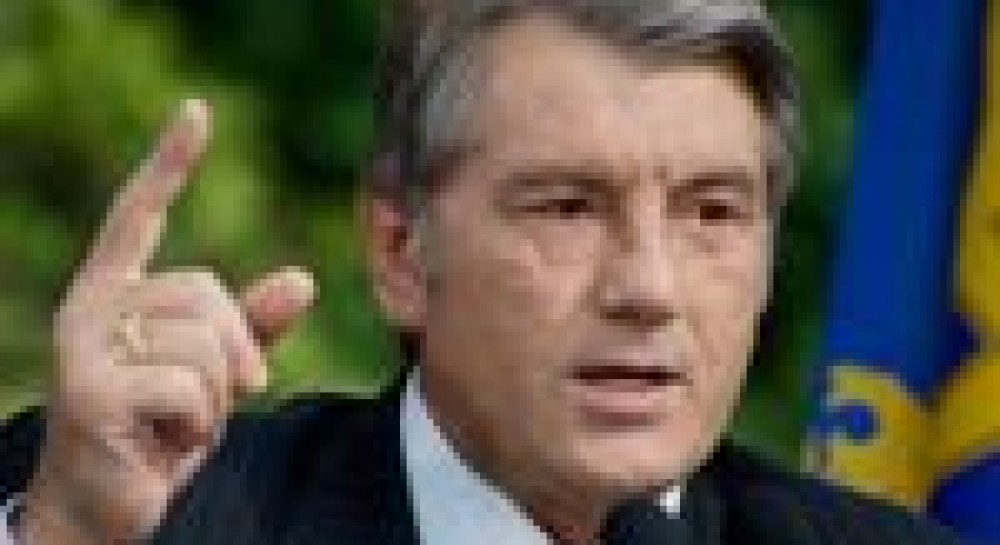 Yushchenko Unrepentant as Ukraine Sours on Orange Revolution
15:09, 22.09.2009
3 min.
3446
Ukrainian President Viktor Yushchenko swept into power five years ago at the head of an Orange Revolution that promised national revival. Now he is...
Ukrainian President Viktor Yushchenko swept into power five years ago at the head of an Orange Revolution that promised national revival. Now he is running fourth in polls as voters blame him for political paralysis and a collapsing economy.
Even as he faces likely defeat in Jan. 17 elections, Yushchenko offers no regrets. He casts his rivals, Prime Minister Yulia Timoshenko and pro-Russian leader Viktor Yanukovych, as "populist" vote-chasers and himself as a champion of unpopular truths about the need for an independent national identity.
"I say words that many don't like, but I won't give up," said Yushchenko, 55, in a Sept. 17 interview in his Kiev office. "If a lot of people don't agree with you, that doesn't mean that you are wrong. Either you aren't popular but deliver a strategic service to the nation, or you dream about elections."
Others say the unrelenting enmity between the president and his adversaries has created a deadlocked government and exacerbated the former Soviet republic's economic troubles.
"This disunity and continual political infighting is setting back the cause of reform and the ability of the country to consolidate its independence and stand comfortably on its own two feet," said John Lough, an associate fellow for Russia and Eurasia at the London-based research group Chatham House.
Parliament has been dissolved on two occasions in the past two years, Russia has twice shut off the country's natural gas supply and the European Union is withholding concrete promises of membership talks.
Economic Woes
The Ukrainian hryvnia has shed 45 percent against the dollar in the past year, the worst-performing of all currencies tracked by Bloomberg. The economy contracted 20.3 percent in the first quarter, the most for all 32 European countries tracked by Bloomberg. Inflation -- 15.3 percent in August -- is the highest of any European country tracked.
Investors have noticed. Elena Suslova, a Moscow-based portfolio adviser with Wermuth Asset Management GmbH, said Ukrainian investments represent only 2 percent of the $250 million in assets under management that she advises.
After a surge of interest in Ukraine after the 2004 political upheaval that brought Yushchenko to power, Wermuth Asset Management in early 2008 advised its funds to stop all projects in the portfolio for now, Suslova said.
High Risks
Ukrainian voters have also noticed. A poll released Aug. 10 by the Kiev-based Razumkov Center, a research institute, showed Yanukovych, head of the opposition Regions of Ukraine political party, with 21.7 percent, followed by Timoshenko with 13.2 percent, former parliamentary Speaker Arseniy Yatsenyuk with 10.9 percent and Yushchenko with 4.2 percent. The margin of error was 2.3 percentage points.
An unpublished poll by Washington-based PBN Co., an advisory firm for business leaders, investors and governments in eastern Europe, showed a similar result, with Yushchenko in fourth, according to figures provided by Myron Wasylyk, managing director of PBN's Kiev office.
"Five years ago, I believed my country had a chance and was so proud of it and now I am very disappointed," said Lyudmyla Telnyuk, 63, as she waited for her granddaughter at a Kiev music school.
"Yushchenko has been trying really hard to restore Ukrainian culture as well as people's memories of Ukraine's real history, but fights between all these politicians stole away everyone's attention," Telnyuk said.
Ukraine has made some progress, Wasylyk said. It joined the World Trade Organization, the poverty level has dropped to less than 20 percent from 45 percent in 2004 and a free press has emerged, he said.
Falling Jobless Rate
Unemployment fell to 6.9 percent in 2008 from 9.2 percent in 2004, using International Labor Organization standards, Ukrainian state data shows. The International Monetary Fund projects a 2.7 percent growth rate for 2010.
Yushchenko took credit for the progress, saying in the interview: "Today, Ukraine is another country, a country used to the freedom of speech and freedom of choice. That is due to my policies."
Yushchenko spoke about his battles with his adversaries in his high-ceilinged office in the center of Kiev, adorned with a large portrait of Ukrainian writer and painter Taras Shevchenko. He and Timoshenko, 48, have clashed over her push to raise social spending and his demands for budget cuts. Next year's budget deficit, Yushchenko said, may reach 12 percent of gross domestic product.
The prime minister has already started her presidential campaign, with billboards around Kiev that say, "They are blocking, she works."
'Won't Give Up'
"I don't think about elections, I think about my kids -- what country I am going to leave them?" the president said. "I say words that many don't like, but I won't give up."
Yushchenko spoke about the tensions during his tenure between Ukraine and Russia, which opposes Ukraine's stalled bid to join the North Atlantic Treaty Organization.
Russian President Dmitry Medvedev last month said he hoped to rebuild ties under "Ukraine's new political leadership" after the elections. Yanukovych blamed Yushchenko for "poor relations" with Russia in a Sept. 19 campaign speech posted on his Web site. He said he shared Medvedev's view that under the current "authorities it is impossible to improve ties."
Yushchenko said that Russia "will have less influence on the January presidential elections. But it is not because they are now less interested and their desire is less. It is only because my nation became more independent."
His face still bears some of the scars from an illness during the 2004 presidential campaign that he said was caused by poisoning from dioxin produced by Russia, a charge Russia denies.
Though Yushchenko didn't mention Yanukovych, 59, by name, he made clear he knows he is far behind him in the polls.
"High ratings are easy to get," Yushchenko said. "You just play populism games and it's there. That is not my way."
By James M. Gomez, Daryna Krasnolutska and Halia Pavliva, Bloomberg