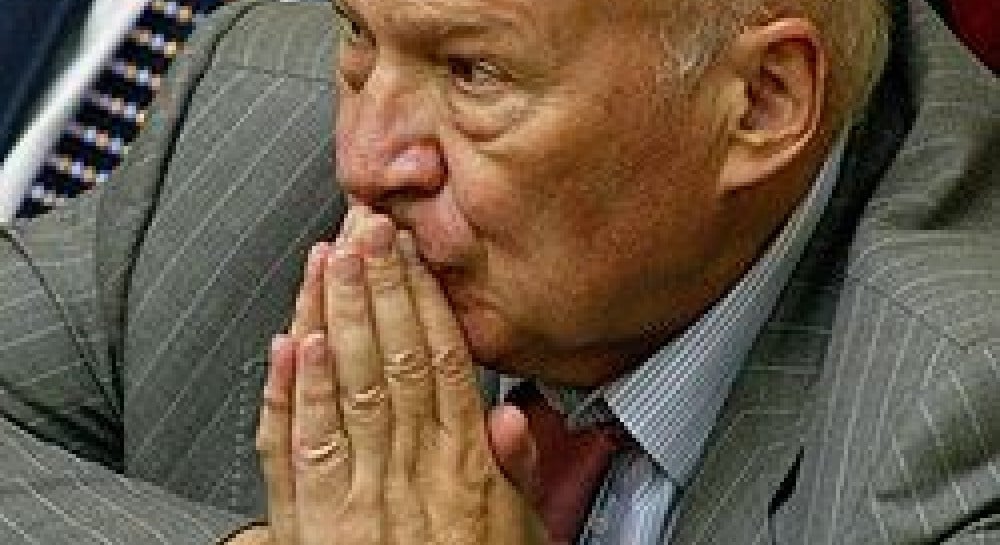 Volodymyr Horbulin: Tymoshenko and Our Ukraine are finished with each other for ever
13:46, 22 January 2007
5 min.
1775
Volodymyr Horbulin, an adviser to Ukrainian President Viktor Yushchenko, has said that the country is far from being a parliamentary republic, despite the recently passed law on the Cabinet of Ministers. 
Volodymyr Horbulin, an adviser to Ukrainian President Viktor Yushchenko, has said that the country is far from being a parliamentary republic, despite the recently passed law on the Cabinet of Ministers.
However, speaking in an interview, Horbulin said that the law violates segments of the constitution. Horbulin also said he does not believe the National Security and Defence Council should be demoted in status, as progovernment deputies are inclined to think.
The following is the text of the interview with Horbulin by Olena Yakhno, entitled "Volodymyr Horbulin: Tymoshenko and Our Ukraine are finished with each other forever", published in the Ukrainian newspaper Den on 17 January; subheadings have been inserted editorially:
Volodymyr Horbulin is an experienced political fighter, one who has practically never disappeared from the Olympus of domestic power. Various presidents, prime ministers and speakers have listened (or not listened) to his advice.
Horbulin was one of the most influential figures of the early [Leonid] Kuchma presidency (and of course, that comes with its own accountability). He was also of help after the Orange Revolution. And that is not surprising: he is too experienced to not be able to demonstrate his exceptional use to anyone in power.
In the heat of the Orange events, Horbulin did not visit the Maydan [Independence Square in Kiev, the focal point of popular protests in late 2004] and he did not swear an oath of loyalty to democratic values to the people.
He brought attention to himself in another way, by publishing a devastating reply to Russian political pundit Gleb Pavlovskiy after the latter allowed himself impolite jabs at the new, Orange, authorities.
In this way, Horbulin showed his loyalty to Viktor Yushchenko. The president took note and, as it turned out, he did not forget.
In March 2005, Horbulin became an aide to Yushchenko, and at the end of November 2005, the president appointed him leader of the main defence policy service in the presidential secretariat.
Today, Volodymyr Horbulin is celebrating his birthday. He is 68. Den congratulates Volodymyr Pavlovych [Horbulin] and wishes him to remain a full-fledged player in Ukrainian politics.
NOT A PARLIAMENTARY REPUBLIC
[Yakhno] Mr Horbulin, everyone is caught up in the latest events which transpired in parliament. After the veto on the law on the Cabinet of Ministers was overcome, can one say Viktor Yushchenko really has become "an English queen", and Ukraine has become a parliamentary republic?
[Horbulin] Unfortunately, for some reason we are only capable of extremes and see the situation exclusively in two colours: black and white.
In fact, there are a myriad of shades which allow one to look at everything going on in a much deeper and more interesting way.
I do not see what happened on Friday [12 January] as the president getting the status of an "English queen". Moreover, I categorically disagree with this.
As far as a parliamentary republic is concerned, we are far off from that. I think we are in for a process of difficult moments of negotiation which will determine the final status of our country (I do not mean roundtables).
[1] Because adopting a law in which norms of the constitution are violated does not allow one to ink a full stop. Or an exclamation mark, as many are now doing. It doesn`t seem to me that this process is complete. It will develop on its own and I do not think it will be easy. That is first.
[2] Second is a no-less-serious moment. What happened on Friday practically allowed us to get three documents which are needed to one degree or another for a clear system of division between the branches of power to function in the country.
It is another matter that it was done with certain excess. It is clear under the current constitution that no-one besides the president has the right to introduce the prime minister`s candidacy.
That is undoubtedly a violation of the constitution, as is the introduction of the candidacies of defence minister and foreign minister. But I think this is temporary.
COMPLICATED PROCESSES AHEAD
In my opinion, we are in for a long, complicated process in the Constitutional Court, in which the winner will be the one who finds the necessary arguments. I would rather not comment on everything in brief. To agree or disagree.
I am against simplified systems. And there cannot be any such systems here. I also do not think that the joyful cries of members of the Party of Regions, made when the veto was overridden, were a funeral march for the president. That is a premature verdict. I think it will be refuted in reality.
[Yakhno] How would you comment on the vote by the [opposition] Yuliya Tymoshenko Bloc [which backed the law] ?
[Horbulin] Tymoshenko did what she wanted to do. For her, this was a boundary which she crossed. Now she and [propresidential, opposition  party] Our Ukraine are finished forever.
I think [her] relationship with the president is over as well. If there was some chance to renew dialogue before, then I think that today there are no more chances.
[Yakhno] The Party of Regions is now voicing statements about the possibility of liquidating the National Security and Defence Council [NSDC]. As a former secretary of this institution, can you predict the likelihood of such a scenario coming to pass?
DEFENCE COUNCIL IS VITAL
[Horbulin] That is yet another stupidity which is brought on by the emotional lift which has captured the Party of Regions. An NSDC is a body which exists in practically all civilized states.
I once laid the foundations of this body. Its unique status and composition provides for working out a consensus among the political elite on issues of vital importance to the country`s development. The council`s activity is foremost directed not at the interests of any specific political forces, but at realizing general, national tasks.
The NSDC is the highest body in the state providing definitions for the strategic priorities of state policy in the sphere of national security and defence. The council and its apparatus resolve unique tasks which lie beyond the remit of the rest of the state`s bodies.
We are talking foremost about inter-institutional coordination as well as informational-analytical activity in the sphere of providing national security and defence in issues of extreme importance which are at the same time ticklish, issues like intelligence and counter-intelligence, internal politics, the military, foreign policy, economic security and so on.
I can say that in 1996, the post of secretary was not included in the constitution only because I had extremely difficult relations with most of the MPs in parliament. They also once introduced suggestions directed at stopping the work of the NSDC.
I don`t know if they were formulated as laws, as MPs [Yuriy] Miroshnychenko and [Vladyslav] Zabarskyy are trying to do now. But in light of the growing rivalry between the NSDC apparatus and part of the parliamentary body, such suggestions have been voiced more than once in the session hall.
Those changes did not pass then, and I do not  think they will pass now. The building of serious state institutions cannot hung exclusively on the will of one political force.
[Yakhno] How would you comment on Volodymyr Radchenko`s appointment as deputy prime minister of security?
[Horbulin] I am positive about this appointment. Because he is a wise man who has graduated through all the faculties of government building in the sphere of security. And his presence in any post associated with designing our uniformed agencies will be positive.
[Yakhno] But experts are saying Radchenko we be a counterweight to current NSDC Secretary Vitaliy Hayduk. Do you agree with that?
[Horbulin] In order for the deputy prime minister to be a counterweight to Hayduk, they need to find someone else, not Volodymyr Radchenko. I have  a very high opinion of his personal and professional qualities.
[Yakhno] You are an aide to the president. Does Mr Yushchenko often  approach you for advice? Can we say Volodymyr Horbulin is influencing  the situation in the country today?
[Horbulin] No, the only pulpit I have is the meeting of the NSDC. There I voice all my suggestions, which I think are constructive.
[Yakhno] But still, what advice would you give the president right now?
[Horbulin] I would give this advice to all: you need to work more and talk less, independently of a given post. And I think the tugging back and forth on the rope of power, which has artificially been created between the presidential secretariat and the cabinet, does nothing to make either the government or the secretariat look good.
You don`t need to tug on the rope, but you need to look for ways to solve the multitude of problems which Ukraine is facing today
This article was monitored by the ArtUkraine Monitoring Service for the Action Ukraine Report, E.Morgan Williams, the editor.
INTERVIEW: With Volodymyr Horbulin, Advisor to Pres Yushchenko

BY: Olena Yakhno, Den, Kiev, Ukraine, in Ukrainian Wed, 17 Jan 07

BBC Monitoring Service, United Kingdom, Friday, Jan 19, 2007
If you see a spelling error on our site, select it and press Ctrl+Enter