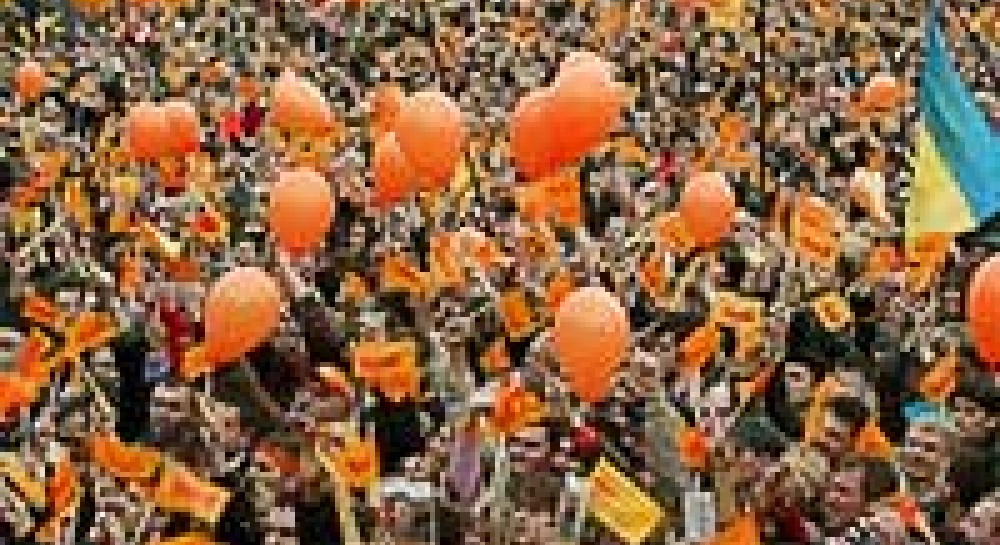 Faded orange: why the hero of Kyiv faces peril at the polls
18:54, 24 March 2006
7 min.
1226
For Yushchenko, the polls are a crucial test of his efforts to build a stable democracy and open economy, to counter Russian influence by  promoting ties with the west, and to ease the country`s...
Viktor Pynzenyk, Ukraine`s finance minister, is quietly explaining the finer points of tax reform when suddenly the sound of pop music comes booming through the windows of his office.
It is so loud that Mr Pynzenyk has to raise his voice to explain: "They go on all day. In principle, they should not disrupt the work of the government but they try. I`m used to it."
"They" are a crowd of about 100 demonstrators who are taking advantage of a new-found freedom of expression to brave the cold and camp outside the main government building in central Kiev. The protesters, in place since early February, intend to stay until after Sunday`s parliamentary elections.
Yuri Baibula, a 32-year-old protester, says their complaints centre on an unfavourable contract for gas supplies from Russia. But the underlying sentiment is disappointment with the Orange Revolution that 15 months ago brought president Viktor Yushchenko to power. Mr Baibula says:  "We still support Yushchenko but we do not support his government."
For Mr Yushchenko, the polls are a crucial test of his efforts to build a stable democracy and open economy, to counter Russian influence by  promoting ties with the west, and to ease the country`s deep social and  political divisions. The results could shape Ukraine for years: under a  constitutional deal completed during the upheaval, much of the president`s  authority is being transferred to parliament, including the power to appoint  the government.
Unlike in neighbouring Belarus, where the dictatorial Alexander Lukashenko was re-elected president by a landslide in a fraudulent election last Sunday, Ukraine`s polls offer voters a free choice and the prospect of an honest ballot, although some abuses are expected at local levels.
Yet democracy means Mr Yushchenko can take nothing for granted. A year ago, the country was captivated by the Orange Revolution hero. Yulia  Tymoshenko, his formidable prime minister, was preparing a political assault  on associates of Leonid Kuchma, the authoritarian former president.
Viktor Yanukovich, Mr Yushchenko`s rival in the disputed 2004 presidential election, and his aides faced investigation for electoral fraud. Mr Yushchenko`s supporters seemed assured of a landslide win in the coming parliamentary polls.
But things have turned out differently. Remarkably, Mr Yanukovich leads the election race. According to opinion polls, his Party of the Regions, a conservative group that wants to preserve post-Soviet traditions and return to a close relationship with Russia, has about 30 per cent of the vote. Meanwhile, Mr Yushchenko`s supporters are split into competing factions  with varying economic programmes.
Mr Yushchenko`s Our Ukraine bloc, which has about 20 per cent support, favours careful budgets and cautious market-oriented reforms that take account of big business interests. Ms Tymoshenko, whose bloc has about 15 per cent, courts voters with populist promises to rein in business oligarchs and increase public spending.
These and smaller "Orange" parties are together almost certain to win a majority in the new parliament. But it is unclear whether Mr Yushchenko and Ms Tymoshenko, who split last year when he removed her as prime minister, can form a new coalition.
If not, Mr Yushchenko may be forced to consider a deal with Mr Yanukovich. From the outside, it seems unbelievable that a man whose campaign managers orchestrated blatant electoral fraud only 16 months ago could be the main beneficiary of what is likely to be Ukraine`s first-ever free democratic election. Ukrainians themselves struggle to explain how this has happened.
One answer lies in Mr Yushchenko`s patchy record in power and the collapse of the alliance that defeated Mr Kuchma. As prime minister, Ms Tymoshenko wanted a far-reaching review of the Kuchma era, including the reversal of numerous untransparent privatisations.
Mr Yushchenko was more circumspect. He announced judicial probes of serious crimes including the election fraud, his own poisoning and the murder of Georgy Gongadze, a campaigning journalist, but did not press prosecutors too hard. He also limited the privatisation review to a few egregious cases, chief of which was Kryvorizhstal, the steel mill, which Mr Kuchma sold for $800m (£461m, ?667m) to Viktor Pinchuk, his son-in-law, and Rinat Akhmetov, Mr Yanukovich`s financial backer and Ukraine`s richest man.
Mr Yushchenko won back control of the company and re-sold it for $4.8bn to Mittal Steel, the global steel group. The authorities have also tried to recover ownership from Mr Pinchuk of Nikopol Ferroalloy, another metals plant.
But the president showed no sign of wishing to take the attack further. After dismissing Ms Tymoshenko in September, he restored communications  with Mr Yanukovich and won his support for Yuri Yekhanurov, Ms Tymoshenko`s moderate successor. Mr Yushchenko argued that it was more important to focus on the future.
A second reason why Mr Yanukovich has leapt back to the political centre stage is that he has held on to most of the 44 per cent of voters who supported him in the presidential election. Mr Yanukovich has worked hard  on the campaign trail, promising stability and criticising the turmoil of Mr Yushchenko`s rule in speeches that particularly appeal to older Ukrainians. The east of the country - above all his home territory, the coal-and-steel region of Donetsk - has remained loyal.
The failure of Mr Yushchenko and Ms Tymoshenko substantially to improve their low support there leaves the country divided between supporters of the Orange Revolution concentrated in Kiev and the Ukrainian-speaking west, and opponents gathered in the Russian-speaking east. While inter-regional conflict is not on the horizon, Ukrainians worry about the fragmentation of their young nation. It is no surprise that moderate Orange politicians want to bridge the divide, even if it means talking to Mr Yanukovich.
Meanwhile, there is a campaign to fight and politicians are investing huge resources in the race, with spending going on television advertising, billboards, speeches, rallies and the internet. For the first time, media reporting is mostly free - a benefit of the Orange Revolution that is appreciated even in the Yanukovich camp.
Voters face a bewildering range of choices, with simultaneous parliamentary, regional, and local polls. Candidates include pop star Ruslana, boxing champion Vitaly Klychko and scores of people involved in criminal proceedings, notably Pavlo Lazarenko, a former prime minister convicted of money-laundering in the US and currently under house arrest in his California mansion, the former home of film star Eddie Murphy.
The new parliament`s most pressing task will be forming a coalition. Attempts at a pre-election pact between Mr Yushchenko`s and Ms  Tymoshenko`s parties have failed, though the two blocs will almost certainly try again after the poll.
But the divisions run deep. Ms Tymoshenko still wants to bring the Kuchma regime and its oligarchs to account. Mr Yushchenko wants to win support from established elites for reforms. She is a populist, given to lavish social spending and improvised decisions that disorient investors. He is a former central banker with a long-term view.
Members of Our Ukraine suggest that a non-party technocratic administration might reduce clashes. But why would Ms Tymoshenko accept a solution that would limit her influence, especially if her party does well at the polls and she insists on the premiership?
Her supporters, including many of the demonstrators camping in central Kiev, do not want her to compromise. As Mr Baibula says: "She is the one with the trust of the Maidan" - referring to Kiev`s independence square, where crowds gathered during the Orange Revolution.
A Yushchenko-Tymoshenko impasse would open the door for Mr Yanukovich  and his financial backer, Mr Akhmetov, who is also running for parliament. Mykola Martynenko, an Our Ukraine leader, insists Mr Yanukovich himself could not be a minister but says: "We can`t legitimise the system that falsified the 2004 elections but there are enough professional politicians in the Regions party with whom we could deal if the talks with Yulia are blocked."
Every effort will be made to secure a coalition because few politicians want another election after spending huge sums on this poll - contributing up to $500,000 to party funds for a place on a party election list high enough to offer a good chance of landing a parliamentary seat. But political uncertainty could hold up policymaking for weeks and the delays could affect both foreign policy and the economy.
Efforts by Mr Yushchenko to improve ties with the west and integrate with the European Union will continue. World Trade Organisation membership, which Kiev hoped to acquire last year, is now on the agenda for 2006, following decisions by the EU and, recently, the US to grant Ukraine market economy status.
Ukraine hopes to secure a hint of future EU accession but will concentrate for now on practical measures including boosting investment and trade and relaxing visa rules. Mr Martynenko says: "Ukraine`s European choice will not be changed whatever the result of the election."
At the same time, Kiev faces deteriorating relations with Russia. The Kremlin remains hostile to the Orange Revolution victors and their efforts to promote ties with the west. Tensions came to a head this winter when Moscow briefly turned off gas supplies in a contract dispute that  eventually ended with a six-month settlement under which average import prices rose from $60 to $95 per thousand cubic metres. Mr Yushchenko has faced heavy criticism both for the price and for his decision to accept Russia`s demand that Ukraine channel imports through an opaque intermediary company called RosUkrEnergo.
Whatever the details of any future deals, gas prices are expected to rise again when the contract is renegotiated and to keep rising until they match world prices, currently around $230. Not for nothing have the Kiev demonstrators singled out the contract for attack in their noisy protests - accusing the government of betrayal.
Mr Yanukovich argues that he would be better placed to negotiate with Moscow than the Orange politicians. He sees Ukraine as a bridge between Russia and the EU, contributing to regional stability. But Mr Yushchenko`s supporters say Mr Yanukovich would be politically unacceptable in the west.
Meanwhile, the government will face economic challenges. Gross domestic product growth slowed from 12.1 per cent in 2004 to 2.6 per cent last year, due to weakening world prices for steel, Ukraine`s main export, as well as flat agricultural output and political uncertainty. Inflation has stayed high, boosted by huge politically inspired increases in public pay, pensions and welfare payments.
The Yushchenko administration financed spending by big increases in the tax take, achieved by an assault on tax privileges and corruption. It also encouraged foreign investment by creating a more open business atmosphere.
Last year`s foreign direct investment of $7.3bn was almost as much as the $9bn the country attracted during the previous 14 years. The inflow includes Mittal`s steel mill purchase and the $1bn takeover of Aval Bank by Austria`s Raiffeisen International.
However, hopes of economic recovery have been hit by the gas price rise. Forecasts for growth in 2006 have been cut to only about 2 per cent, leaving the government with little room for manoeuvre. The International Monetary Fund argues that structural reforms are urgent, including an overhaul of public spending, privatisation and moves to boost energy efficiency.
But for the moment it is unclear when the new government might even be formed. The longer the delay, the greater the prospect of further public disenchantment. If the new ministers prove as disappointing as the current government, they too could face demonstrators playing loud music outside their offices. Genuine political stability is still some way off. 
The article was monitored by The Action Ukraine Report (AUR) Monitoring Service, Morgan Williams, Editor.
If you see a spelling error on our site, select it and press Ctrl+Enter