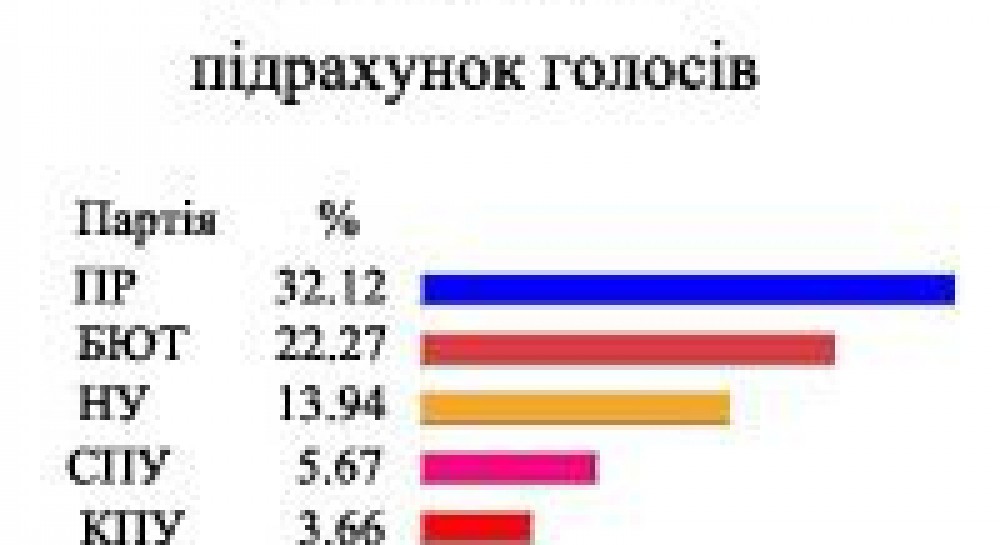 Weeks after Ukrainian vote, it`s unclear who won
11:01, 16 May 2006
3 min.
3120
Who will be Ukraine`s new and newly empowered prime minister? Six weeks after parliamentary elections produced no outright winners, no one can say for certain.
The politicians trying to reunite the political parties that were swept to power in Ukraine a year and a half ago have drawn up a list of the issues that divide them. They include the World Trade Organization, membership in NATO, privatization of state properties and the volatile issue of whether to allow sales of agricultural land.
The most divisive issue, though, is the most important of the moment: Who will be Ukraine`s new and newly empowered prime minister?
Six weeks after parliamentary elections produced no outright winners, no one can say for certain. The issue has stirred a new round of recriminations among those who joined President Viktor A. Yushchenko in leading the popular protests that overturned a fraudulent election in 2004 and cleared the way for his presidency.
"They want a compromise with the past, the Kuchma era," said Hryhory M. Nemyrya, a newly elected member of Parliament, referring to the scandal-tarred presidency of Leonid D. Kuchma, whose chosen successor, Mr. Yushchenko, ultimately defeated him in what became known as the Orange Revolution.
The leading candidate for prime minister is the head of Mr. Nemyrya`s party, Yulia V. Tymoshenko, the erstwhile ally of the president who insists that her bloc`s showing in the election - ahead of Mr. Yushchenko`s party, Our Ukraine - makes her the rightful candidate among the so-called orange coalition.
In an interview with a Polish newspaper, published Friday, Mr. Yushchenko said he did not preclude that possibility. But at least some of his supporters strongly oppose Ms. Tymoshenko, arguing that she would prove as divisive as she was when she served as his first prime minister for eight months last year - until tumultuous economic policies, political infighting and dueling accusations of corruption prompted him to dismiss her.
Even as they hold talks to reunite last year`s orange coalition to form a governing majority, Mr. Yushchenko`s supporters have raised the possibility of compromise candidates.
"There are others on the bench," said Anatoly K. Kinakh, a leader of Our Ukraine and Mr. Yushchenko`s national security adviser, declining to identify them. Mr. Kinakh resigned his security post on Friday to take a seat in Parliament, presumably as part of the positioning to form a coalition government.
Some, including the acting prime minister, Yuri I. Yekhanurov, have suggested the possibility of a broader coalition government that could include the party led by Mr. Yushchenko`s vanquished presidential rival, Viktor F. Yanukovich, which led all parties in the parliamentary election with 31 percent of the votes.
"For eight months we had an orange coalition, but it fell apart because many of its members were united only by their opposition to Kuchma," Mr. Yushchenko`s spokeswoman, Irina B. Gerashchenko, said. "What the  president wants is a stable coalition."
The result has been an impasse that threatens to undermine Mr. Yushchenko`s political standing further, even as he faces a stalling economy, accusations of overly cozy associations with big business and a new confrontation with Russia over the price of natural gas.
In January the confrontation over gas resulted in a doubling of the price Ukraine pays Russia. A compromise, which increased prices for Ukrainian households by 30 percent as of May 1, allows Russia`s gas monopoly to raise them again as soon as July 1.
The deal has been unpopular here, in part because of the higher prices and in part because of questions surrounding the ownership of an opaque trading company, RosUkrEnergo, which now has a monopoly on supplying the gas to Ukraine.
The controversy over the deal deepened late last month with the disclosure that the partial owners included a prominent Ukrainian businessman, Dmitry Firtash. Mr. Yushchenko, who initially denied any Ukrainian involvement, met with Mr. Firtash "on several occasions," Ms. Gerashchenko said.
Ms. Tymoshenko has led the opposition to the gas deal, calling it a threat to Ukraine`s national security. On Thursday the controversy claimed a new victim, when Oleksiy Ivchenko, who negotiated the deal as the head of Ukraine`s state gas company, resigned to take a seat in Parliament as part of Mr. Yushchenko`s Our Ukraine bloc.
The new Parliament - with increased powers, including the ability to appoint the prime minister and other cabinet ministers - is not expected to convene until the end of May. Based on the electoral results, Ms. Tymoshenko`s bloc will have 129 of the 450 seats, compared with 81 for Our Ukraine. With the Socialist Party`s 33 seats, a reunited coalition could control a slight majority.
Mr. Yanukovich`s Party of Regions won the largest number of seats, with 186, while the Communists won 21.
The uncertainty over a coalition has raised the possibility that none will be formed. That would allow Mr. Yushchenko to dissolve the Parliament at  its inception and call new elections, plunging Ukraine into new political turmoil.
"He is losing public support," Mikhail B. Pogrebinsky, director of the Kiev Center for Political and Conflict Studies, said in an interview. "No smooth movement can restore trust in him. He must make a decisive step. And he is not prepared for it."
Others in Mr. Yushchenko`s camp said that jockeying aside, the political leaders who led the Orange Revolution would ultimately reunite in some form. Roman P. Bezsmertny, another leader of Our Ukraine, said the immediate goal was to agree on the policies that bind them and then deal with who would be chosen as prime minister to carry them out. That is why lists of areas of agreement, and disagreement, are being drafted.
Mr. Yushchenko`s spokeswoman, Ms. Gerashchenko, described the process  as something akin to restoring a marriage broken by betrayal. "It is like trying to rebuild a family," she said. "And it is difficult to rebuild a family if both sides cannot realize why one side walked out and slammed the door".
The news was monitored by The Action Ukraine Report (AUR) Monitoring Service, Morgan Williams, Editor.
If you see a spelling error on our site, select it and press Ctrl+Enter