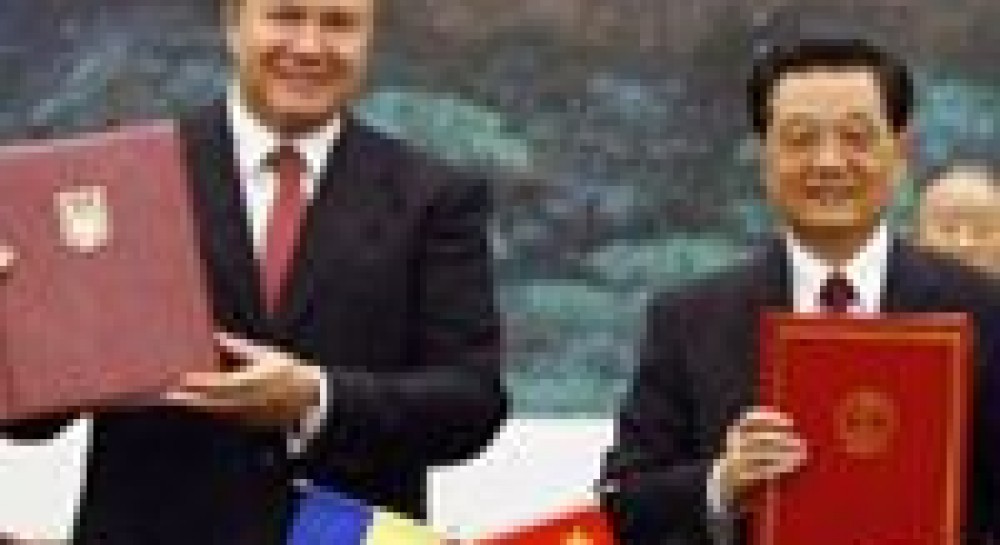 What can China teach us?
09:58, 14.07.2011
9 min.
5114
Ukraine hopes for considerable Chinese investment to the Ukrainian economy. Besides, Ukrainian government will adopt Chinese methods in fighting against corruption, as well use Chinese experience in preparation to executing the Olympic Games...
This week the President of China Hu Jintao will make his first visit to Ukraine. Expected, this summit meeting enhances the relations between Ukraine and China which recently gather speed: on 18 April was signed agreement between Chinese Communist Party and Ukrainian "Party of Region", and on 20 April Kyiv and Beijing set up an intergovernmental commission on cooperation.
Ukraine hopes for considerable Chinese investment to the Ukrainian economy. Besides, Ukrainian government will adopt Chinese methods in fighting against corruption, as well use Chinese experience in preparation to executing the Olympic Games in order to apply it for conducting the UEFA EURO 2012 in Ukraine. Because many Ukrainian officials see China as an example for imitation, worth a closer look at this country and those of its sides, which consciously or unconsciously ignored by the many media.
An engine of the world economyToday about China is increasingly spoken as a future engine of the world economy. China filled store shelves with its products around the world. It reached the second place in total GDP in the world after the United States, overtaking Japan. Many analysts prophesy shift the center of world geopolitics in China in the coming decade.
However, for various reasons, few people note on the social contradictions and low standard of living of most Chinese. According to the Bureau of Statistics of China about 150 million people, representing 10% of the population, have income less than one dollar a day, that are below the poverty line (according to UN criteria). Thus, in terms of per capita GDP, which more accurately reflects the standard of living in the country, China, in accordance with data of World Bank, take only 93rd place in the company of Bosnia and Herzegovina, Belize, El Salvador and Albania. At the same time, according to the CIA, China is by this measure even further - between Algeria and Turkmenistan, near, by the way, to Ukraine.
However, Beijing has an active investment policy towards other countries, and buys bonds of European countries. According to the State Administration of Foreign Exchange Control of China, China has bought a 10-year Spanish government loans amounting to 1 billion Euros.
According to Professor Ze Tian, as reported by The Epoch Times, based on the economic situation in Spain to buy its debt is not efficient, such investments have no value because they can not pay off soon. These investments could be called "political". According to the professor, buying these debts, the communist government of China tries using their taxpayers` money to create a European lobby - to encourage Beijing to obtain the right to purchase arms in the EU and the default for the issue of human rights violations in China.
In ranking the most prosperous countries in 2010, compiled by the London Institute of Legatum, China takes one of the last places in terms of personal freedom and social protection.
The fight against corruption in ChinaFor several decades, the Chinese authorities claim on fighting against corruption. And it seems that corruption whether none at all or it is minimal. However, in practice we observe a reversed picture.
Totalitarian power and atheistic education have generated non-limited permissiveness. Communist Party of China has not competitors and therefore has not independent supervisory and control. How can the party itself to punish and deprive themselves of their blessings and benefits of officials?
According to official data published recently in the PRC in 2009, the number of detected corruption has increased by 2.5% and amounted to 106,000 party functionaries. Of these, 17 - level officials of provincial authorities. While in previous years, seven officials of this level accused of corruption in an average year was brought to trial.
According to official data of China, in 2008 the country held 10 times more protests than in 1993. Most of them were against the arbitrariness of local authorities.
Recently, Chinese media reported that in 2009 officials spent 150 to 200 million Yuan ($ 21.4 - 28.5 million) for a service's transportation, and if add to this the amount of budget money spent by them during this period for overseas trips and banquets, they eventually go over 30% of total annual administrative costs of the state. According to the Ministry of Finance of China, the actual number of official cars in the country by 50% more than the prescribed limit, which for all these years not shortened.
According to statistics from World Luxury Association (WLA), in 2007, China took 3rd place in the world for the amount spent on purchase of luxury goods. Most of the consumers of these items are the party officials.
There are many cases when for the reports of corruption citizens was subjected to arrest, beaten, sent in psychiatric hospitals, threaten and got other kinds of pressure from local authorities.
French newspaper "Marian" in its issue dated 30 November 2010 reported on the existence in China special prisons for corruption, which are built according to European standards. Inside they have offices, banquet rooms and balconies. Around it located the athletic fields, tennis courts, artificial ponds, gardens and parks. Many officials who are waiting for sentencing, have already booked a place in these prisons.
Chinese rich people abandon ChinaAccording to Forbes magazine in 2011, 115 dollar-billionaires live in China, second only after the U.S., where such - 413. In addition, China has about one million Chinese-millionaires. At the same time, about 65% of China`s population is the farmers who barely cover the cost of food and utilities.
However, it seems that even the rich people who live in China are not always happy. In recent years, it observed great speed growing emigration abroad of many reach Chinese people. In April 2011 consulting firm Bain & Company in conjunction with Bank of China Merchants Bank conducted a survey in which it became clear that more than half of Chinese millionaires whether have emigrated from China or are going to do it. The main causes are poor education and unstable political situation in the country.
For five years the number of Chinese immigrants in the U.S. through investor's program increased by 73%. Thus, to obtain U.S. visa the investor must spend at least 500 thousand dollars, the New York Times writes.
Analysts note that the Chinese rich do not feel secure in China because of the political system. The government can easily deal with any who finds himself out of favor. If you do not have good protection in high political circles, there is a danger at any time to get rid of all the wealth and even go to jail.
A recent striking example of this Guang-yu Huang, founder of the China`s biggest retailer-company "GOME", which is engaged in home appliances. In May last year he was sentenced for economic crimes and bribery for 14 years imprisonment and a fine of $ 88 million. In 2008, his company was worth 6.3 billion dollars.
This year, two millionaires from Shandong and Zhejiang provinces committed suicide, and only in recent years, nine Chinese millionaires squared accounts with life. According to experts, this is due to strong psychological pressure on big business in China.
Ecology is sacrificed to economyThe pursuit of increasing amounts of industry increases negative effect on health of the nation and the state of ecology that recognized by Chinese authorities. In an article published on the website of the Ministry of Environmental Protection Minister Zhou Shensyan says that the development of China`s economy has already entered into unprecedented conflict with the environment, and that "no longer can keep going the old way, which relies on large investments, high consumption and high pollution. "
According to the Office of Environment, in 2009 in the blood of 4,035 persons were found elevated lead content and 182 people have the high content of cadmium.
Back in 2005, the Ministry of Health reported that there are more than 7 million cancer patients, whose number increases every year by 1.6 - 2 million people. In this case the authorities do not report the number of patients in the so-called "cancer villages" which located near toxic industries.
According to the Ministry of Industry and Information Technology of China, in 2009, emissions of toxic waste water of companies, which produce batteries, accounted for more than 12 million tons. Of these, more than 10 million tons consist of lead, more than 220 tons consist of heavy metals and more than 4 tons is with content of cadmium.
The third part of Chinese territory comes under the influence of acid rain. The water most of the major rivers of the country is not suitable for drinking. The fourth part of the population does not have sufficient clean drinking water.
According to the UN, among the 20 most polluted cities in the world 16 are in China.
On a powder barrel of discontentJust as North Africa and Middle East, modern China is also explosive: regularly in different parts of the country, from Tibet to the north-eastern China, there are large actions of protests. Low wages, mass demolition of houses of the peasants to seize land for the construction of new plants, factories and other facilities, unfavorable living conditions, pollution and corrupt system of power regularly make people go out.
The demolition of buildings without permission of people happens in China almost every day. All land in China is state ownership, which are used by party officials arbitrarily deciding what to build. Thus citizens are deprived of their homes whether paid minimal compensation or not at all.
According to researchers from the Chinese Academy of Social Sciences Jiang Zhun since 2007 in China takes place every year over 90 thousand large national protests, while its number increases every year.
However, to gain a voice in the world and improve its image in the international community, the communist authority of China last year allocated 45 billion Yuan ($ 6.4 billion) for its promotion abroad. This year, only for a video and promoting "the image of China" before the visit of Hu Jintao in the U.S., according to Chinese bloggers, had spent 860 million Yuan ($ 122 million).
"Reporters without Borders," set China to 171st of 178 places in the terms of press freedom. Mouthpiece of China, such as agency "Xinhua" and newspaper "Renmin Zhibao", CCTV television, and their many subsidiaries media with different languages broadcast to the world only what is advantageously to the ruling Communist Party. Many of the world media taking this information as official reprint it and de facto help the Chinese authorities to lead astray the whole world.
People without human rightShadow on the outside a beautiful facade of China is also casted by purposeful repression directed against ethnic and religious groups. In Xinjiang Uygur Autonomous Region and Tibet the protests of natives who have become minority at a home erupt periodically. They are protesting against the destruction of their traditional culture, conduct of life and destruction of the environment.
On April 22, 2011 paramilitary police stormed the Kirti Tibetan's monastery in Sichuan province and arrested about 350 local monks. Today, members of the UN Commission on Human Rights urged the government of the Communist Party of China to announce their location.
Mongolians also begin to protest as Uighurs and Tibetans. In late May have been large protests in Inner Mongolia. Thousands of herdsmen, students and teachers in many areas of Inner Mongolia came to protest against the destructive environmental policies of the central government in their region. They said that if government policies remain unchanged, the protests will be even stronger.
On Easter, according to Human Rights Christian organization China Aid Association, the Beijing police put under house arrest nearly 500 Chinese Christians, one of China`s largest house churches. Around 35 people were taken to the police station.
Once in February sounded calls for "jasmine" revolution, the authorities stepped up repression of dissidents in China and human rights activists.
Arrest world-famous artist Way-way Ai caused concern in the international community and attracted wide media attention. Chinese authorities accuse Ai in economic crimes, insisting that his arrest is not related to performances on Human Rights. Herewith, Way-way Ai was denied access to a lawyer. To draw attention to this case, different cultural groups and workers in the sphere of art carried out exhibitions of Ai's works worldwide.
In addition, the continued large-scale suppression of Falun Gong spiritual practice which lasts 12 years. After Chinese authorities estimate that the number of people who perform meditation exercises of Falun Gong far exceeded the number of members of the Communist Party, Jiang Zemin, the former leader of China, launched a broad campaign of suppression of Falun Gong across the country.
Nominated in the Nobel Peace Prize 2010, an international human rights lawyer David Matas argues that China continues large-scale organs harvesting from Falun Gong practitioners. Herewith, international pharmaceutical companies play an important role in providing the unauthorized practice of harvesting organs from prisoners in China during the trials of their drugs.
Incidentally, during the Beijing Olympics, according to the rights of Falun Gong, Chinese authorities arrested at least 10,194 Falun Gong adherents, fearing their appeals to protect their rights. Of these, about one hundred persons died in prison in a few weeks or days. Many of them have still not released, some were sentenced to long term imprisonment.
At the same time the popularity of the people of the ruling Communist Party in China has been steadily falling. In recent years become a mass movement of an abandonment of the Chinese Communist Party (CCP) and its affiliated organizations (pioneer and komsomol). In 2006 it was published a book "Nine Commentaries on the Communist Party," which outlined the results of research into the Chinese Communist Party. This book changed the political views of millions of Chinese. More than 94 million people inspired by this book almost-thirteenth of the population of China (using aliases) since 2006 announced at a special web-site on their abandonment of the Communist Party, komsomol and pioneer. Every day to this number is added 40-50 thousand people.
So what kind of experience can we get from China?China today gives us cause to think: so what is the experience we really want to adopt? Ukrainian already survived the period of communist rule. If we are talking about the experience of filling the pockets of officials; steal from people; improve corruption schemes; suppress freedom of belief, freedom of expression and repression of people`s protests, instead of the real resolving of the population problems that the Communist Party of China is undoubtedly the best example to follow.
Optimistic forecasts predicted that China become the new world leader are still in doubt. A country which is torn up by internal contradictions likes a powder keg which at any moment could explode.
Ganna Warowa, Eugene Dawbush
Original text in Ukrainian you could see here: https://www.unian.net/ukr/news/news-441428.html