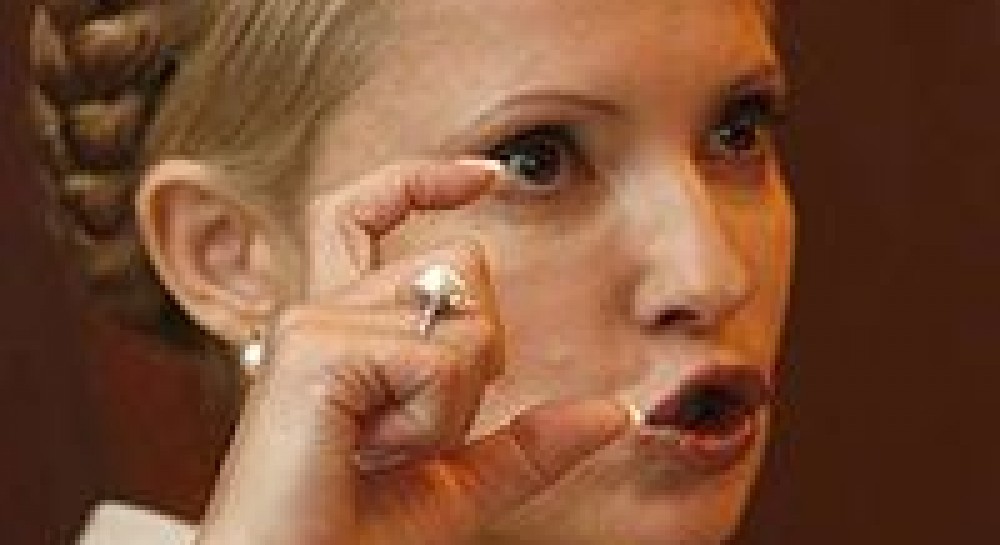 Ukrainian parliamentary election quotes
11:16, 11 September 2007
5 min.
954
"Rinat, if you are so worried about domestic power engineering and everything connected with it, why don`t you privatize the Chernobyl nuclear power plant, for example? The Shelter as a residence for Viktor Yanukovych. Or the sarcophagus", - Yulia Tymoshenko.
Campaigning officially kicked off in Ukraine on 2 August for an early general election due on 30 September. The agreement to hold the election was seen as a compromise between Ukraine`s two feuding leaders, President Viktor Yushchenko and Prime Minister Viktor Yanukovych.
The country has been in a state of crisis since April, when Yushchenko dissolved parliament and called a fresh election saying his power had been usurped and people`s choice distorted as a number of opposition MPs were lured into the progovernment coalition.
The former Orange Revolution allies - propresidential Our Ukraine-People`s Self-Defence bloc and the opposition Yuliya Tymoshenko Bloc - have been seen fighting for voters with the progovernment coalition of the Party of Regions, the Communists and the Socialists.
Orange allies attacking progovernment coalition parties
Yushchenko warned ruling coalition MPs against opening parliament`s autumn session on 4 September in a pre-recorded address to the nation.
"I say it strongly and in cold blood: dear deputies, please calm down, do not abuse people`s patience, do not make a laughing stock of the Supreme Council. The Ukrainian parliament`s building is the life of the country, not a base for your experiments and battles with windmills. (State-owned UT1 TV channel, 3 Sep 07)
Opposition leader Yuliya Tymoshenko accused the Party of Regions` key sponsor and number seven on the election list, Donetsk tycoon Rinat Akhmetov, of "nicking" the Dniproenerho power generating company from the state and building a monopoly on the electricity market, threatening him with re-privatization when she comes to power.
"Rinat, if you are so worried about domestic power engineering and everything connected with it, why don`t you privatize the Chernobyl nuclear power plant, for example? Come to think of it, by the way, a prime ministerial dacha could also be built there.
The Shelter as a residence for Viktor Yanukovych. Or the sarcophagus. Does that sound bad? What is more, the land there is wonderful, there are no neighbours, the fish are size of whale sharks, they say, and the strawberries the width of water melons," Tymoshenko said in an article. (Korrespondent magazine belonging to the American-owned KP Publications group, 7 Sep 07)
Tymoshenko promised to reverse the gas accords signed with Russia in early 2006 if she becomes prime minister after the election. The accords eliminated a fixed low price of Russian gas for Ukraine until 2010 and introduced an intermediary, the Swiss-registered company RosUkrEnergo, to Ukrainian-Russian gas relations.
"I think we will go to the Stockholm court and will get a ruling. I am convinced of the lawfulness of Ukraine`s position. Ukraine has not unilaterally altered a single long-term contract signed with Russia - neither the land rent for the Russian Black Sea Fleet nor any other issues agreed for the long term.
"For some reason, long-term accords could be changed unilaterally with regard to Ukraine, with the help of top officials from Ukraine. This is not so easy to do. It is rampant, large-scale corruption that has led to the annulment of all direct interstate agreements between Russia and Ukraine," Tymoshenko said. (TV producer Oleksandr Rodnyanskyy`s One Plus One TV channel, 7 Sep 07)
"For 16 years now, initially (former Ukrainian President Leonid) Kuchma and his team and later the Party of Regions have been promising to make Russian the second national language but again this is just a lie and a distraction which they use when necessary ahead of an election," Tymoshenko said, adding that Yanukovych "never put the issue of a second national language on the agenda for discussion although he had the absolute power of 300 votes in parliament". (Tycoon Ihor Kolomoyskyy`s UNIAN news agency, 5 Sep 07)
Self-Defence leader and ex-Socialist Yuriy Lutsenko criticized his former party boss Oleksandr Moroz for convening the parliament that Yushchenko had disbanded. "This is indeed not a Supreme Council. This is a gathering of lovers of Mr Moroz`s poetry," Lutsenko said. (ICTV TV channel owned by steel tycoon Viktor Pinchuk, 9 Sep 07)
The president`s chief of staff and head of the Our Ukraine-People`s Self-Defence election HQ, Viktor Baloha, said the bloc sees no sense in signing the Yanukovych-proposed code of behaviour to ensure a transparent and fair election campaign.
"The party that was accused of resorting to black PR and dirty tricks during the election campaigns in 2004 and 2006 is now actively seeking to improve its image. Certainly, a slogan about a fair election perfectly fits this purpose," Baloha said. (Interfax-Ukraine news agency, 3 Sep 07)
Progovernment parties versus Orange camp
Yanukovych criticized the president for enacting the National Security and Defence Council`s decision to suspend Transport and Communications Minister Mykola Rudkovskyy and Emergencies Minister Nestor Shufrych.
"Such meetings don`t add anything to stabilization, as they deal with the usurpation of power by one state institution," Yanukovych said. (ICTV, 9 Sep 07)
Socialist leader and parliament speaker Oleksandr Moroz lashed out at the president while opening the autumn session of the disbanded parliament.
"It is a pity that President Viktor Yushchenko, an individual who due to his position should have taken an absolutely different position and should have been the guarantor of the constitution, law and order, is spearheading this campaign against the constitution and parliament.
"It is a pity that for more than a year the Ukrainian government, instead of doing productive and meaningful work for the benefit of the people and the country, has been trying to counteract these attacks from Bankova [Street, location of presidential secretariat], which is the generator of destructive actions or, in other words, turmoil," Moroz said. (UT1, 4 Sep 07)
Moroz was shown in a TV advert criticizing the president for calling an early election. "The adventure with the early parliamentary election initiated by Viktor Yushchenko is nothing but war against the constitution, the judiciary and local governance reform," Moroz said. (ICTV, 5 Sep 07)
Interior Minister Vasyl Tsushko of the Socialist Party warned political rivals against using provocative techniques to boost their ratings ahead of the polls following a statement by Transport and Communications Minister (Socialist Party) Mykola Rudkovskyy that the presidential secretariat masterminded a plan for acts of provocation on the railways that may cause multiple victims.
"They will be brought to justice according to the law. They should not even think of boosting their popularity at the expense of the people or, God forbid, at the expense of human victims," Tsushko said. (Interfax-Ukraine news agency, 5 Sep 07)
Tsushko criticized the Party of Regions` move to hold a national referendum on the status of the Russian language, joining NATO and electing governors as "political bluff".
"As for the status of Russian as a second state language, please tell me why should residents of Ivano-Frankivsk Region, where 99 per cent use Ukrainian, need it? We should leave it up to local councils to decide if they need a second state language. There are villages in Odessa Region where they speak Moldovan only. What should they do?" Tsushko said. (UNIAN, 6 Sep 07)
Hanna Herman of the Party of Regions denied that the party`s main election strategy is snatching and mocking campaign moves and slogans of its political rivals.
"As for the opposition`s trump cards and whether or not they have been snatched, you know our main trump card is our deeds. We will not play cards with political card cheaters," Herman said. (ICTV, 9 Sep 07)
Press comments
Article headlined "Zombies going to the polls": This is not a horror film, but the realities of Ukrainian democracy. In spite of the annual decrease in the country`s population, the number of voters is not lessening.
On the eve of the forthcoming election, the deceased are coming to life and together with us are heading for the polling stations. (Daily Stolichnyye Novosti owned by businessman Vadym Rabinovych, 4 Sep 07)
The Regionals (Party of Regions members) no longer have confidence that they will win on 30 September, as their ratings have been falling catastrophically, most rapidly in the south and east, which are their electoral strongholds. (Obozrevatel website, owned by Tymoshenko`s former ally Mykhaylo Brodskyy, 5 Sep 07)
This article was monitored by the Action Ukraine Monitoring Service for the Action Ukraine Report (AUR), Morgan Williams, SigmaBleyzer, Editor.
Quotes package from BBC Monitoring, in English 9 Sep 07

BBC Monitoring Service, United Kingdom, Sunday, Sep 09, 2007
If you see a spelling error on our site, select it and press Ctrl+Enter