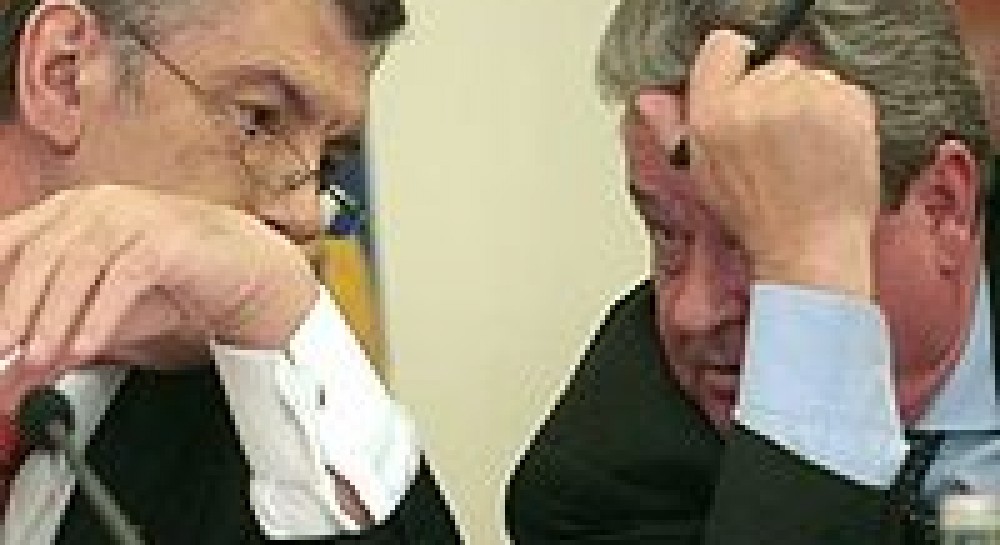 Killing Ukraine softly
12:41, 29 November 2007
1820
0
There is more than one way for a state leader to abuse his power, and Ukrainian President Viktor Yushchenko is practicing the `softest` way of all. The murder weapons of Mr. Yushchenko and his supporters are delay, distance and double talk...
There is more than one way for a state leader to abuse his power, and Ukrainian President Viktor Yushchenko is practicing the `softest` way of all. You can`t call him a dictator who imposes his will on his people, as it`s not clear what Mr. Yushchenko`s will is - beyond the fact that he wants to stay in power, as do all state leaders. He also doesn`t appear to be corrupt, although that`s more than one can say about some of the people who surround him. Yet, the hero of Ukraine`s Orange Revolution is nevertheless killing the infant democracy that he has spent much of his life serving.
The murder weapons of Mr. Yushchenko and his supporters are delay, distance and double talk. It`s been two months since the country`s early parliamentary elections, which Yushchenko called to prevent the government of Prime Minister Yanukovych from concentrating all power in its hands. Yet, as we have seen before, no sooner is Ukraine`s pro-Western president out of danger then he once again begins to coquettishly flirt with the very forces that threatened him.
Rather than immediately pushing for a revived Orange coalition between the Our Ukraine-People Self Defense bloc (OUPSD), which he campaigned for during the last elections, and the bloc of Yulia Tymoshenko (BYuT), who helped him rise to the presidency in 2004, Yushchenko is keeping his distance from the horse trading, thereby delaying the formation of a new parliament, and all the while feeding his countrymen and the world a load of double talk about the need to cooperate with rival factions.
These tactics won`t return Yushchenko control over the parliament and government and may eventually cause him the presidency. But his primary concern seems to be to keep the populist Tymoshenko from stealing any more of his popularity.
Besides BYuT and OUPSD, there are only three other factions that made it into the Verkhovna Rada on September 30 – the Communists, Yanukovych`s Regions Party and the dark horse Bloc of Volodymyr Lytvyn, which just squeaked past the post but has yet to reveal what it really stands for.
Yanukovych, the Communists and the Socialists (who didn`t make it into parliament this time around as punishment by voters for betraying their Orange allies by siding with Regions last year) made up the last government. Even by replacing the Socialists with the Lytvyn bloc, Regions still wouldn`t have enough seats to form a coalition this time.
OUPSD and BYuT do have enough seats, a hair-thin two-seat majority. But (wouldn`t you know it?), a few lawmakers from OUPSD have refused to sign a coalition agreement with BYuT. And, surprise, surprise, these so-called people`s deputies are close to president Yushchenko.
One of the most vocal holdouts in the anti-BYuT camp of OUPSD is former Prime Minister Yury Yekhanurov. When Mr. Yekhanurov speaks, he does so with the president`s tongue, especially with regard to relations with Yulia Tymoshenko.
Yekhanurov has argued that although OUPSD, which he is a member of, vowed to form a coalition with BYuT during the last election campaign, it didn`t agree to just any coalition agreement. Mr. Yekhanurov`s argument is the equivalent of a groom promising to marry his bride but refusing to sign the marriage certificate.
"Each side has the right to insist on its principles," he said on November 27.
That may be true, but the main brunt of OUPSD`s election campaign was a revived Orange coalition, not the particular principles espoused by faceless bureaucrats such as Yekhanurov. In Ukrainian politics, anyone with enough money can get put on a party list, but the politicians trotted out to the public during OUPSD`s campaigning were Yushchenko, Foreign Minister Arseny Yatsenyuk, Defense Minister Anatoly Hrytsenko, former Interior Minister Yury Lutsenko (who broke rank with the Socialists when they joined Regions last year) and bloc leader Vyacheslav Kyrylenko - not Yekhanurov or the other holdouts.
Along with Lutsenko, Kyrylenko has been one of the most outspoken advocates of promptly signing a coalition agreement with BYuT.
However, when Kyrylenko tried to convene a session of OUPSD`s political council to move the coalition talks along, his own party members hampered him.
As it became clear on November 27 that the session wouldn`t draw a quorum, Kyrylenko, a young, up-and-coming Ukrainian politician, lashed out at the half dozen or so party holdouts.
He said that if the Orange blocs don`t unite, Ukrainian voters will lose faith in OUPSD and its honorary leader, President Yushchenko.
"But the main thing is that this disappointment of our voters will lead to the formation in Ukraine of a de-facto two-party political system consisting of BYuT and the Regions," Kyrylenko said.
Indeed, during the September 30 snap elections, Ukrainians not only punished the Socialists but the president`s party as well. Even after Yushchenko`s traditional Our Ukraine party teamed up with Lutsenko`s newly formed People`s Self Defense, it still lost votes from the 2006 parliamentary elections. Regions has maintained steady support in the country`s Russian-speaking south and east, coming in first again this year with 175 seats in the 450-seat Rada. But the real rising star in Ukraine is populist femme fatale Yulia Tymoshenko, whose voter support jumped from 22 percent to 30 percent between 2006 and 2007, coming in a close second to Regions.
Ms. Tymoshenko, who was fired as Yushchenko`s first premier in 2005, has come back to claim the legacy of Ukraine`s Orange Revolution. While Yushchenko let their common enemy, Yanukovych, return to power as premier in 2006, Tymoshenko has consistently refused to compromise with Region`s so-called Donetsk clan. Yushchenko, on the other hand, has appeared weak for 1) agreeing to last-minute and controversial constitutional reforms during his rise to power in 2004; delaying the formation of an Orange coalition following the 2006 parliamentary elections, which he is doing again now; and 3) allowing Yanukovych and company to muscle away most of his executive power between the last two parliamentary elections, when Yanukovych returned as premier.
Apparently aware of his reputation as a delayer and double-talker, the president is trying to distance himself from the coalition talks as much as possible.
As Kyrylenko was trying to pull together a quorum on Tuesday, Yushchenko`s chief of staff was thinking up excuses for his boss`s conspicuous absence from events.
"If party leaders really wanted to see their honorary chairman at their meeting, they should have agreed their plans with him," Viktor Baloga, the head of Yushchenko`s Presidential Secretariat, said.
The country has not had a working parliament since last summer, and, before that, Regions and its leftist allies used the legislature as a platform to attack Yushchenko; yet, the president is too busy to get involved with creating a new Rada?
This week, Mr. Yushchenko was on a trip to Luhansk Region to discuss energy saving. For most of the last couple of months, he has been devoting his time to even more foreign trips to get support for recognition of Ukraine`s famine as an act of genocide.
With all due respect to these worthy causes, doesn`t Yushchenko think having a parliament is more important? Not if this means Yulia Tymoshenko becoming premier.
And as indignation rises at home and abroad, lightweight loyalists like Yekhanurov are doing the president`s dirty work, dragging out the formation of a coalition ad naseum.
Yekhanurov, who Yushchenko appointed as his second prime minister to replace Tymoshenko in 2005, seems to be grasping at any reason to hold things up.
Most recently, Mr. Yekhanurov has concentrated on the coalition agreement goals put forth by the Orange parties in the middle of last month. But the more he protests, the less convincing he sounds.
"Once again, I must emphasize that my criticism isn`t a personal caprice but a matter of principle. The state of the Ukrainian economy is at stake, as is the welfare of our people and the investment image of our country. Therefore I will insist that every article of the agreement be checked and agreed," he said.
Whatever the motivation for Yekhanurov's suggestions, the fact remains that they will further delay the formation of a coalition.
And the only one who can gain from more delays is Viktor Yanukovych, who continues to serve as prime minister.
On Wednesday, Mr. Yanukovych said his government would stay in power until a new coalition is chosen.
"How long coalition talks will continue, we don`t know. For us, the important thing is to keep the situation under control and get things done."
The only other way to remove Yanukovych from power would be for the president to call new elections, but the confusing constitutional amendments that Yushchenko signed in late 2004 rule out this without specifying a legal way around the current situation.
As for Mr. Yushchenko, the tactics of delay, distancing and double talk will not help him any more now than they have in the past. Once again he is flirting with Yanukovych, the villain of the Orange Revolution, to keep Tymoshenko from returning to power.
Whether he finally cuts a deal with Yanukovych, or lets the country continue drifting without a sail or rudder, his chances of getting re-elected as president in 2009 look bleaker than ever.
As the spiritual leader behind the Orange Revolution, Yushchenko brought his country freedom of speech, fair elections and other democratic gifts hitherto unknown in the post-Soviet republic, but his lack of leadership in the face of dissent is killing the new country he created, killing it softly, but killing it nevertheless.
John Marone, Kyiv Post Staff Journalist, Ukraine
Eurasian Home, November 29, 2007
If you see a spelling error on our site, select it and press Ctrl+Enter