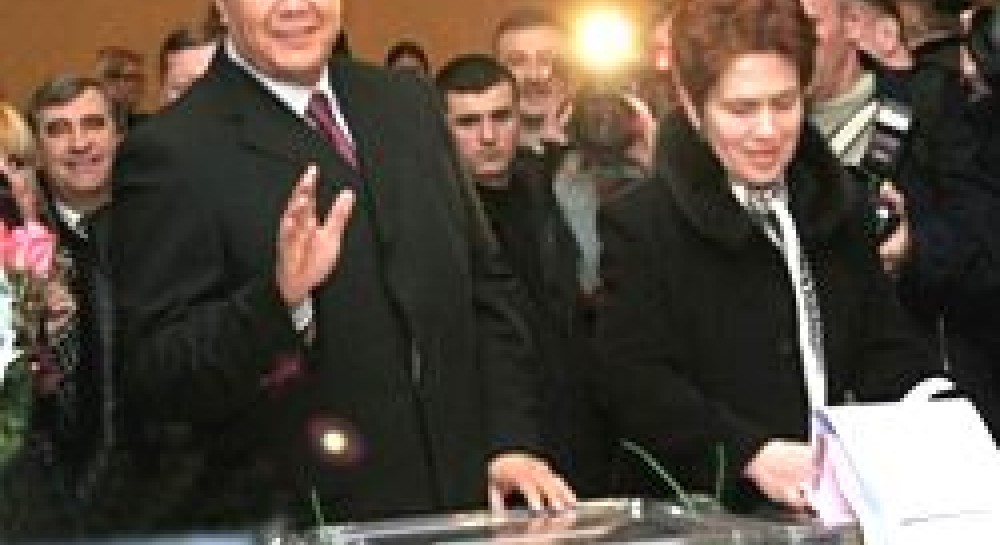 Revolution is reversed with a little spin from the west
18:01, 28 March 2006
2 min.
1210
It is ironic enough that Mr Yanukovych`s pro-Russian Party of the Regions won a third of the seats in parliament with the sort campaign that the Orange Revolution leaders ...
Welcome to the Blue Revolution!" joked a Russian reporter yesterday  as staff at Viktor Yanukovych`s campaign headquarters celebrated their electoral comeback. Around the refurbished press room, aides in blue scarves networked slickly beneath plasma screens showing images of massive crowds waving blue flags.
It is ironic enough that Mr Yanukovych`s pro-Russian Party of the Regions won a third of the seats in parliament with the sort of Western-style campaign that the Orange Revolution leaders used to unseat him in 2004. But a greater irony is that the spin doctors behind this image revamp were not Russian or Ukrainian but American.
Last year the Party of the Regions hired Davis Manafort, a top US political consultancy and lobbying company, to help to shape its electoral campaign.
Spearheading the project was Paul Manafort, a veteran Republican adviser who worked in the White House under President Ford and helped to manage campaigns for Ronald Reagan and George W. Bush.
Alongside him was Rick Ahearn, who was event planner for Mr Reagan and organised his funeral in 2004. They were hired to replace the Russians who managed Mr Yanukovych`s disastrous attempt to rig the 2004 presidential election.
"What happened was that (Mr Yanukovych`s camp) felt ill-used and very aggrieved by what happened last time and clearly went in the opposite direction," a Yanukovych campaign source told The Times.
Critics say that the Party of the Regions is still a front for Russia-linked businessmen and criminals in eastern Ukraine, pointing to Mr Yanukovych`s criminal convictions as a young man. The man who called in the Americans is Rinat Akhmetov, a reclusive steel and coal tycoon who is considered Ukraine`s richest man.
But the decision to bring in the Americans shows how the Orange Revolution forced the Party of the Regions to evolve into a more legitimate political force. It also suggests that Mr Yanukovych, while still pro-Russian, has become more independent and open to co-operation with the West.
That, some analysts say, could lead to the biggest irony of all - a coalition between him and President Yushchenko. "There are areas where they could find a modus operandi," said Markian Bilynskyj, deputy head of the US-Ukraine Foundation, "if the Orange team fails to resolve its differences."
Orange Revolution leaders are locked in talks on reforming a coalition but no decision is expected until after official results are announced today.
The American advisers are wary of discussing their work - not least because of strong anti-Western sentiment in Russian-speaking eastern and southern Ukraine.
When The Times asked Mr Yanukovych about them in February, he said only that he used a number of consultants from different countries. But their influence is unmistakeable. He has abandoned the funereal black suits and white shirts he wore for the 2004 campaign in favour of blue or grey suits with co-ordinated shirts and ties.
He has given up addressing supporters in prison slang, and now speaks in Ukrainian as well as Russian. His wife, who accused Mr Yushchenko`s supporters of being high on "psychotropic" oranges, has been conspicuously silent.He still says that he opposes joining Nato, but now backs EU integration.
"Ukraine must become a bridge between Russia and Europe," is his new catchphrase. But importantly, he has made between 40 and 50 trips around Ukraine since January, meeting tens of thousands of voters. "He`s still the same guy," said one Western diplomat. "but he is behaving like a real politician."
The article was monitored by The Action Ukraine Report (AUR) Monitoring Service, Morgan Williams, Editor.
If you see a spelling error on our site, select it and press Ctrl+Enter