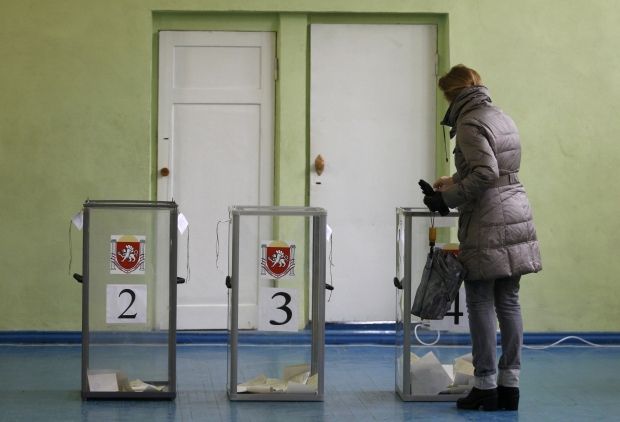 Pseudo-referendum in Crimea: Rebels Observe No Rules
On March 16th, self-proclaimed Crimean authorities have held a referendum, legitimacy of which had not been acknowledged by a world community. Long before the vote count, a pro-Kremlin PM of the autonomy has stated that Crimea would become part of Russia.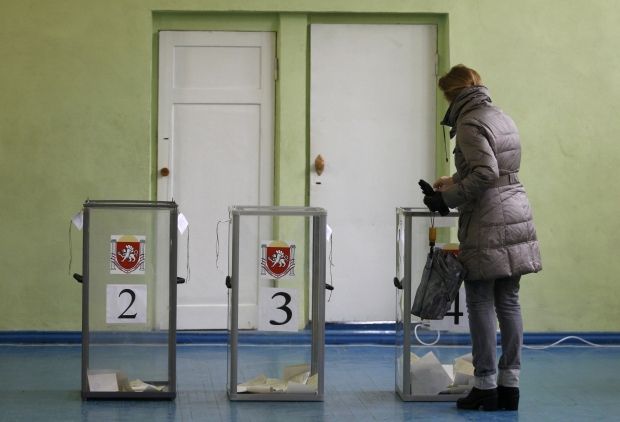 REUTERS
One of the strongest morning impressions, reflecting the mood of Crimean locals wishing to join Russian Federation, was a statement of a Crimean MP Gennadiy Babchenko. "Our predictions have not materialized, which is good… There is still electricity, water, gas, boiler stations are working," he said.
Hysteria has really been building up throughout the last seven days. Supposedly, except feared flooding with "banderivtsi", Ukraine might as well pull another dirty trick with Crimeans: cut water and food supply to the region, pull the switch on gas and electricity. Actually, local authorities have prepared to confront it: they got stored up with generators, candles, and flashlights. "People are celebrating… Everybody is smiling," says Babenko, commenting on how Crimeans go to their precincts to cast their votes.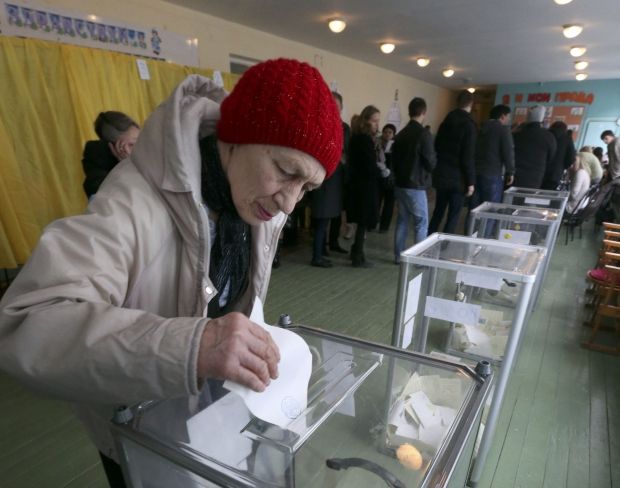 REUTERS
"We are part of a historical event. Everybody is in a good mood… Meeting a new dawn… Referendum will go as it is wanted by Crimean people; it will be relentless and categorical… Crimea will become a part of Russia," a self-proclaimed Crimean PM Sergey Aksyonov stated in his turn.
Confusion with electoral commissions
Considering that "the preparation" for plebiscite, which does not comply with neither Ukrainian nor Crimean legislation (nor international standards), was carried out in a hurry, the date for voting was changed several times (at first, referendum was due to be held on March 25th), the Central Electoral Commission did not authorize Crimean Electoral Commission to use the voters' registers, - different result falsification techniques are being used in the region. And the statements of illegitimate Crimean authorities on high electoral turnout with the result that is known in advance are just another facts confirming that no mass voting of people actually living in Crimea is taking place. It's just a fabrication.
For example, as Mikhail Malyshev, head of Republican commission for preparation and holding of a referendum has stated, all 1205 precincts on the peninsula have opened and started operating at 8 in the morning. "According to the information from the precincts, people have queued up. There has been no such civil activity since Soviet times. I hope to believe that such activity will last through the whole day today," he said.
Besides, Malyshev said that at some precincts there are some troubles due to bad weather. Particularly, there is no electricity in Belogorsk district, landline telephony is not working in Chernomorsk district. Yet, he has not mentioned that in Bakhchisaray district some precincts have not been formed and opened, as local Crimean tatars have decided to boycott the referendum.
"There was nobody to become members of commissions, because tatars in Bakhchisaray district do not acknowledge the referendum", reported Ilmi Umerov, head of District State Administration.
Anomalous turnout due to "additional registers"
However, votes of indigenous people of Crimea (there are 13% of Crimean tatars in the region) are fully compensated by self-proclaimed regional authorities at the expense of Russian citizens. Ballots and "additional registers" at every precinct contribute to this.
We remind that the people in the region are offered to choose the "right" answer just to two questions: "Are you in favor of Crimea joining Russia as a part of the Russian Federation?" or "Are you in favor of restoration of a 1992 Crimean Republic Constitution and a Crimean status as a part of Ukraine?"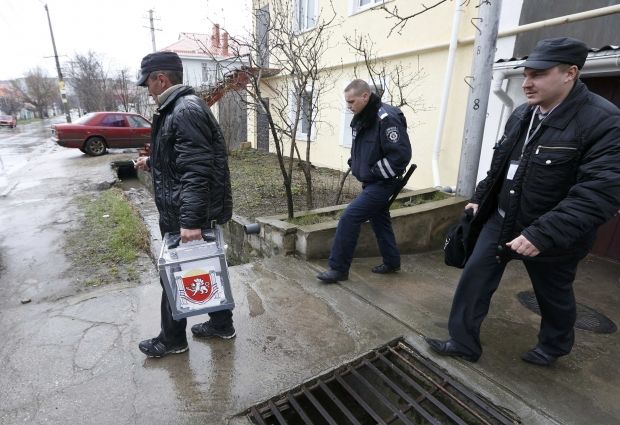 REUTERS
It is notable that the ballot doesn't have a perforated upper part (a control ticket), which is ground for keeping a record of voters who have received such ballots at precincts. "Crimea has gone the other way: ballots were printed in unlimited numbers… Thus, their quantity is in no way registered at precincts," said Oleh Kanivets, a member of Verkhovna Rada Budget Committee.
Besides, he said that there were so called "additional registers" at every precinct. Meaning, there is no problem if a person comes to a precinct and his name is not in a register: he is counted in the "additional register". "That's it, one doesn't have to go to court with his passport and have the registers changed… We already know of the facts when Russian citizens were put in these "additional registers". The question arises: who is really deciding on the fate of Crimea and how many actual votes of Ukrainian citizens were taken into consideration?" says the MP.
The existence of these strange "additional registers" is also confirmed by the Voters Committee of Ukraine. "The so called "additional registers" are filled at precincts, where anybody (willing) is written in, and it's almost impossible to control this. Holders of Russian passports, voters from other precincts, or people who have already voted elsewhere, are written in there. This explains such an anomalously high turnout, which is reported by the Crimean authorities today" Aleksey Chernenko, head of the VCU has told us.
He says, people do vote at precincts, but it's difficult to evaluate the actual turnout of voters. "But it surely can't be as high as the Crimean authorities are telling us." By the way, as of 6pm, 73,4% of voters have cast their ballots. As Mikhail Malyshev, head of Republican Commission for preparation and holding of the referendum has reported, in absolute figures the turnout was 1,123mln voters.
"Carousels" and illegal agitation
Despite that Crimean tatars don't take part in referendum, they in many ways help to inform Ukrainians about violations. As a press-secretary of Crimean Majlis Leyla Muslimova says, in Simferopol, mentally handicapped people are helped to cast a "right" vote. "I suppose, the situation with psychiatric hospitals is quite clear, but as a fact of confirmation… I got a call from one such institution, located on in Stroganovka village on Yaltinskaya Obyezdnaya, its patients, who are legally handicapped and are incapable of voting during elections and referendums, are helped to cast a "right" vote," she reported.
In his turn, Ayder Ajimambetov, head of Crimean tatars Majlis, wrote on his Facebook page about 'carousels' during referendum. "In Maliy Mayak (Alushta) people (even ones who are in favor of Crimea joining Russia) find that their ballots have been cast without their presence. This information comes directly from locals… Two buses with strangers have arrived to precincts. Locals think that they have arrived to vote in the 'referendum'," he noted.
One more violation worth mentioning is straightforward pro-Russian agitation on the day of voting. As Zair Smedlyaev, head of the Central Electoral Commission for electing delegates of Kurultay has stated, main cities in the region are "decorated" with billboards, welcoming to vote for Crimea as a part of Russia, and Russian flags flutter on administrative buildings. "'Flying Dutchmen' are brought on buses to Bakhchisaray district, and obviously they will be coming to different precincts casting ballots. Again, Russian citizens are taking part in voting. The ATR TV journalists were not let into precincts in Belogorsk district. A crime (an illegal referendum) has been committed, which leads to another crime (falsifying of results to escape responsibility)," Smedlyaev wrote on his social network page.
He says that Crimean illegitimate authorities, in such fashion, break rules of their own game. It seems, there are two possible explanations to this: either illegitimate authorities are just used to hold a voting at the expense of required falsifications ("carousels", "throw-ins", and voting of citizens of the other country) or they were so uncertain of the needed result, that they were forced to cheat.
Crimean "authorities" don't find any violations
Meanwhile, Mikhail Malyshev, head of Republican Commission for preparation and holding of the referendum doesn't see any problems with falsifications, "Everything goes in normal mode… Observers headed to precincts and territories, where they had been planning to go, and no obstructions are being made… No reports were filed to the violations register. No incidents, which would result in police involvement, occurred," he stated.
Besides, Malyshev refutes information about citizens of the other state taking part in the referendum, "A non-citizen of the Autonomy cannot take part in referendum". But the Crimean self-proclaimed authorities consider anyone who has, for instance, a permit to live in Crimea, a "citizen". Such documents were used during media experiment by journalists from Russia, Russian citizens with permits to live in Crimea, - and they were given their ballots.
Observers who were invited by self-proclaimed Crimean authorities echo Malyshev. "People keep coming in, voting, everybody is in great mood. It should be noted that we noticed no flaws or violations of voting procedure, we can report on a positive side of an all-Crimean referendum," the observer from Russia stated.
Unofficial Crimean authorities say that the first polls will be reported on March 16th, and a holiday will be declared on March 17th.
Meanwhile, Ukraine, the USA and the EU countries do not acknowledge the legitimacy of the referendum. The international institutions, including OSCE and the Venice Commission, also consider plebiscite illegitimate.
UNIAN
If you see a spelling error on our site, select it and press Ctrl+Enter