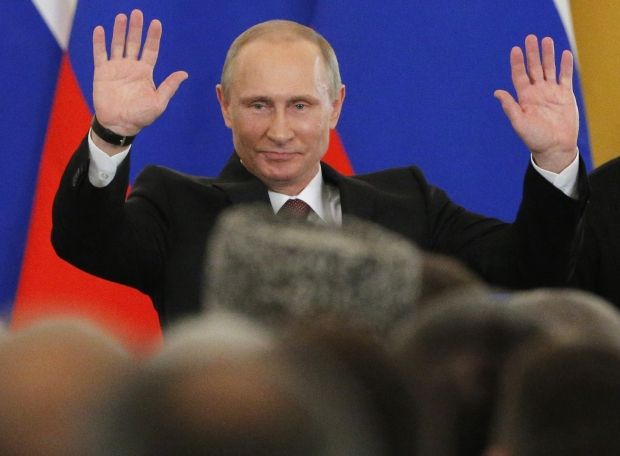 The Fourth Reich: Fuhrer Putin is ready for war for "Russian world"
March 18, Russian President, turning blind eye to international law, has agreed to annex Crimea as a part of Russia. And hinted that South-East of Ukraine can expect the same fate.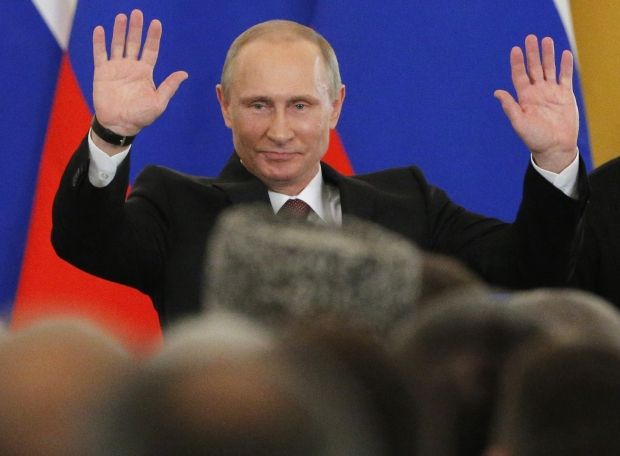 Fuhrer Putin is ready for war for "Russian world" / REUTERS
Unconstitutional (recognized as such by international community, Ukraine and Venice Commission) pseudo-referendum held in Crimea on March 16 at an emergency mode, with almost no preparation, and with massive fraud has been used as a reason for merger of "two new subjects" to Russian Federation. "Today, based on the results of the referendum in Crimea, and relying on people's will, I request to consider the law on adoption of two new entities - Republic of Crimea and Sevastopol city as subjects of Russian Federation", - Putin said at the beginning of his speech.
He also noted that such decision is "vitally important and historic" because "we all know what Russia meant and means to Crimea and Crimea to Russia". Like, the whole territory of autonomy - every city, every mound and every bay - is riddled with Russian history and pride. And the fact that this area was a part of another state, according to Vladimir Putin is "terrible misunderstanding" that occurred, besides, with "violations of constitutional norms that were in force at that time". "This decision was made with obvious violations of even those constitutional norms that were in force at that time. Question was decided behind the scenes, during a hobnob. Naturally, in a totalitarian state, residents of Crimea and Sevastopol were not asked for their opinion. Just a fact. People, of course, asked why Crimea found itself as a part of Ukraine even then. But, generally - we need to admit it - generally, the decision was seen as a kind of formality, because the territory passed under one big country," - he stressed.
However, Russian President immediately reminded Ukrainians who do not live in Crimea that "in any case we do not want to hurt you, or offend your national senses. We have always respected territorial integrity of Ukrainian state, as opposed to those who sacrificed the unity of Ukraine to one's political ambitions. They flaunt with slogans of great Ukraine, but they did everything to divide the country ... I want you to hear me: friends, do not believe those who scares you with Russia, screams that Crimea will be followed by other regions of Ukraine: we do not want Ukraine divided, we do not need it" - he said.
But in the same speech Russian Fuhrer reminded that "after the revolution (1917), Bolsheviks, for various reasons, may God judge them, included in Ukrainian soviet socialistic republic significant part of southern Russian territories. This was done with no regard to national composition of inhabitants, and today these territories belong to South-East of Ukraine". According to him, then it was simply impossible to imagine that Ukraine and Russia cannot be together, but be different states. But it happened. "What seemed impossible, unfortunately, has become a reality. USSR collapsed. Events unfolded so quickly that few people understood dramatics of the situation and its consequences. Many people in Russia and Ukraine, and other republics hoped that the Commonwealth of Independent States that arose then will become a new form of common statehood. After all, they were promised a common currency and common economic space, and integrated armed forces, but it all remained only a promise, the great country never appeared. And when Crimea suddenly appeared in another state, that's when Russia has felt it was not even robbed but plundered,"- said Putin.
At the same time, he acknowledged that Russia by starting "parade of sovereignties" has itself contributed to the collapse of the Soviet Union and while its registration has forgotten about Crimea, and the main base of Black Sea Fleet in Sevastopol: "Millions of Russian went to sleep in one country and woke up abroad, overnight found one-selves as minorities in former Soviet republics and Russian people has become one of the biggest, if not the biggest divided nation in the world".
He noted that today, after many years, he heard Crimeans say that then, in 1991, they were transferred from hands to hands just like a sack of potatoes. "It's hard to disagree. Russian state, did what? Well, what about Russia? Lowered her head and put up, swallowed this insult. At that time our country was in such a critical situation that just could not really protect its interests,"- said Putin.
He said that people could not accept this blatant historical injustice: "All these years, both common citizens, and many public figures have raised this issue, said that Crimea was a native Russian land and Sevastopol was a Russian city". Strictly speaking, what is happening today with Crimea, according to the head of Kremlin, is just establishing of historical justice. After all, ARC is unique blend of cultures and traditions of different peoples. And this makes it similar to Russia, where any ethnicity has neither disappeared nor dissolved for centuries. "Russian and Ukrainians, Crimean Tatars and other peoples lived and worked side by side on the Crimean land, preserving their identity, traditions, language and religion," - said Putin.
However, he said that today, that from 2,2 million inhabitants of Crimean peninsula there are almost 1.5 million of Russian, 350 thousand of Ukrainians who "mostly consider Russian as their native language", and nearly 290-300 thousand of Crimean Tatars, many of which, according to Putin, "as shown by the referendum, also cater for Russia". However, the Fuhrer of Russia, voicing these figures, lied, as the Majlis of Crimean Tatar people, which previously called for a boycott of puppet referendum reported that pseudo-referendum was attended by no more than 2-3 thousand of Tatars. The most part of Crimean Tatars ignored referendum on March 16.
However, Vladimir Putin has promised to complete rehabilitation process for Crimean Tatars after the annexation of Crimea to Russia. "Yes, there was a period when Crimean Tatars, as well as some other peoples of the USSR, suffered cruel injustice. I will say one thing: many millions of people of different nationalities and, above all, of course, Russian people suffered repression. Crimean Tatars have returned to their land. I think that all the necessary political, legislative solutions should be taken to complete process of rehabilitation of Crimean Tatar people; solutions that will fully restore their rights and good name," - said Putin.
Given that many different nationalities live in the autonomy, Russian leader has promised to establish three official languages: "We respect people of all nationalities living in Crimea. It is their common home, their native land, and it would be right in Crimea - I know that Crimeans support it - will be three equal official languages: Russian, Ukrainian and Crimean Tatar".
Head of Russia also does not consider capture of Crimea by Russian troops, the so-called "green men", as intervention or annexation of foreign territory. After all, he said, there were no single shot or fatalities. "Yes, the president of Russian Federation got the right to use Armed Forces in Ukraine from upper chamber of parliament. But this right, strictly speaking, has not been applied. Russian Armed Forces did not enter Crimea, they were already there, in accordance with the international agreement. Yes, we strengthened our group, but at the same time - I want to emphasize, so that everyone will know - we even did not exceed the authorized limit of our Armed Forces in Crimea, and it is provided in amount of 25 thousand people, this just was not necessary," - he said.
It seems that Russia is getting ready to "protect" rights of Russian-speaking citizens on the continental part of Ukraine as well. Before, as Putin says, Kremlin has respected sovereignty of Ukraine, as it expected, that this country will be a "good neighbor", and rights of Russians and Russian-speaking citizens will be provided in accordance with international law. That is why Russia, in due time, "kind of recognized Crimea as a part of Ukraine, but negotiations on border delimitation were not conducted". "With regard to all the complexities of this process, however , I immediately instructed Russian authorities to intensify this work, work on border delimitation, to make it clear to all: accepting the delimitation, we actually and legally recognized Crimea as Ukrainian territory, thus finally closed this issue" - said Putin.
"But at the same time, of course, we expected that Ukraine will be our good neighbor, and that Russian-speaking citizens of Ukraine, especially at the South-East and Crimea, will live in a friendly, democratic, civilized state in which their legitimate interests will be provided in accordance with international law", - said Vladimir Putin.
According to him, recently the situation has allegedly begun to develop in a different way: "repeated attempts to deprive Russians of their historical memory, sometimes even of mother tongue took place, attempts of forced assimilation. And, of course, Russians, as well as other citizens of Ukraine suffered from constant political and state crisis that shakes Ukraine for more than 20 years".
If you see a spelling error on our site, select it and press Ctrl+Enter