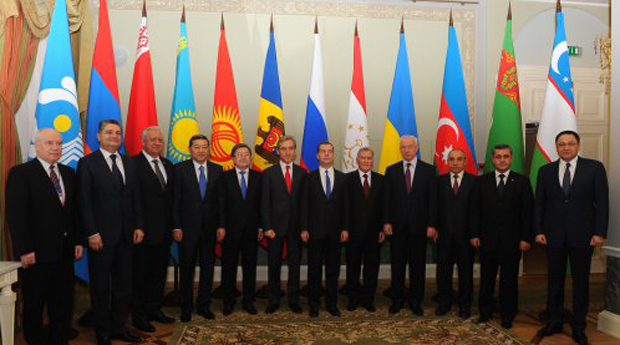 Ukraine - CIS: Time to Say Goodbye
12:08, 22 March 2014
83
0
Ukraine terminates membership to the CIS, established in 1991 as a "surrogate" of the USSR and a symbol of Kremlin's control over former Soviet republics. Political consequences of such step are as follows: Kiev changes development vector for good and de facto comes out from under influence of Russia that took great effort in portraying our country as a non-independent state.
Ukraine's Security and Defence Council has reported on the beginning of a procedure of terminating country's membership in the Commonwealth of Independent States. This decision was announced by SDC Secretary Andriy Parubiy on March 19. Such developments are in many ways predictable, due not only to a fact of aggression and occupation of Ukrainian territory by Russia, but also to an approval of such actions by other CIS members: Russia was openly supported by Kazakhstan and Armenia, both dependent on their Northern neighbor.
Termination of membership was also dictated by historical necessity. Commonwealth was seen as a political phantom from the start. But it was a phantom, very important for Kremlin, seeking to retain its influence on former Soviet republics. Moscow gained some skills in making the world identify Ukraine as part of the CIS, not really getting into detail on economic prognosis for a country in the center of Europe with a 45 million population and its own industrial and environmental potential. Meanwhile, Ukraine would use every opportunity to point out: we are not really part of the CIS, as we have never ratified a Commonwealth Statute. We are one of the founding States, but not more than that. 
Economic context of decision to terminate membership is just as important. If political symbolism can be explained in geopolitical perspective, practical value of membership has been and still remains questionable. During two decades, not a single direction for economic cooperation has been worked out by CIS members. The CIS unites economies of 11 independent states, but it doesn't offer anything: no effective free trade zone, no special court that would deal with trade disputes between member states, and, most importantly, no common trade policy in third countries. Therefore, bilateral economic ties with largest trading partners – Russia, Belarus and Kazakhstan – were stronger for Ukraine. All other member states have been considered as "common CIS market".
This is exactly why economic repercussions of terminating CIS membership will be probably minimal for Ukraine. So, the main task for Ukrainian Government now is to focus precisely on bilateral agreements.  
Depressing Was the Love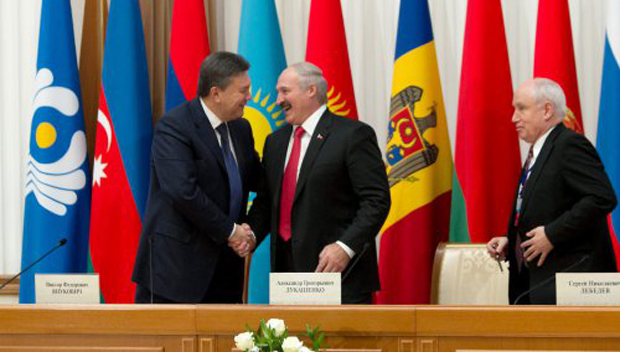 Meeting of Leaders of the CIS Member States in Minsk, October 25, 2013
The reality is as follows. Ukraine has never received any economic preferences as a CIS founding state. CIS member states account for about a third of Ukrainian export ($22bln annually according to State Statistics Committee). However, the supply structure is dictated by cooperation ties established back in the days under Soviet economy. We still supply the same raw material, processed products – type of goods highly dependent on fluctuations in demand on different markets. And it's not accidental when Ukrainian exporters are affected by the slightest hint of financial or industrial crisis in the CIS; and their production volumes drop right away. In 2013, in the face of a common economic recession in independent states, Ukrainian exports to the CIS have dropped by 20% comparing to 2012, according to SSC. But in the same time, exports to the EU countries last year, on the contrary, rose by 3.6%.
Besides being bound with CIS "agreement ties", Kiev regularly experiences "friendly" economic pressure, mostly from notorious Russian Federation, which is not averse to all kinds of trading restrictions for Ukrainian produce by a principle of momentary "political expediency". The process has been going on more or less intensively for two decades. And since 2006, when our country openly stated that terminating CIS membership was considered, trading wars would never stop.
The number of disputes peaked in 2013: demarche of Russian Customs officials is still remembered, when they applied new rules of inspection of Ukrainian cargo. There were no formal violations by Russia, but it literally imposed full trade embargo on Ukrainian produce, reinforced with unfounded claims of Rospotrebnadzor about quality of Ukrainian exported goods – anything from truck bearings to candy. All of this despite the fact that at that time, Government of Yanukovich and Azarov was trying to break the deadlock of implementation of a Free Trade zone Agreement within CIS and with Russia in particular.
Sergey Svistil, vice-president of Ukrainian Chamber of Commerce and Industry (CCI), told UNIAN that no less than 150 Ukrainian companies were affected by Russia's actions in August, 2013. "Those were, let's say, unofficial measures: [Russian – UNIAN] Customs were instructed to suspend custom clearance and move Ukraine to a different risk category," Svistil explains, "There is a risk assessment system that allows Russians to conduct inspections, and they were being conducted. Certificates of origin were checked, all produce being unloaded, all preferences under Free Trade Zone Agreement were suspended, but, as Russia has put it, it had all been connected to risk assessment system."
Federation of Employers of Ukraine estimated that Ukrainian exporters have lost $2.5bln in a matter of several days in August.
"CIS has seized to be a regulatory entity in a commonwealth of states. In fact, it is just a club for discussion on some issues. As everything is decided by full consensus, none of practical decisions are adopted, neither political, nor economic," stressed Vladimir Lanovoy, president of Center for Market Reforms, in his comment for UNIAN.
As the economist puts it, after joining the CIS, Ukraine rapidly switched to bilateral agreements, including those with Russia. "All negotiations are, in fact, held on a bilateral basis. This is why the CIS is a place where discussing common plans is possible, but opinions vary greatly. The CIS is all about talking, so there will be no negative consequences of terminating Ukraine's membership," Lanovoy assures.
Vasiliy Yurchyshyn, economic programs manager of Razumkov Center, shows solidarity with Lanovoy, "Getting out of the CIS will in no way affect country's economy. If not for a high-profile announcement, no one would even notice," states the expert.
He says, Ukraine has been adhering to a position of an observer in the CIS. "As to the economic aspect, a CIS Free Trade Zone, Free Trade Zone with Russia, signed earlier, had never led to any improvements," he stressed.
In his opinion, there is no reason in addressing anyone in the name of some organization which does not contribute to its members' activities, and covering it all up with expected breach of cooperation ties due to termination of membership is incongruous. "Breach of cooperation ties – so what? Will anyone feel ashamed? I know of no economic policy directions that would flourish due to Ukraine's membership in the CIS," said the expert.
There'll Be No Grief in Parting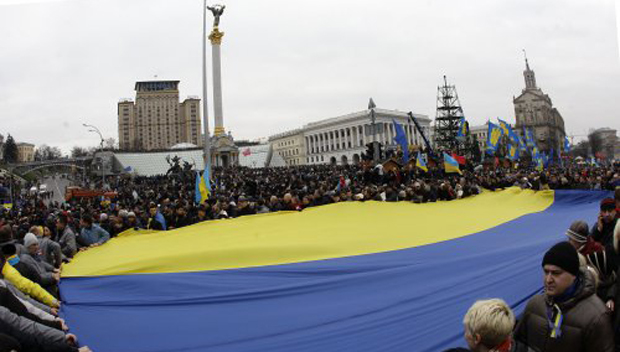 Maydan Nezalezhnosti in Kiev, December 1, 2013
Viktor Suslov, a representative of Ukrainian Government to Eurasian Commission is less categorical in his estimations. In his opinion, repercussions from decision to terminate CIS membership may be harsh, and their economic component was never assessed properly. "Unfortunately, new authorities must make decisions in a rush, they are motivated by current political situation. There was no time for estimating economic consequences of such decisions," noted Suslov in his comments to UNIAN.
He told us that a procedure for going out of a Free Trade Zone is provided in the Agreement within the CIS, and it assumes that after leaving the Zone, a state can continue with its activities within FTZ during a period of one year. What happens next – we should think about it. We should also think about losing a status of an observer to the Customs Union. "It is very advantageous for Ukraine to be in a CIS Free Trade Zone, and I hope that Ukraine can keep on operating within this Zone for some time, until its supplies are reoriented. But being in FTZ is part of being member of CIS. Besides, it is obvious that a Memorandum signed last year's May between Ukraine and Eurasian Economic Commission on Ukraine's status as an observer to the Customs Union will be denounced. This is also an issue of global politics," noted Suslov.
Leonid Kazachenko, head of council of entrepreneurs to Ukrainian Cabinet of Mimisters, president of "Ukrainian Agrarian Confederation", also shared his opinion with us. He says, total losses from termination of CIS membership will not be significant. But it is now important to work out measures to protect the companies that are fully or partially oriented just on a Russian market and are not able due to technology issues momentarily switch to European markets. "I think, this [support of national production – UNIAN] requires working out special financing programs, for about two years; forming domestic demand from Ukrainian companies," Kozachenko noted. He also stressed that it would be undesirable to lose Russian markets, therefore possibilities for maneuvering should be carefully considered. Directions for cooperation between the two countries, which would be irreplaceable for Russia itself, should be determined.
However, Russia still favors finding reasons for new economic disputes rather than cooperation. Just in time for announcement by the Ukrainian Government of the intention to terminate CIS membership, sudden difficulties on a Ukrainian-Russian border are being experienced: Starting zero hours March 20, Federal Customs Service of Russian Federation imposed restrictions on customs clearance of Ukrainian produce at all checkpoints for motor vehicles along the border, explaining it with anti-terrorist measures. In just minutes, queues of up to 150 trucks have formed. Ukrainian Customs officers were forced to try to deal with the issue "on the spot", they have called Russian colleagues for negotiations. By midday Thursday, March 20, the issue has been resolved: traffic across the border has been restored. 
In the Ministry of Revenue and Duties of Ukraine, UNIAN has been told that the border remains under constant control. Yet, the Customs authorities cannot predict the developments and exclude the possibility of such situation repeating in the future.
What is to be done in such situation? Business suggests: address the WTO. "Such steps [limiting exports – UNIAN] go beyond Russia's membership in WTO, without a doubt. We should immediately raise a question to have those trade disputes solved at WTO, with Ukraine and Russia being members of it," stressed Sergey Svistil, vice-president of the CCI.
Ukraine is left with no other choice.
Olesya Safronova (UNIAN)
Translation by Yevgeny Matyushenko
If you see a spelling error on our site, select it and press Ctrl+Enter