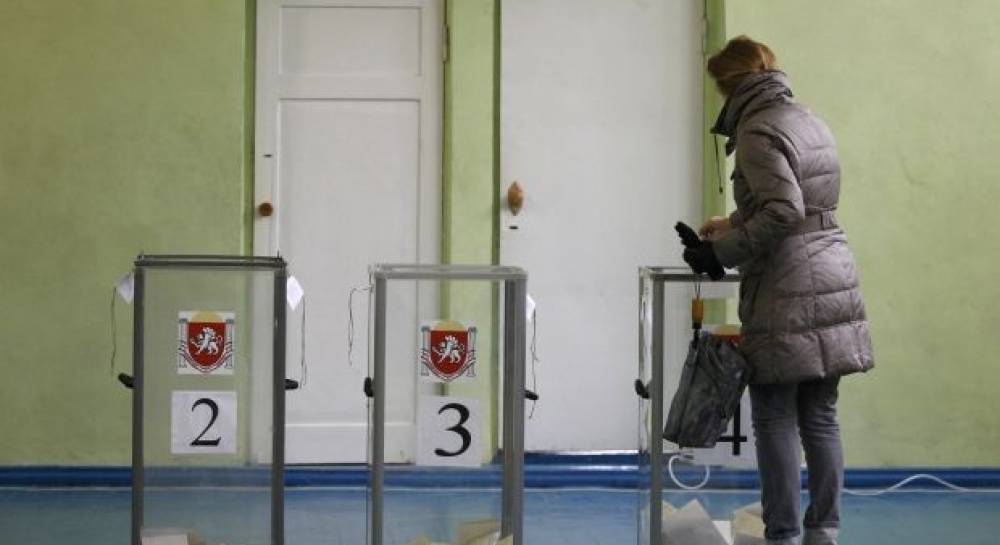 «Observers» of Lawlessness in Crimea Gave a «Trial» to Europe Division Scheme
Pseudo-referendum was held in Crimea and its results are known. It is also known that international observers on the "referendum" gave their unambiguous assessment of what happened.
In particular, they declared legitimacy of "the referendum", which took place with no violations. Russian side has repeatedly stressed that not just EU citizens, but MEPs were invited or expressed their desire to observe March 16 "referendum".
Though, Cremlin kept stubbornly ignoring the fact that European Union has not officially sent observers to the referendum in Ukrainian autonomy. At this rate, EU Delegation in Ukraine commented on this situation as follows: "EU citizens that were present in Crimea in those days and commented on "referendum" do not represent European Union".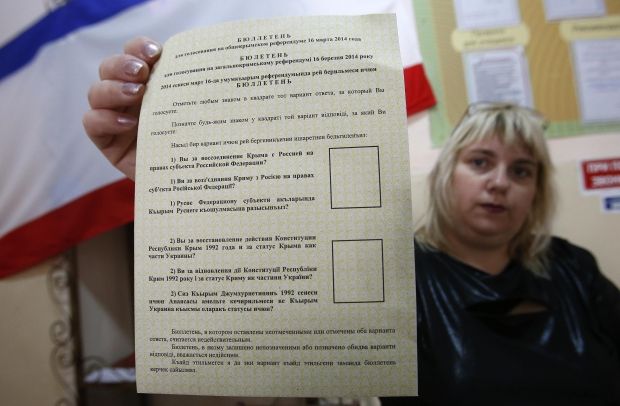 Bulletin on pseudo-referendum in Crimea / REUTERS
Crimea as a rehearsal of territories division in Europe
Meanwhile, the diversity of international observers' list, whose conclusions are so actively replicated by different media and official representatives of Russian Federation, strikes even those who are fairly experienced in such matters. After all, Crimea was visited by no ordinary citizens of the EU (representatives of Poland, Austria, France, Germany, Belgium, Bulgaria, Greece, Hungary, Italy and Latvia). Not only troops of "little green men" arrived to Ukrainian autonomous territory these days, but a theater troupe with characters for every taste: representatives of extreme right wing parties, anti-Semitic organizations, preachers of ethnic conflicts, representatives of European "problem zones" dreaming of independence, open admirers of Russian politics and lobbyists for its interests in Europe.
What is unifying factor for all members of this troupe on its benefit tour to Crimea? Answer is as simple as that: chief director and organizer of the performance. After all, radicals and second-tier politicians persecuted in Europe got their chance to pass for fighters for freedom and independence, and to gain new fans in Scotland, Catalonia, Flanders. And therefore, start a new round of European movement for independence of territories.
Currently, everything that happens is yet solely Ukraine's problem. Aforementioned people have already left its territory, voicing pre-prepared statements. But what prevents them, EU citizens, from expressing themselves during next elections somewhere in Europe? Or maybe even launch a campaign in support of their radical views before elections and referenda (which are so disturbing for authorities of Belgium and Spain, and which are prepared to with such precautions in Great Britain)?
Crimea has became their meeting place and rehearsal room. As members of parties and MEPs with minimal support of their views now, they can safely rely on increase in the number of their admirers in future, primarily because of support from Russia, which is interested in shattering relative calm and seeming stability in the EU.
This point of view can be confirmed by numerous press conferences and comments shared by these people upon return from Ukraine, stressing the need of self-determination for anyone who lives in disputed territory, which are more than enough in Europe. It is also peculiar that, day by day, there are more admirers of "talent" of these politicians-observers. Their ideas become more and more real, while more places to "observe" emerge.
List of Putin's allies among European political forces
Following "observers" deserve close attention:
Mateusz Piskorski (Poland) – head of mission of international observers. General Director of the European Centre for Geopolitical Analysis, famous Polish fascist and anti-Semite, an open admirer of National Socialism, Holocaust denier and author of articles for "White World" portal and "Я – русский" ("I am Russian") newspaper, former editor-in-chief of Polish skinheads' magazine "Odala", lauding "Aryan race" and Adolf Hitler. He was present as an observer at the elections in Transnistria. Received an invitation from Russian observer organization CIS EMO.
Bela Kovacs (Hungary) – representative of extreme right Hungarian party Jobbik, known for its assaults towards Jews and Roma.
Enrique Ravello (Spain) – member of Spanish parliament, representative of separatist movement in Catalonia, former member of neo-Nazi organization CEDADE. Stands for Catalonia's independence from Spain.
Ewald Johann Stadler (Аustria) – head of reformist-conservative party of Austria, MEP from Austria. Used to claim that Anna Politkovskaya (known Russian journalist and human rights activist) has "organized her murder herself".
Johannes Hubner (Аustria) – deputy of Austrian liberty party, speaker of ALP fraction in Austrian parliament. On his return from Crimea at a press conference in Vienna he sharply criticized policy of EU sanctions against Russia and said that in the EU there are enough "problem zones", meaning Scotland, Catalonia, North Italy and South Tyrol.
Johann Gudenus (Аustria) – head of Vianna department of "Free Austria" party. Graduated from Moscow diplomatic academy. Praises Putin's policy. During the meeting with Ramzan Kadirov in Chechnya negotiated forceful return of Chechens from Austria (approximately 90 thousand people).
Zoran Radojicic (Serbia) – public activist, anti-Semite, forbidden from entry to Canada due to Holocaust denying.
Milenko Radovac (Serbia) – candidate for deputy from Serbian "Doors" party, whose ideology the is extreme right social conservatism and Orthodox clericalism.
Nenad Popovic (Serbia) – ally of Putin's "Edinaya Rossia" party, Russian interests lobbyist in Serbia. Actively defended Serbia's participation in "South Stream" project and other projects fostering integration of Russian capital to Serbian economy.
Charalampos Angourakis (Greece) – MEP from Greece, representative of extreme right forces with reputation of neo-Stalinist.
Frank Creyelman (Belgium) – head of committee on international affairs in Flanders parliament, separatist from the party, that has been forbidden by court in Belgium, persona non-grata in Turkey. Stands for Flanders' independence from Belgium.
Luc Michel (Belgium) – MP's assistant in Belgium, follower of Jean-François Thiriart, well-known as "major Belgian Nazi". In Belgium Michel's organization supports nationalistic party «Vlaams Belang», whose representatives are not accepted in political community. Luc Michel observed elections in Abkhazia and Transnistria and recognized them as valid and those that passed with no violations.
Jan Penris (Belgium) –  MP in Belgium, supports idea of Flanders' independence from Belgium.
Christian Verougstraete (Belgium) –  MP in Belgium, member of European extreme right Alliance of European National Movements (AENM). Member of extreme right «Vlaams Belang» party, also supports idea of Flanders' independence from Belgium.
Frank Creyelman (Belgium) – Member of extreme right «Vlaams Belang» party, also supports idea of Flanders' independence from Belgium.
Fabrizio Bertot (Italy) – MEP deputy from Italy. Was a mayor of Torino suburb. In 2012 was banned from his duties because of ties with Mafia investigation (Ndrageta group, among the most powerful in the world).
Valerio Cignetti (Italy) – secretary general of Alliance of European National Movements (AENM), where the most part of nationalistic movements and parties of Europe participate.
Ivan Abager (Bulgaria) – chairman of Hilendarsky Crimean Republican Association of Bulgarians, resides in the Crimea and cannot relate to "foreign" observers directly. Actively criticizes Bulgaria's membership in the EU.
Кiril Kolev (Bulgaria) – deputy of extreme left national-communist party АТАКА, head of youth organization of АТАКА party, which is known to be ultranationalistic, anti-Semite and racist.
Pavel Chernev (Bulgaria) – deputy of extreme left national-communist party АТАКА, leader of Bulgarian extreme right organization "Pravoslavnaya zarya" ("Orthodox star").
Ge Zhili (PRC) – honorary consul of non-recognized Republic of Abkhazia in PRC. Former advise in MFA RF on economic and trade issues.
Tatjana Zdanoka (Latvia) – MEP, one of the leaders of Russian political movement in Latvia. Her position at European parliament has been the last success of her party - there are no deputies in Sejm of Latvia or Riga Duma from her party.
Hikmat Al-Sabty (Germany) – left politician of Iraqi origin, active preacher of Israeli-Palestinian conflict, his actions are evaluated as provocative against Israel and Jewish culture.
Erkki Johan Backman (Finland) – pro-Russian sociologist, publicist. Neo-Stalinists, Holocaust denier. Banned from teaching at the University of Helsinki. In 2009 declared "persona non-grata" by secret service of Estonia as a person "threatening state security" of the country.
Nick Griffin (Great Britain) – leader of extreme right "British national party", accused in preaching of racial hatred.
Aymeric Chauprade (France) – special advisor on international affairs of National front of France leader Marine Le Pen. Known for his critics and sharp statements concerning Euromaidan and European future of Ukraine.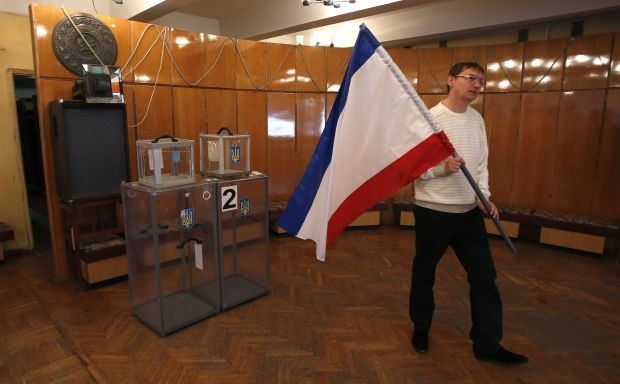 The Preparation for pseudo-referendum in Crimea / REUTERS
Favour for a favour
Despite the common practice of declaring observation mission, some members of the EU have decided to refrain from doing so. And the list of "observers" is far from being complete. Rather, they prefer to remain anonymous so as not to cause the condemnation of their fellow citizens and party members. Still, it is entirely possible that having rendered this peculiar service to Russia in future they rely on some support from Cremlin.
Each of "observers" agreed with the policy pursued by Russian Federation on the territory of Ukraine. Therefore, they demonstrated thereby readiness and willingness to participate in similar processes in Europe.
Taking into consideration the fact that, they do not hide their political views and demands, their only presence in Ukraine confirms readiness for more radical action than rare speeches in legislative bodies of their own countries.
So, it is just a matter of time, when and under what circumstances they will show up again. And there is no doubt, that they will take action not only neglecting law and indulging frankly criminal intent to destabilize situation in Europe. Therefore, it is vital for Europe to pay serious attention to this signal and draw conclusions.
Aleksandra Zasmorzhuk, Yevgeny Matyushenko
Translated by Anastasiia Matviiets
If you see a spelling error on our site, select it and press Ctrl+Enter