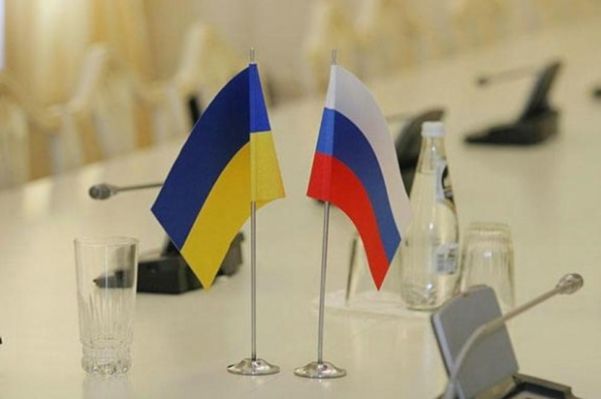 Undiplomatic Correspondence
In a "War of Words" of Ukrainian and Russian Foreign Ministries, a new era has started. In exchanging statements, Foreign Offices show new "creative approaches" that sometimes have nothing in common with classical diplomacy.  
The dialogue with Russia went wrong since late February, when a pro-presidential (and, in general, pro-Russian) Foreign Minister of Ukraine Leonid Kozhara was replaced by an acting Minister Andrey Deshschytsa. To his credit, new chief of Foreign Office first of all stated that developing good-neighbor relations with Russia was a priority. He also stated that stabilizing relations (especially considering the factor of Crimea, occupation of which by the "green men" had started on February 27) should happen peacefully and as soon as possible. Ministry of Foreign Affairs of Ukraine even suggested Russian colleagues to hold consultations "in accordance with Article 7 of the Friendship, Cooperation and Partnership Treaty between the Russian Federation and Ukraine on May 31, 1997," as early as on February 28.
Unfortunately, this step and the subsequent ones were apparently perceived in Russia as a weakness. It was showed, that there was no way for any partnership. First, Russian diplomats would fail to notice the presence of their own "green men" on a territory of a neighboring country, repeating their president's mantra of "Crimean Self-Defense", which, as they say, had purchased all the hi-end weapons, military equipment, and uniforms in local military shops. In a little while, in violation of international agreements, Russia recognized a pseudo-referendum in Crimea as legitimate and started the process of annexing Ukrainian autonomy.
Distortion of Facts and Double Standards
But, just when sanctions from Europe and the USA started looming on the horizon, Russian Ministry of Foreign Affairs began to wonder: how come the West keeps on "pulling Ukraine towards association with the EU" and playing along with "Kiev attempts to shift attention focus from real problems with democracy, human rights and economy towards 'Crimean crisis'", "like there's no Western Ukraine with its obvious problems."
And all this time, Russian diplomats would not quit arguing that in Crimea, Russian citizens and Russian-speaking locals were being beaten, even killed; that such actions by "fascists, Nazis who came into power in Ukraine" were expected in Eastern Ukraine. Therefore, Russia is not going to compromise the interests of "our country in Ukraine, the interests of Russian-speaking population."
In this situation, Ukrainian MFA had to go full defense and refute such statements one by one. "Extravagant arguments that we hear from the Russians, to defend their position, are counterproductive and not pragmatic," stated deputy Minister of Foreign Affairs Daniil Lubkivsliy on March 5.
When it came to voting for the resolution called "Territorial Integrity of Ukraine" at the UN General Assembly, with Russia backed by only 11 participants (with a 100 who voted "for" Ukraine), The Russian MFA stated that votes had been divided this way due to political pressure and economic threats. The Foreign Ministry of Ukraine reported, "We have every reason to say there is pressure, a hard enough pressure from Russia on a number of countries, including those who voted against the resolution."
In general, for more than a month, Ukrainian diplomats have been trying to conduct a moderate and prudent dialogue with Russia: they would lodge protest notes with their Russian colleagues, express concerns and publish moderate statements. There were calls "for moderation and balance" in assessments and demonstration of "affirmative action to de-escalate the situation". In response, Ukraine has received yet another batch of outright lies.
Nonexistent Blockade of Transnistria
For instance, in early March, Russian media have spread information about the alleged blocking of trains with merchandise, uniforms, food that was sent to Transnistria for Russian peacekeeping forces, and diplomats were happy to pick up this issue. Ukraine's MFA addressed the issue with the message: "… The situation on Ukrainian-Moldovan border remains predominantly normal. Number of cases when citizens of Moldovan Republic are denied entry to Ukraine for violations of Ukrainian immigration legislation has not increased and remains at the average level. We strongly urge Russian Federation to discontinue with provocative rhetoric and immediately stop the implementation of policy of aggression, intimidation and destabilization of situation considering Ukraine."
On March 20, during a regular meeting of a Joint Control Commission, a Ukrainian delegate addressed the Russian delegation to provide information confirming the blocking, and any of Russian delegates in Joint Military Command and Joint Control Commission failed to do so. Russian delegate just noted that the information about Ukraine blocking shipments to Russian peacekeeping forces is untrue, is a "journalists' fiction".
Nonetheless, at the end of the month, head of Russian Foreign Ministry Sergey Lavrov, speaking on air for one of Russian TV channels, stated that "Chisinau and new Ukrainian authorities have literally organized a blockade". "And our European partners totally ignore all of this. Furthermore, the EU and the USA seem to approve of such trends," he stated.
Mugging and Discrimination
On March 24, Foreign Ministry of Russian Federation has published a false report on a mugging of Russian citizens who traveled in a train 65 "Moscow-Chisinau" that took place on March 21, at a Vinnitsa railway station, by men in Ukrainian Rebel Army (so called "UPA") uniform. "Mugging was accompanied with "political outreach". Confusingly, any attempts of the victims to file reports to local law enforcement authorities have failed. Police refused to accept such reports. This is a kind of a "constitutional state" is now being formed in Ukraine!" Russian diplomats reported.
This information was refuted both by Ukrainian Embassy to Moldova and Ukrainian MFA. "Comments of Russian MFA, that completely turn the situation head over feet, are at least surprising. This is pure disinformation. If a uniformed police patrol with identification marks is considered by diplomats as "UPA", then I have no further comment," said director of Information policy department of Ukrainian MFA Yevgeny Perebiynis.
The next information attack on Ukraine was performed by Russian MFA on March 26 when it accused Kiev in discriminating Aeroflot pilots which fly to Ukrainian airports. Nature of claim was that State Border Guard Service of Ukraine prohibits Russian airline's cabin crews to leave aircraft. "Such actions don't comply with the provisions of international acts and international civil aviation conventions on flight security," it was reported.
In its turn, Ukraine's MFA rejected Russia's accusations in mass occurrence of "such actions". Ukrainian Foreign Ministry confirmed that on the night of March 24, at Boryspil international airport, at the passport control of passengers who had arrived on a Russian Aeroflot flight, one citizen of Russian Federation was denied entry to Ukraine according to a request of law enforcement authorities on exclusion from Ukrainian territory. "The man, holder of a Russian passport, happened to be one of the plane's pilots. His co-pilots were not limited in their right of crossing a border, yet the Flight Commander has made a decision that all other crew members not cross the border," Perebiynis fended off.
According to him, two similar events occurred at Donetsk and Kharkiv airports in early March. Then, two Russian citizens, who also happened to be flight crew members, were denied entry. Each of them has received an official decision on entry denial, in which the reason for exclusion was stated.
Russian MFA and an OBS ("One Blogger Said") Source
On March 31, Russia's MFA decided to address one more non-existing "news", made up by Russian media: Kiev's plans to bring foreign contractors to policing. "There is news in media on plans of today's Ukrainian authorities to bring personnel of foreign private military companies to policing," in other words – to provide safety for new regime, suppress civil protests and discontent...  It is obvious, that such practice, if really put to life, violates Ukrainian law, which prohibits participation of foreign citizens in activities of even Ukrainian private security companies. Such initiatives are evidence of inability of those who seized power in Kiev to provide minimum order within the country and, probably, their own safety," was noted by Russia's MFA.
This statement, apparently, was the last straw for Ukrainian diplomats. On April 1, for the first time they announced their comments using undiplomatic language. Probably, the language understood by their Russian colleagues. "We were not at all amused with our Russian colleagues spreading yet another lie. We have even become used to it. Other thing is surprising: MFA of Russia started using sources that even mediocre newspapers would disdain to use. This, one may say, "news", was thrown in the media space by a blogger back on March 2 (colleagues, why hesitate for a whole month?). Then it was republished by some gutter newspapers and Kremlin-controlled media… Truly, all's fair in gaining one's goals, even when the source is OBS ("one blogger said"). There seems to be such an underestimation of one's own people, to expect that Russians will continue to believe such lies," the message states.
Ukrainian Foreign Ministry has also recommended their Russian colleagues an Internet resource that features finding fakes and refuting them, "a real Klondike of such "real" information."
Undiplomatic? Yes, it is, but it's not the point. The question is: "Will it work?"
Translation by Yevgeny Matyushenko
If you see a spelling error on our site, select it and press Ctrl+Enter