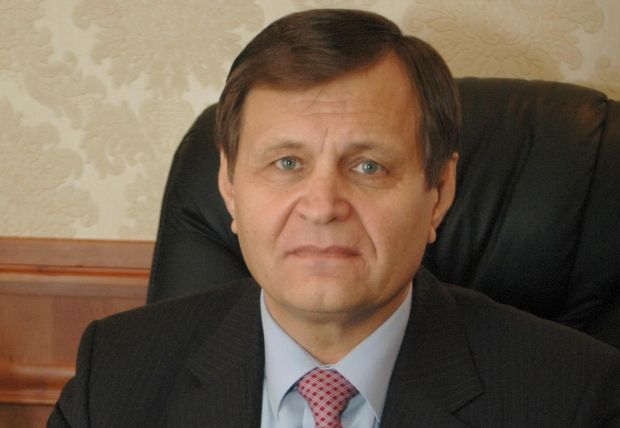 Vladimir Landik: What is happening in Luhansk is a terrorist attack, and it must be suppressed.
UNIAN talked with odious former PM from the Party of Regions about those behind separatist riots in Luhansk, a role of Alexander Yefremov in these events, local police inaction and outcome of the rule of the Party of Regions for the area.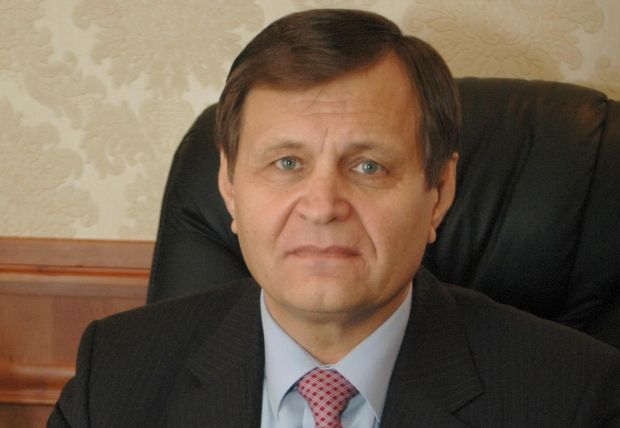 Vladimir Landik / nl.irtafax.com.ua
- One can observe a wave of separatist riots in Eastern regions of Ukraine. What is happening in Luhansk now?
- The building of the Security Service of Ukraine remains under control of separatists. According to our assumptions, there are up to 30 Russian military, and, in general, nearly 200-300 people inside. Also, there are about 300 people in front of the building, they have built barricades and brought tires. They are demanding to hold a referendum and join Russia. This is a terrorist act. Separatists already claim seizure of weapons from a SSU warehouse. But it cannot be confirmed.
- After holding journalist investigations, several media claimed that Oleksandr Yefremov, PM from the Party of Regions, was the one who had ordered separatist marches and seizure of the SSU office building in Luhansk. In his turn, he claims such accusations false. In your opinion, are they true?
- I cannot say for sure that a main figure behind separatist riots in Luhansk is Yefremov. But, according to indirect evidence... PM, head of a Party of Regions fraction in Parliament, Luhansk inhabitant, - he does not comment on the issue. Meanwhile, his assistant organizes seizures of regional state administrations, SSU office building, fights during meetings. At the same time, his godson Rodion Miroshnyk, the head of regional state television company, broadcasts materials that propagandize separatist ideas such as federalization, Russian as second language, welcoming Russia... And all of them are Yefremov's people...
Moreover, among protesters' demands was one to free the arrested participants of the meeting. But why seize the building of SSU - not police? Because the SSU and its newly appointed head were digging into Yefremov's business clan, and the clan, in its turn, understands that it can get under lustration and it means criminal prosecution. But he (Yefremov - UNIAN) will try to negotiate calming situation in Luhansk in exchange for some benefits for him and his partners.
I think, I am right regarding Yefremov. I'm now receiving text messages with threats to burn my house, burn my office and things alike.
- Did you address law enforcement agencies?
- Of course I did. What's the use? For instance, on April 7, Yulia Tymoshenko planned to appear on air during her visit to the region. Just before her arrival, PM Oleh Lyashko came and about ten people broke in after him, a fight started. Surely, they were not allowed in, but they caused cancellation of broadcast. We called the police and gave our statements on who participated in the attack on the television company, but they did not even write down the names. They just walked around and that was all. Our police does nothing.
- Is police "special" in Luhansk?
- Just the same as in Kharkiv, Euromaydan is on its knees, and the police are making the corridor (regarding events in Kharkiv when local pro-Russian activists made seized Euromaydan participants kneel).
- In your opinion, what should be done about it?
- What [political party] "Svoboda" says - strong measures are to be taken. Ministry of Internal Affairs of Ukraine should be putted under control of "Svoboda" and let them manage. If they can't manage, they will retire. 
I believe that current situation is the result of weakness of law enforcement agencies that have become as one with criminals and "titushkas". The personnel of the Ministry of Internal Affairs has to be totally renewed as well as heads of regional state administrations. In Luhansk region, everyone remained on their positions - old team everywhere! Only the head of the SSU has been changed. And now you can see the result...
- Do you take any actions to change the situation?
- I express my opinion on what is happening on air, in the Internet, talk with politicians, businessmen, local citizens - daily. 
- You mentioned Tymoshenko's arrival to Luhansk. Did you talk to her? What is her opinion concerning the situation in the city?
- Yes, I did. Her opinion: it's obviously terrorism.
- What does she offer to do?
- She thinks that we should not shoot but negotiate.
- Maybe, a group of negotiators shall be gathered in order to calm separatist riots with no bloodshed...
- What negotiations with Russians are you talking about?! They have concrete task. Will you promise to hold illegal referendum? Their main target is to interfere with the elections and this is what they are doing. Whom should we talk to? Putin? He does not acknowledge Ukrainian authorities.
- So, what's the solution?
- Forceful actions. To come in (to seized buildings - UNIAN) and to throw them away. Not to shoot but to throw them away and to arrest, arrest, arrest. And it had to be done before, when separatist activities were only starting. 
- In Donetsk, after negotiations of Rinat Akhmetov with separatists the latter pledged to leave seized regional administration building and surrender their weapons. So far, however, this has not happened. Nevertheless, in your opinion, what role in this story does Akhmetov play?
- Well, Akhmetov is an individual just as we are. What could be the guarantee of his negotiations with Russians? They demand federalization of Ukraine. What can he say to this? He can only undertake to act as guarantor that, while leaving the administration building, separatists will not be shot at. I can make such a guarantee in Luhansk as well. But a sniper can also open fire from their side... So, there can be no guarantees from anyone.
- Luhansk region borders with Russia. So, you know everything about neighbors. Is there really so good, that region inhabitants want to rush to Russia? There are not only "titushkas" but also ordinary Luhansk citizens on rallies...
- Surely, there are not only "titushkas" on meetings. They are brought from depressive regions by buses to create the image of massive participation. They do not even hide this fact and the amount of money they receive for participation in meetings. Also, there are people on meetings who consider joining Russia as a return to the Soviet Union - 2 roubles for sausage and 20 kopecs for bread. 
- But do not they know how their neighbors live?
- Well, we offer them – go and see. For example, Russian villages closest to border - Chebotovka, Ilienko, Yelan. No electricity, no gas, no roads, no transport. Go and see - this is Russia that is waiting for you. But there are few people in Luhansk that want to join Russia. Nearly 10000 out of a 0.5 million Luhansk population. Mainly, people are against such scenario, they are outraged by separatists' actions. Especially those who live near the border. They can see tanks in Russian villages, locals who provide those servicemen with food in fear...
And talks about Russian language as a second state language in Ukraine – it's all a myth. People just want to live better. Luhansk region, all looted, lies in ruins. In Luhansk, one could make movies about the Battle of Stalingrad with no special decorations. And all of this is the result of permanent rule of the Party of Regions, which only robbed the region. If children of the previous governmental "elite" became billionaires in Kiev, they became millionaires in Luhansk. So the region was devastated.
- Is it possible to revive Luhansk region?
- One can do it if the robbing is stopped. Ukraine can be revived as well if we love it and work for its benefit. But if one waits for Russia to come and fix everything - nothing will happen. It's like selling your own mother. And this is a moral image of our previous authorities. 
Nana Chernaya
Translated by Anastasiia Matviiets
If you see a spelling error on our site, select it and press Ctrl+Enter