Putin's White Paper: Exclusive Right to Lie
01:48, 10 May 2014
10 min.
18
April 5 Russian Foreign Ministry presented to President Vladimir Putin "monumental" work on human rights violations in Ukraine. UNIAN studied the so-called White Paper, created in the best traditions of Kremlin deployed information warfare.
According to official report, Russian Foreign Ministry's paper for its Fuhrer summarizes "numerous violations of human rights and the rule of law" in Ukraine during period from the end of November 2013 to the end of March 2014. The White Paper's basis consists of "informational materials from Russian, Ukrainian and some Western media; statements of Ukraine's "new government" leaders and their supporters; eyewitness' accounts; as well as observations and interviews from the scene collected by Russian NGOs ( non-profit organizations )".
Sergei Lavrov's team argues that "as a result of the violent seizure of power and unconstitutional coup" in Ukraine there was a "collapse of legitimate government, legal arbitrariness reigned". Russian Foreign Ministry notes that after that ultranationalist extremist and neo-Nazi sentiment became commonplace in Ukraine.
In four months Russian Foreign Ministry "dug out" mass manifestation of racism, xenophobia and ethnic intolerance in the country that has been peaceful home for Ukrainians, Russians, Belarusians, Moldovans, Crimean Tatars, Bulgarians, Hungarians, Romanians, Poles and other nationalities during 23 years.
As well Russians managed to find religious intolerance in multi-confessional Ukraine. A germ of new reforms and need for lustration - which is what Ukrainian society seeks for - is considered by "brothers" as repressions, accompanied by physical violence and outright banditry.
As it has been noted in the ministry, "primary objective of the White Paper is to emphasize these facts in front of international community and key international bodies in the field of human rights, as well as relevant non-governmental organizations which have not shown proper and impartial attention to the issue of identifying and bringing to justice those responsible for these violations". "Glorification of the Nazis and their Bandera henchmen should be ceased as soon as possible with the help of united efforts of Ukrainian people and international community" - Russian diplomats stated in the report.
Human rights
In the first block of the White Paper - "Violations of the right to life, public order and safety, the use of torture, inhuman treatment and iniquity" - Russian Foreign Ministry uses quotes from the International Covenant on Civil and Political Rights and the Convention on the Protection of Human Rights and Fundamental Freedoms , as well as the chronology of Kyiv events in own quite "creative" interpretation. After reading, one may get an impression that Russian diplomats consider "human" only law enforcement officers, clerks or deputies. Other participants of the events in Ukraine seem not to be "humans".
In particular, the report mentions "establishment" on November 26-27, 2013 of "informal association "Right sector", which according to Russian diplomats, inspired "further mobilization of radical nationalist activists of Euromaydan rebellion". In fact, further the White Paper says that on November 30 and December 1 "Right sector" - demonized by Russian propaganda machine - together with other "radicals" organized "trainings of tactics of violent confrontation to law enforcement officials" and then started to seize buildings.
Worth noticing that in this part of report Russian Foreign Ministry deliberately omits violent crackdown of unarmed Euromaydan participants by Special Forces "Berkut" in the night, November 29-30. Cynicism of Russian Foreign Ministry in this case is manifested also by fact that the International Covenant on Civil and Political Rights, which diplomats quote at the beginning of the chapter "recognizes the right to peaceful assembly". And it was actually peaceful assembly, that had been violently dispersed by "Berkut" in the mentioned time.
Further "chronology" of events in Ukraine, according to Russian Foreign Ministry, also contradicts reality and International Covenant. For instance, Russian diplomats humbly conceal adoption by Yanukovich regime (sidestepping Verkhovna Rada regulatory procedures, simply by hands rising) of "dictator laws" package limiting civil rights. Instead, the report contains vivid descriptions of events, brought about by these laws adoption: "January 19-25, 2014 militants from "Right sector" entered into violent clashes with security forces on Hrushevskoho street. Over 300 people (mostly police officers) were injured".
Unfortunately, Russian Foreign Ministry staff considers unnecessary to mention in their report that human rights activists from Helsinki Federation for Human Rights compare arrest of dozens of activists during these days with taking hostages. "Please make a note of the crime in the Unified Register of pre-trial investigations and immediately begin a criminal investigation, to reveal identities of crime victims, as well as all those involved in the capture and holding hostages. Immediately take all necessary steps to release the victims, still held as hostages at the moment... " - said in statement of Mr. Bushchenko, executive director of Arcadia organization, sent to the Minister of Internal Affairs, the head of Security Service and Prosecutor General of the state.
However, Russians keep back or twist facts also in other chapters of the report. For example, those regarding attacks on journalists and hindering of media activities. In particular, the text says that "violation of rights of media workers during the "revolutionary events" were unprecedented". "One journalist (Vyacheslav Veremiy) was killed, 167 media workers were injured and dozens suffered all sorts of attacks. Availability of editorial certificate or inscription "press" on the clothes did not save from attack and destruction of professional equipment",- wrote the Foreign Ministry employees .
Here Russians "diplomatically" silent the fact that all these attacks were organized by Yanukovych regime or occurred with acquiescence and connivance of law enforcement institutions. For example, Vyacheslav Veremiy was killed in the vicinity of central Kyiv office of MIA. And the murderers were not just "unknown masked men with bats and guns", but Anti-maydan participants.
In addition, Russian Foreign Ministry employees suffer forgetfulness regarding kidnappings of protesters from hospitals, tortures and murders. In particular, the report says nothing about tortures of Euromaydan activist Mykhailo Havrilyuk, stripped naked by "Berkut" as the temperature was 20 degrees below zero (video of bullying has been published by law enforcement officers themselves).
Russians spared not a single word for Yuriy Verbitsky, who after being kidnapped from the hospital was found dead in the woods near Boryspil. Also, the White Paper makes no mention of the fact that, Euromaydan activists Mikhail Zhiznevsky and Sergiy Nigoyan died after gunshot wounds.
Instead, in few paragraphs of the report one may read about how self-proclaimed "governor" of Donetsk region Pavel Gubaryov was tortured in jail after being arrested by Security Service. According to Russian diplomats after being arrested on March 6, "he was severely beaten several times and is in coma". Moreover, "it was reported that Gubaryov was not just beaten, but tortured."
It is noteworthy that on March 12 Gubaryov's wife Yekaterina said on his social media page that "he smiles and passes you all the call to continue the struggle". On March 17 Gubaryov's supporters altogether confirmed that Russian diplomats, who used false information in their report, are "delinquents", "Information about beating him on the road from Donetsk to the capital city is not exactly confirmed. We do not exclude that this information was planted to the media by delinquents".
Demonization of the "Right sector"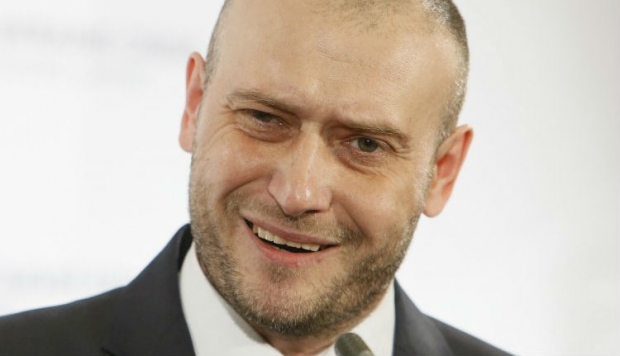 Dmitry Yarosh 
Generally, in "history" for Putin Russian diplomats share information poorly, "February 18-21, 2014 large-scale riots resumed in Kiev, according to the Ministry of Healthcare of Ukraine 77 people were killed during this period (including 16 law enforcement officers), over thousand of people have been injured". During this period, Russian Foreign Ministry does not give any information concerning interaction between special forces officers with paid out Anti-maydan activists, who staged a massacre in Mariinsky Park. "Right sector", however, is also not mentioned.
But the leader of this movement Dmitry Yarosh got a paragraph devoted to him in the description of February 21 events. Russian diplomats, in particular, noted that "Yarosh said that the Agreement (signed by opposition representatives and Viktor Yanukovych - UNIAN) contains no clear commitment to President's resignation, parliament's dissolution, punishment for heads of security institutions and those who executed "criminal orders". He called the Agreement "another whitewash" and refused to abide".
Given that, according to text of the agreement, its implementation had to be undertaken by the parliament, government and president, who fled the country the next day. Mentioning the leader of "Right sector" in this context looks completely ridiculous.
No less absurd looks the paragraph that says about establishment of "Yarosh Jugend". Literally, Russian diplomats reported to Putin: "On March 23, 2014 property and funds of 23 children health camps were transferred under control of "Right sector" leader Dmytro Yarosh for training youth reserve of the National Guard of Ukraine. The youth wing of "Right sector" consists of underage football ultras and supporters of Ukrainian nationalism... Fighters of nationalists youth wing often referred to as "Yarosh Jugend" will learn basics of warfare, sabotage combat, unarmed combat and mine explosives in children camps.Young people are being drafted on daily basis by recruitment services of territorial command of the National Guard".
Another indication that Russian Foreign Ministry lives in parallel reality is, for example, such points in the report as: "On February 23, 2014 "Right sector" overlaid Kyiv shops with tribute. Money are being collected for "security"; or "at the end of February 2014 illegal armed groups seized administrative building of Dovzhenko Film Studio. The hijackers demanded access to warehouse with weapons (what weapons can be found at film studio, Russian diplomats, however, did not mention - UNIAN) and pyrotechnics".
According to Russian Foreign Ministry, "Right sector" naturally scares not only Kyiv and its citizens but made a tour around other regions as well. The main "victims" appeared to be Crimea and Eastern Ukraine where "citizens with St.George ribbons on their clothes" were attacked.
Thus, through Russian looking glass "Kyiv regime sanctioned assault" on Crimean parliament building in late February. Moreover, not only "Right sector" participated in attack, but also "militants from terrorist organizations "Al-Qaeda" and "Hizb ut-Tahrir" together with Crimean Tatars-Wahhabis". "As a result of massive attack civilians were killed, while defending administrative building from militant attacks" - says the report of Russian diplomats.
Of course not a word has been said about "green men", admitted to be Russian soldiers by Vladimir Putin later. But on March 8 "during celebration of the 200-th anniversary of Taras Shevchenko in Simferopol activists of Ukrainian right-wing organizations shouted extremist slogans, tried to arrange a fight and demonstrate "victims" of Crimean people in front of Western journalists' cameras, specially invited for the event".
The same "radicals", according to Russian diplomats, on March 8 attacked activists who were "returning from a rally against current Kyiv authorities" in Kharkiv. On March 13, they committed the same "attack" in Donetsk: "The clashes left one person dead, a large number were wounded".
Let us remind that on this day in Donetsk rally of united Ukraine supporters was attacked by aggressive pro-Russian activists. All victims - dead and wounded - were participants of pro-Ukrainian action. Moreover, murdered activist was a member of regional party organization VO "Svoboda" Dmitry Cherniavsky.
«Diplomatic» lies
One more interesting chapter of the White Paper is devoted to discrimination on ethnic and linguistic basis, xenophobia and racial extremism as well as incitement to racial hatred. To prove these postulates Russian diplomats, for example, did not hesitate to mention folk scenes that took place on the night of January 1 on Euromaydan. Performance that for many Ukrainians is an inherent part of New Year holidays, Foreign Ministry tried to turn into anti-Semitism. Particularly, Russians' indignation caused the role of MP from VO "Svoboda" Bogdan Benyuk who portrayed the Jew. "His monologue was the actualization of traditional anti-Semitic stereotypes in modern Ukrainian realities," - noted Russian diplomats in the report to Putin.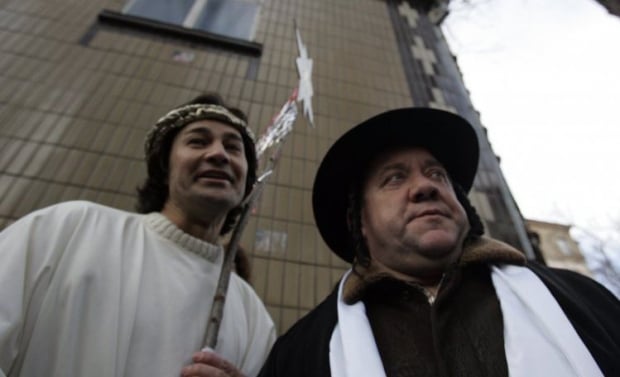 Bogdan Benyuk
In this regard, I want to draw attention of Sergei Lavrov's minions to the fact that in the above mentioned scenes the master of Kremlin, Vladimir Putin "appeared" as well. His role, conditionally tagged as "Gas King", was masterfully performed by Ukrainian poet Artem Polezhaka.
However, wishful thinking of Russian diplomats make them spread ordinary rumors, most likely invented by themselves. Those, for example, include message that on March 14 in Kyiv, "a group of neo-Nazis tracked Hasidic couple (citizens of Israel and the United States) going to synagogue. Pursued couple managed jump into a taxi, which was attacked by stones".
There is one more sentimental story about some Dmitry N. from Kharkiv, who witnessed beating of a girl by radical nationalists "for talking on a cell phone in Russian".
In addition, Russian Foreign Ministry in the White Paper twice mentions "horror story" in which about 30 people in Dnipropetrivsk "brutally beat a group of local teenagers" who did not respond to greeting "Glory to Ukraine!". "Reports of such Bandera patrols in Dnepropetrovsk became regular. The city was flooded by armed thugs who patrol the streets and address passers with Bandera greeting "Glory to Ukraine!". If the answer is wrong, or people say nothing they are beaten up. Often crimes occur in front of the police, but "law enforcement" do not try to interfere," - said in the report.
Interesting to notice that in different parts of the report the story varies a bit. In particular, Russian diplomats are not sure whether described events took place on 16 or 17 of March and who actually committed the crime. As one can see in the report, teenagers were "attacked" by radical nationalists on March 16 and on March 17 - by "extremist organization "Right sector"". At the first day "abusers" are "armed thugs", at the second - people "wearing camouflage with sticks and shockers".
There is one thing that deserves special noticing, namely, blatant lies that Russian diplomats try to "flog" to Kremlin master as analytic work, despite the fact that it has been already exposed as lies. This, for example, includes a story about 30 Sevastopol sailors suffered from "looting and robbery in Kyiv's Borispol airport". Sevastopol city council member shared this information with Russian media. At the same time, in Boryspil this fact was met with sheer surprise, because by the moment when the story appeared in the media there was not a single flight from Kyiv to Crimea for a few days so far.
Another lie that Foreign Ministry stubbornly continues to publish, is the story about "robbery" at the passenger train number 65 "Moscow - Chisinau" on March 21, allegedly committed by members of Ukrainian Insurgent Army (UPA) during a train stop in Vinnitsya. "People wearing uniform of Ukrainian Insurgent Army entered the train and started "document check". At the same time citizens who submitted Russian passports, were forced to hand over their money and golden ornaments. Attempts of robbed people to file report to local law enforcement bodies ended in vain. Police refused to acknowledge these reports," - this is how Russian diplomats depict Ukrainian "horrors'.
Let me remind you that on March 24 press office of Ministry of Internal Affairs of Ukraine administration on South western railway stated that on mentioned train - from Vinnitsya to Zhmerinka - police officers were present to take a statement from one of the passengers. Police officials emphasize that the lady "did not notice the loss of money". So, it hardly can be "robbery by people from UPA" as Russian diplomats try to present it, but just an ordinary theft. By the way, later on the same day Ministry of Foreign Affairs of Ukraine expressed surprise with Russian colleagues' comments. "If police officers wearing uniform with identifiers are seen as UPA members by Russian diplomats, then I have no more comments", - said Yevhen Perebiynis, representative of MFA of Ukraine.
It seems like Russian diplomats, while preparing their report, containing 64 pages, were guided by Vitaliy Churkin's (Permanent representative of Russian Federation to the CS UN) quotation: "Lie is not always distortion of facts, but selective representation of a position".
Translated by Anastasiia Matviets
If you see a spelling error on our site, select it and press Ctrl+Enter