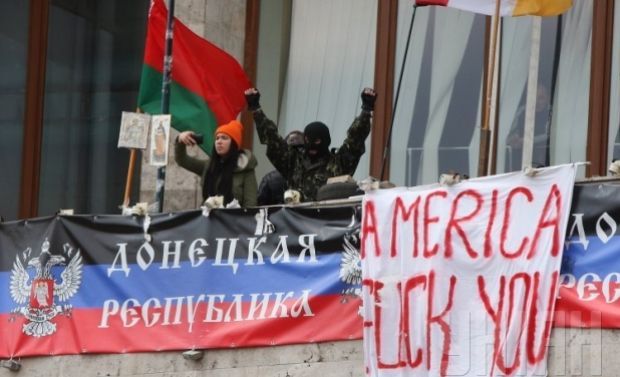 Terrorists Started Genocide in Donbass
19:53, 14 May 2014
3 min.
58
No matter how much Donbass separatists, as well as Ukrainian and Russian politicians supporting the terrorists' armed "protest", try to convince the global community that their actions mean defending their rights, in reality, this is just a rampant of impunity-crazed thugs.
The Government of a self-proclaimed "People's Republic of Donetsk" is situated in a now-captured building of the regional administration. This is where non-conformists, those who think of Ukraine as of their Homeland, are being tortured. Images for Russian television of detained "militants from Praviy Sector" are also made there. Anyone not sharing their point of view is an enemy for these people.
According to witnesses in Donetsk events, there is a lot of weaponry - rifles, pistols and even rocket launchers in the regional administration building.
Witnesses in Donetsk events tell us that one can be captured not only for pro-Ukrainian beliefs and patriotism, but also just because some Russian journalist needs a fitting image for Russian TV at that moment. Residents of Donetsk note that, apparently, journalists from the Russian "Life News" TV channel practically live at the regional administration building. "They "surface" at any time of day in a place where "militants from Praviy Sector" have been already prepared for yet another video shoot," say local residents.
By the way, separatists always have available freshly printed business cards of Dmitro Yarosh in sufficient quantity, and the needed amount of guns, gloves, anything else that may be suitable for airing the necessary images.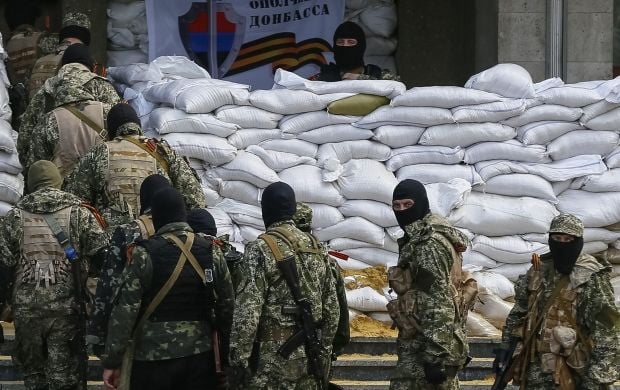 Tortures are carried out right in the Regional Administration offices / REUTERS
They say, executioners are "skilled". It seems like they are ex-cops, maybe ex-members of "Berkut" police special force unit.
The details of staying in the dungeons of this modern "Gestapo" are staggering: people are put on their knees, beaten on the head with sticks, their skin being pierced and cut with sharp objects (not just knives, but also digging tools).
Executioners boast that they are holders of multiple passports, so they do not trust their victims' IDs an do not listen to any explanations of the detained.
However, according to the residents of Donbass, Donetsk terrorists are nothing like the cruel executioners in Slovyansk , Gorlovka and Kramatorsk. After all, it is in Slovyansk, where people are disemboweled while still alive, non-conformists have backpacks with sand put on their backs and get drowned in river. Such happened to Vladymyr Rybak, Gorlovka City Council member; Yuriy Popravko, a student from Kiev and Yuriy Dyakovskiy, a 25-year-old resident of Striy from Lviv region. Rybak was killed for trying to get the flag of the People's Republic of Donetsk off the city council building. Popravko and Dyakovskiy were mutilated and killed because the separatists wanted to "portray" them as militants from Praviy Sector.
There are still many captives in Slovyansk. A 18-year-old Ihor Otrya was heading home to Krasniy Liman back from Kyiv, but he was captured while in transfer from his train "Kyiv-Luhansk" to another one that was heading toward his town, on May 2 at Slovyansk train station. Terrorists considered him a militant from Praviy Sector. Ihor's mom cannot contact her son, hoping that she will get him back…
Nothing can justify death
On May 7, militants of a so-called People's Republic of Donetsk kidnapped a resident of Shantrigolov village in Krasnolimanskiy district, a farmer named Valeriy Salo, who only dared to speak up for united Ukraine just in private conversations, not at any public events. Armed men confronted him in the center of the village, rushed him out of his car, beat him, then threw the unconscious man into the trunk of their vehicle and fled the scene. On May 8, a burned down car with charred corpse of Valeriy was discovered in a Grekovskiy forest in Luhansk region.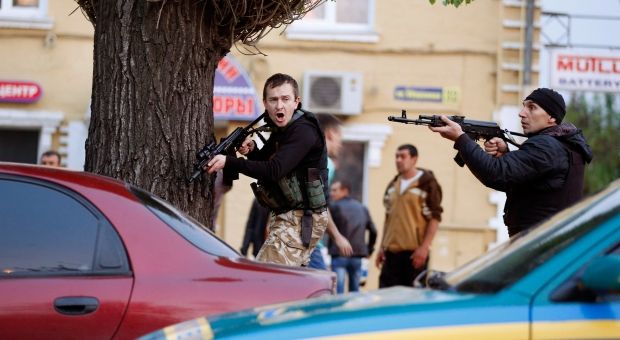 Militants continue abducting and killing people / REUTERS
One cannot perceive as normal the beating of a middle school teacher by a so-called People's Republic of Donetsk self-defense member just for reprimanding his kid for coming to school wearing a St. George ribbon accessory. This happened in Krasnolimansk district of Donetsk region. Or the abduction of a member of an All-Ukrainian Organization "Svoboda" Oleksiy Demko, who is a confidant of a presidential candidate Oleh Tyahnybok. Demko went missing in Makeevka on May 8.
But if terrorists can come up with some sort of "excuse" for abduction of a member of "Svoboda", identifying him as a, so to say, ideological enemy, on May 9, there were at least two terrible accidents that cannot be justified by anything.
At a checkpoint near exit from the town Druzhkivka, terrorists shot dead 44-year-old local priest of the Ukrainian Orthodox Church of Moscow Patriarchate Paul Zhuchenko. According to the General Prosecutor's Office report, those beasts fired 8 shots from automatic weapons at him.
Around the same time, on the road near the city of Sverdlovsk terrorists have shot dead a family couple - private entrepreneurs, who were traveling in two cars. Also, their daughter with a gunshot wound to the head was found in one of the vehicles. The girl now stays at the local hospital's intensive care unit.
***
Probably, it has not felt so uncomfortable and unsafe in Luhansk and Donetsk regions since World War II. Gunned men, calling themselves "liberators of the region", intolerant to non-conformers, have in fact started real genocide for locals.
Tetyana Stezhar
If you see a spelling error on our site, select it and press Ctrl+Enter