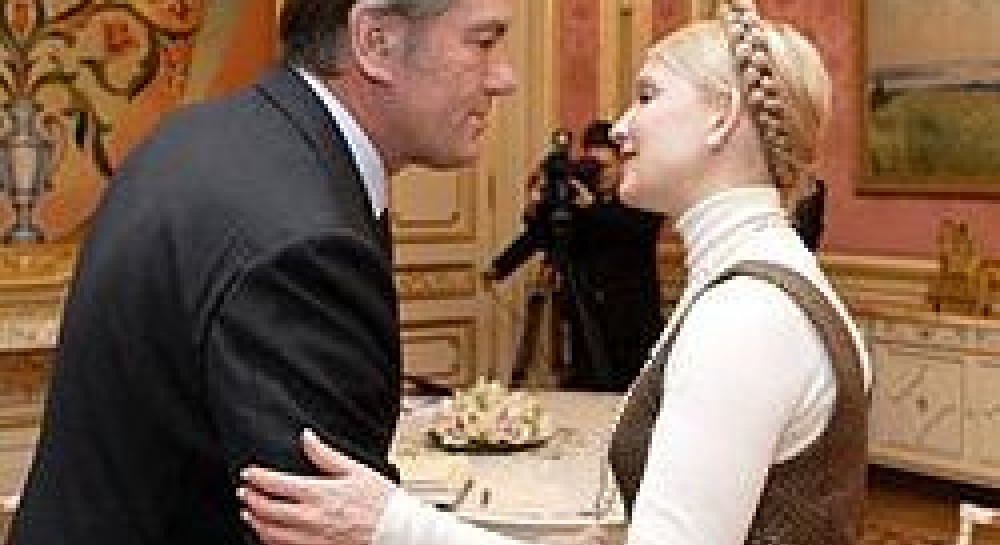 Ukraine's leadership war II
11:07, 01 February 2008
7 min.
3319
The fear that President Yushchenko would be unable to find a way to work with PM Tymoshenko has proven justified. He steadily has increased his "input" into the day-to-day  functioning of the government, causing confusion within government circles about just who is in charge of what...
In December 2007, as Yulia Tymoshenko took the helm of Ukraine's government for the second time, the most often expressed concern of domestic political pundits was not how the new Prime Minister would deal with the country's gas debt, high poverty level, corrupt judiciary, or final WTO preparations.  Instead, most feared that President Viktor Yushchenko would be unable to find a way to work with Tymoshenko, thereby dooming their renewed alliance and their reform agenda.  
This fear has proven justified, as President Yushchenko steadily has increased his "input" into the day-to-day functioning of the government, undercutting several ambitious initiatives and causing confusion within government circles about just who is in charge of what.
Over the last eight years, the two have been allies, rivals and a little bit of both.  Today, Tymoshenko's personal popularity far outstrips Yushchenko's, with the presidential election less than two years away.    Since Ukraine's political system is confusing at best, duties and responsibilities of the President and Prime Minister often overlap, creating a dependence on power politics to assert ones primacy.
In particular, during the last several weeks, Yushchenko slowed the government's plan to privatize 26 government assets (or the government stakes in those assets), including a group of regional energy distribution entities.    He also spoke out against Tymoshenko's attempts to remove intermediary corporations from Ukraine's gas agreements, in spite of his loud support for such efforts during the September parliamentary campaign, and he has rejected the Prime Minister's calls to switch to "market-based" fees for transiting Russia's gas to Europe.
In most cases, Yushchenko's opposition to Tymoshenko's proposals seems to be based on a desire to blunt any political capital she may gain from their success, rather than on ideological or economic grounds.   
On 16 January, the Cabinet of Ministers was due to give final approval to its privatization plan for 2008, which reportedly included putting 26 enterprises up for sale.  At the request of the presidential secretariat, however, the decision was postponed.
The next day, President Yushchenko requested that six regional energy distribution companies—"oblenergos"—be excluded from the list.   To remove these companies from the oversight of the state Naftohaz gas company, his office said, may result in the "insolvency of that company." (1)
The president no doubt missed the irony of this criticism. 
The Naftohaz Insolvency
Almost three weeks earlier, Tymoshenko's team discovered that Naftohaz already was virtually bankrupt; its auditors, Ernst and Young, refused to sign off on its year-end accounts over worries that it would not survive as a "going concern."  This refusal could have triggered a technical default, allowing international bond holders to call in repayment of all loans in full.  According to the government, approximately $2.6 billion could have been called in under default clauses, undercutting international trust in the country and further burdening the already strained state budget.  Despite numerous red flags (Fitch, a leading international financial rating agency, placed long-term currency ratings on a negative watch in October), the president seemingly took no action.  (2)
In its international newsletter, the Bloc of Yulia Tymoshenko (the Prime Minister's parliamentary bloc) speculated that the Naftohaz situation was left "unresolved as a time-bomb for the incoming Orange government." (3)
The newsletter placed blame for the situation squarely on the shoulders of the outgoing government of Viktor Yanukovych – making no mention of President Yushchenko.  However, upon discovering the problem, the government acted alone to resolve it.
Before taking office, incoming Vice Prime Minister for European Integration Hryhoriy Nemyria, Minister of Fuel and Energy Yuriy Prodan and Minister of Finance Viktor Pynzenyk met with bondholders to develop a plan to avoid default.  As a result, the newly reworked state budget for 2008 offered bondholders a State Sovereign Guarantee, with an available $400 million subsidy earmark for Naftohaz.  Thanks to the guarantee, Fitch analyst Anton Kravchenko said, "We are going to give them a little more time to produce the statements (of accounts)." (3)
Oblenergo privatization and kompromat?Given the situation inside Naftohaz, the concern that privatization of oblenergos would damage the company's solvency seems misguided.  In fact, the president himself recently altered course and suggested that his concern about this particular example of privatization actually is based on concerns about government corruption.  "I would not want the sale of an oblenergo to be connected with the shadowy 'pocket' agreements of a certain political power concerning distribution of these objects to specific people," he told 1+1 television on 28 January. (4)
The clear implication, of course, is that Tymoshenko's privatization plan is designed to transfer property from the state to her own backers.  The President further suggested that these companies could be given as bribes to members of parliament "so that they vote as somebody wishes."   The head of state offered no specific details to support his stated concern.  "For now," he said, "I only have this warning to make: I'm in the know. I have my grapevine." (5)
Ukraine's media, which is free and regularly discusses corruption issues, has reported no evidence of such plans by the Tymoshenko government.   
Prime Minister Tymoshenko generally is viewed by the public as the country's most radical fighter against corruption and is remembered for conducting Ukraine's only open, transparent auction for a state asset during her first term as prime minister.  That public auction sold the Kryvorizhstal steel plant to Mittal Steel for $4.8 billion.    
The intimation of planned wrongdoing by Tymoshenko, however, is worrying for its lack of evidentiary support.  Of course, Ukraine's public officials must be held accountable and checked carefully, particularly given the significant levels of corruption historically present throughout all state institutions.  But, just as the country must fight its history of corruption, so too must the use of unfounded criminal charges and claims against rivals be halted.
Whether the charge was serious or simply meant to throw Tymoshenko off stride will become clear over time.  For now, the charge seems to have received little domestic attention.  However, it signals very difficult relations between the head of state and head of government, and could undermine the public's already shaky faith in its leaders.
It also seems to be only the first of a potential large number of coming battles between the two leaders.
What to do with RosUkrEnergo?Of most immediate concern is an apparent disagreement over how to deal with Ukraine's reliance on the gas broker RosUkrEnergo (RUE), which is a joint venture of Gazprom and several Ukrainian individuals with ties to Ukraine's political elite.
Yushchenko opposes Tymoshenko's plan to remove the intermediary from the country's gas agreements with Russia immediately.  To do so, he says, would jeopardize the country's below-market price agreed upon with Gazprom and RUE in December 2007.  "The price we have today, of 179 dollars per 1000 cubic meters," he said on 20 January, "is the lowest price on the whole perimeter from the Baltic to the Caucasus."  Moreover, "We have a rather low price for gas.  This is good." (6) 
In contrast, for almost four years, Tymoshenko has railed against RosUkrEnergo, which controls the countries gas negotiations, as well as the system for importing gas from Russia and Turkmenistan.  She has criticized payments received by RUE that appear to raise costs for both Ukraine and Gazprom, and has suggested that unnamed politicians benefit financially from RUE's involvement.  "It is a front company, an artificially created company, so that gas coming to Ukraine comes through a filter that will catch a significant amount of money," she told the New York Times in 2006. (7)
It is worth noting that RUE reported earnings of around $800 million from its work as an intermediary during 2006. (8)  As of 28 January, earnings for 2007 do not appear on the company's website.
RUE also has been heavily criticized in Europe for the "very opaque" nature of the company. (9)  In response, just last week, during a visit to Brussels, Tymoshenko once again pledged to remove all intermediaries from the gas industry and initiate direct gas agreements with Russia.  She also reiterated the government's demand that the price paid by Russia for transit of gas through Ukraine to Europe be raised equally with the price paid by Ukraine for gas.
This demand no doubt comes because Ukraine is now being charged much more for gas than stipulated in agreements approved by Yushchenko and then-Prime Minister Yanukovych in December 2007.
Because Central Asia could not meet its designated gas volumes to Ukraine, RUE is making up the difference with Russian gas, for which it is charging not the $179 per 1000 cubic meters as promised, but $314 per 1000 cubic meters (cm).  (10) Ukraine likely will be supplied with 2-4 billion cubic meters of Russian gas, billed at $314 per 1000 cm in the next several months.  Already, Ukraine has developed a gas debt of over $800 million because of the increase in price – which was announced three days before President Yushchenko trumpeted the $179/1000 cm price as a reason to avoid asking for renegotiation of the country's gas deal. (11)
Furthermore, RUE's domestic joint venture with Gazprom, UkrGazEnergo, was given the right to supply gas for two years to the best paying industrial consumers in Ukraine. This left the state gas company Naftohaz to supply and collect from the lowest paying residential consumers.
Mismanagement and the loss of industrial customers are the primary reasons cited by experts for Naftohaz's near default on its international bond agreements – and it shouldn't be a surprise.  In January of 2006 on ICTV's "Freedom of Speech," then-opposition leader Tymoshenko debated allies of Yushchenko over the effect of allowing UkrGazEnergo to enter the gas distribution market in Ukraine.  She warned that the effect could be "bankruptcy and the loss of our state company." (12) These worries were dismissed, as Yushchenko approved the deal.
Now, Naftohaz must be saved and the country must find a way to pay (or renegotiate) a price for gas to which it never agreed.   Therefore, the ability of Ukraine's two most powerful politicians to come to an agreement regarding Ukraine's strategy for negotiating with Russia over gas is a crucial test to their commitment to working for the country's interests.
So far, Tymoshenko has not responded to Yushchenko's claims of potential corruption, and she has not criticized his position on RUE.  Unlike 2005, when Prime Minister Tymoshenko regularly entered into verbal sparring matches with Yushchenko and his allies, in 2008 she wisely has chosen to remain quiet – with one exception.  Last week she reminded the media of previous statements that she will run for president against Yushchenko in 2009 if the two cannot work harmoniously in government together.
Nevertheless, both Tymoshenko and Yushchenko will travel to Moscow this month – separately.  They will hold separate meetings with separate press conferences, and they will either present a united or a divided front.  When both trips are over, it will be clear whether the two can work together to implement reforms, or whether the campaign for president has begun.   
Source Notes:
(1) "Ющенко має свої пропозиції по приватизації (Yushchenko has his own propositions regarding privatization)," Ukrayinska Pravda, 1519 CET (updated 1602 CET), 17 Jan 08 via www.pravda.com.ua.
(2) BYuT Inform Newsletter, Issue 55, 26 Nov 07.
(3) "Ukraine guarantees Naftohaz debt," Reuters (carried in the Financial Post), 5 Jan 08 via Lexis-Nexis.
(4) 1+1 Television (Ukraina TCH), 28 Jan 08.  For video of Yushchenko's comments, see www.youtube.com/watch?v=7C2elDts-iU&eurl=http://tap-the-talent.blogspot.com/  Also, "Yushchenko stands for privatization without 'political tips,'" ForUm, 1039 CET, 28 Jan 08 via www.for-ua.com.
(5) Ibid.
(6) Inter TV, 1800 GMT, 20 Jan 08 via Lexis-Nexis.
 (7) "Ex-Premier of Ukraine Attacks Gas Price Deal," New York Times, 6 Jan 06.
(8) Financial data, RosUkrEnergo, via http://www.rosukrenergo.ch/eng/pub/business.html.
(9) "EU: Questions Linger about Russian-Ukrainian Gas Deal," RFE/RL, 12 January 06.
(10) "RosUkrEnergo Claims Ukrhaz-Enerho's USD 830 million Debt for Delivered Gas," Ukrainian News Agency, 0843 CET, 17 Jan 08 via www.ukranews.com.
(11) Ibid.
(12) Svoboda Slova (Freedom of Speech), ICTV, 20 Jan 06.  Video available on www.tymoshenko.com.ua.
By Tammy Lynch, ISCIP analyst
If you see a spelling error on our site, select it and press Ctrl+Enter