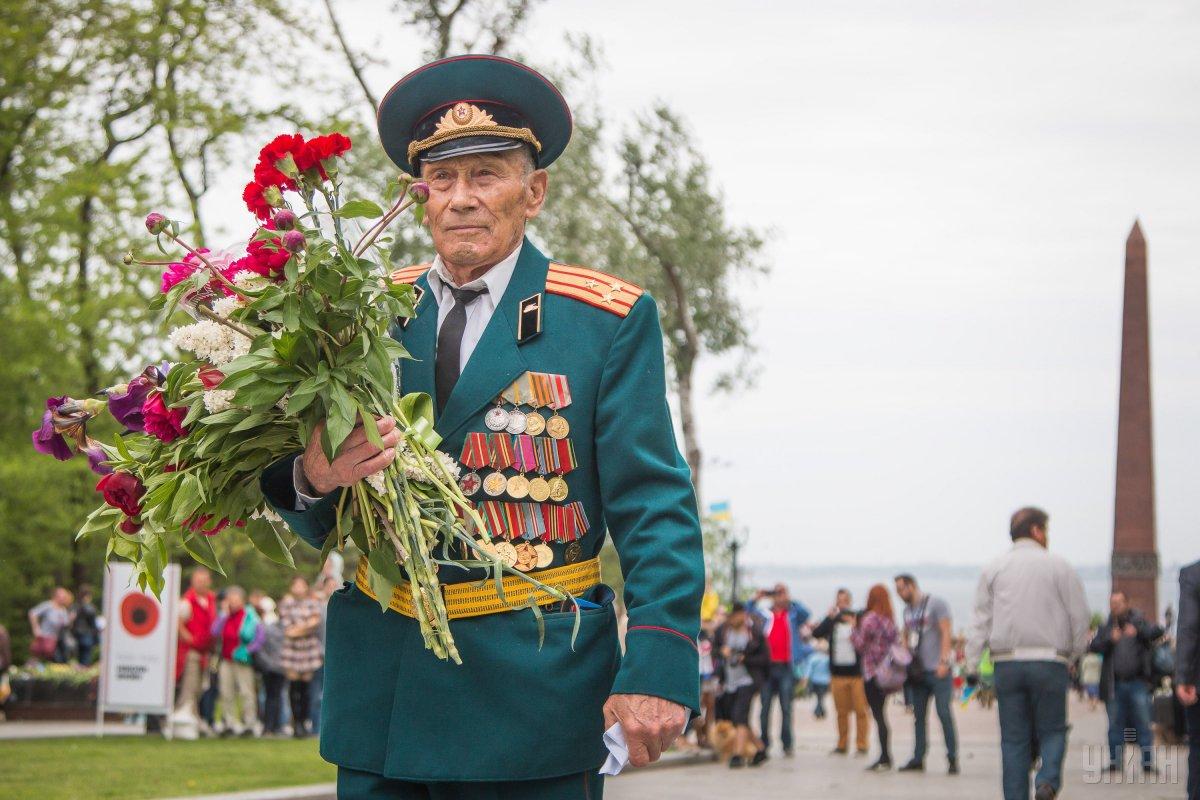 Victory Day across Ukraine: No St. George ribbons in Kyiv while Odesa hears "Hail Putin!" and occupied Donetsk sees "parade"
17:50, 10 May 2018
3 min.
16707
The more years pass since Nazi Germany in 1945 surrendered to the anti-Hitler coalition, the fewer witnesses remain of those events, and the more some unscrupulous politicians in Ukraine are trying to speculate on the theme of Victory Day and play into the Kremlin's hands, which turned the topic into mass hysteria.
For several years already, on May 8, Ukraine has been marking Day of Memory and Reconciliation, and on May 9 - the anniversary of the Victory over Nazism in World War II. Earlier, for Ukraine, as for other post-Soviet states, a pompous military parade was the norm on Victory Day. However, with the beginning of Russian aggression, this tradition finally fell into oblivion. Ukrainians, unlike their northern neighbors, do not perceive this date through the "we can do that again" prism. On the contrary, the key message is "Never again." Therefore, instead of saber-rattling on cities' main squares, on May 8 and 9, Ukrainians lay flowers at the monument of Eternal Glory, paying respects to the heroes who contributed to ending WWII, and meeting with war veterans.
At the same time, every year in major cities across Ukraine, along with acts mentioned, a so-called "Immortal Regiment" rally is held, invented by Russian spin doctors. In principle, there would be nothing wrong with people taking to the streets to honor the memory of their ancestors who fought in WWII, if not for the aggressive attitude of participants in such marches towards their own country and their fellow citizens, as well as some completely inappropriate appeals like "Putin, come!"
All this has little in common with the memory of those who died in the terrible grinder of war or understanding of what those few veterans who are still among us have lived through. And even more so, this has nothing to do with victory over Nazism.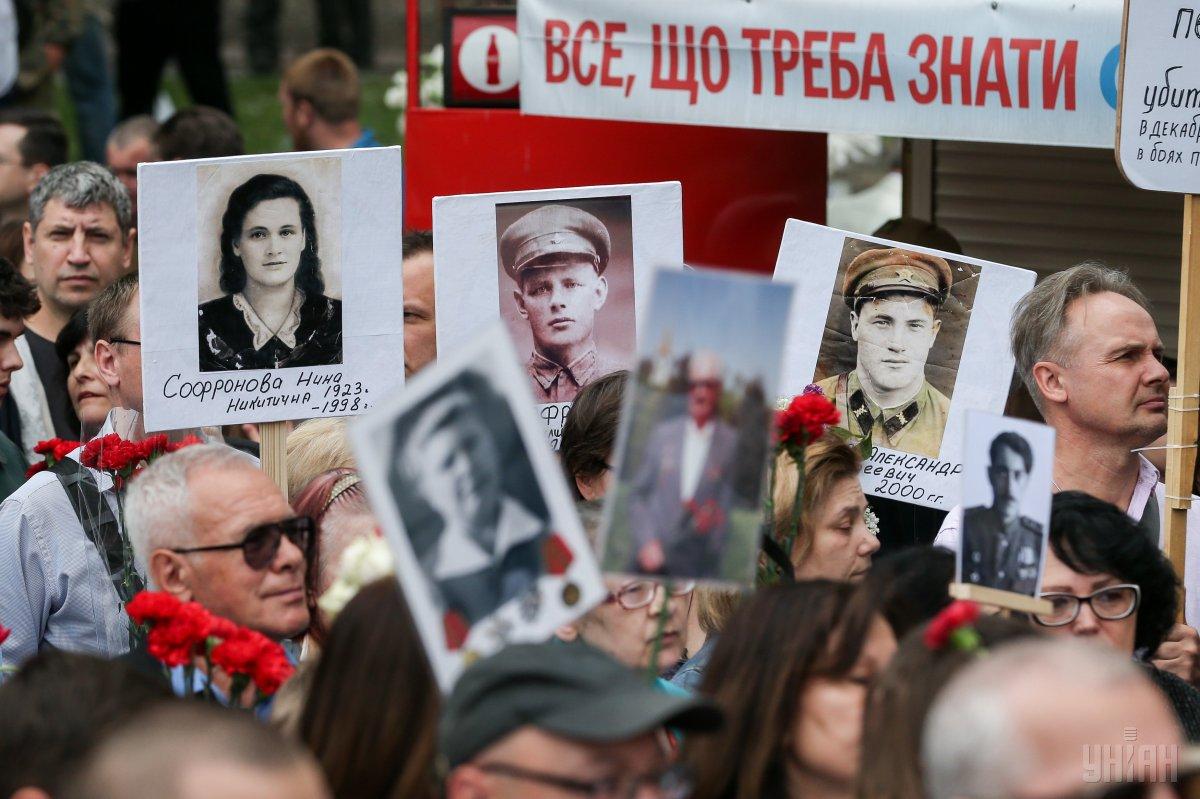 Immortal Regiment rally held in Kyiv / Photo from UNIAN
In fact, on the eve of May 9, law enforcers were expecting provocations during such rallies. "We forecast some tensions not only in Kyiv, but also in Zaporizhia and Dnipropetrovsk regions, but we have sufficient forces and resources [to counter provoctaions], and I think that our citizens need not worry. We will ensure order," said Serhiy Knyazev, head of the National Police.
Ukrainian police were put on alert to make sure everything goes smooth on Victory Day. According to Artem Shevchenko, a speaker for the interior ministry, some 27,000 police were deployed to ensure law and order across Ukraine, of whom 4,000 - in the capital City of Kyiv alone.
Contrary to general expectations, the day went very calm in Dnipro, except for a few minor incidents where police detained a man with an unregistered traumatic pistol with cartridges to it and several administrative violations were reported over banned Soviet-era symbols and St. George ribbons.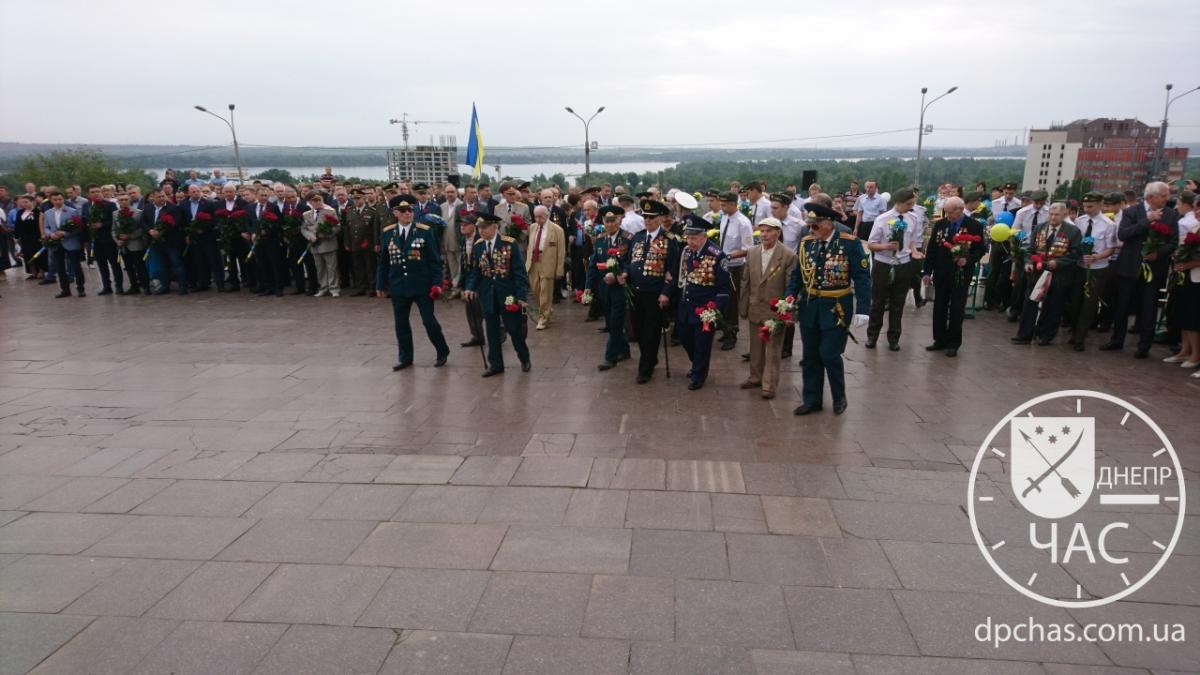 The day went calm in Dnipro / dpchas.com.ua
In Kyiv, some 2,000 police were deployed to provide order at an assembly point of the Immortal Regiment rally's participants outside the Arsenalna metro station. Officers were doing security checks with metal detectors and K9 units involved. In general, everything was rather smooth, apart from a couple of skirmishes, unsuccessful attempts by a group pro-Ukrainian activists to "have a conversation" with people's deputies from the pro-Yanukovych Opposition Bloc, Nestor Shufrych and Vadym Novynsky, some anti-Ukrainian slogans chanted and several people detained for carrying a banned "St. George's ribbon" (mother of the late ex-deputy of the "Party of Regions" Iryna Berezhna), as well as a man detained on approach to the Eternal Glory park, carrying a hunting rifle, that's according to Kyiv PD chief Andriy Krishchenko.
In Kharkiv, the Immortal Regiment rally went even more inconspicuously. About 300 people gathered at the Memorial of Glory, carrying portraits of WWII participants. The group, led by a chief of the city's office of the currently banned Communist Party, Alla Oleksandrovska, were from time to time heard chanting slogans like "Fascism will not pass!" And "Happy Victory Day!" A few participants shouted that "Kharkiv is a Russian city!" However, about 15,000 who chose not to join the Russian-style rally but also laid flowers at the Memorial of Glory, did not fall for such provocations.
However, in Odesa, participants of the Immortal Regiment rally revealed who really sought that it be held in Ukraine. Among the activists, there was a group of participants of the so-called Anti-Maidan rally on the Kulikovo field, where more than 40 people were killed at the House of Trade Unions during mass riots on May 2, 2014. Instead of carrying portraits of their family members, heroes of WWII, this group were for some reason carrying portraits of those killed in the Trade Unions' House. Also among the photographs of those supposedly perished in WWII was a portrait of the pro-Russian TV presenter Grigory Kvasnyuk, who died in 2017. Participants of this march chanted "Fascism will not pass!" and "Bandera demons, get out of Odesa!" From time to time, chants were heard along the lines of "Donbas, we are with you!" and "Glory to Putin!" As a result, law enforcers removed from the march a man who was praising the Russian president.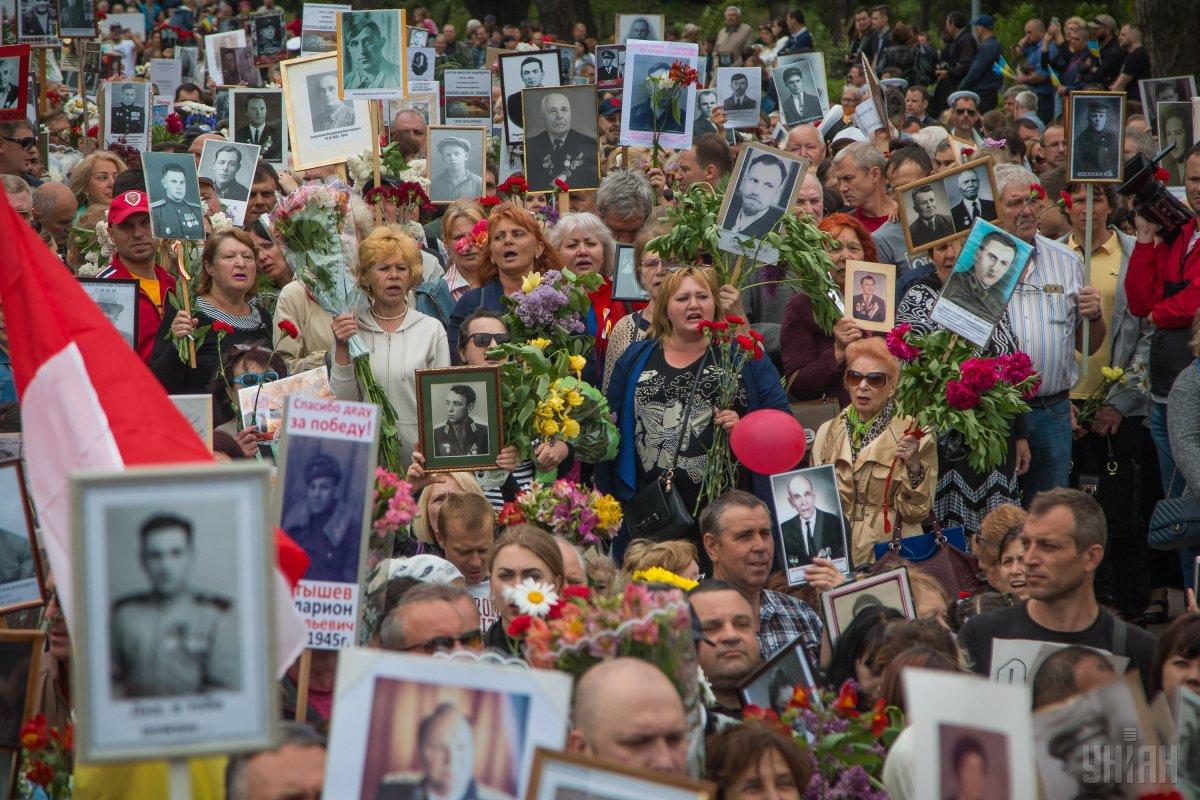 Photo from UNIAN
Meanwhile, in the city of Donetsk, now occupied by pro-Russian militants, a "military parade" was held alike that in Moscow. "Peaceful miners" (as the Kremlin calls its proxy forces in Donbas) showcased weaponry, which, according to Russian propagandists, they had, in due time, found in coal mines: BTR-80 armored personnel carriers, BMP infantry fighting vehicles, T-64 and T-72 main battle tanks, Strela-10 surface-to-air missile systems, Gvozdika self-propelled artillery units, Grads MLR systems, mortars, Rapira anti-tank guns, D-30 and Msta-B howitzers...
In general, according to Ukraine's law enforcement agencies, more than a thousand rallies and other events were held on this day across the country. Given the scale of commemorations, the number of violators remained rather low. It appears, Ukrainians are becoming less likely to engage in Russia-invented provocations under the guise of remembrance.
UNIAN
If you see a spelling error on our site, select it and press Ctrl+Enter