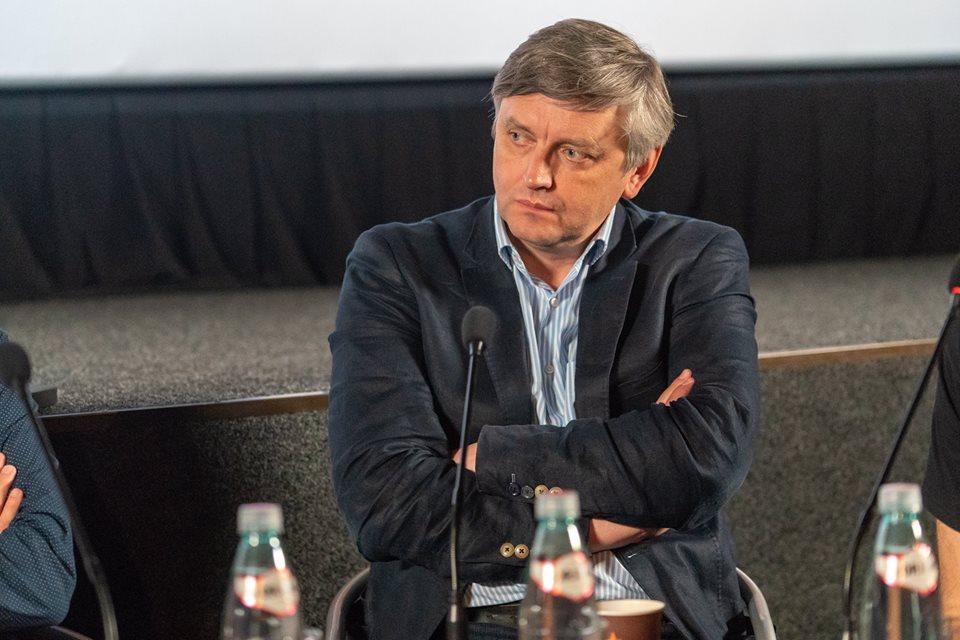 Sergei Loznitsa: War was looming over us like a sword. The city of Kryvyi Rih where we shot Donbas isn't so far from there... And while we were shooting, bodies of a few Ukrainian troops were brought to the city to be buried. This is all terrible.
17:50, 24.07.2018
5 min.
2194
In an exclusive interview with UNIAN, a highly-acclaimed film director Sergei Loznitsa shared his vision of developments in Ukraine's east, explained why art cannot be apolitical, and told about the challenges he faced while working on the "Donbass" movie.
The Ukrainian premiere of "Donbass" by Sergei Loznitsa within the framework of the 9th Odesa International Film Festival was predictably sold out. The director attended the event to personally present his latest work, after winning in April this year a Best Director prize at the Cannes Film Festival's Un Certain Regard competition.
The film, consisting of thirteen novels and shot based on real events, sparked a real emotional storm among viewers, which is not surprising given the fact that the war-torn eastern Ukrainian region remains an open wound on Ukraine's body. The director shared with UNIAN his vision of the events in the east of the country and spoke about the challenges he confronted while working on the film.
A number of foreign critics who watched your movie in Cannes called Donbass a "black comedy…" Do you agree with such wording?
It is, rather, tragi-farce with some grotesque elements in certain episodes. This is what struck me as I watched all those videos on YouTube, shot by random people. That footage dates back to 2014 - 2015, the beginning of power shift, the start of war. What struck me was that on the one hand it looked like some carnival, or a petty comedy, but on the other, it was a tragic story. Amidst all this, real people were suffering... And all this is intertwined, not separated, and it's unclear how you should treat this. That's an interesting phenomenon, which also interested me, that's besides me seeking to tell people of what's happening there. People have an ambiguous attitude toward the situation in eastern Ukraine. What is your personal opinion?
That's real war. It emerges in a territory where public relations and institutions have completely been destroyed, a territory where it is possible to be immoral, where this is accepted as the norm, a territory where there is no law, where the law is weapons... The fact that this all happened precisely there is no accident as that territory has a certain background. For example, how many theaters do you think there are in the city of Donetsk? When were they founded? It was in the 1930s. But what had been there before that? Rolling stones in the open field, that's all...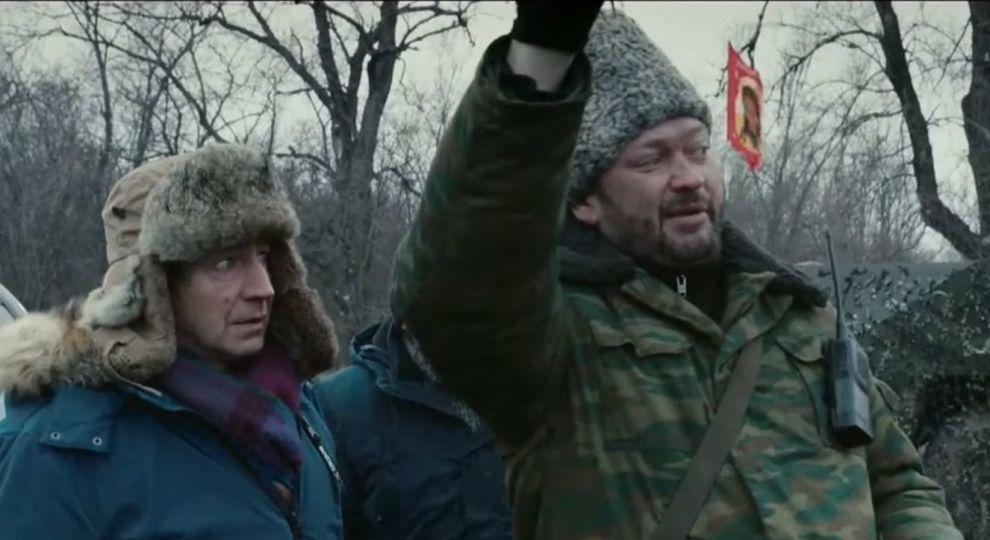 snap from Donbass movie
That is, the reason for what's happened is a lack of culture?
It's not just about culture. Back in the day, ex-inmates were brought in there; besides, a Soviet grinder has messed up local farmers and intellectuals. All this plays a serious role. For example, in cities like Kyiv or Lviv it would be much more difficult to just get in destroy social ties, while in the east of Ukraine it is much easier. If someone has enough forces, resources, and will to do this, as it turned out, it's possible, and no one opposed this, which isn't surprising.
In principle, for a very long time, the country [Ukraine] was "under strict control" - in varying degrees, in different areas. Why hadn't there been any film-making [in independent Ukraine] as such until a certain moment? There were years when no [film directors] were green-lighted to work. And it's not about money. Twenty million is not much, from the government perspective.
The lack of cinematography and, at the same time, Russian cinematography – people who shot their films here, mostly series, so that the actors worked "for them" [for the Russian market]… That is, the lack of state policy is also a kind of campaign.
What was the most difficult part of making the film?
To set up the shooting process.
You were shooting not far from the area close to the front line - in the city of Kryvyi Rih in Dnipropetrovsk region. What was the locals' attitude toward your team's work? There were certain props involved, decorations and symbols. They say, someone even sought to tear to the ground your "Anti-Maidan camp" set...
I know nothing about it. Nobody wanted to tear it down. People were really friendly, so I wasn't afraid of anything, but those who live in Ukraine, among those who took part in the shooting, were anxious about wearing those St. George ribbons. We were afraid that people would refuse to wear them and play with these things on them. But this is nonsense, you know... This is a movie, not real life. In general, some very talented, amazing people were working with us. There were nearly 2,000 extras and another 100 actors who had their lines. Of these, thirty were professional actors and seventy other people whom I invited for the shooting [including "ordinary people" and those who took part in the Anti-Terrorist Operation].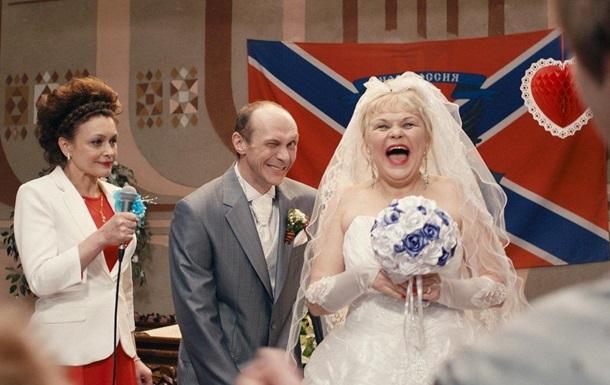 snap from Donbass movie
Did you have a chance to get in contact with someone who had survived through specific events in Donbas?
When I set up a casting of non-professional actors, including extras, I talked with almost everyone, for 10 minutes with each, a total of 600 people. It was 60 people a day, 10 minutes each. Ten days. That's how they passed the casting. I was simply very interested in what was on their mind, what was happening in their lives, what were their concerns, and what they thought of developments. Most of them feel pain. They're suffering... I explained to them what the film would be about, and many people said they wanted to take part.
What impressed you most when speaking with them?
It was general depression and dullness... The situation is very complicated so despair prevails – you can immediately see it and sense it. You feel things from what you've seen and from your communication with those people. War was looming over us like a sword: Kryvyi Rih isn't so far away from there... There is this Kryvbas Battalion stationed there. And while we were shooting, bodies of a few Ukrainian troops were brought to the city to be buried. This is all terrible. And, when all the time you have such background, it itself becomes destructive. Failure to resolve the problem is destructive, due to the existence of the problem in time. It destroys the entire substance of life within.
OIFF
From different actors and directors, I heard two opposite points of view: some suggest that art should be above all fighting, while others believe that everyone needs to have their own vision of things. What's your opinion on this?
I strongly disagree with being apolitical. It is impossible to make apolitical films, in principle. You might turn a blind eye to all of this but the tide will bring the films to one of the shores, that's for sure. That's art that appeals to the masses of people, the people who are part of society.
If you look at the entire history of Soviet cinematography… Just the other day I came across this idea while watching a movie called Reconstruction. This is both a work of art and an artistic expression, as well as  a political statement. French cinematography is not just about love. There are a lot of films, say, by Melville, for example. A lot of films tell us about something important. Flying Over the Cuckoo's Nest is also a political statement and a work of art. I can't say that [Alfred Hitchcock's] Psycho is not a political statement because Hitchcock, in fact, speaks of the principle of justice, which is already about politics. He says that, on the one hand, when someone commits a crime, they're psycho. And then, when we judge them, they're already in a different state. So are we to judge someone who is no longer a psycho?
Are we?
This is a deep philosophical question, from which grows the very structure of our life, society, and, in particular, political acts... Therefore, I'm one of those who believe that we can't stay aside.
Having watched "Reconstruction," I tried to look retrospectively at the Soviet cinematography to find anything out there that was similar in the sense of its slashing nature and political utterance. And I did find something, but not from the Soviet era. It was Kira Muratova's "Asthenic Syndrome," such a powerful slap in the face, indeed. And then a "left hook" from "Khrustalyov, My Car!" By Alexei German. I couldn't find any genius brilliant directors before that period, unfortunately. Well, maybe Ioseliani with his "Once Upon a Time There Was a Singing Blackbird" or "Pastorale." This was also a form of protest.
OIFF
Your films are based on global themes – the Maidan and Donbas. As far as I know, you'd also like to shoot Babi Yar... In May 2014 in Odesa, there were also some resonating events that led to the death of almost fifty people and hundreds of wounded. Could this become a base of your future film?
We need to know what happened there...
Don't you know?
Well, I know the story. I'm aware that people died. But we need to understand what exactly happened there. Because there remain so many strange moments that tell us we need to sort things out. As the Greeks say, until you find all the evidence and get to the last point, you can't make a decision...
Donbass is expected to hit big screens in Ukraine on October 18. Do you see your work go to masses?
Yes, of course, I would very much want it to be this way. After all, there are many lines in the film that could be quoted by many. It is very important that people hear these lines.
Larisa Kozovaya, Odesa