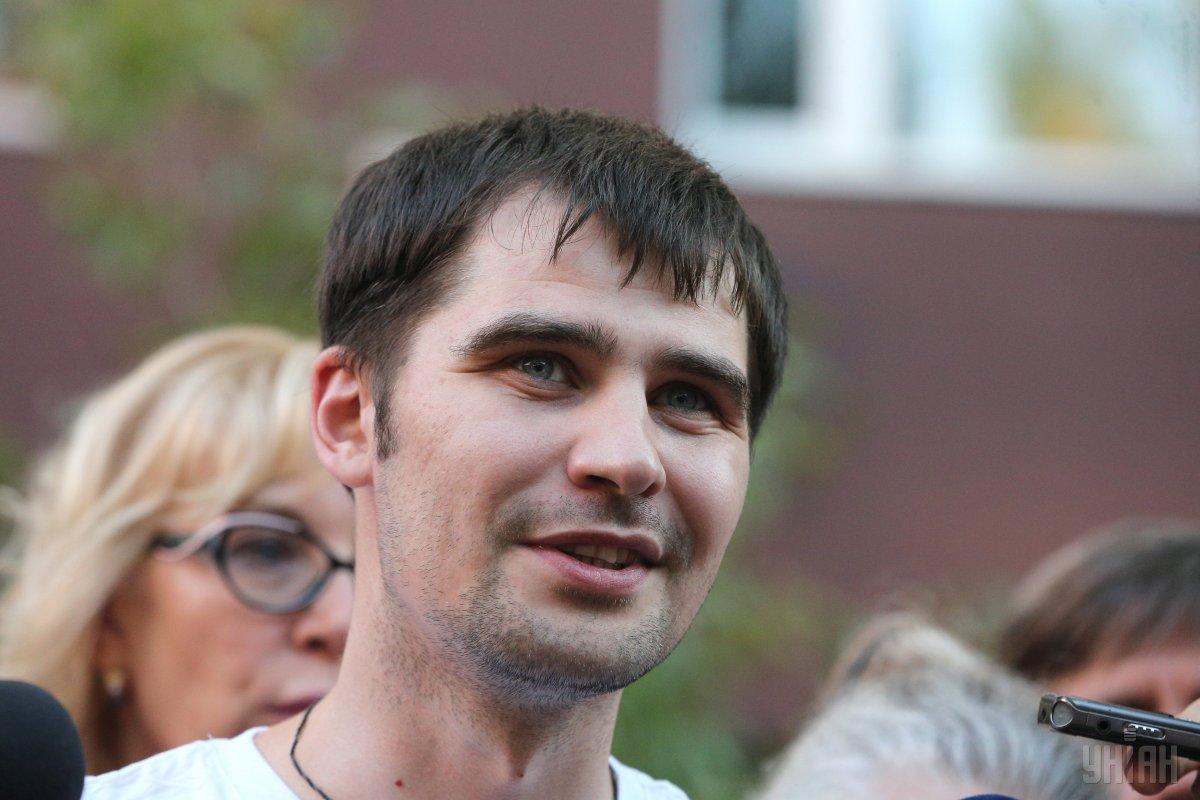 From prisoner to hero and back: Will Kostenko follow in Savchenko's steps
10:20, 10 August 2018
5 min.
336
Ukrainian political prisoner Oleksandr Kostenko, recently released from the Russian prison, is now at risk of repeating the fate of Nadiia Savchenko in the sense that his return to Ukraine, which is now being boasted in high offices as a win of Ukraine authorities may as well result in his further imprisonment, this time in Ukraine.
As practice shows, it is quite easy to walk a path from being a prisoner of conscience to becoming an ordinary convict. And this could happen rather quickly, too.
Oleksandr Kostenko, 32, was released from prison in Russia's Kirov region, where he served a 3.5-year term for allegedly inflicting bodily injuries to a Berkut riot police operative during the Euromaidan events in Kyiv in 2014.
Kostenko never pleaded guilty but, according to First Vice Speaker of the Verkhovna Rada, Ukraine's humanitarian envoy to the Tripartite Contact Group in Minsk, Iryna Gerashchenko, "he served a full prison term, and that's why the Kremlin released him."
On the same day, Ukrainian President Petro Poroshenko personally talked with him by phone and the former Kremlin prisoner was brought to the Ukrainian Embassy in Moscow.
Three days after his release, Oleksandr Kostenko arrived in Kyiv. But since his family lives in the illegally annexed Crimea and, for obvious reasons, he cannot return to the peninsula, he was provided a temporary place to stay in Kyiv. The Office of the Verkhovna Rada Commissioner for Human Rights Liudmyla Denisova promised they would help the man to obtain the status of an internally displaced person, and to support him in the future.
At the same time, after returning to Kyiv, reports emerged in social networks claiming that the SBU Security Service of Ukraine back in 2014 had already detained Kostenko on suspicion of terrorism and cooperation with Russian intelligence.
Kostenko had been arrested and later bailed out by a rightwing Svoboda MP Eduard Leonov, since at the time Kostenko was his personal assistant. After that, Kostenko fled to Crimea, only to be subsequently detained by Russian security operatives.
It should be noted that along with Kostenko in 2014, leader of the Azov-Crimea civil corp, Stanislav Krasnov, was also detained. He is now being accused of state treason after the SBU detained him again in 2016, after he had planted a cache of explosives.
At the time, SBU chief Vasyl Hrytsak reported that Krasnov, together with Russian intelligence, was preparing terrorist acts in Kyiv and planned to blow up the buildings of the Verkhovna Rada, Cabinet of Ministers, and Presidential Administration. But while Krasnov was eventually arrested and brought to trial in Ukraine, Kostenko was not even put on the wanted list after he was detained in the occupied Crimea.
Read alsoUkrainian political prisoner Kostenko freed in Russia – Ombudsperson
It turns out that, having left for the peninsula, Kostenko was in fact evading prosecution in Ukraine until he was arrested by the Russian authorities.
It is yet to be seen whether Kostenko will now repeat the fate of Krasnov. As clarified by the press secretary of the Prosecutor General, Larisa Sargan, the criminal case against Kostenko, which was separated from the Krasnov probe, in which the indictment is already in court, is being investigated by the Svyatoshinsky police department of the Main Directorate of the National Police in Kyiv. There was no sense to put the man on the wanted list since he had been serving his sentence in Russia. At the same time, criminal proceedings against Kostenko were suspended pending his prison term, and now they could be resumed. But no one is saying he will be taken into custody yet.
As for the information from the SBU and the National Police, UNIAN has not received any replies to the relevant inquiries on whether the investigation will be resumed in Kostenko's case. At the same time, the report on the detention of the Kostenko-Krasnov group in May 2014 has gone from the SBU website.
Read alsoUkrainian political prisoner Kostenko freed from Russian jail arrives in Ukraine's Embassy in MoscowSo far, only the Foreign Ministry reacted to the information on criminal proceedings against Kostenko, at the same time specifying that they are not an investigative body, therefore, they can provide no legal assessmsent. "As for his possible or probable involvement in the commission of unlawful actions on the territory of Ukraine, our function as the Ministry of Foreign Affairs is to ensure his release, to ensure his safe transportation to the territory of Ukraine," Secretary of State for Foreign Affairs Andrei Zayats said, noting that this is the right of every citizen of Ukraine. Moreover, Russia did recognize that Kostenko was a Ukrainian national.
However, the journalist Vladimir Boyko in his Facebook pointed out that Kostenko in 2015 had actually obtained a Russian passport from the so-called "Crimean authorities" and did so of his own free will.
Read also"Mental health issue": PM Groysman on Savchenko's alleged terrorist plot in parliamentThe Ministry of Foreign Affairs says its officials are unaware of some other ID. "He crossed into Ukraine with his Ukrainian passport, so there was no ambiguity for us in this regard," said Zayats.
Upon his arrival in Kyiv, Kostenko refused to comment on anything until he is interviewed by security services.
Curiously, according to a pro-presidential Ukrainian blogger Myroslav Oleshko, Kostenko was persuaded to come to Kyiv instead of Crimea, because he is a valuable witness for the presidential administration. "His term has come to an end. Kostenko didn't want to go to Ukraine, he wanted to go to the occupied Crimea. And for Ukraine, this would be unacceptable. Therefore, he was persuaded to return to Ukraine... Ukraine should ensure the release of all its citizens from Russia, and after their arrival, things should be figured out, as it was with Savchenko. For our law enforcement agencies, he is now a valuable witness," Oleshko wrote on Facebook.
Oleksandra Matviychuk, a human rights activist and head of the Center for Public Freedoms, believes that such incidents with premature heroization of Ukrainians imprisoned in Russia are due to the fact that Ukrainian society is accustomed to believing that if someone is on the list of political prisoners, they should be positioned as a hero, which in its essense is a mistake. "There are about 70 people on this list. And they are all completely different people. There is Oleh Sentsov, who was convicted of resisting Russian occupation and who started a hunger strike demanding the release of other political prisoners, and an ordinary man Serhiy Lytvynov from the village of Komyshne, who accidentally became a victim of persecution when had travelled for a dentist's appointment... The problem is not these people, it's us, because we, as a Ukrainian society, have not learned to fight for just people – we are eager to fight only for heroes, so we tend to give them some outstanding features. But these are the same people as they were before they were convicted - people with their own history, advantages and disadvantages. The list of political prisoners is just a statement of the fact that a particular citizen of Ukraine was illegally thrown behind bars for political reasons in Russia or the occupied Crimea," Matviychuk said.
Read alsoSBU say Azov member Krasnov, Russian intel plotted to blow up govt buildings in Kyiv
Criminologist Hanna Maliar, in turn, believes that Kostenko is now being treated more than cautiously, since he can actually be a bearer of some important information. On the other hand, it is unclear what steps had been taken in the ombudsperson's office regarding his return to Ukraine. After all, he simply took advantage of the possibility of such return under Russian laws, since he fully served his prison sentence.
"Obviously, the fuss around Kostenko on the part of the top politicians is an attempt to use the situation with the release as a pre-election move. After Savchenko was freed, Ukrainians have been expecting some surprises from every political prisoner [held in Russia], but the [Kostenko] case has little to do with that of Savchenko. It's worth noting that Kostenko has not yet made any statements, and, therefore, he doesn't seem ready yet to promote himself as a hero," says Maliar.
UNIAN is still hoping to hear from the SBU and National Police whether the old criminal case against Oleksandr Kostenko is being renewed and will he be held accountable. But we can say for sure that Ukrainian politicians will not shy away from playing during presidential and parliamentary campaigns a trump card of Ukrainian nationals illegally held in Russia.
Anastasia Zaremba
If you see a spelling error on our site, select it and press Ctrl+Enter