Poles to Ukrainians: Ukraine must not expect the EU to resolve the country's problems
17:23, 26.12.2014
4 min.
22
Polish citizens want Ukraine to become a member of the European Union and support the country in its fight against Russia, clearly realizing that that there would be no war in eastern Ukraine had there been no external aggressor. However, the Poles stress that Ukraine needs to implement efficient reforms. 
Poland is among the EU States that have been supporting Ukraine the most since the Maidan events and now, during its fight with the Russian aggressor in Ukraine's east. However, it regards the country's leadership. But what is the opinion of the regular Poles? UNIAN has spoken with the Polish citizens, trying to find out about their opinion on the situation in Ukraine, whether they see the country as a potential EU member and what they wish Ukrainians in 2015.
"We clearly understand that Putin will come for us whenever he finishes with you."
Students, businessmen and personnel of the HR companies are the ones who interact with Ukrainians most often. Specialists from the HR company WBS Doradztwo Personalne say that they are very concerned with the situation in Ukraine.
"Today, we don't know much about what is happening in Ukraine, as it is not fresh news anymore… We know that there is an ongoing war and that eastern Ukraine's residents only blame the West for what is happening… It also hurts us, because we know how many Poles live in Ukraine," Silvia Kolba told UNIAN.
According to her, many Poles are afraid to travel to Ukraine, "but this is a mistake: My parents visited Lviv just two weeks ago, and they are amazed. A very lovely city."
Silvia's colleague Karolina Ditko says that there are now more Ukrainians in Poland, but this does not bother the Poles.
The Poles say that Ukraine has very little chance of joining the EU in the near future: "First, you have to change your attitude toward many things," says Karolina.
Another specialist from WBS Doradztwo Personalne, Slavomir Szczur, says, "We clearly understand that Putin will come for us whenever he finishes with you." However, he believes that there is no sense now in blaming Europe for anything, because Ukrainians have in the past elected poor governments.
He stresses that "No one will fight for Ukraine and die for it but you."
 "Ukraine's power lies in Ukraine itself"
Polish students are also interested in the Ukrainian topic. Despite the lack of information on the conflict in eastern Ukraine, they can still tell the difference between friends and enemies.
Twenty-three-year-old Agnieszka, who studies the history of art, is positive that the lasting conflict in Ukraine was caused by "the annexation of Crimea and attempts to disintegrate the eastern part of the country with the mostly Russian-speaking population."
Agnieszka also calls the 2004 Orange Revolution the primary cause of today's situation in Ukraine.
"I guess Ukraine in some degree lost its chance then, to grow economy-wise… Aligning with the Western countries will not help Ukraine survive if the country is not economically and socially strong. But I suppose that all sides interested in ending the conflict in Ukraine understand that without fighting back, annexations will take place 'quietly' and 'promptly,'" says the student.
She also said she thinks that the importance of joining the EU for Ukraine is overestimated, as "there are countries within and outside the EU that prosper and those which go bankrupt."
"In my opinion, Ukraine's power lies in Ukraine itself and not in the Western countries. The biggest mistake that was made by Poland back in 1993 was to rely on other countries," says Agnieszka.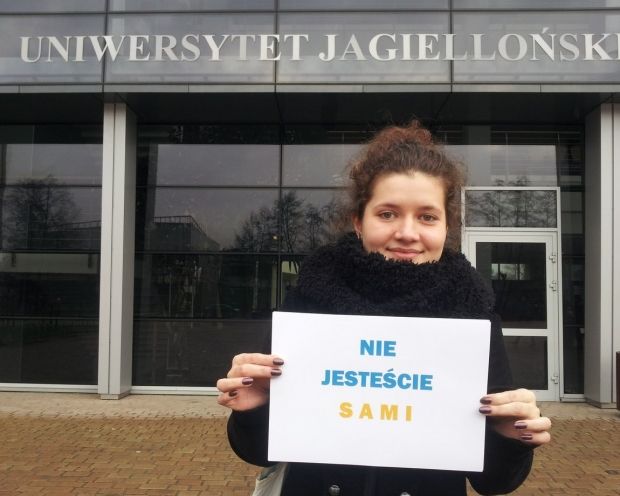 Karolina: Poland, like no other country, can understand Ukraine's hardships, connected with the other neighbor.
Twenty-two-year-old Karolina, who studies economics, told UNIAN that the 'hybrid' war, initiated by the external aggressor in Ukrainian east, is "something new for all of Europe."
"We are all anxiously watching what is happening beyond our eastern border. Poland, like no other country, can understand Ukraine's hardships connected with the other neighbor."
However, despite today's problems of Ukraine, the student sincerely hopes for the country to become an EU member.
"The existence of a democratic state with the rule of law is essential for EU membership. But Ukraine is on its way toward it. On this path, I wish you peace, for Ukrainians not to lose their lives for sovereignty and their country's civilizational choice," says Karolina.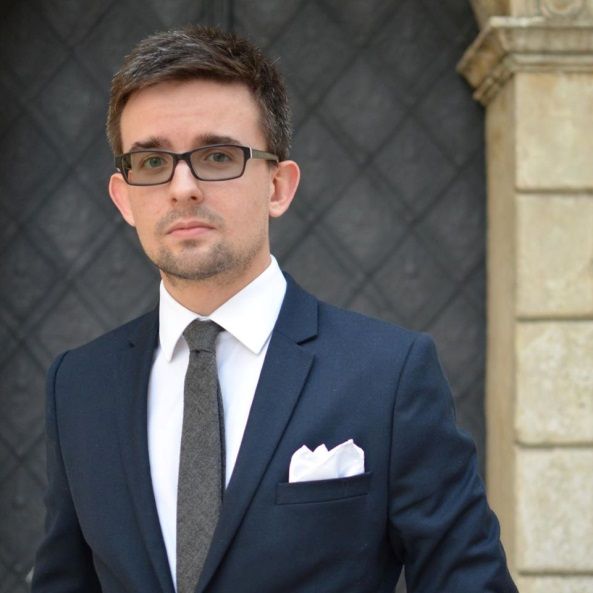 Jakub: Ukraine is being torn apart between reforms and the conflict in the east.
"One cannot simply sit quietly in their warm apartment, giving Ukraine away. Tomorrow, the aggressor will break in that apartment, too."
Polish businessmen, also struggling due to Russia's 'sanctions', does not see the EU integration as a panacea for Ukraine.
"Now, Ukraine is torn between necessary economic reforms and ultimate military tension at its eastern borders. However, this situation is definitely preferable to a full-scale war," suggests Jakub, a Polish businessman.
According to him, "Ukrainians face many challenges, with putting an end to a conflict just one of them. The economy, social policy, battling corruption – these are just the most important issues among many others that you have to personally resolve," says Jakub.
In the following year, the businessman wishes his Ukrainian friends "peace, security and, even in such difficult circumstances as defending own country, not giving way to hatred which has been for too long prevailing in our common history of our part of Europe."
Martin Dudek of Ljublin gets the latest updates on Ukrainian news from his friends from Kyiv and Lviv. He underlines that "the events in Ukraine pretty much mirror our own potential prospects for tomorrow."
"We have close mentalities. I can even say that Ukrainians are closer to the Poles than Russians. Before, the Ukrainians used to be perceived by my friends here as migrant workers. Now, the Poles have seen that you are ready to die and fight until the end for your ideas, for your country's better future."
He is sure that it is Russian President Vladimir Putin's policy that has caused the war in Ukrainian east.
"At the same time, the EU also partly blames Ukraine, and it's partly justified, for none of your elected administrations paid any attention to 'hot' eastern and southern regions," said Martin.
In his opinion, Ukraine should not put a lot of hope on the EU. "At the lower levels, almost everyone in Ukraine is ready to bribe or receive bribes. Start with yourselves, and then call for the EU's help… Now, the most important thing is to start reforms and not to waste your chance." He wishes Ukrainians strength "to prove that many Ukrainians have not lost their lives in vain."
However, Dudek stresses that he does not approve of the policy of the European Union which can only express concern.
"Now, we are facing a powerful aggressor, so the Europeans must understand that  one cannot simply sit quietly in their warm apartment, giving Ukraine away. Tomorrow, the aggressor will break in that apartment, too," says Martin.
By Hrystyna Kuritnyk for UNIAN