Chief border guard Serhii Deineko: We're not going to cover up corrupt servicemen. If a hundred, two hundred, or a thousand of them must be locked up, we're ready for this
10:20, 04 July 2019
10 min.
620
Interview
New Head of the State Border Guard Service of Ukraine, Serhii Deineko, sat down with UNIAN to tell about dealing with the lines on the border, prospects for tackling corruption in the agency, and his priority tasks in office.
Colonel Serhii Deineko was appointed to the post of Head of the State Border Guard Service on June 13, 2019. He has an over 20-year experience in various departments of the agency. From 2011 to 2014, Deineko headed the Luhansk border detachment. At the start of Russian aggression in Luhansk region, he led his unit's defense during the assault by militants and was awarded the Order of Bohdan Khmelnytsky (second degree). Before being appointed head of the agency, he worked as Deputy Director of Operational Activities Department there.
Let's start with a topic that seems to be of the most concern to most people today. As summer is in full swing, many travel abroad on vacation and face long lines at border checkpoints. Why is this happening?
It was perhaps a year ago when Ukrainians were facing long lines. Now at the border, lines have almost become extinct, but this is an issue that depends on many factors, including seasonal ones. After the issue was resolved with citizens driving cars imported from EU on European tags, the situation has improved significantly. Previously, the main problem with the lines arose over persons who drove cars on Lithuanian, Hungarian, Polish tags and crossed every five days to extend the period of "temporary import" of the vehicle into Ukraine.
The situation regarding the lines remains under constant control. Delays can be a result of the operations in the adjacent side. If certain measures are being taken there, like a search for stolen vehicles or an anti-smuggling raid, cars are checked at a slower pace, and, unfortunately, we are hostage to the situation.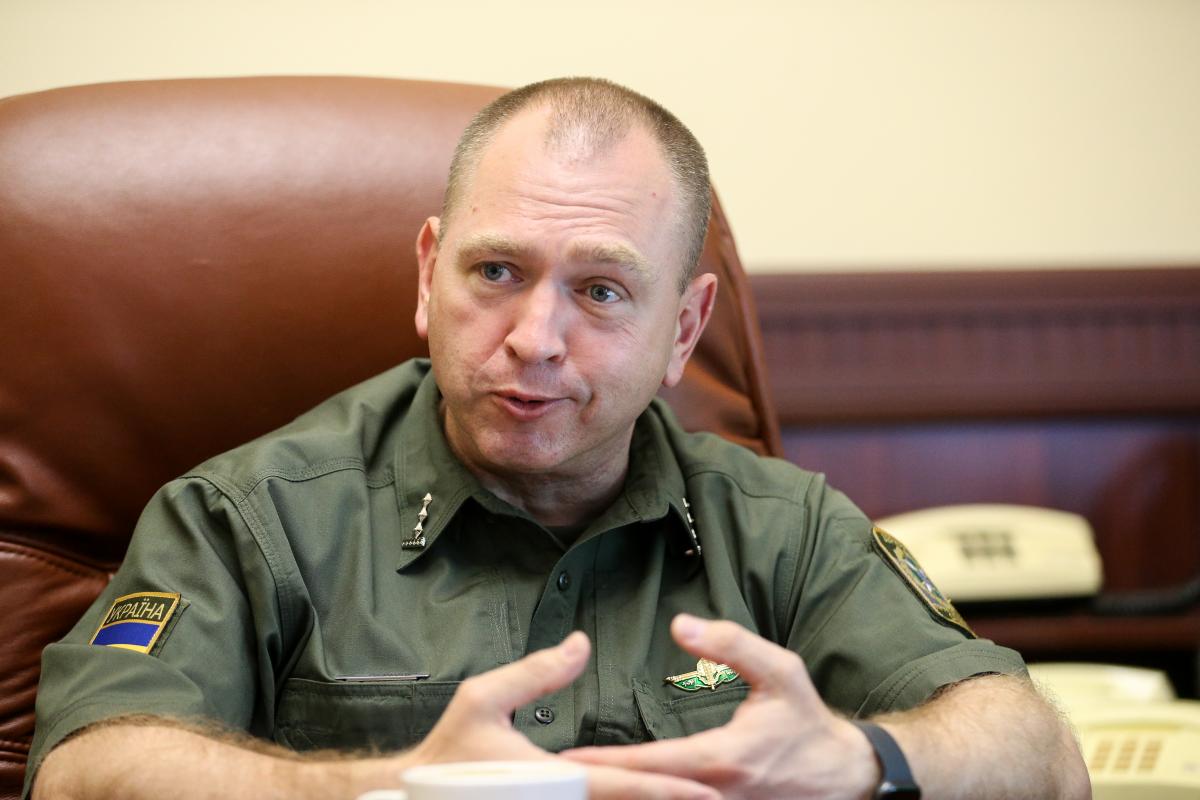 Photo from UNIAN
Which checkpoints are the most problematic in terms of lines?
That's on the Polish border: Shehini, Krakivets, and sometimes Rava-Ruska. On Thursdays and Fridays, it's checkpoint Tisza, where vans cross, full of migrant workers heading to Italy.
In order to help reduce the lines, we take a whole range of steps. That's meetings with colleagues from neighboring states, increasing the number of personnel on duty at checkpoints, introducing reverse lanes. To prevent corruption, a "confidence hotline" was introduced, so that anyone could make a call 24/7.
Quite often, at the car checkhpoints, people can buy better places in lines. For example, last year the price ranged from UAH 500 to UAH 2,000. After tourists pay money to a certain "mediator", the latter approaches a border guard, points to the car that "has to pass", and there's a green light on. How can this be tackled?
It is worth noting that it's patrol police who are responsible for maintaining law and order and watching out for traffic violations outside checkpoints. This was a problem before 2014. Since then, border guards have been dealing with these issues only within checkpoints. Our personnel get involved if lines exceed 50 cars, which is provided for by the joint order issued by the Interior Ministry.
Believe me, these "mediators" will soon be gone. Undercover operatives will start offering marked banknotes. People committing unlawful acts will be detained and brought to justice.
What about airports? Typically, lines emerge as, say, only half of the six passport check booths are operating. And, sometimes, it's just one. What prevents border guards fromp having all booths operating at once?
Indeed, at airports, not all booths operate at the same time. I'll explain why. Take, for example, Terminal D of the Boryspil Airport. You know that this terminal was built specifically for UEFA Euro 2012, and designed for peak loads, where ten to fifteen chartered flights full of fans were landing. Now, it's three to four flights may arrive simultaneously. Therefore, we do not have all booths operating as there is no need for this. In addition, we also have our staffing cap which we can't violate.
A few years ago, Ukrainians saw on a viral video a border guard "romantically" proposing to his girlfriend, whom his colleagues pranked by detaining for alleged drug trafficking. That is, border guards simply planted a package with white powder on her. How would you comment on this situation? Was this okay, in your opinion?
It was flour. In the army, they say the most frightening thing is a fool with initiatives. It's a mix that no one can deal with effectively. As far as I know, such an unusual proposal was the initiative of the unit, not coordinated with anyone. Of course, I don't support such actions, and border guards mustn't be doing things like that. We all perfectly understand that everything you do in life has consequences. If you violate the law: today, tomorrow, or the day after tomorrow, you will still have to bear responsibility for what you've done.
We had such a case in 2008 when corrupt ex-police officers planted on a foreign millionaire several grams of narcotic substance. It was purely about financial squabbles and trying to get rid of a competitor. And so that man was detained. But then, thanks to the professional work of his lawyers, he managed to find those who did this to him. And, as far as I know, they were punished and thrown behind bars.
How can citizens be sure that things like that won't happen to them?
If any of my subordinates is engaged in illegal activities, my position is clear – they will be punished. Either you trust a person and they are able to do their job honestly, or we have nothing to talk about.
Have you already dismissed or brought anyone to responsibility since the day you were appointed?
Fortunately, I haven't had to dismiss anyone yet. At the moment, I have transferred two colonels to other locations in connection with their possible involvement in illegal activities. But I'm no judge. If the court proves they have been involved, they will be fired. If need be, they'll do jail time. We're not going to cover up corrupt servicemen or help them evade punishment. If a hundred, two hundred, or a thousand of them must be locked up, we're ready for this. The order at the border can only be restored due to principled action, which must be systemic and non-stop, not periodical.
How can border guards' operations be improved and how can you motivate them to be honest at work?
The main reason why employees can go for wrongdoings, in my opinion, is inadequate pay. Border guards, who have just been contracted, receive UAH 9,500 (a little over $300). Do you think this is a normal salary for Kyiv? It's like being in supermarket security. But in security, they work a day and then rest for two, while people are on military service here.
A week ago, on Sunday [June 23], a border guard in Chernivtsi region, who was inspecting vehicles, discovered a double roof in a truck, where a hundred cigarette boxes were hid. That's a big batch. Had he agreed to accept a bribe, he would've received from criminals some $500 tops. So I ordered to award this border guard with a UAH 30,000 (over $1,100) bonus, right at the HQ conference room in front of the entire border guard service. That is, I'm giving him double that sum. And this is legal money from the government. I explain that being honest is at least twice as profitable. I will "buy" honesty of our border guards to make them principled. But this requires funding. A person without motivation cannot be effective.
In order to increase the effectiveness of our inspectors, we offer trainings with the participation of our international partners. European Union provide active assistance. Poland, Latvia, and Lithuania are often involved.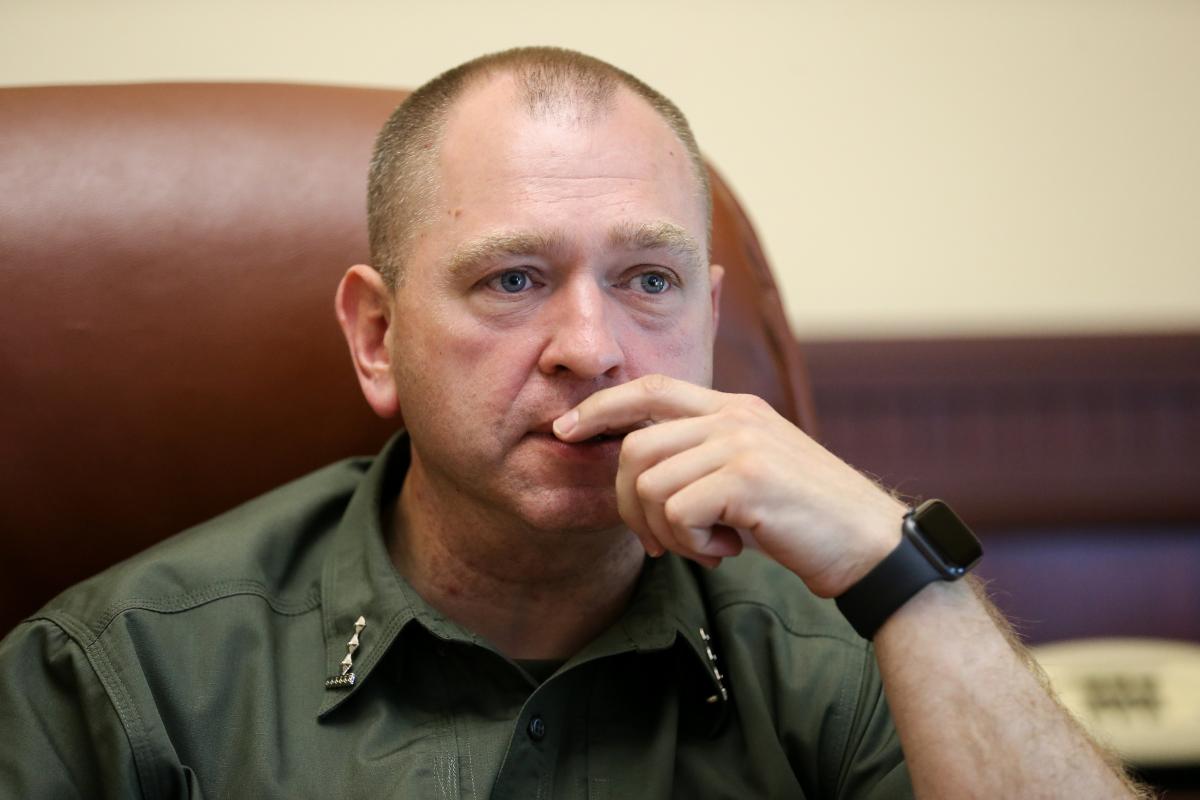 Photo from UNIAN
What would be the optimal wage for border guards?
In our opinion, wages for young servicemen who only start serving should start from UAH 15,000. If it's UAH 20,000, that would be great. However, in this regard, everything depends on the amount of funding allocated from the State Border Guard Service from the national budget. At the moment, to fulfill financial obligations before the personnel, we already lack almost UAH 1 billion. And that's without taking into account any ideas of raising wages.
In 2011, while working at the Boryspil Airport, I took part in a raid against foreign currency smugglers where six bags were seized loaded with $9.5 million in cash. That was nearly a hundred kilos of cash. Had I received from the government a certain share from the sum detained as a reward, it would amount to about a million dollars. Believe me, in this case, everyone around would want to do the same. This is the best motivation for honest and faithful service.
I'd like to offer the government a reward practice as an experiment. The mechanism could be approved for at least a few months, and then we'll see how that corruption component will shrink.
Are there any prospects for increasing salaries and remuneration of inspectors in the near future?
I have a dream. While I hold this position, I want to create an agency of which every border guard would be proud, sincerely: all of them, from soldiers to generals. I want people to work and serve honestly.
What are the most urgent needs and issues the State Border Guard Service is facing? What immediate upgrades do you need immediately?
We need to develop maritime security. Some 82% of the coast guards' vessels are morally obsolete. Do you know how much a corvette costs? It's EUR 100 mln. Do you think Ukraine can afford it?
Also, I would very much like the agency to get mobile vehicle scanners. It's an X-ray scanner aimed to detect items prohibited from imports/exports. These can be cigarettes, weapons, narcotic substances, etc. The question is that a few years ago such mobile scanners were handed over to customs, but for some reason they quickly "broke down" and were never repaired. Now, I wish our agency has three of them. Five would be perfect. I assure you that ours won't break down. One costs nearly $1.5 million.
Where do you intend to get these funds?
We have established relations with our international partners, including strategic ones. For example, recently, we met representatives of the EU Border Assistance Mission to Moldova and Ukraine (EUBAM).
Assistance from partner countries is their goodwill. Hopefully, we can count on the help, for example, from the USA and Canada if they can believe that Ukrainian border guards can be honest and ready to put to a halt illegal schemes at the state border.
But the issue of opening new projects of international technical assistance doesn't progress that quick. If we now raise the question of what we need, it can be included in the agenda for the next year, but something will actually happen perhaps in two to three years.
In the context of Ukrainian international relations, one of the most painful topics for every Ukrainian is Crimea. And there's the de-facto border issue with the peninsula. Any citizen of Ukraine who needs to get to thei relatives, for example, from Odesa to Russia's Novorossiysk via Crimea (as they did, say, five years ago), they will fall under the article "illegal border crossing". In your opinion, does Ukraine need legislative regulation of its de-facto border with Crimea?
As someone who fought in Donbas and sustained two combat wounds, someone who lost his men in combat, I see only one possible option for travel to that territory. We form a volunteer battalion, arm it, capture Novorossiysk and enter it victoriously. I'm just kidding, of course...
Indeed, there are moments when people need to see their relatives. But I have a great request that they do not forget that there is an ongoing war where our guys are dying. The law defines the procedure for crossing an administrative border to visit temporarily uncontrolled territories. When it is changed, the border guards will take into account, accordingly.
Locals claim that, in spite of the lines at border crossings, trucks, allegedly full of smuggled goods, drive to Crimea from mainland Ukraine non-stop overnight. Can you confirm or deny these reports?
I would be grateful to these people if they sent me their videos. I am sure that this situation isn't possible at the moment, because we have all checkpoints equipped with video cameras that work even at night. Perhaps this was back in 2014, when these checkpoints were just created.
How do you intend to fight smuggling, especially when it comes to non-controlled territories?
When it comes to Donetsk and Luhansk regions, this is not smuggling, because there is no customs border. This is a violation of the rules of movement of goods to uncontrolled territories. Of course, there is a problem, there are certain dealers who want to make money, and they don't care that others are sitting in a trench somewhere. We have good practice – joint groups, alongside the State fiscal service. We do this work, identify bases where goods are stacked up and vehicles involved in transporting those goods. To say that we reveal all batches would be incorrect. See, in Donetsk or Luhansk, the price for certain product categories is three times higher than in the rest of Ukraine, and this is shaping demand. But we are able to fight these schemes, and that's what we're doing.
The problem of smuggling is relevant throughout the country. Do you have any information on volumes and dynamics of smuggling into Ukraine? What are the ways to fight it?
Smuggling kills competition and honest production in Ukraine. But it's primarily customs who must be fighting smuggling. We can help them, but this is not our duty. Border guards take measures solely to prevent the movement of goods subject to mandatory state export control. We are responsible for the security component: weapons, explosives, drugs... Plus, if smugglers operate beyond checkpoints, somewhere in the fields, then it's border guards who deal with that. If it's at checkpoints, that's a job for customs.
There's so-called black, gray, and white smuggling. For example, there is a truck that is actually transporting iPhones while the invoice says it's green peas. To clear iPhones at customs, you have to pay duty magnitudes higher than those for peas. This scheme is within the sphere of responsibility of customs officers, not border guards. Customs are supposed to verify product code, quantity, weight, etc.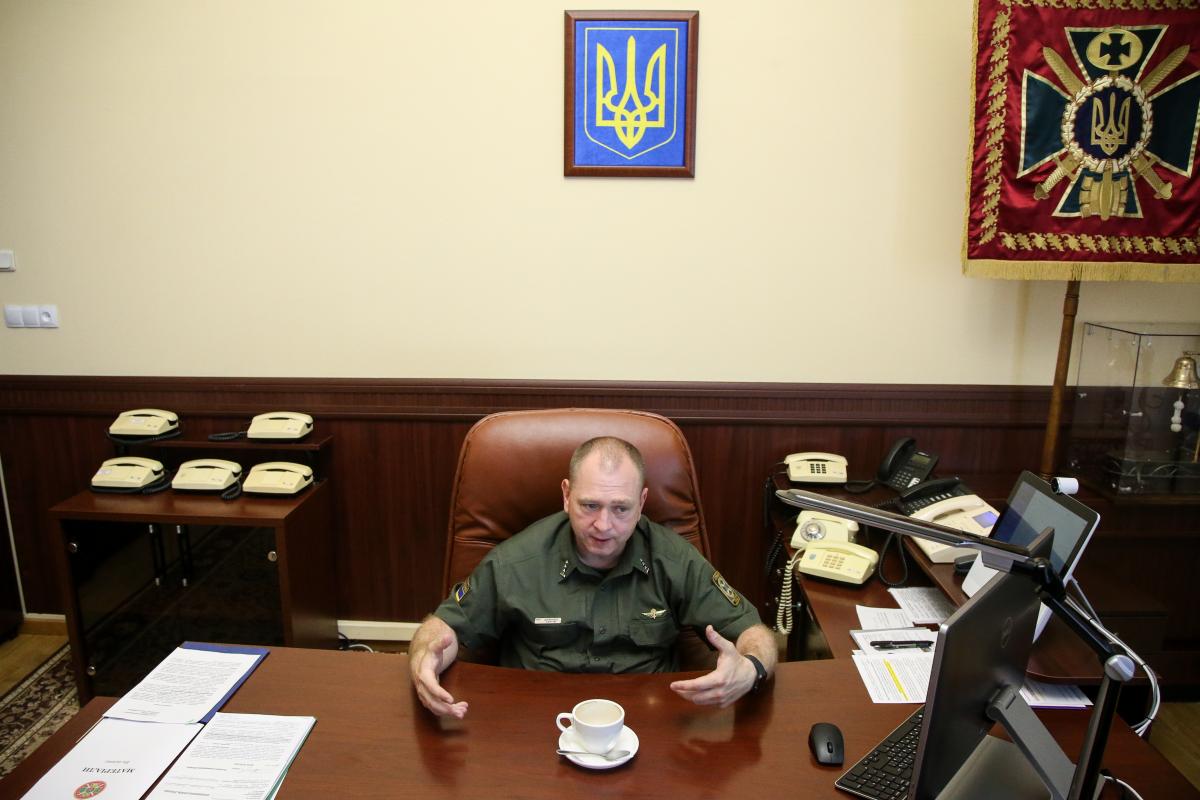 Photo from UNIAN
Could you tell us of any high-profile cases of smuggling that you have come across or heard about?
Our agency is quite pro-active in counteracting cross-border drug trafficking. There were cases where we detained batches with 200 kg of cocaine and heroin. Certain processes are ongoing constantly, sometimes even beyond the territory of Ukraine. Tipped by the State Border Guard Service, Polish and Spanish law enforcers last year busted two factories producing counterfeit tobacco products.
One of the common schemes for the illegal imports of goods is through postal operators. In 2010, we were working to destroy one of such "postal" schemes from the U.S. There was a criminal case opened. But I cannot tell you details because then masterminds behinds such schemes will take this information into account.
Smuggling seems to be a permanent issue for Ukraine? Who covers up these shadow schemes?
To tell you that some particular person was involved in smuggling, there must be a court verdict. Everyone knows the answer to this question, but first this must be proven in court. And when courts have connections to a certain official – the fifth president of Ukraine – it's difficult to do.
I know the position of today's president – there will be no smuggling. And I will do everything possible to this end. I talked with him and I saw that he was sincere in his intentions. He doesn't wear vyshyvankas and doesn't say that Russia is an aggressor state, while using his other hand to trade with them. He doesn't talk about the army, while selling it overpriced products and equipment, which, for example, is made by Kuznia na Rybalskomu. If I did not believe the new president, I would not be sitting here in this office. I'm not about imitating things. Taking up this post now is actually an act of self-sacrifice, the most critical test in my life. And this post gives me nothing but a huge responsibility.
What is your top-priority action plan in office?
Last Thursday, I held a video conference call with commanders of all levels, with as many servicemen watching as possible, explaining that there is one task we will accomplish, regardless of whether they want it or not. We will eliminate smuggling. Another task I'm facing is to eradicate corruption among border guards. I explained that this is not about some "redistribution of financial flows". There is a task that falls within the competence of the border guards, and it will be fulfilled. No one will be bringing here any bags with money at the end of the month – no one will simply take them. And if someone does, they will get locked up. There are no people who will have a "permit" for illegal activities. In this fight, I have no friends – there are enemies, and there are like-minded people. If we need to bring someone, anyone to justice – we'll do that. Nothing personal…
Nadiia Burbela, Yevgeny Matyushenko
If you see a spelling error on our site, select it and press Ctrl+Enter