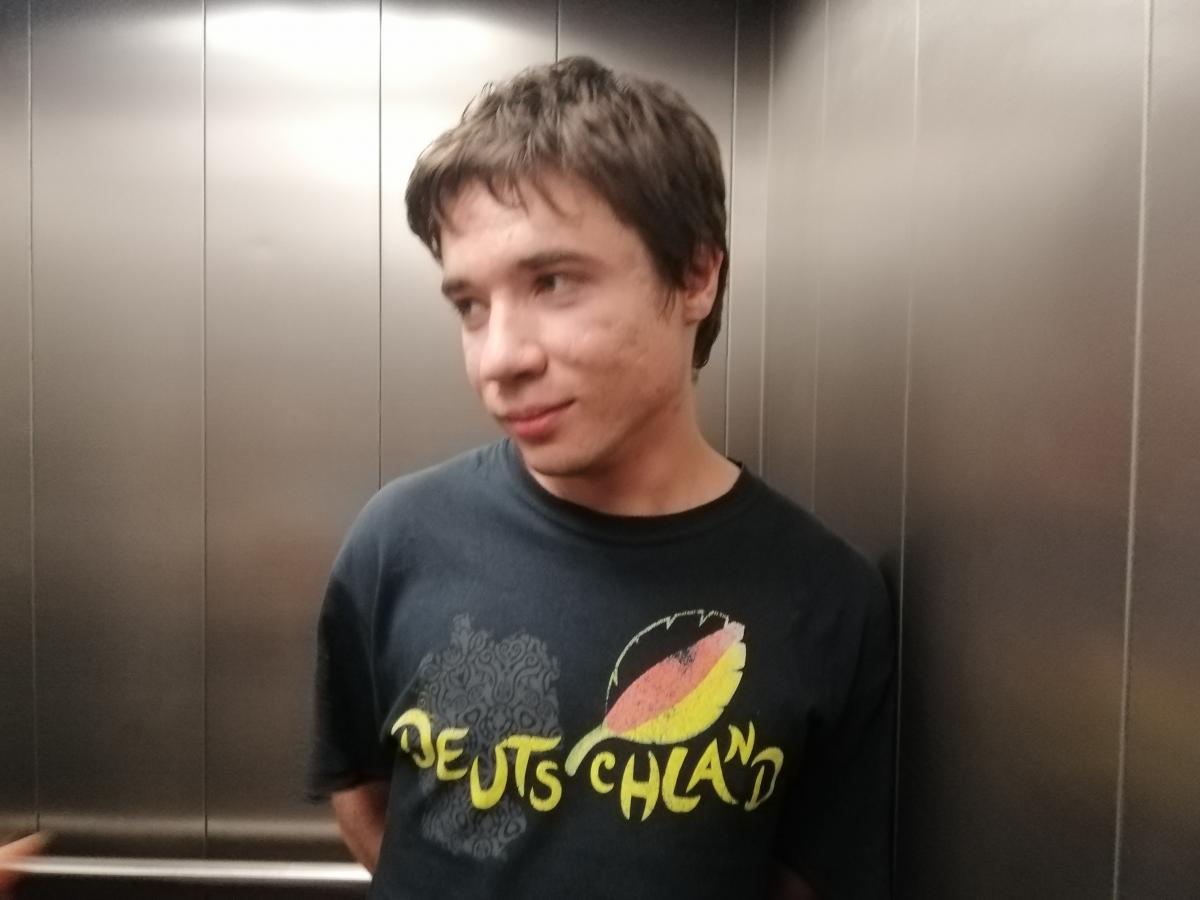 First interview with released Kremlin prisoner Pavlo Hryb: "In Lefortovo, I was held in a single cell. They would not put Ukrainians together"
12:00, 09.09.2019
3 min.
34974
Interview
The former political prisoner, 21, told of the book he had been reading in the days before the swap, chant "Glory to Ukraine!" in prison corridors, and his refusal to write an appeal for pardon.
We met with Pavlo Hryb at the Feofania hospital where we spoke, walking across the long corridor. Accompanied by his mother and nurse, he was undergoing a physical, readying for an ultrasound after completing eye tests. Upon hearing that our team is from UNIAN, he showed interest: "I don't remember why, but I was once blocked at your UNIAN community in VKontaktem, and now you're interviewing me. That's interesting".
This is Pavlo's first interview after his release from the Russian prison. The young man says he'd rather speak with us as we walk across the corridor, refusing to stay in his ward. As we talked, we kept pacing the corridor rather fast, in both directions.
When did you find out the exchange was set to take place?
I knew all along. I wasn't 100% sure, but I saw no reason why it wouldn't take place. I'd been waiting for it for two years and two weeks. But, I was already preparing for being transferred to a colony, and instead I got to Moscow, to pre-trial detention center No. 2.
It was August 16. They brought me there. They took me to a small room with high walls. At the door, some deputy chief, the man with two stars on his shoulder strap, a colonel or something, goes: "Do you know why you were brought here?" I had some suggestions but I just answered: "I don't know." "Do you want to go home?" he asked. I said: "Well, who doesn't?" He goes: "In general words, write an appeal for pardon."  Hell no! I didn't write anything. I didn't want to. And everyone's asking about it, but it is a technical question. They could just publish, forge my signature.  
What happened next?
They threw me into a cell didn't give me clothes to change, no soap. That was a single cell. They wouldn't put Ukrainians together. As entertainment, I only had radio. For two years, I couldn't figure out how to turn it on properly. I would press the button, but I had to turn the volume up. The other day, they gave me a book to read: Metro 2033 [the story of people living in Moscow subway following a nuclear fallout]. Then there were more books, and I also drew some sketches – all kinds of patterns. As I had nothing else to do, I started drawing to have something to give to my friends when I get back.  
Was it better there than in the detention center where you had been awaiting the verdict?
It was good because it was change. Back in Lefortovo, they gave us normal quality bread. For comparison, before that, pieces of bread I was given I could throw up to the ceiling and it would get stuck there. It was some mix of bread and raw dough.
So three weeks have passed, and they wake me up at night: "Pack your stuff." I got everything, took small bits of bread to feed birds. They gave me my papers and money. Here, (shows a few thousand rubles he took from his pocket) karbovantsi [the Ukrainian word for rubles]
Rubles?
I'm interpreting on purpose!
So they took me out. I heard people in another part of the building shout to each other "Glory to Ukraine!" The door opens. Someone dressed in uniform was walking along, and someone sporting black gear with an FSB tag. One of them jokes: "Oh, smells like prison." I thought to myself: "It's probably going to be another "meropriyatiye" (literally, an "event", which in prison slang means the beating of inmates by penitentiary operatives). Then I realized that they were set to get us out of there. It was 35 of us, and over forty of them.
We waited, waited, waited… Then they took to the bus. Sentsov was already there. I walked in and shouted: "Glory to Ukraine", everyone responded. The escort guards didn't care. We drove to the airport past the Kremlin. Then it was the plane.  
How are you feeling right now?
Tired.
Just a couple of final questions. What will you do first as soon as you get home?  
I'll watch the news.  
Are there any plans for the coming days?
No. I hope I won't have to stay at the hospital.
Did the girl you were set to meet in Minsk, the correspondence with whom eventually got you indicted, write something to your parents or to you?
Do you even know where this girl is? Maybe she's dead already.
Photo from UNIAN
UNIAN memo: The FSB abducted Pavlo Hryb in Belarus on August 24, 2017, and transported him to Russia. He had initially traveled to Gomel to meet a girl he met on social networks. Hryb thought the girl was supposed to come to Belarus from Russia to meet the young man. Shortly after the abduction came the reports that Hryb was being held at a detention center in Russia's Krasnodar.
Russian investigators have accused him of allegedly plotting a terror attack at a Sochi school.
Since birth, Pavlo has been suffering from portal hypertension, requiring specific treatment daily.
On March 22, 2019, a court in Rostov-on-Don found Pavlo Hryb guilty and sentenced him to six years in prison.
Vlad Abramov