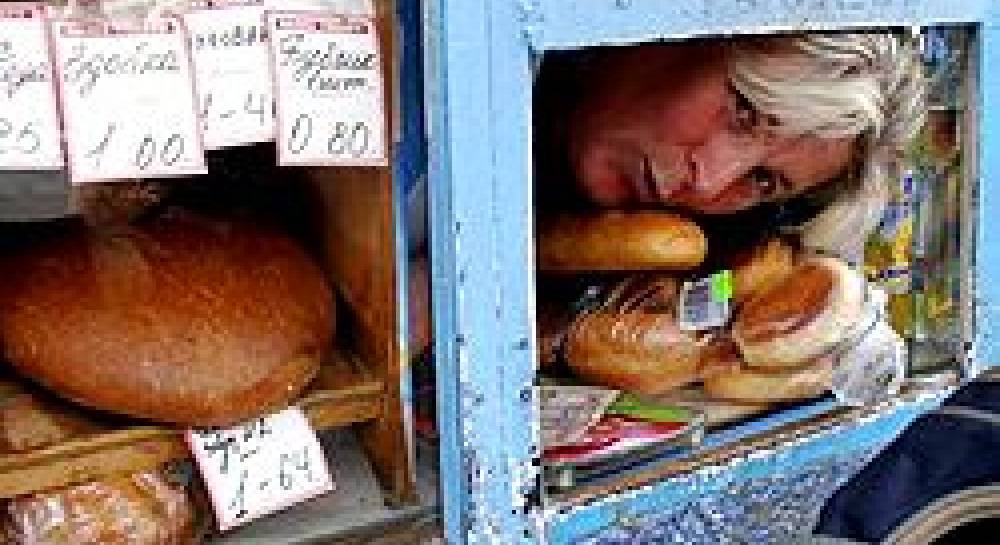 Ukraine`s role in increasing world food security
A combination of both natural and man-made events around the world has coincided to bring grains, particularly wheat, to some of the highest prices since wheat futures trading began. This price escalation has occurred at a time when world food supplies...
A combination of both natural and man-made events around the world has coincided to bring grains, particularly wheat, to some of the highest prices since wheat futures trading began. This price escalation has occurred at a time when world food supplies are as insecure they have been in decades.
The UN`s Food and Agriculture Organisation (FAO), headquartered in Rome, believes that Ukraine is uniquely positioned to make a major impact on meeting world food needs, but many wonder if Ukraine has the political will to take advantage of the opportunities the new demands and explosive market conditions present
Bloomberg reports that the most-active contract more than doubled in the past year and reached a record USD 13.495 per bushel on Feb. 27, based on speculation that farmers would not produce enough to meet global demand. Futures fell back from the highs but have now begun a new upward march with no discernible end in sight.
Wheat on the Chicago Board of Trade, generally the reference point for grain traders worldwide, rose by the exchange-imposed maximum of 90 cents on March 13 to trade above USD 13 a bushel for the first time since the February 27 record setter. The price gained 16% in three days, March 11-13, the biggest such gain in weeks.
UNPRECEDENTED GRAIN DRAIN
Jim Asher, a Kansas-native agricultural expert who has been involved in Ukrainian agriculture since 1993, said he could remember only a few times in his 70 years involved with farming that futures had been higher.
Asher also pointed out that the current situation in which wheat and soybean futures are almost equal in price is, as far as he knows, unprecedented. "Wheat futures are usually only about half the price of soy futures," Asher said, adding that the high prices have already made farming in Ukraine more profitable with more upside potential.
The United States` wheat stockpiles will probably drop by May 31 to 242 million bushels, down 47% from 456 million a year earlier, the U. S. Department of Agriculture said on March 11. USDA also said that global stockpiles are expected to fall 12% from a year earlier to 110.4 million tonnes by May 31, the lowest since 1978.
GLOBAL WARMING PART OF THE PROBLEM
Australia is normally a major exporter of grain, usually second only to the United States. In a good year, Australia would hope to harvest about 25 million tonnes. However, some of Australia`s most productive grain areas have suffered years of drought, believed to be related to changing world climate patterns. The Land Down Under saw its 2006 crop yield only 9.8 million tonnes.
The Australian drought is one of the major reasons for the low level of global wheat stocks. Visiting Nottingham, a small agriculture community in rural New South Wales, home to a massive grain storage complex, a BBC reporter described a usually overflowing silo the size of a medieval cathedral as being so empty it felt like a giant echo chamber.
MORE MOUTHS TO FEED MORE TO
Some consistent rains in critical areas, assuming that they come, could solve many of the problems caused by the great Australian drought, but even that would leave grain demand - and prices - high because of other factors that are much longer term in their effects.
The first and perhaps most important reason is growth in the world`s population, now expected to rise above nine billion by about the middle of this century. The increasing number of mouths to feed puts pressure on a wide range of resources, including land, water and petroleum, as well as the food supply.
However, much of the overall population growth is in areas where the economies are booming, particularly China and India, increasing its impact. When you combine the two population giants, you have accounted for almost three billion or about a third of the humans alive today.
For many of the increasing numbers of Chinese and Indian citizens, their newfound wealth allows them to be active consumers, and that usually manifests itself first in movement from a subsistence diet to a more meat-intensive diet. Moreover, the prosperity-driven demand for more meat increases the demand for more grain for livestock production.
NEW DISEASES ADD TO WORLD`S FOOD WOES
A little known wheat disease is now beginning to spread into parts of the world where it could do immense harm. The killer fungus, called Ug99, is a virulent strain of black stem rust (Puccinia graminis). Scientists report that most of the wheat grown in Africa, Asia and China has little resistance to Ug99.
First identified in Uganda in 1999, Ug99 has since invaded Kenya and Ethiopia and, last year, Yemen. Based on earlier fungal invasions, scientists had expected prevailing winds to carry Ug99 spores to Egypt, Turkey and Syria, and only later to Iran, a major wheat-grower, giving Iran some time to prepare for the problems that Ug99 brings.
However, with Cyclone Gonu hitting the Arabian peninsula in June 2007, the fungus reached Iran one to two years earlier than expected.
Researchers now fear that the winds could also have blown the fungus` spores into Pakistan, which lies north of Yemen, and unfortunately, where it has become difficult to keep track of its spread because of the war in neighbouring Afghanistan. What makes the situation worse is that Ug99 is now resistant to the three major anti-rust genes used in nearly all the world`s wheat.
Though scientists hope to slow the fungus` spread by spraying fungicide or even stopping farmers from planting wheat in the spores` path, the only real remedy remains new wheat varieties that resist Ug99. However, researchers warn that these may not be ready for five years.
THE SUV FACTOR
Expanded populations and booming economies in India and China explain part of the current grain imbalance, but at least as great an impact comes from the massive expansion, particularly in the United States, of the use of biofuels, particularly ethanol.
High prices for corn, the preferred feedstock for ethanol production, have led to the conversion of hundreds of thousands of hectares of former wheat lands to corn and sorghum for ethanol and rape and soy for biodiesel.
So long as the United States federal government and many state governments in rural states provide subsidies for biofuel production, it is likely that farmers will continue their conversion of former wheat lands to those grain and oilseed plantings they see as adding to their profit potential.
The administration of U.S. President George W. Bush has been very reluctant to implement widespread demands for more fuel-efficient vehicle standards.
This failure of the U.S. government to exert leadership in energy conservation and America`s love affair with behemoth sport utility vehicles has led to continued increases in fuel consumption, in spite of the highest gasoline prices in U.S. history.
Unless the next administration, which begins in January 2009, makes much stronger efforts in this sector, the United States is likely to remain the world`s most profligate user of petroleum.
Moreover, the expanded use of biofuels, particular ethanol, in the United States has led to hundreds of thousands of hectares of land formerly used for food grain production being converted to the production of corn for ethanol production.
Futures prices as far ahead as two years are so high as to suggest that the market considers higher corn prices to become a permanent fixture, thus fueling the rationale for raising corn.
FEEDING THE POOR
According to the FAO, world food prices rose by almost 40% in 2007. Without action to counteract some of the issues described above, the food price spiral could continue and even become worse. This presents a problem for not only to average citizens, but also increases the costs of providing food aid to war-torn and drought-stricken areas of Africa and Asia.
Further, those countries with large populations of urban poor tend to subsidise food supplies, particularly for basics such as bread. The current situation will create increase problems for those countries and may even result in regime changes in some.
LOOKING EAST FOR ANSWERS
The European Bank for Reconstruction and Development (EBRD) and the FAO organised a conference in London on March 10, 2008 to explore options to foster better cooperation between the private and public sectors in dealing with the problems.
Senior government officials from eastern Europe and the former Soviet Union met with executives from the private agribusiness sector to seek concrete proposals to boost agricultural investments and unlock unused output potential.
The conference`s aim was to emphasise that it is crucial to increase investments not only in primary agriculture but also in the whole range of agricultural infrastructure and the processing industry.
UKRAINE AS GLOBAL BREADBASKET
One of Ukraine`s best-known and most highly respected agricultural experts, Leonid Kozachenko, a former vice prime minister for the agricultural sector and currently head of the Ukrainian Agricultural Confederation (UAC), was a featured participant at the London conference.
He said that the FAO believes that only four countries in the world have significant untapped capacity to make a major impact on the growing food security needs - Ukraine, Russia, Kazakhstan and Argentina.
He added that Ukraine is probably the only one of the four that, properly organised and motivated, could supply the 50 million additional tonnes of wheat needed to fill the grain bins of the world sufficiently to alleviate the gaps caused by expanded food demand, weather problems and the food-to-biofuel conversion of agricultural land.
REVERSING NEGATIVE TRENDS
Both EBRD and FAO believe that there is significant untapped agricultural production potential in eastern Europe and the Commonwealth of Independent States (CIS) region.
The two organisations believe that around 23 million hectares of arable land were withdrawn from production in recent years and that at least 13 million hectares could be returned to production with no major environmental cost, particularly in Russia, Ukraine and Kazakhstan.
In a speech delivered at the conference FAO Director-General Jacques Diouf called for courageous steps to be taken now to help unlock this untapped agricultural production potential, noting that current predictions for CIS grain production point to a rise of 7% to 159 million tonnes between 2007 and 2016.
EBRD President Jean Lemierre added: "There is now an urgent need for both the private and public sectors to work together to create the conditions for sustainable investment that will restore the primacy of this region as a crucial centre of agricultural production."
An EBRD paper submitted to the conference noted governments have responded to rising food prices by introducing a series of measures including price controls, increased subsidies, reduced import barriers and restrictions on exports designed to benefit consumers. The paper also noted that many of these measures, while well-intentioned, could prove to be counterproductive on a long-term basis.
PLANTING FINANCIAL NEEDS
Anton Usov, the EBRD`s press officer in Ukraine, says that the new cooperation in the agricultural sector between EBRD and FAO is just getting underway and will probably be a major topic of discussion during EBRD`s annual meeting, to be held in Kyiv in May this year.
Usov states that the EBRD has already made a considerable number of agribusiness loans in Ukraine and looks forward to expanding its interest in the field.
He pointed to a EUR 10 million loan that was closed in May 2007 to a primary agricultural producer, Agroinvest, part of MK Group - a leading producer and exporter of crop farming cultures in Serbia and one of the main agribusiness operators in Europe.
The funds are being used to develop a modern grain storage elevator in Ukraine with a capacity exceeding 100,000 tonnes, which will enable Agroinvest to store, dry and handle its own and third party grains in an efficient manner and provide the standardized quality of grain required by the market.
REQUIRED: INVESTMENT NOT INTERVENTION
The EBRD paper encouraged governments to limit interventions that would distort domestic markets or disadvantage producers and traders, arguing that the most effective way to generate a supply response to the rise in global demand is to facilitate investment along the entire agricultural value chain.
Protection of the poorest consumers, it suggested, could be achieved through targeted income support to the most vulnerable segments of the population.
The Bank said it would target its own investments to the development of local supply chains to increase production and to the development of new rural financing instruments.
Yuriy Alatortsev, a Ukrainian agricultural analyst and writer, agreed. "We are stupid by paying farmers a fixed fee per hectare with prices skyrocketing. We should invest in technology and technical assistance instead."
WORKING TO IMPROVE COMMUNICATION
In cooperation with the FAO, the EBRD will also pursue greater policy dialogue to help overcome the lack of communication and effective contact between private sector companies and related authorities in the agricultural sectors across the transition region. In the agribusiness sector alone, the EBRD has already committed EUR 4.9 billion in 357 projects across central and eastern Europe and the CIS.
In its submission to the conference, FAO spokesmen said ambitious government policies are vital, implying improved use of state budgets to deliver essential public goods and services to the agricultural sector.
"A supportive institutional and regulatory environment is mandatory to attract private investment at all levels of the food chain. To achieve that, improving policy dialogue between private stakeholders and policy-makers will be instrumental."
Alatortsev believes that the EBRD`s commitment is commendable, but is far too small for the area that it proposes to serve. "More and more investment will be needed. Across all of the CIS, EUR 4.9 billion is nothing. Pretty soon private companies will invest billions of dollars into Ukrainian agriculture alone", Alatortsev said.
"No country in the world has a better opportunity to improve the food security of the world than Ukraine," Leonid Kozachenko said in a March 19 interview.
"Money is no longer the problem. Between commercially available sources and such entities as the EBRD and the IFC, there are adequate supplies of funding.
"What we need is to do is throw out old ideas, to understand that we can adequately supply domestic demand and the world market, and to sweep away the old thinking and the old laws and regulations that prevent Ukraine from regaining its place as one of the great breadbaskets of the world.
"I hope that we will have the courage and vision to grasp this immense opportunity that is clearly within our reach."
By Jim Davis, Business Ukraine magazine

Kyiv, Ukraine, Monday, March 24, 2008
By the courtesy of Mr. E. Morgan Williams, Director
Government Affairs, Washington Office
SigmaBleyzer Private Equity Investment Group
President, U.S.-Ukraine Business Council (USUBC)
If you see a spelling error on our site, select it and press Ctrl+Enter