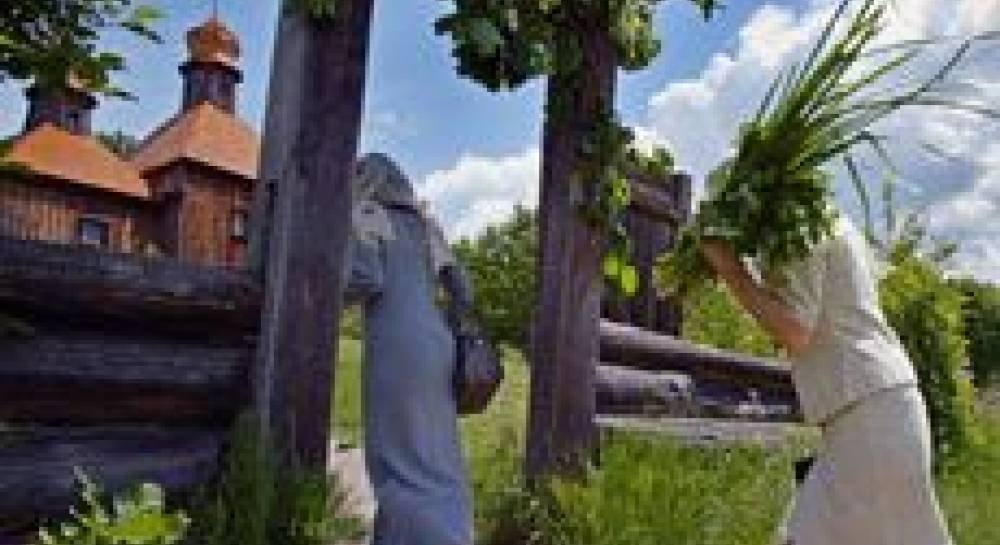 Ukraine`s wooden churches: Faith, tradition, and cheaper plastic siding
11:49, 21 April 2008
4 min.
1412
The churches survived the Nazis and Soviet rule. Can they outlast parishioners` "improvements"? Famous Ukrainian wooden churches as old as six centuries face ruin at the hands of the unlikeliest of enemies...
The rustic beauty of Ukraine`s famous wooden churches is surpassed only by their capacity for survival.
Dotting the countryside from the Carpathian Mountains to Crimea, they have withstood centuries of unforgiving winters. During World War II, Nazi shelling raked the Ukrainian heartland. Under Soviet rule, the churches became grain silos and warehouses for everything from mattresses to pesticides.
Now, in an era when democracy and religion thrive in Ukraine, wooden churches as old as six centuries face ruin at the hands of the unlikeliest of enemies: the priests and parishioners who became their guardians and, unaware of their historical significance, began "improving" them.
In Sytykhiv, a hamlet in western Ukraine`s dense woodland, preservationist Andriy Salyuk strides up to one of them, shaken by what he sees. Sheathed in sky-blue and white plastic siding is the Assumption of the Blessed Virgin Mary, a wooden Ukrainian Greek Catholic church built in 1878.
"I`m speechless," Salyuk says, shaking his head as he scans the siding, the brown bathroom tile covering the church`s front stoop, the sheet metal encasing its cupolas. "I feel so sorry for the way that this church is being ruined. The kids who are playing in this village today won`t see this church in 20 years, because by then the wood underneath will have rotted out."
As crestfallen as Salyuk was when he walked up to Sytykhiv`s only church, he`s seen worse. Oblivious to their churches` architectural and cultural significance, priests and parishioners in other villages have cocooned the structures in metal plating or, in some cases, burned them down to build stone replacements.
For Salyuk, president of the nonprofit Lviv Foundation for the Preservation of Architectural and Historical Monuments, it`s tantamount to blasphemy. Wooden churches are icons of Ukrainian architecture, he and other preservationists say, as synonymous with the country`s cultural heritage as painted Easter eggs and borscht.
Though the churches are legally protected because they are listed on Ukraine`s Register of National Monuments of Architecture, federal and regional authorities rarely enforce the law, preservationists say. Salyuk and his colleagues have taken it upon themselves to persuade priests and villagers of the cultural value of their churches, but changing minds hasn`t been easy.
Since Ukraine won its independence from the Soviet Union in 1991, 68 wooden churches in the Lviv region have been gutted or razed, said the Rev. Sebastian Dmytrukh, a Ukrainian Greek Catholic priest in Lviv who heads his archdiocese`s preservation commission. Last year alone, eight churches were set ablaze; six burned to the ground.
During the decades of Soviet atheism, only two of the region`s wooden churches were destroyed, Dmytrukh said.
"Sometimes the priests are responsible for this act," Dmytrukh said. "But there are also cases where parishioners destroy the churches themselves. They see that the neighboring village`s church is bigger, newer, more modern. So they say, `Why can`t we have the same kind of stone church?` And they destroy their old church and build a new one."
Stunning examples of Orthodox and Catholic wooden church architecture abound in Eastern Europe, particularly in Poland, Romania and Ukraine. Usually hewn from oak, larch or spruce, the structures often are built with terraced, pagoda-like roofs topped by onion-domed cupolas. Small wooden shingles called gont often were used to cover roofs and exterior walls. Inside, ceiling to floor iconostases filled with depictions of Jesus Christ, the Virgin Mary and a host of saints served as the nave`s focal point.
For centuries, the churches existed undisturbed, threatened only by bark beetles and termites. During World War II, some churches were destroyed during German artillery barrages or set ablaze by German soldiers. When the Soviet Union annexed western Ukraine after the war, most of the churches became warehouses or Dom Kulturys, clubhouses that locals used as movie theaters or dance halls.
That nearly half a century of Soviet atheism largely explains the indifference that many priests and parishioners harbor toward their churches today, according to Salyuk and other preservationists. The use of wooden churches as everyday buildings devalued the structures` meaning in the minds of many Ukrainians.
When Ukraine gained its independence, villagers embraced the return of religious freedom, but many viewed their wooden churches as eyesores -- rickety, difficult to maintain, and ripe for renovation or demolition.
"People stopped feeling that all of these churches have value -- not material value, but spiritual or emotional value," Salyuk said. "Now, many people look at churches not as sacred buildings, but as houses which need to be rebuilt or renovated."
In many cases, those renovations make preservationists shudder. In the village of Stary Yar, 24 miles northwest of Lviv, a makeover of the 450-year-old Our Blessed Virgin of Pokrova, a Ukrainian Greek Catholic church, amounted to nailing tin plating painted yellow onto the wooden exterior. Inside, walls that had been covered with centuries-old paintings have been concealed behind particle board amateurishly decorated by a village artist.
"You can see this church is almost totally covered with metal, which makes it look like a submarine," said the Rev. Stepan Kobasyar, whose diocese includes Stary Yar. "I can encourage the priest here and the parishioners to take the metal down, but I can`t make them do it. This is the attitude of people who don`t understand the value of a wooden church," he said.
Indifference toward cultural and historical treasures isn`t confined to wooden churches, Dmytrukh says. He has visited homes throughout the Lviv countryside in which wooden icons -- religious paintings sometimes hundreds of years old and the focal point of Ukrainian church interiors -- are being used as attic doors, shelves or patches to fix holes.
"The worst thing that the authorities did was to transfer ownership of church property to the communities themselves, which then do whatever they want with the churches," Dmytrukh said.
Regional authorities responsible for enforcing Ukraine`s preservation laws lack the staff and money to protect the churches. Vasil Ivanovsky, head of the Lviv regional agency that investigates cases of damage or destruction of architectural landmarks, says he would need 60 inspectors to do the job properly. He has six.
One of those inspectors may want to put Sytykhiv`s village church on the list. Salyuk said its plastic siding locked in moisture, accelerating decay of the wood underneath. Oak beams supporting the structure are damp and dotted with moss.
As Salyuk took photos and pointed out flaws, Roman Maksymiv, a parishioner who helped install the siding, couldn`t understand the preservationist`s indignation.
"The church didn`t look good before, that`s why we put the plastic up," said Maksymiv.
By Alex Rodriguez, Chicago Tribune
If you see a spelling error on our site, select it and press Ctrl+Enter