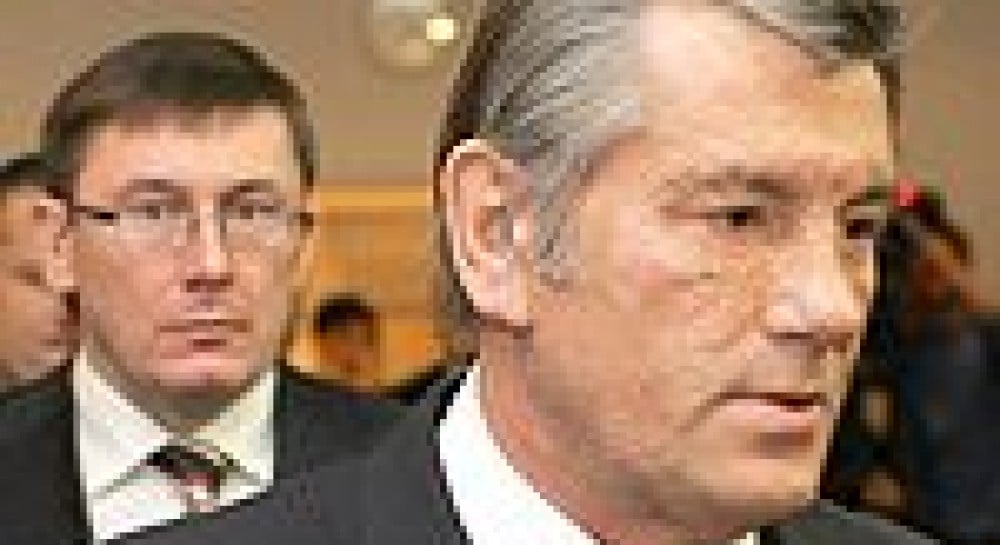 Yushchenko heads home with assurances
12:16, 29 May 2008
3 min.
1430
Yushchenko headed home Wednesday with a pair of important foreign policy achievements from his high-profile trip to Canada. But neither seems likely to help him back in Kyiv, where he is locked in an escalating political standoff...
Ukrainian President Viktor Yushchenko headed home Wednesday with a pair of important foreign policy achievements from his high-profile trip to Canada. But neither seems likely to help him back in Kyiv, where he is locked in an escalating political standoff with his onetime Orange Revolution ally, Prime Minister Yulia Tymoshenko.
Mr. Yushchenko secured Prime Minister Stephen Harper`s support for Ukraine`s NATO bid and gave momentum to a parliamentary push to recognize the 1930s Soviet-engineered famine in Ukraine as a genocide, but those victories are likely to have little impact on his domestic standing.
Mr. Yushchenko`s political fortunes have been sagging since he was catapulted to power in 2004 by a peaceful uprising that saw hundreds of thousands of Ukrainians take to the streets chanting his name to protest a fraudulent presidential election result. As his opinion poll ratings have fallen, Ms. Tymoshenko`s have risen, and she is widely expected to challenge him for the top job during presidential elections scheduled for next year.
The political infighting worsened dramatically earlier this month when the Prime Minister`s supporters physically blocked Mr. Yushchenko from giving his annual state-of-the-nation address to parliament. He was reduced to having to post the undelivered speech on his website.
Mr. Yushchenko is accused by many Ukrainians of spending too much time chasing high-minded foreign policy aims while the country`s domestic politics are deadlocked and inflation is rising dangerously. But in an interview Wednesday that came at the end of his three-day official visit to Canada, the 54-year-old pleaded for his political opponents to understand the important international tasks he is trying to accomplish.
He said Ukraine needed to unite around "national priorities" and suggested that the pursuit of both NATO membership and international recognition of the Holodomor, the great 1932-33 famine that left at least 2.2 million people dead, were potential rallying points for his notoriously divided nation.
During his trip to Canada, Mr. Yushchenko obtained strong support from Mr. Harper for Ukraine`s membership in the transatlantic alliance. He also gave momentum to a private member`s bill that will soon see Canada become one of the first countries to recognize the Holodomor as an attempt by Soviet dictator Joseph Stalin to wipe out the Ukrainian peasantry.
"Why can one of those policies that unites us not be NATO integration? Why can`t this be our mutual subject for understanding?" he said in an interview at a Toronto hotel, sounding exasperated. "Same with the Holodomor, the great famine; why can`t we get together, East and West, around this? When I don`t find any understanding from Yulia Tymoshenko, for instance, it makes me really sad."
While denying that his country was facing a crisis — the former economist rattled off a host of statistics backing his contention that Ukraine is in far better shape than it was before the Orange Revolution — he acknowledged that the ongoing political instability was threatening economic growth.
Inflation has skyrocketed to almost 13 per cent in recent months, something Mr. Yushchenko Wednesday blamed on Ms. Tymoshenko`s brand of "social populism," which has seen the government take a series of what he called anti-market measures, such as placing restrictions on the exports of grain and other agricultural products at a time when Ukraine`s grain supply is actually higher than it was last year, denying farmers the chance to capitalize on rapidly rising world grain prices. Such moves are anathema to the right-wing economist.
Ms. Tymoshenko, meanwhile, has laid the blame squarely on the President`s desk. "If the situation in the country does not improve, the Prime Minister cannot be the partner and ally of the President," she said in a statement last week.
The polls suggest most Ukrainians are taking Ms. Tymoshenko`s side. "As a politician, as someone trying to implement policy, [Yushchenko] has not been very successful. He`s losing the public relations battle to Tymoshenko by a factor of three to one. A visit to Canada won`t change that," said Dominique Arel, chair of the Ukrainian studies program at the University of Ottawa.
The current political squabbling is just the latest in a three-sided political war that began shortly after the Orange Revolution and has not ended since.
Ms. Tymoshenko was made Mr. Yushchenko`s prime minister immediately after the uprising, but he fired her six months later over differences in economic policy. She was succeeded by Viktor Yanukovich, Mr. Yushchenko`s opponent in the 2004 elections, who lasted just 16 months before Mr. Yushchenko dissolved parliament and called a new election last fall.
That vote, which briefly saw Mr. Yushchenko and Ms. Tymoshenko reunite the Orange Revolution forces, brought Ms. Tymoshenko back to office, though the two leaders still don`t see eye to eye on a host of issues.
One issue they do agree on is the threat posed to Ukraine`s independence by a resurgent and more assertive Russia. Mr. Yushchenko`s face still bears the fading scars of the poisoning he suffered during the 2004 election campaign, an attack he says was masterminded in Russia.
He said Wednesday that prosecutors were "making more progress than ever" in the investigation, but that they now need co-operation from the Kremlin.
"I have no doubt that those people will be in jail, those people who ordered the crime, some of whom still live in Ukraine, and those who executed it. … There`s only one problem. Everything that can be done in Ukraine about it has already been done," he said, adding that he had already sent several extradition requests directly to the office of former Russian president Vladimir Putin, who is now that country`s Prime Minister.
"We already gave them addresses where those people reside in order to not make it too hard for them to find them."
By Mark Mackinnon, Globe and Mail
If you see a spelling error on our site, select it and press Ctrl+Enter