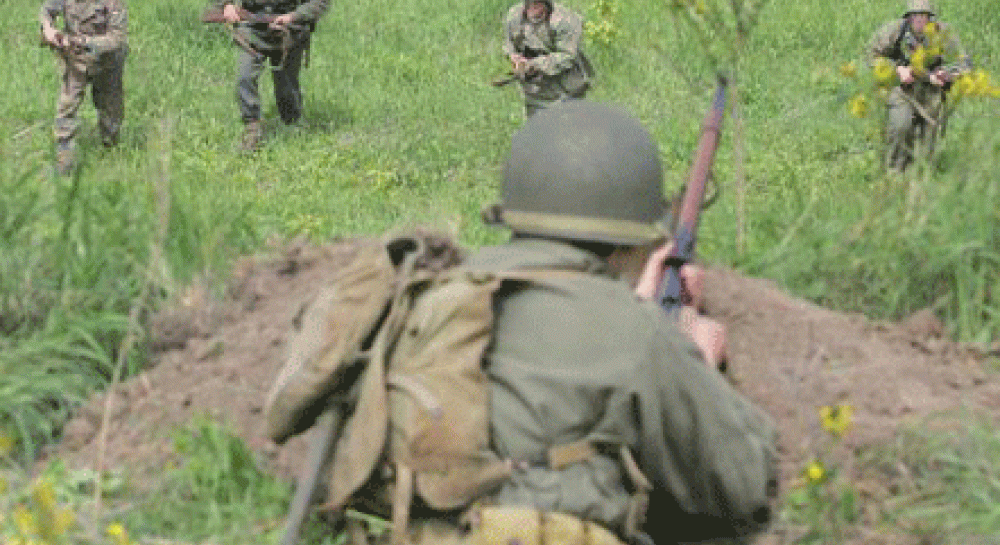 Mass graves help Ukraine uncover legacy of World War
16:41, 10 June 2008
3 min.
1754
The painstaking search for soldiers` remains reflects belated efforts in post-Soviet Ukraine to come to terms with the events of the war -- which still leave the country divided between the nationalist west and centre and...
Vyacheslav Grybailov picks up a skull from a freshly dug trench filled with human remains and shows it to a frail but upright World War Two veteran.
"Look, here, from this side the bullet came in," Grybailov tells Dmitry Aleksandrov, pointing to a neat, coin-sized hole.
"And you can see from the other side where it came out. We can say absolutely that he was shot. But we have no other information."
The painstaking search for soldiers` remains reflects belated efforts in post-Soviet Ukraine to come to terms with the events of the war -- which still leave the country divided between the nationalist west and centre and the Russian-speaking east, more sympathetic to Moscow.
Grybailov, an expert at the state-funded "Memory and Glory" organisation, began digging trenches at an army base in central Ukraine last month and thinks between 3,000 and 4,000 Soviet prisoners of war are buried here.
That is in addition to 7,200 bodies estimated to lie in a patch of land a few kilometres from the base, on the outskirts of Vinnytsya, four hours` drive from the capital, Kyiv.
During the war, the sprawling base, built originally as cavalry stables, was taken over by the Germans and used as a camp for Soviet prisoners of war.
Hitler used some of the prisoners to build a bunker-barracks complex known as "Werwolf" 15 km (nine miles) away, from where he conducted the long and ultimately futile German advance on Stalingrad.
LOYALTIES STILL DIVIDED
In Vinnytsya, it was largely thanks to the relentless campaigning of Ukrainian veterans of the Soviet Red Army such as Aleksandrov and a recent base commander, Nikolai Labunsky, that digging was begun -- albeit six decades after the war ended.
Unlike Russia, where victory celebrations tend to unify the entire country, war commemorations in Ukraine create ill feeling and occasional street skirmishes reflecting loyalties to groups that fought the war on fundamentally different principles.
Hundreds of thousands joined the Ukrainian Insurgent Army, a guerrilla group that fought against both the Soviet and German armies to secure an independent state, and attempts to recognise them as war veterans still divide opinion. Others signed up for a special Nazi unit known as the SS Halychyna.
A dogtag belonging to one Vasily Trofilov, born in 1922, has been found in Vinnytsya along with some army boots and army-issue equipment such as cutlery.
But mostly, the trenches hold only clean, yellowing bones, the dead having been stripped of their clothes.
"We dug out one who had been shot, but our theory is that they were simply dying from starvation, from illness ... Everything indicates that these were prisoners of war," Grybailov said.
Behind him, a man from his team digs out body after body. Laying a skull beside him, he collects each individual vertebra, gathers the delicate ribs, eases out the pelvis and, with a spade, lifts the large leg bones.
The bony cubes of the hands and feet fall apart as he gathers them up.
All this he then places into a cloth sack, hundreds of which lie by the trenches.
MOANS UNDER THE EARTH
Vasily Rabinchak was about 16 when the Germans marched into Vinnytsya in the summer of 1941. He said the prisoners were soon put to work demolishing large houses so that the bricks could be used for Hitler`s bunker.
"If anyone got sick, he was promptly shot and disposed of. They loaded up timber, coal, sand, rocks -- did all sorts of work," he said, outside his small bungalow in Vinnytsya.
"They were taken off to work on the bunker. But any number of those who were taken there simply never returned. People were being killed at that bunker," he said.
Hitler`s complex lay deep in a forest and contained three bunkers, all blown up by the retreating Germans, 91 wooden huts and his personal swimming pool, which can be still seen.
Rabinchak said he had no clear idea how many died in the camp -- thousands, he estimates. But he said it was clear where they were buried because beetroots and potatoes grew especially well there.
And sometimes, the prisoners were dying, not dead, as they were heaved into the trenches and covered with soil.
"Under the earth, you could hear people moaning. The earth was clearly moving. Some were wounded in the head or in the leg and were covered up by soil straight away ... it was too awful."
The dig several kilometres outside the base was prompted by work undertaken by teams exhuming German soldiers for reburial, which also turned up the remains of Soviet soldiers.
The authorities now estimate the area holds around 7,200 bodies, judging by the number found in sample trenches.
"The town authorities and veterans` organisation said there were very few remains here ... But Dmitry Dmitrovich (Aleksandrov) and I began to say that there are many here, that a memorial used to be here," Labunsky said.
"It was necessary to start investigating all of this."
If you see a spelling error on our site, select it and press Ctrl+Enter