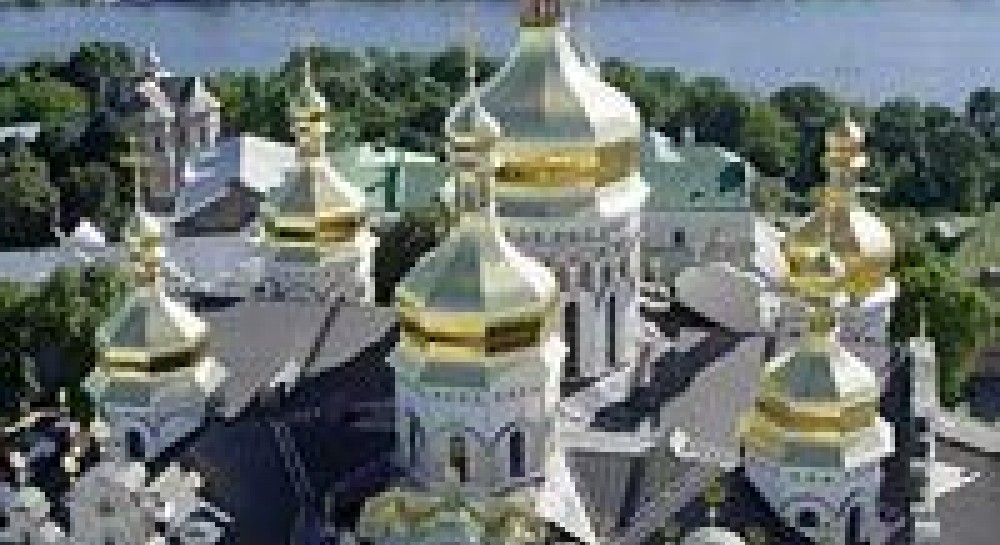 Political, religious battles loom between Ukraine, Russia over Orthodox baptism celebration
10:18, 25 July 2008
2744
0
Ukrainian officials are determined to use the events to lobby for autonomy for the local church from Russia, while the dominant Moscow Patriarchate will fight to retain influence over this mostly Orthodox country...
Solemn hymns and prayers are resonating in golden-domed Orthodox cathedrals across Ukraine on Friday to mark the 1020th anniversary of this region`s conversion to Christianity.
But the sonorous sounds may be drowned out by the din of a fierce political battle.
Ukrainian officials are determined to use the events to lobby for autonomy for the local church from Russia, while the dominant Moscow Patriarchate will fight to retain influence over this mostly Orthodox country of 46 million.
For Ukrainian leaders, recognition of the Ukrainian Orthodox church as Moscow`s equal would mark a significant step in their drive to assert independence and shed centuries-long Russian influence. That effort gained strength after the 2004 Orange Revolution, which moved Ukraine away from Moscow and closer to the West.
"Ukraine is an independent state like Bulgaria or Georgia, and it is normal for it to have its own church," said Anatoliy Kolodny, head of the religion studies department at the National Academy of Sciences. "There is nothing strange in that."
Ecumenical Patriarch Bartholomew I of Constantinople, the world`s top Orthodox spiritual leader based in Istanbul, Turkey, will attend the ceremonies and could support the autonomy of the Ukrainian church, despite Russian Orthodox Patriarch Alexy II`s efforts to thwart the move.
But any sudden decision by Bartholomew could create a major split among the world`s 250 million Orthodox believers and set off fierce battles over parishes and valuable church property inside Ukraine, with some priests siding with Moscow and others with Kiev.
"Were this decision to be made today, it would lead to another schism in the church," said Andrei Zolotov, chief editor of the Russia Profile magazine and an expert on Orthodox church affairs.
Recognition of the independence of the Ukrainian church could also sever one of the oldest links between the two neighboring countries, which both draw their identity from the 988 A.D. Christianization of Kievan Rus, a medieval state that was a forerunner of modern-day Ukraine, Russia and Belarus.
The Slavic world`s conversion to Christianity began when prince Volodymyr marched his servants into Kiev`s Dnieper River to be baptized 1,020 years ago.
Efforts to win autonomy have already split the Ukrainian church. Two breakaway churches have set themselves up since the 1991 Soviet collapse — the Ukrainian Orthodox Church Kiev Patriarchate, whose self-declared Patriarch Philaret has been excommunicated by Alexy as a renegade, and its splinter, the Ukrainian Autocephalous Church, also unrecognized.
Both churches are smaller than the Russian-affiliated church, which claims up to 28 million believers here.
The two breakaway churches have attempted to unite in hope of winning recognition from Patriarch Bartholomew I of Constantinople. But so far these efforts have failed.
President Viktor Yushchenko, a devout Orthodox believer, has supported Philaret of the Ukrainian Orthodox Church Kiev Patriarchate, visiting his church on religious holidays with family and allies. Experts say Yushchenko, who has hung portraits of himself with Bartholomew all over the Ukrainian capital, has been lobbying the patriarch to recognize a united breakaway church as a lawful autonomous church.
Another scenario Ukrainian leaders could be aiming for is to have Bartholomew recognize the Ukrainian church which now answers to Moscow as independent. Under this plan, the church would later absorb the two rebel churches.
That could be tempting for Bartholomew, who is eager to boost his global clout and is jostling for influence with the powerful Moscow Patriarchate, the biggest Orthodox church in the world claiming some 95 million believers, Zolotov said.
As the religious celebrations approached this week, tensions grew. Both sides blamed each other for trying to sabotage the events, scheduled for Friday through Sunday.
Alexy of the Moscow church was accused of asking other Orthodox leaders not to attend the celebrations in Kiev, while his subordinates in Kiev complained that they were being ignored and the holiday spoiled by politics.
Both sides can be blamed for mixing religion with politics. At political rallies priests from both churches often bless activists and voice support for candidates. The Moscow Patriarchate recently held a ceremonial procession in Kiev, praying that Ukraine will not beaccepted into NATO.
Most experts believe that the Ukrainian Orthodox Church will eventually gain the same independence as Orthodox churches have in other predominantly Orthodox countries. The only unknown, they say, is how abrupt the split will be.
"In the historical perspective, the Ukrainian Orthodox Church must gain autocephaly a full canonical independence — the question is only when and how it will happen," Zolotov said.
AP, International Herald Tribune
If you see a spelling error on our site, select it and press Ctrl+Enter