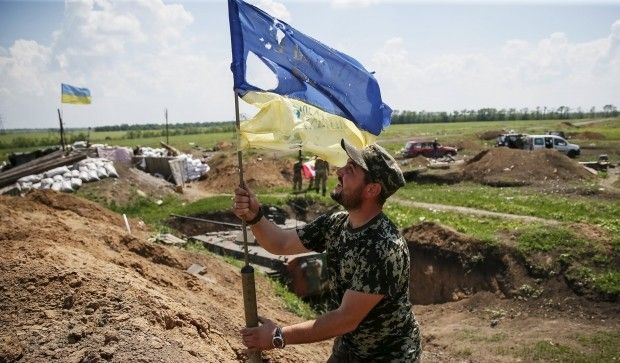 Foreigners in ATO: Three years without citizenship
16:50, 17.08.2016
8 min.
1319
The price of not obtaining Ukrainian citizenship for many foreigners in the Anti-Terrorist Operation is freedom. Despite government promises, foreign citizens fighting on the Ukrainian side are for the third year trying unsuccessfully to obtain the long-promised passports with a Ukrainian trident.
In fact, saying that Ukraine simply turned a blind eye to the foreigners fighting in the ATO would be unfair. The Verkhovna Rada passed several bills to help such foreigners legalize in Ukraine. It's about the possibility of signing a contract with the Armed Forces of Ukraine, as well as a simplified procedure for granting citizenship with a required three-year period of wait instead of a five-year term of obligatory stay in Ukraine. But it's all not so smooth in practice.
"The laws do not provide answers, for example, what to do if a person is dismissed from the army for health reasons. After all, the contract and military ID confirm their legal status in Ukraine only insofar as they keep serving. And if these three years have not passed before the moment they are dismissed for health reasons, the foreigners still do not have legal residence status in Ukraine," says the president of Legal Hundred civic organization, Iryna Loyuk.
According to her, the necessary changes are just now being drafted in the Verkhovna Rada. However, judging by the overall situation in Parliament, there is no hope that they will be submitted to the vote in September.
However, in response to last year's e-petition on granting Ukrainian citizenship to foreigners who came to the defense of Ukraine, President Poroshenko noted that these issues will be dealt with promptly. But he hasn't kept his word.
That is why, just as two years ago, the question of legalization of the foreign ATO fighters are solved individually. That is why the stories of the issuance of passports to Ukrainian ministers, who have not renounced previous citizenship afterward, or, for example, to some representatives of the Russian liberal community, working in the Ukrainian media, have come to a public spotlight. Each time, criticism is accompanied by stories of dozens of volunteers from Georgia, Moldova, Belarus and Russia, who stood up for Ukraine but still can't obtain Ukrainian citizenship, despite the authorities' promises to contribute to it in every way possible. However, most of them, in the event of deportation, will go straight to jail upon arriving in their countries of origin.
Different citizens – similar stories
A Belarusian citizen with the call sign "Doc" from Donbas Battalion of the National Guard of Ukraine is trying to avoid such an unenviable fate. He came to Ukraine in May 2014, when he realized that it's not a civil conflict that was ongoing in Ukraine but the conflict provoked and supported by Russia. "It quickly became clear that I wouldn't be coming home because my personal data somehow got into the internet and were published on one of the pro-separatist websites. Of course, it was pointed, which side I had chosen in this war. The Belarus authorities immediately responded: they said they wanted to have me jailed," he told UNIAN.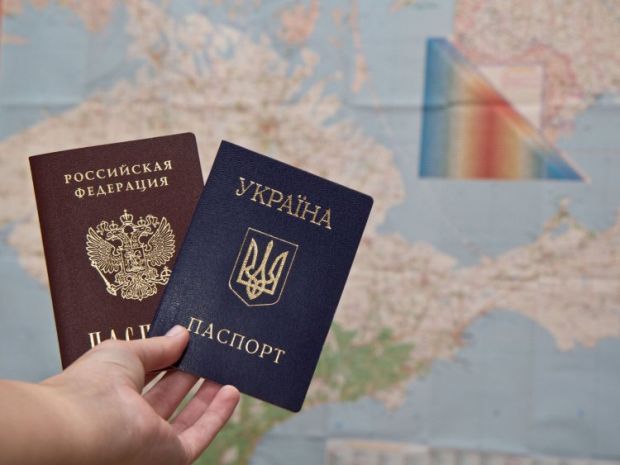 There were promises to even send passports to the frontline / Photo from UNIAN
At first, such "prospects" did not scare foreigners off because the Ukrainian authorities had promised to send Ukrainian passports to foreigners in the ATO straight to the frontline. But three months, which is the term the foreigners are allowed to stay in Ukraine, have expired, but the fighting continued, and prospects of deportation started looming over them... "There must be a valid reason to extend the period of stay in the country without obtaining citizenship. But participation in hostilities on the side of Ukraine did not constitute a valid reason," said Doc.
Citizen of the Russian Federation, a fighter from the Right sector Oleg faced a similar problem. The man and his wife, who is a Ukrainian, and their ten children moved to Ukraine from Russia in August, 2014. In October, he joined the Right Sector but he was deployed on the front line only in early 2015. "I went to the Migration Service immediately upon my arrival in Ukraine, before my deployment at the front line. I said frankly that I was going to fight and would only do something to resolve my citizenship problem if I stayed alive. At the time, Poroshenko promised citizenship to volunteers from other countries, so I was not particularly worried. Moreover, I thought that I might not even need this citizenship," he told UNIAN.
Six months later, when Oleg was on the rotation, he lost his chance to apply for a passport: illegal aliens do not have this right. "The SMS told me to apply for a refugee status," says Oleg. "My papers were accepted, but they are still pending for the second year... Now I only have a certificate proving that I have filed them. It is valid until August 31, and I have no clue what I am to do when it expires."
Oleg is sure that Ukraine cannot deny citizenship to those who fought for it. He also believes that passports should be issued to everyone, all at once. "There are hundreds of people like me. And they all deserve to live legally on land which they defended. But I wish not to obtain citizenship out of pity or have some special preferences," says Oleg.
Temporary status: a refugee or someone who needs protection?
While the Ukrainian citizenship remains a utopia for foreign fighters, they are trying to legalize through a refugee status or that of persons who require protection. According to Iryna Loyuk, the fundamental difference between these two positions is that refugee status presupposes the existence of clear evidence that the person is or will be exposed to persecution in the country of origin. With regard to the person requiring protection, sole suspicion of possible persecution is enough.
In any case, in the period of consideration of applications, the foreigners can stay in the country legally. "So I was able to also apply for citizenship, but there are no results yet," says Doc.
Such an opportunity was also seized  by a Russian citizen from Aidar Battalion with the call sign "Valkyrie", who for more than a year was storming various agencies, communicating with MPs, military officers, wrote applications to the President, but so far, she has only manage to obtain the status of a person requiring protection. "The desire to obtain Ukrainian citizenship arose for two reasons: the actual need (documents were burned during the fighting and I couldn't return back home) and personal beliefs (How could my country attack Ukraine after all?)," she told UNIAN.
According to the female fighter, MP Oleh Lyashko volunteered to help her. "He came to Aidar… He said on camera: "I, MP Lyashko, promise to personally hand over the passport of the citizen of Ukraine to this citizen of Russia". But as soon as the parliamentary elections passed in the autumn of 2014, he even stopped answering my phone calls. In fact, he did nothing of what he had promised. To this day, I want to meet him in person and tell him what I think about it," says Valkyrie.
Indeed, she has a lot to say. The thing is that, after the statements of the deputy, the story about this girl was aired on one of the Russian TV channels and then picked by other media: "The Russian citizen became a Ukrainian punisher, eating babies in Ukraine." Russian security services went after her. "They would call me and my parents, who stayed in Russia. They would come to their home and threaten them. It became clear that I had neither the opportunity nor the desire to return home anymore."
According to the girl, now it's the deputies Iryna Gerashchenko and Yuriy Birch who are helping her in Ukraine, while the Minister of Defense recently signed a petition for her to be granted Ukrainian citizenship for her participation in the fighting on the side of Ukraine.
Residence permit through volunteering
Another Russian citizen, a soldier from Azov Regiment Nikita was much luckier – he managed to get a Ukrainian residence permit because his documents were not lost during the fighting. The man admits that when he came to Ukraine in 2014, he was not thinking about citizenship, believing that he could get killed in this war. "But when I learned that the Russian security services began went after my family and my friends, I decided to go to Kyiv and do the paperwork," he told UNIAN.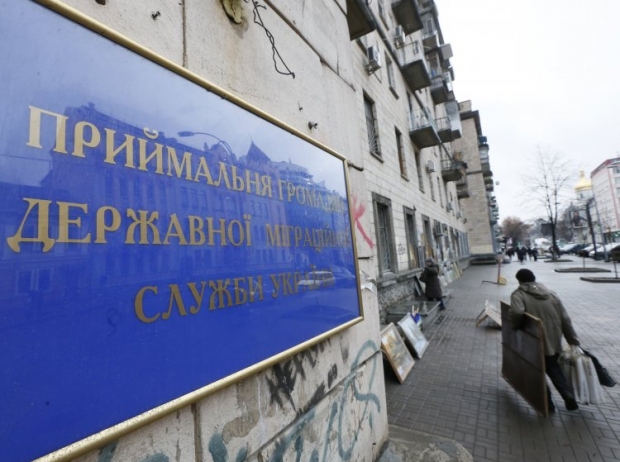 Migration Service / Photo from UNIAN
Nikita adds that didn't fight for citizenship, and not even for the state, which could deport him at any time, but for the people, "to give the Ukrainians the opportunity to build a state that they deserve." According to him, any attempt to do so in Russia can lead "either to imprisonment, either to the cemetery ." "It may sound strange, because I am Russian, but this is why I decided to fight for the Ukrainian future," he said.
The soldier tells us that without the help of his friends from the civilian corps of Azov and without the responsiveness of staff of the Kyiv Regional office of the State Migration Service, he would've likely become desperate and, like other foreigners, he would have applied for a refugee status. "But to go for this step, one has to be totally desperate," he says. According to the president of Legal Hundred civic organization Iryna Loyuk, the Migration Service actually tries to help foreigners who are ATO fighters, even if they are illegal aliens but have paperwork on hand. "For these people, we get residence permits for volunteers, but they also have to pay a fine of UAH 510," she said.
Nikita confirms this: "Officially, I participated in the ATO as a volunteer. Having done all the paperwork, I obtained residence permit... Now, for the second time, I applied for citizenship, but I do not believe that it will work out. I believe that this requires the will of the president, which he doesn't have. He gives citizenship to anyone but those who deserve it."
Notorious certificates
Having obtained temporary permits for stay and pursuing the attempts to obtain citizenship, foreign volunteers should be ready for a red tape. The main catch to all foreigners fighting in the ATO, without exception, who wish to obtain a Ukrainian passport, is the requirement to provide to the State Migration Service a certificate of good conduct. "Without such certificate, the papers don't even make it to the Commission at the Presidential Administration. Many people face problems with obtaining such a certificate, because they need to return to their country of origin, where they can immediately get arrested. But some still managed to get it," said the soldier from Donbas Battalion with a call sign "Doc".
Authorities demand certificates of good conduct from applicants from among volunteer fighters / Photo from UNIAN
"When you have already done all the paperwork, they say that you also need a certificate of good conduct. They say that we need to go back to our country of origin to get it. It's like a slap in the face because it's impossible in our case," says Nikita from Azov Regiment. "By and large, they can get it, themselves, for example, through a request to the Interpol, but for some reason they don't do it."
Lawyers also believe that there is no need to confirm information on the criminal records with such a certificate. "The commission under the president, which considers applications for citizenship, includes representatives of the Security Service and the Interior Ministry, who have all the information," says Iryna Loyuk.
The story of a fighter from the Right Sector Volunteer Ukrainian Corps Ilya Bohdanov is an illustration of this opinion. He is one of the few who actually made it to become Ukrainian citizen. To draw attention of the Ukrainian authorities to the problem of legionnaires in the ATO, the man actively discussed it on social networks, in various meetings. He would make friends both with the ordinary people and with Members of Parliament, constantly raising the topic of citizenship for foreigners who have been fighting for Ukraine. "My story was further highlighted by my FSB-related past. Major media contacted me and my story was aired on various TV channels, even a petition was launched to [the Ukrainian] president... At the end of the day, it was the SBU which dealt with my certificate of good conduct the most – the agency which initially claimed that nothing would work out. Well, it has. Everything just started spinning, people started talking about me, and then there was a "green light" and they started helping me," he said.
In the meantime, some fighters take risks and manage to get a certificate of good conduct, without leaving the Ukrainian territory. "To this end, it is necessary to find relatives in Russia, take a letter of attorney certified by a notary and sent it to them. This letter of attorney will help obtain such certificate," says Iryna Loyuk.
To date, there are no accurate records of foreign fighters taking part in the ATO, who would like to obtain Ukrainian citizenship. The State Migration Service of Ukraine has only general statistics: as of early August, 340 people have been granted citizenship by presidential decrees since year-start. Ilya Bohdanov believes that the legionaries should not wait for the mercy of fate and hope that someone in the government comes to senses and starts solving their problems. Meanwhile, the Legal Hundred urges them not to despair and to seek help instead. After all, Ukrainians are a responsive nation. They'll help.
Natalia Kosyakova Tatiana Urbanskaya