Housing for IDPs: A two-year ordeal
22:45, 07 September 2016
7 min.
449
It has been more than two years since residents of Donbas have first started leaving their homes, fleeing the war. The lucky ones were welcomed by their relatives or friends, while someone at the time had their savings handy. Still, for most of these people, this was a road to frightening emptiness.
Chairman of the All-Ukrainian Organization for Support of the internally displaced persons (IDPs) Oksana Yermishyna is an IDP, herself. She and her family left Donbas in early June 2014. "To get out of there, we had to tell the troops at checkpoints that we were taking our children to a sports camp, to be coming back afterwards. So we left with nothing, with no clear destination," the woman says.
Realizing that the conflict in her homeland region would not be over anytime soon, she considered to set up an organization to provide substantive support to IDPs - jobs and housing. The group of five people with the same idea, including Oksana, has founded an organization, soon to become the All-Ukrainian Organization for support of IDPs support internally displaced persons.
Among the many areas of the organization's work, housing remains one of the acutest problems. Currently due to investors from the U.S., the organization is engaged in construction of a residential complex for IDPs. Construction is already underway. The residential complex will be located just outside Kyiv, with the master plan envisaging 500 apartments to become homes for the IDPs starting as early as in the spring of 2017.
Oksana says that, until "the ribbon is cut", she will provide no details to the press, however she mentions that the fundraising process took two years. In a parallel search, they were looking for the IDPs able to buy these apartments. Through the wholesale purchase, the organization achieved a 20% discount. Moreover, the apartments will also have a minimum set of furniture and household appliances.
"To buy an apartment, people spend their last money, including the money received from selling real estate in Donbas almost for nothing [if they managed to sell, at all]. That's why we offer a full package. We want to show the officials how the housing problems can be solved efficiently and profitably... Just give us free land, and we will build, without your money," says Yermishyna.
95.5% of IDPs go for rented housing
In the Ministry of Social Policy reported that as of late August, 1,705,363 IDPs were officially registered. The largest number of them now reside in Donetsk, Luhansk, Kharkiv, Zaporizhzhya, Dnipropetrovsk regions and the city of Kyiv. According to the International Organization for Migration, 95.5% of IDPs live in rented apartments. However, this does not mean that the problem of housing is solved for them.
Often, it so happens that different families have to unite to be able to pay the rent, because the government's targeted assistance designed to cover living expenses is enough only for a small part of the payment. This aid is allocated based on the resolution of the Cabinet from October 1, 2014. For disabled persons, it is UAH 884, for able-bodied – UAH 442, while the average rent for a one-room apartment in Kyiv is UAH 4,000-5,000 a month.
In addition, the owners are reluctant to rent to IDPs. Oksana Yermishyna is one of the few lucky ones, as her family never had to move from the rented apartment over the past two years. However, she said that most IDPs move three or four times a year. This leads to the fact that people despair and go back to the occupied territories, just to have "four walls around them and not be thrown out once again." "This is a huge loss for Ukraine, because most of them are self-sufficient people who could fill the budget of Ukraine, instead of being forced to work for the occupation authorities," the activist says.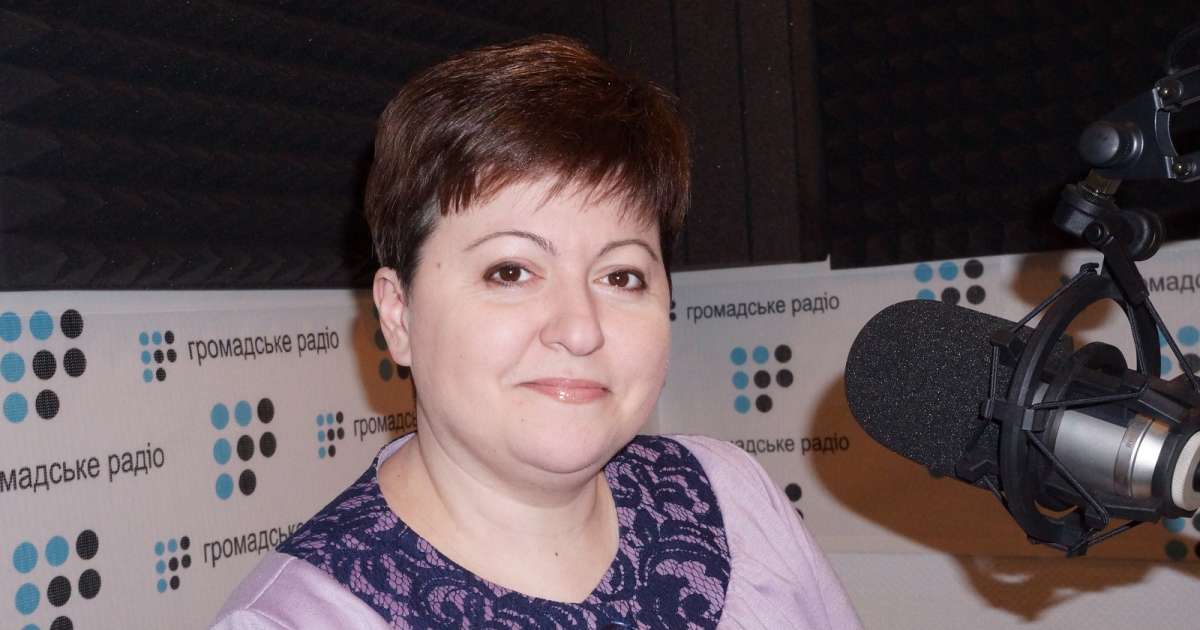 Yermishyna: Most IDPs have to move three-four times a year / hromadskeradio.org
At the same time, she believes that it is hard to explain to the Western donors the existing problem with housing for IDPs. "The whole world lives in rented houses. But isn't there a difference in rented housing market in Ukraine and, say, the U.S.? There, the people cannot just be kicked out with their families at 22:00, after landlords see something bad on TV about IDPs..." she said.
German modular villages
However, some, on the contrary, did understand the severity of the housing problem for internally displaced persons in Ukraine. Due to financial and technical assistance of Germany, seven modular camps for IDPs were constructed in three regions of Ukraine (Dnipropetrovsk, Zaporizhia and Kharkiv) in early 2015.
As UNIAN reported earlier, the standard modular village consisted of ten apartment buildings (100 housing modules), three hostels (84 modules), dry cleaning (two modules) and administrative and economic unit (three modules). Temporary housing was completed with beds, wardrobes, mattresses, bedding, tables, chairs, kitchen inventory, fridges, personal hygiene items, and bathrooms. Individual housing was additionally equipped with bathrooms for people with disabilities.
For example, in a Kharkiv modular village, which was the first one to open, is now home to 406 people, including 187 children and 35 people with special needs. Before July this year, living there cost them UAH 118 per month, but in July the price increased to UAH 352 per person. Local budget compensates 50% of utility bills, while the rest is paid by IDPs themselves.
In Zaporizhya region, a modular village opened in February last year and although it was designed for 544 people, at the time when it was opened, only 190 people settled there. Currently, according to the local officials, 361 persons reside in this village.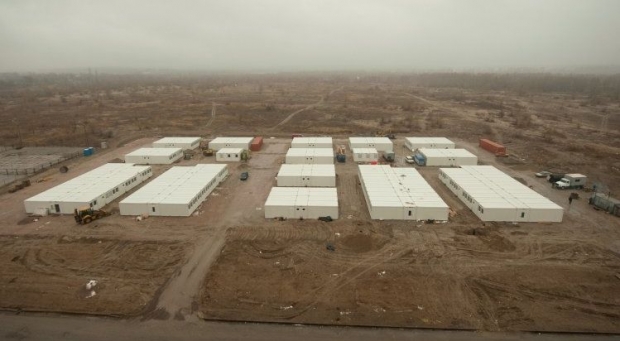 Modular villages had to perform only the transit function / Photo from UNIAN
The cost of living (of which more than half is compensated by the city) is UAH 150 per person.
According to Yermishyna, the village was designed to perform a transit function, to be a place where people would spend two or three days, to get some rest, organize their plans and go on their way. But it appeared to be different. The activist believes that, after the government announced that IDPs can actually live in these villages on a permanent basis, they become some "incomprehensible ghettoes." "It is impossible to live there," said the head of the All-Ukrainian Organization for Support of IDPs.
However, the modular villages (especially given that they were built only at the beginning of 2015, while the first attempts to settle IDPs began much earlier) are not the only places where the IDPs were planned to be housed for months but their stay there has been dragging ever since.
Dorms or hostels forever?
When great numbers of helpless people from eastern Ukraine fled their homes in waves, they were often resettled in places of temporary residence, the so-called compact settlements that are still there: hotels, motels, resort and so on.
Legal analyst at Right to Defense Charity Fund Ksenia Karaghyaur says that there are 271 CSs in Ukraine, of which 52 are closed. "That is, there is a tendency for the reduction in the number of internally displaced persons currently living in CSs. The total number of people living there amounts to, approximately, 6,500. It is less than 1% of all IDPs in Ukraine," she said.
The expert's words are confirmed by practical examples. In Kharkiv, which one time was one of the main destinations the IDPs chose for resettlement, there is only one CS left – a private summer camp Romashka. According to its owner Oksana, some 120 IDPs are currently living here.
In Dnipropetrovsk region, which is also among the top regions selected by IDPs as their shelter, those who were unable to stay with relatives, were provided housing in dormitories, sanatoriums, and hotels by local authorities. For example, 88 people with special needs were put on full government support, being placed in a specialized boarding facility. But, in general, today the possibilities for resettlement across the region are almost exhausted. However, in March this year, the local State Administration, together with representatives of the EU, selected another 15 premises which, with the help of European grants, will be converted into dormitories. It is expected that there will be able to accommodate another 2,000 IDPs.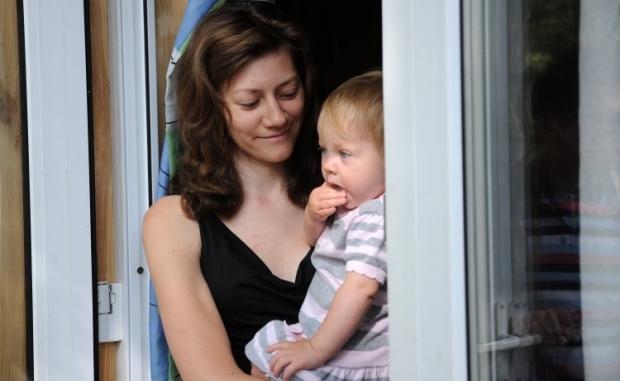 Some immigrants stayed in places of temporary residence / Photo from UNIAN
But in the village of Mayaky, philanthropists and settlers did not wait for government assistance. According to the administrator of Good Samaritan Charity Fund, Roman Medianik, back in the spring of 2014, the Fund offered for accommodation of IDPs its two-storey complex. But given that people still cannot return to their homes in Donbas, it was decided to create a sort of a kibbutz. Today, 60 people living together, created a committee, which decided to gather a monthly UAH 1,500 fee per tenant. This sum includes everything including food, accommodation, and utilities. Residents are feeding on the fruits of their labor - they bought a tractor, they collect their own harvest, have cows, goats, pigs, and chickens, they smoke fish and gather mushrooms...
Ksenia Karaghyaur emphasizes that, according to international standards, the government should take measures aimed at ensuring the right to an adequate standard of living, the restoration of lost homes, property, adaptation and integration of IDPs. However, at the state level, the issue of housing for IDPs remains hung in the air. In late 2015, a comprehensive national program to support adaptation and reintegration of IDPs was adopted for the period until 2017. The document provided for the allocation of land and the construction of permanent housing for IDPs. "However, there are no funds laid in the budget for the implementation of this program," said the analyst.
Help from state
The Ministry for temporarily occupied territories and internally displaced persons replied to UNIAN's request and elaborated what efforts the state makes to solve the IDPs' housing problems.
First, based on the Budget Code of Ukraine, local authorities are able to take funds from the State Regional Development Fund for the construction of social housing with communal ownership for internally displaced persons. In addition, according to the Financial agreement, ratified between Ukraine and the European Investment Bank, EUR 200 million of loan funds can be addressed for the needs of IDPs. The contractor in projects under the credit agreement is the Ministry of Regional Development, Construction and Housing and Communal Services of Ukraine.
Secondly, a memorandum on joint intentions was ratified between the Government of Ukraine and the Government of Germany concerning a financial loan from KfW loan totaling EUR 500 million, of which EUR 300 million is aimed at financing the restoration and construction of housing for IDPs, rebuilding and modernizing the infrastructure of the eastern part of Ukraine. The areas are selected according to the recommendations of the working group established at the Ministry of Regional Development.
As for its own steps to improve the situation with housing for IDPs, the ministry reported that on August 16, 2016, a joint meeting with representatives of NGOs, businesses and construction companies was held, to discuss the improvement of living conditions, employment, and integration of IDPs into their new communities.
In addition, the ministry for temporarily occupied territories and IDPs noted they had already sent a letter to Minister of Regional Development Hennady Zubko with a proposal to consider the establishment under his ministry of an interagency working group to address the issues mentioned.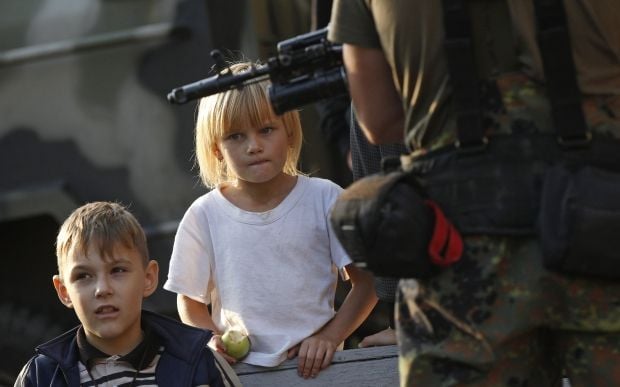 REUTERS
An activist Yermishyna emphasizes that even if some IDPs decide to return to Donbas after the end of hostilities, today's construction of housing for these IDPs will only benefit local communities in the future. Given the results of the monitoring by Right to Defense Charity Foundation, local residents helped and are still ready to help the IDPs. But this assistance – employment, necessities, medicine, communication and moral support – cannot compensate for the lack of shelter. It would be great if the government finally helps the Ukrainian IDPs, in the third year of their wanderings.
Iryna Shevchenko
If you see a spelling error on our site, select it and press Ctrl+Enter