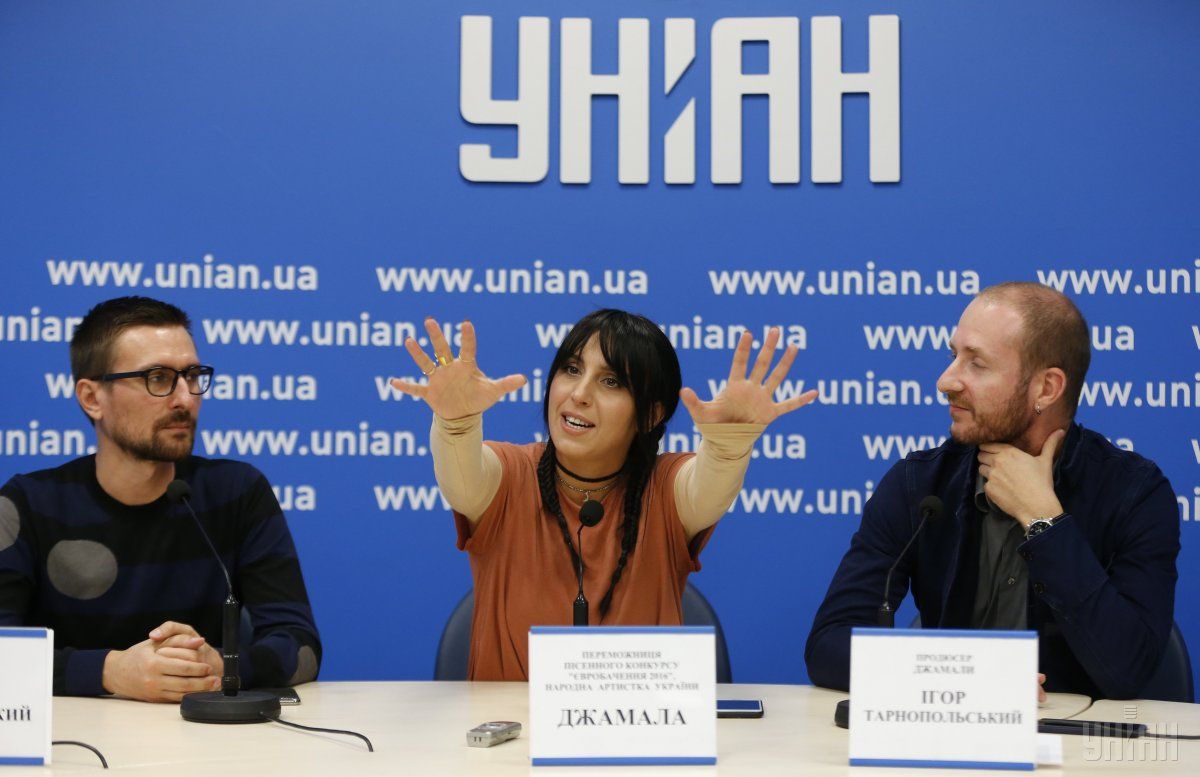 Jamala: Why do I have to please anyone and sing songs of neutrality? They can be sharp. This is what art is about
19:44, 22 September 2016
5 min.
454
Interview
In an interview with UNIAN Jamala spoke of shooting a video that premiered today for "1944", her winning Eurovision 2016 entry. She also told whether she was invited to host Eurovision 2017 in Kyiv and whether she, as a person with a firm view on life, ever thought about trying herself in politics.
A heated debate is ongoing around the Eurovision-2017 contest to be held in Ukraine. One day the whole country is arguing about financial issues, counting, whether the country is able to host an event of such magnitude. Then there was a rough battle between the potential host cities. Now that it has been decided that the international song contest will be held in Kyiv,the city authorities take a weird decision to hold the opening ceremony in the territory of the National Reserve Sophia of Kyiv, the UNESCO World Heritage Site...
And while the public was breaking spears around this topic, the Eurovision 2016 winner, Jamala, was doing her thing. Four months after winning the Eurovision Song Contest 2016, the singer presented the video for her spectacular entry "1944". UNIAN was present at the premiere and asked Jamala, whether the extreme weather actually helped the shooting crew to convey the mood of the song, whether there was at least a tiny chance to film in Crimea, and whether she had ever thought about going into politics.
Jamala, are you superstitious?
What do you mean by being "superstitious"?
Well, let's say, the context is that when you were shooting a video this summer, the location was almost flooded with sudden heavy showers. Given that the song is about suffering and pain, it turned out that the whole crew and the dancers, who, relatively speaking, have not gone through the emotions that you have put into your performance, in telling the Story, were forced due to the weather conditions to experience certain stress in order to convey to the audience these strong feelings...
Remember how Leo Di Caprio, after winning his first Oscar for The Revenant told how the director dipped him into this rough environment on purpose, the cold, terror, and fear… That's because the focus of the story is a character who fights for his life in this hellish conditions when he faces danger with every step he takes...
And we had a situation, I believe, when our director Anatoly Sachivko (a young and very soft guy) loves the dancers, takes care of and protects them, lets them have a minute to get warm during the shoot, while always remaining at the location, himself. And, perhaps, nature helped him organize us in a way. Therefore, we also understood that we had a schedule and that daytime was just not enough. And we were fine with starting at 5am and only eat sandwiches with cheese (and we were happy with that).
When you performed on stage, you relived the story of your family, and so your message was heard by the audience. At the same time, the people who took part in the filming of the video may have never experienced such things...
I'll tell you more. When they (the staff of Apache Crew plus some other cool dancers who participated in the production of The Great Gatsby) agreed to take part in shooting, they probably thought, "Oh, great! Carpathian Mountains, three days of sun! We'll get to chill there!" That is, everyone wanted to have a good time. Like, let's go to the Carpathians, shoot within one day when the sun is up, and then we'll have BBQ...
But have you had any after all?
Nothing like that! Until the last day, the weather was terrible. As we were leaving, we literally fled, because the road was getting eroded by floods.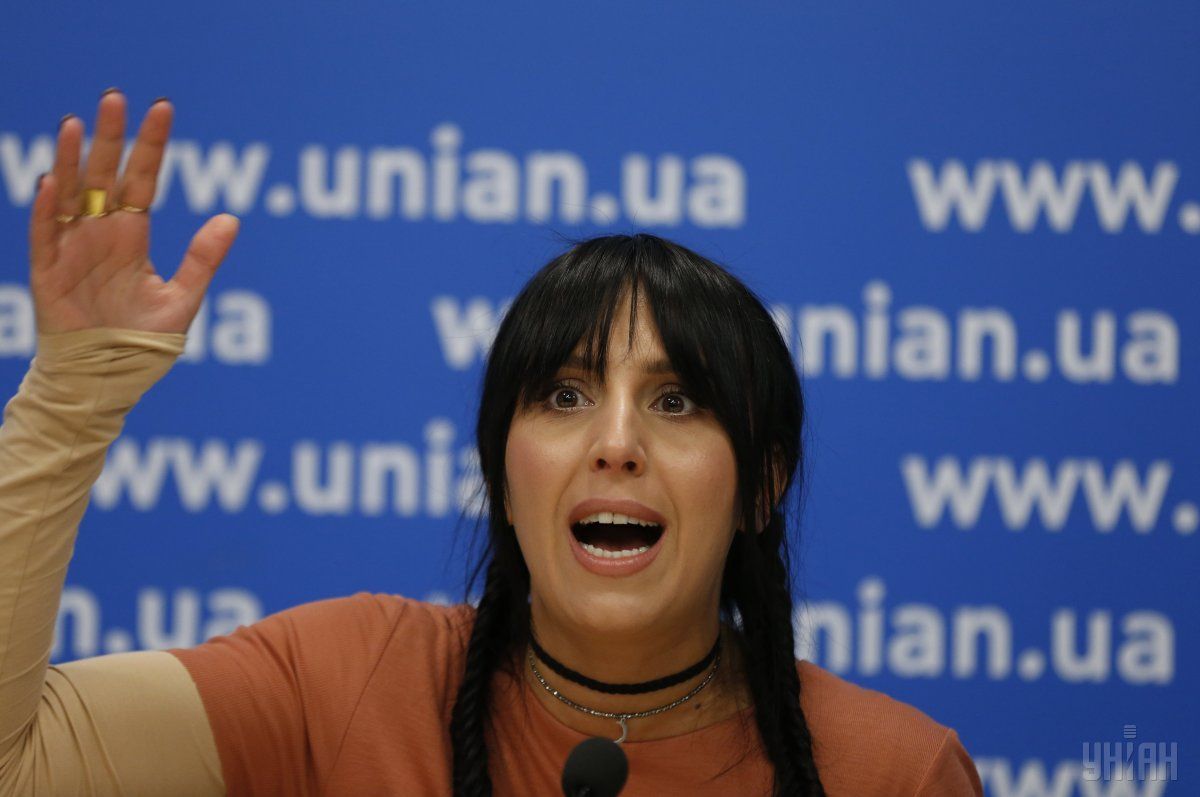 Jamala said that the weather was terrible / Photo from UNIAN
As you said, you had chosen Carpathians as filming location. Hypothetically, was there at least a tiniest chance to shoot in Crimea?
No. Of course, thank God, I can still officially enter the peninsula, but I think that this would be difficult. How can a crew with 35 guys, our dancers, get into Crimea? I know how hard it is for my friends to pass the border. They are being questioned for five hours each... That's why shooting there was impossible.
Or, let's look from another perspective. For example, the border is not the most unpleasant thing. Let's imagine that everyone gets through. And then, let's imagine, how one can take out a camera in Crimea and just start shooting. It would immediately raise suspicions...
I asked about this, in particular, because, for example, a well-known boxer from Crimea Oleksandr Usyk allows himself to return to the peninsula. Several times he even joked that no one would touch him because of his titles...
No, I take no risks. Even despite the fact that I get worried all the time. My grandfather is very ill, he is old, and I want to go home. This summer, by the way, more than ever. I am used to my parents visiting me, and I kind of do not miss them that much. But this year, I wished so much to come home… I have not been there since 2014.
Many artists tend to avoid controversial topics related to what is happening in Ukraine, trying to stay out of politics. But you, even before winning the Eurovision Song Contest 2016, have already become part of politics. Would you like to find shelter from it all?
Yes, I try to find shelter all the time.
Do you succeed?
I believe I do. That's because I continue to insist that, yes, I have presented this story to a wide audience. And, yes, someone might not like it, maybe someone finds an absolutely political message in it. But I've always been saying that this is my story. My family pain. Why do I have to please anyone and sing songs of neutrality? They are sharp. This is what art is about.
Have you thought of maybe not hiding but, on the contrary, trying yourself in politics?
After Eurovision, I got calls from the representatives of some political forces wanting to attract me to some things. They would invite me to speak at certain events or sing our national anthem... Going into politics after all this? God forbid. Here's where I certain,y would choose shelter.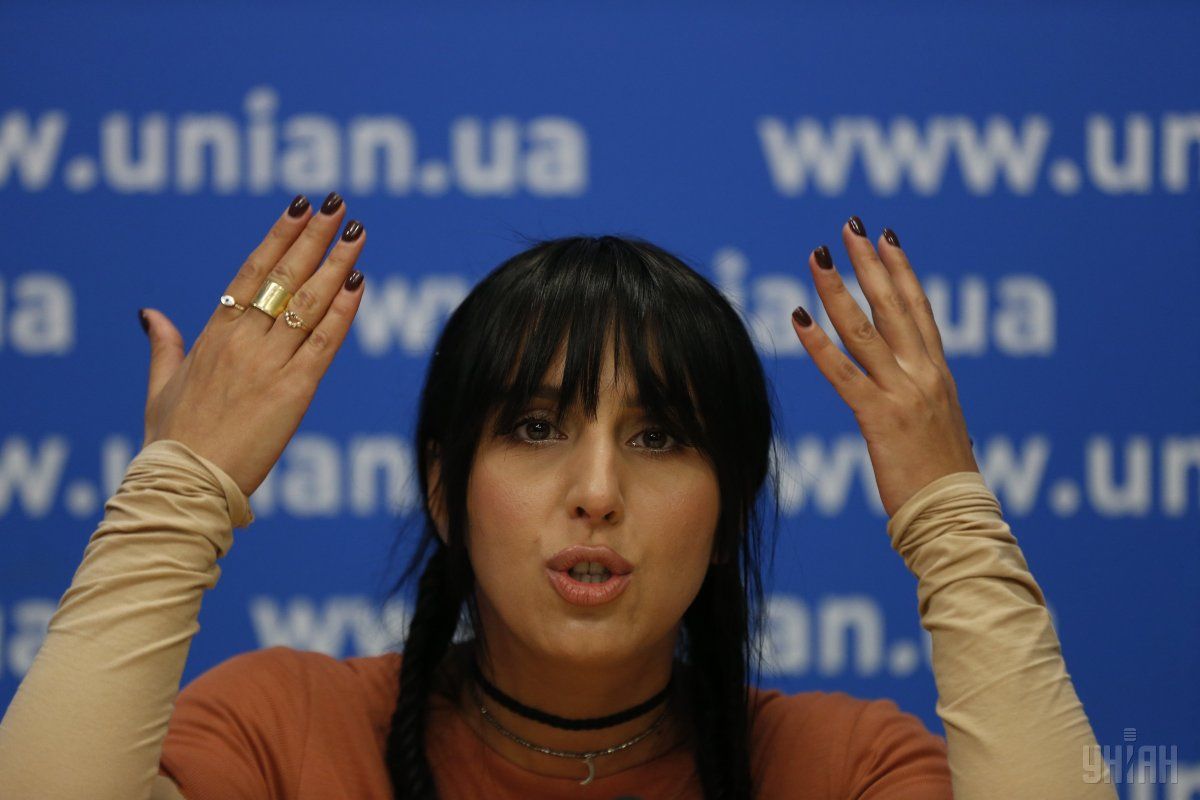 Jamala on the attempts of some politicians to invite her to perform at certain events: "God forbid" / Photo from UNIAN
As for my music, my social, civic position, that's fine. By the way, my position of a "dove of peace" has attracted foreigners very much, Swedes, for example. They said that Jamala is a dove of peace because after her song, the people in need believed that everyone could be equal.
In addition to becoming a dove of peace in European perception, you have also become the voice of the Crimean Tatar people, the person who told the story of her people, channeling it to a wide audience and drawing attention to something these people had not noticed before...
I could never have thought that I, an ordinary singer, would be received by the President of Lithuania when I came to one of the cities with the show. Or that I would get a call from the Turkish President, who would congratulate me and express his respect. I never thought about it.
Perhaps this is some kind of a bonus. Because the story I told has united many people, making a lot of people in Europe not remain indifferent to it... And that's why they voted.
Regarding the "dove of peace", this summer you performed at jazz festivals in Lviv and Dnipro, and both these towns applied to host Eurovision-2017. You probably know that the debate about which city is best to hold the contest is still ongoing, despite the fact that the winner has already been determined.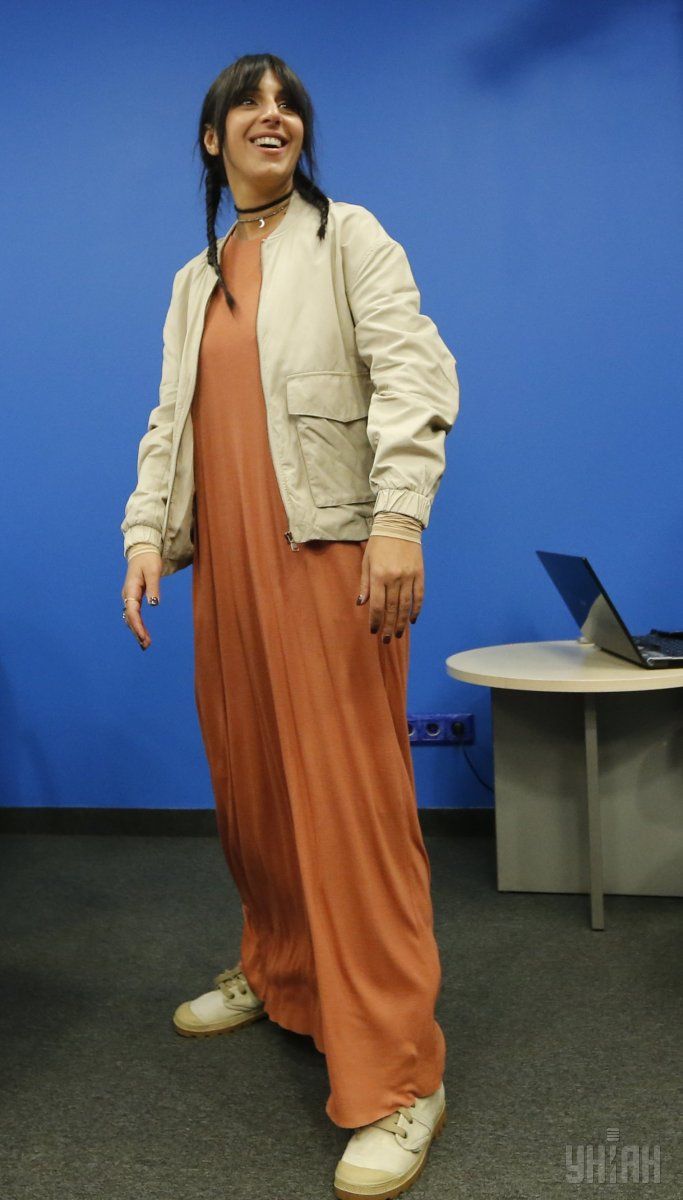 Jamala: "I could never have thought that I, an ordinary singer, would be received by the President of Lithuania" / Photo from UNIAN
Let me explain myself both to the people and the cities once and for all (it's so sad that Odesa, Lviv and Dnipro are offended): I did not take any decision on the matter and I did not have any influence on this decision. I always say one thing - I am glad that the contest will be held in Ukraine. That's it.
When rumors emerged that probably, Ukraine would not be able to host Eurovision-2017, when someone spun this nonsense, I never believed it. And which city will host Eurovision-2017? Whatever. I am glad that the contest will be held in Kyiv because I feel at home here, I love this city. But I would also be happy to see any other city win.
Were you offered  to host the Ukrainian finals selecting a Ukrainian entry or to co-host Eurovision-2017?
I heard such rumors. I saw how my fans launching the "wave" in the internet. Of course, they root for me, but I do not know what to think of it. On the one hand, I seem to want it. On the other, it's very scary. It's a live broadcast throughout a huge number of countries. And to host the show, one needs to have experience. One needs to actually be a host.
As for the Ukrainian finals, I can say that I will sit on the jury.
Tatiana Urbanskaya
If you see a spelling error on our site, select it and press Ctrl+Enter