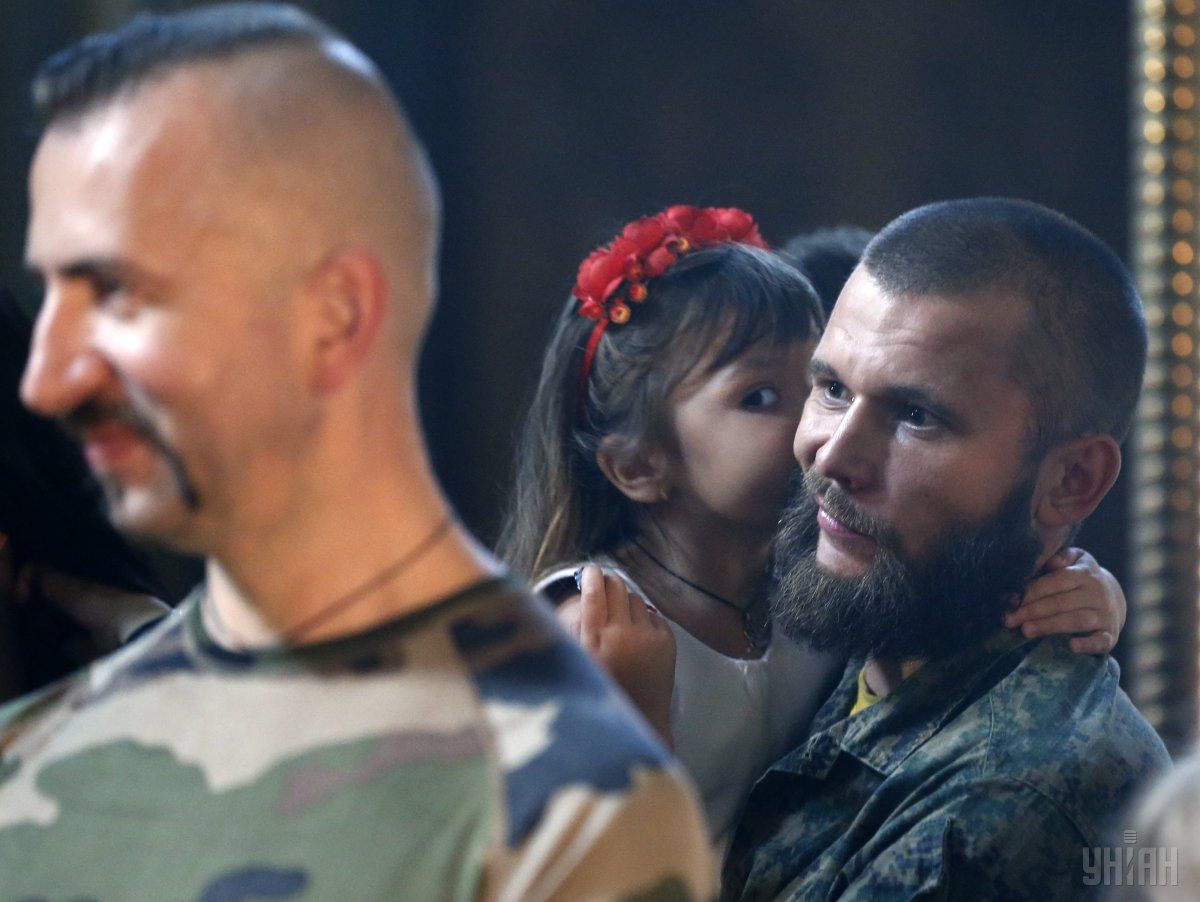 Flip side of volunteering in Ukraine
Increasing the funding for the army is a must thing for Ukraine. Will take part of the burden off the volunteers' shoulders? Probably. Will volunteering become irrelevant? That's unlikely.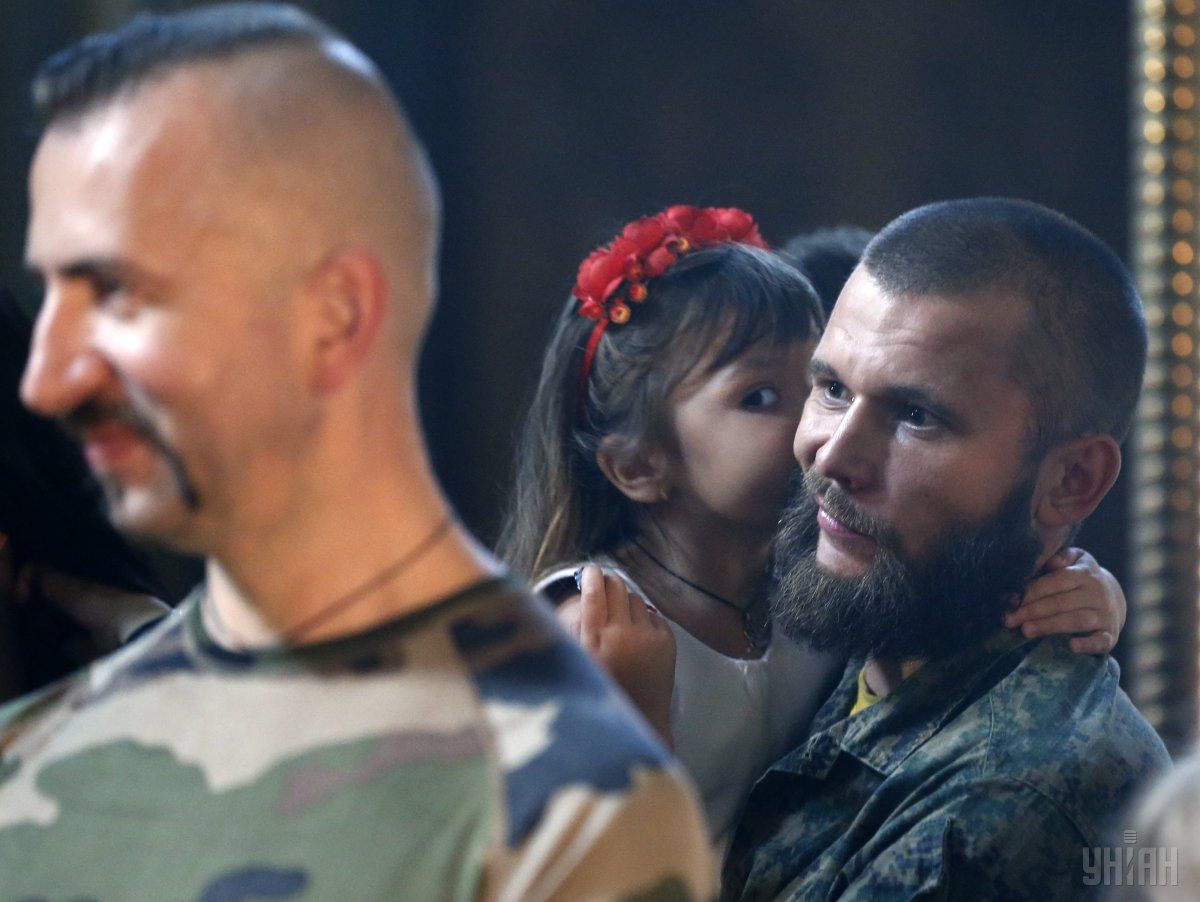 Photo from UNIAN
In September 2016 the American edition of Washington Post placed on the cover of one of their Sunday editions of images 63 Ukrainians - soldiers, volunteers, physicians. "Today, the only and unconditional guarantors of security and territorial integrity of Ukraine are the Ukrainian heroes — warriors, volunteers, medics, chaplains, and journalists — who defend the Ukrainian people, their values, and dignity from the merciless enemy. Look closely at their faces. These Ukrainian fighters for freedom are decorated with honors and awards for their arduous work and exemplary courage in protecting the homeland," The Washington Post wrote in September 2016. The newspaper asks to look closely in their faces, the faces of people who disintegrate quietly in the routine of a hybrid war. It has already been two years that they've been collecting, ordering and bringing to the frontline the necessities required by troops. They provide medical assistance to them, watch over the soldiers' families, actually being a substitute for a wide range of government programs. During this period, their actions were taken for granted both by the state and the public. But few know what it cost these people to take on this burden.
Recently, President Petro Poroshenko enforced a National Security Council Resolution, requiring to increase public spending on national security and defense. It is clear that extra funding will not solve all the problems of the Ukrainian army. And hardly would it deprive volunteers of their work, especially considering that for many troops this kind of assistance has become an integral part of their lives.
Vitalii Deynega: "The hardest thing is to witness injustice"
Vitalii Deynega's project Povernys Zhyvym [Come back alive] is often called one of the biggest Ukrainian military assistance funds for the ATO zone. Engaged in technical support since May 2014, the organization's volunteers brought to the east of Ukraine hundreds of thermal imagers, night vision devices, GPS kits, generators, and other critical gear.
Over the past 2.5 years, the project turned into a unique mechanism where everyone "knows the drill". Some 10 people work here for eight hours every day, while another 50 volunteers join the team from time to time. Project Founder Vitalii Deynega proudly says: "The fund does not revolve around me. I can vanish but everything will continue to work like a watch."
Deynega's volunteering kicked off with the Facebook posting where he wrote he was giving UAH 10,000 of his own money to the needs of the Ukrainian army. At the time, the young IT-specialist employed by a big company, who also did some side projects at the same time, could afford such a donation. In general, it seemed to him then that the war would end soon and therefore, funds were needed for a powerful start from scratch. "When I realized that I did not just go as planned - that instead of making more money and giving it to the army I would take up full-time volunteering - I had to abandon my projects. I refused all offers that required more than one or two weeks of my time," said Deynega.
Photo from UNIAN
Vitalii's mother initially tried to talk her son out of the whole thing. "She did not like it much, but when she saw the soldiers whom we'd helped, their words of gratitude, she realized the scale of what we had been doing," he said.
Continuing his activist efforts, Vitalii notes that the hardest thing to encounter it injustice. While there are still many indifferent and apathetic citizens in the country despite external aggression, there are also plenty of pseudo-patriots, whose pro-Ukrainian position boils down to Instagram pictures of them sporting traditional Ukrainian 'vyshyvanka' embroidered shirts. And this is what irritates Vitalii.
Deynega continues his regular, mostly one-day, trips to the front line. He is slowly returning to his usual Kyiv routine, mending his health (constant stress let some chronic diseases out of remission, and some cardiac problems surfaced as well). Vitalii wants his Fund to remain a charity organization even after the war ends. "I like it. Look at what Bill Gates is doing! It's charity. His biggest thrill in life is to do something that will remain after he's gone," he said.
By the way, this "something" for Deynega may become a monument to the ATO troops. He has long nurtured this idea. However, he has plenty of other plans that he prefers to not disclose at the moment.
Lilia Ukrainska (Lilia Bolbat): "Ukraine has enemies on both sides"
Lilia has told UNIAN that in the spring of 2014, the militants from the sel-proclaimed "DPR" are feeling at home in her homecity of Mariupol while the Ukrainian side expected provocations from the Russian special services. Even then it was clear that losing Mariupol could deprive Ukraine of all of Donbas.
In May, the Ukrainian forces regain control of the city, 72nd Mechanized Brigade sets up checkpoints at the city exits. Lilia's life took a sharp turn back then. She recalls how, while passing by one of the checkpoints, she asked what the troops needed (at that time, maintenance of Ukrainian forces was too far from being decent). "They had nothing but camo uniform, automatic rifles, and an APC that would not start…. But the very fact that our troops had entered the city meant salvation. We realized that we were not given up on, we would be liberated," she said.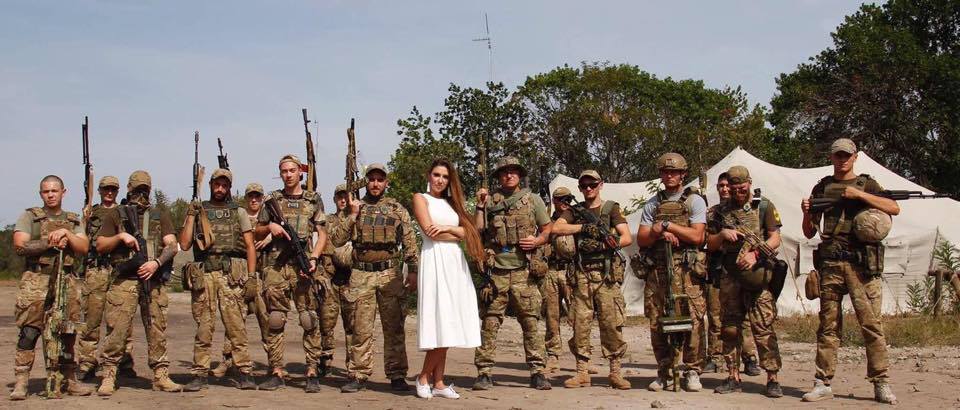 facebook.com/Lilia Ukrainska
Her volunteering began with the search for basic necessities - corned beef, toothbrushes, clean water. As soon as Lilia and her peers learned of some more serious problems - the lack of tents, tactical boots, winter uniform – they solved them. Later they began to help equip the checkpoints, rented equipment, dug bunkers. 2.5 years into the war, they switched to performing more serious tasks - the purchase of thermal imagers, night vision devices, NATO-style first aid kits...
"We invested personal funds, savings for cars and such. At the time, we earned decent money, we had bonuses - almost all of it went to aiding the army," she says. Because of her activism, "DPR" supporters started watching her closely. Fear deprived Lilia of sleep. "I was scared they would find out where we lived. They used to kidnap people. Until the city was freed from this plague, I could not sleep," she said.
However, after the formal liberation of Mariupol, the city did not return to its pre-war life. Constant militant offensives and the threat of reoccupation forced volunteers to make even greater efforts to prevent all this from happening.
On January 24, 2015 the militants shelled a residential area with Grads, killing 30 civilians. At the moment of shelling, Lilia's family was in her apartment. The mother of two children emphasizes that it was the worst moment of her life. "Grad shells hit the building just above our apartment, but still it was so terrifying..." she said.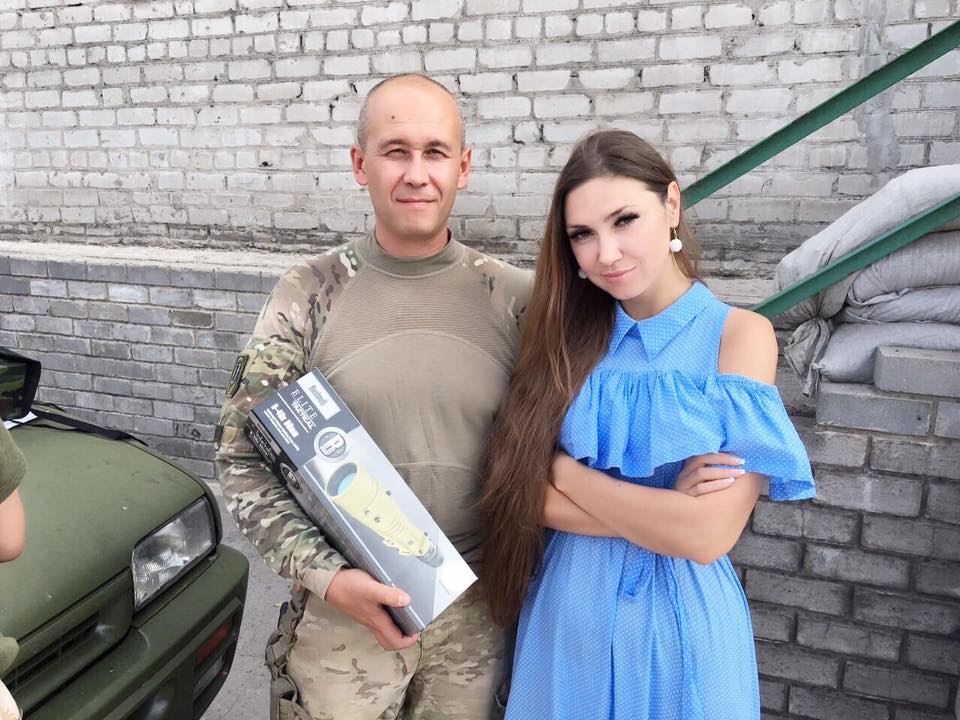 facebook.com/Lilia Ukrainska
Today, Lilia continues her volunteer work despite the fact that it's not the easiest period for her: after her Facebook posting about the "ugly truth of war" where she told about the crimes of soldiers - cases of looting and violence – threats rained down on her, and her family was forced to leave their native city. But even this does not discourage "the Fairy of the Sector M" (that's how her colleagues call her) from pursuing her work. Lately, she's been working with children living in frontline villages trying to help them in every way possible.
According to Lilia, she experienced frustration from time to time, especially when she learned of the immoral actions of some of the Ukrainian military. "But Ukraine has enemies on both sides," she explains. "Fortunately, despite the fact that some individuals came to Donbass for profit, there are many heroes in this war, who know what the officer's dignity is and who deserve the highest honors."
Lesia Lytvynova: "Psychological and physical fatigue is a price not too high for the results I see"
In her professional past, Lesia Lytvynova was a successful director and a mother of four. Although today, she has much more children of different ages, in a sense. Volunteering is also like a child. "And the child is not only about a nice picture at the playground. This is also about sleepless nights, no personal life, weakened health... But if you ask any mother whether she would go for making a child had she known what it would be like, she would still say yes. It's the same thing here. "Psychological and physical fatigue is a price not too high for the results I see," she said.
Since August 2014, Lesia's name has become a synonym of the Kyiv-based Center for helping the internally displaced persons, located at 9/11 Frolivska Str. Tens of thousands of people fleeing from war have gone through this center. Volunteers did everything so that the ones in need received clothes, shoes, and basic necessities. They also helped them to settle, adapt, and find a new home.
Previously, she and her husband earned a lot, but now they make money only from random projects. By the way, Lesia's husband has his own "aid team" - he takes care of tank crews). Lytvynova makes no secret of the fact that her children really miss their Mom.
During her unrestrained volunteering spree, Lesia suffered numerous breakdowns, tantrums, almost eating out all of her internal resources. "My teeth are in a terrible condition, but I can't afford a dentist. I learned what ulcer pain was like, I became frightened of my own reflection in the mornings," says Lesia.
She even went to a shrink. Lytvynova believes that the main thing in these moments is to understand and accept that you really need help.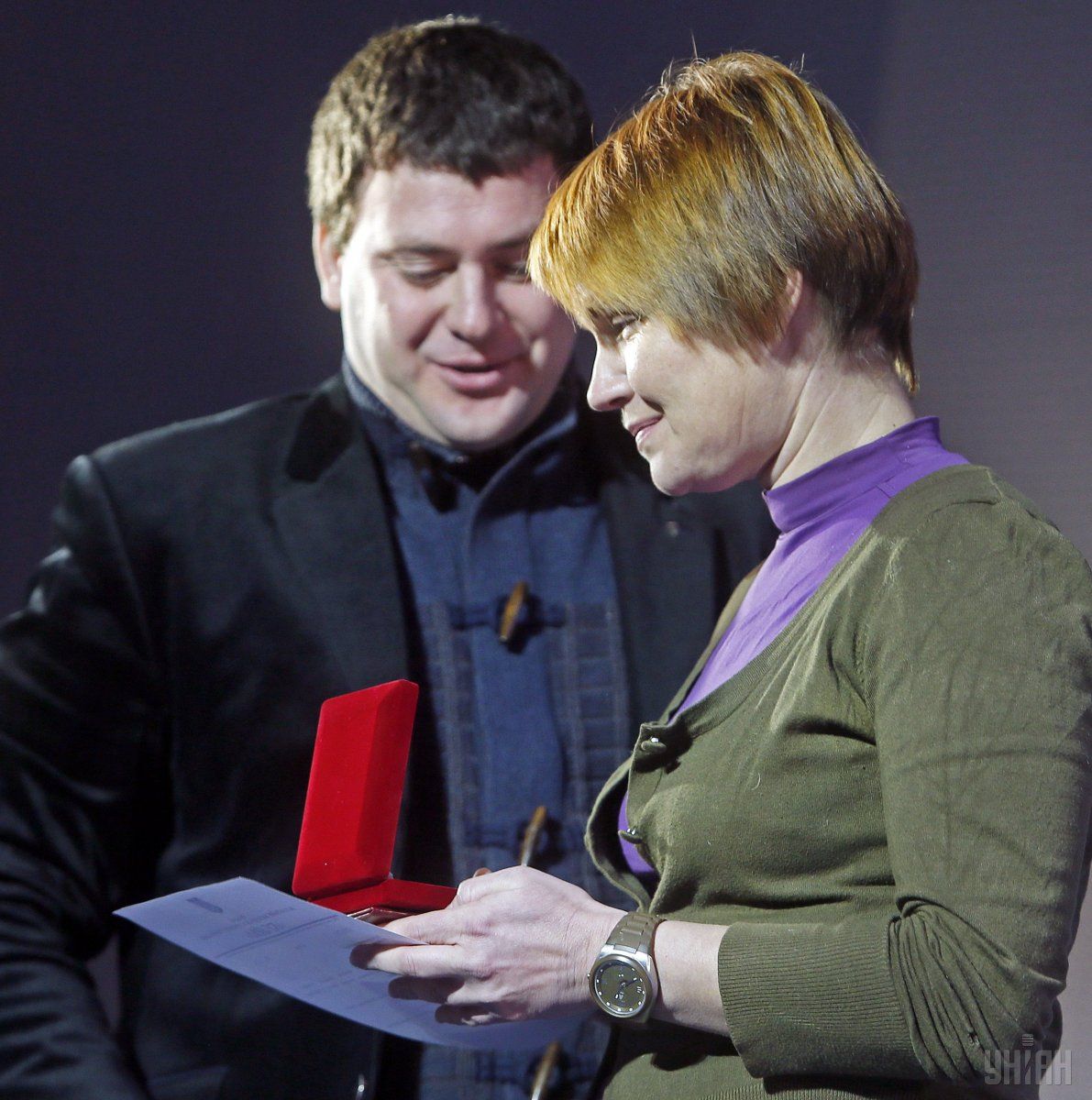 Lesia Lytvynova (Oleksandra Koval) received an award "For the Development of Ukraine" / Photo from UNIAN
Despite all the hardships, she is still not going to return to her main job and make a pause in volunteering as she feels it's her burden. She is adamant that she needs to take responsibility for her actions.
IDPs have long become her new family. "You cannot tell them: "Listen, I'm tired, so you will not have a new home because I have stopped looking for money to pay your rent, so you and your child can go back to the 'DPR'," she says.
Even in most intimate revelations, she remains cheerful and laughs sincerely, as if once again confirming the truth which she so strongly believes: there is a clear strategic goal to let the children inherit a country in the normal state, and there is no end to her work.
Roman Sinitsyn: "Everyone says they need peace but they want to win"
Last fall, a well-known volunteer from the association Narodniy Tyl [National Rear Line] Roman Sinitsyn announced he was living "major volunteering". His explained his decision with the fact that he believed the situation with provision at the frontline improved significantly, compared with 2014-2015. "I think we've done a lot. It's not for me to judge, though," he wrote on Facebook. Now Roman is trying to return to his former life, work more and drive to the ATO less. In the beginning of the war, he says "we were there all the time". Three crews of his volunteer association that had been born spontaneously, just like many volunteer projects, were constantly somewhere on the front line.
He remembers the summer 2014 rather vaguely. He says they had  little sleep and worked a lot, doing what they thought was necessary: "There were no helmets, no body armor... We would come to a stronghold with 120 troops there, and they had no thermal imagers at all. They were "blind"! We were doing all we could."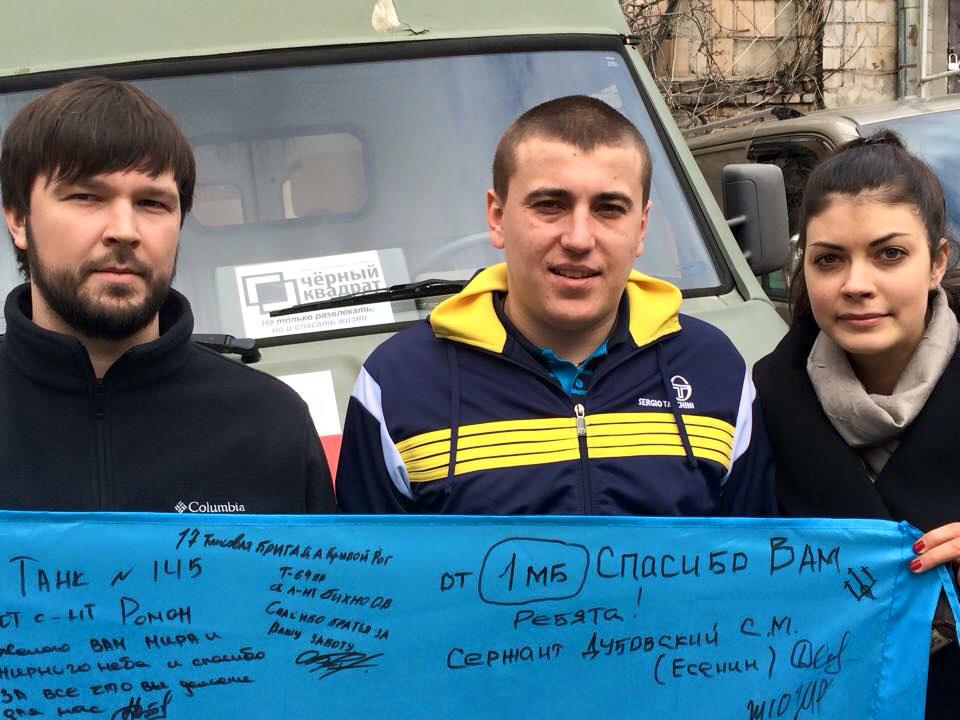 facebook.com/romabra
Regular trips to the front line taught him not to be afraid for his life. Though I remember, when I first felt this fear - during a mortar attack in Pisky, in the winter of 2014. He says first his hands were shaking but later he just got used to it. He does not hide the fact that when he first saw a KIA, he was in a deep shock. But I never went to a shrink. However, I understand those who did. "For example, I know of people who took out the wounded soldiers to the hospital in Shchastia. I remember how we transported the coffin with the killed soldier to the western Ukraine, because no one else could... Ordinary volunteers, civilians did that kind of things. Some people were in a bit of prostration," he explains.
On the other hand, actions of some of our soldiers made us experience apathy. "We were frustrated when we saw our gear, our thermal imagers at some pawn shop, or cars being taken away to someone's garage. People would struggle to do crowdfunding, and then some soldier went home from war, taking that gear with him… Seeing that was very disappointing.
Despite his recent decision, Roman Sinitsyn has not ceased to be a volunteer. It is just the vector of his activities has changed a little: he is now engaged in exposing dirty troops and law enforcers. For example, he was part of recertification commissions in police.
Roman is not going to fully devote himself to civic activism but he still dreams of justice. "Everyone says they want peace but they want to win. Any military campaign should crave for a victory," says Sinitsyn.
Iryna Shevchenko
If you see a spelling error on our site, select it and press Ctrl+Enter