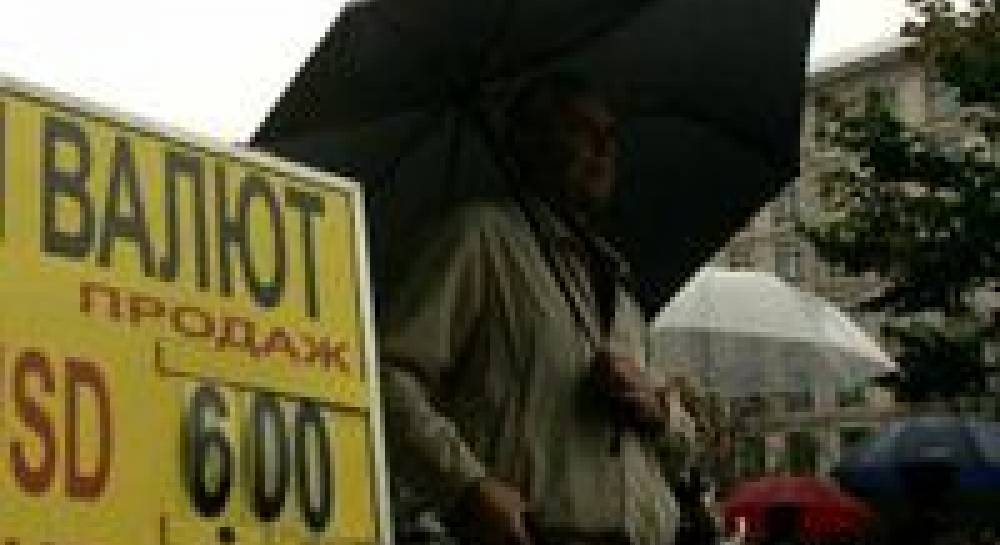 Ukraine in for tough times amid global crisis
12:40, 24 October 2008
3 min.
2282
Lacking the large foreign currency reserves of China and Russia, more integrated into the world economy than some smaller countries, Ukraine is being hit harder than other former Soviet states by the global financial crisis...
Construction cranes have stopped swinging and thousands of steel workers face layoffs as Ukraine braces for a severe economic downturn.
Lacking the large foreign currency reserves of China and Russia, more integrated into the world economy than some smaller countries, Ukraine is being hit harder than other former Soviet states by the global financial crisis.
"Ukraine has been exposed as the most vulnerable," said Jan Randolph, an emerging markets analyst at Global Insight.
On Thursday, the Ukrainian currency plunged against the dollar to a historic low amid a run on banks and a frantic rush to convert savings into U.S. currency. Ukraine`s hryvna plummeted to 6.01 hryvna per U.S dollar in trading at Ukraine`s currency exchange.
Jittery customers lined up to buy dollars at exchange offices across the capital, some of which ran out of cash. The country was already short on foreign currency as demand for steel, its main export commodity, plunged. The Ukrainian currency has lost more than 20 percent since September.
Four years of robust economic growth left Kiev clogged with shiny imported automobiles and dotted with upscale fashion outlets. Real estate prices exceeded those of Rome for a time and the stock market gained an astonishing 130 percent in 2007.
But today, experts agree, Ukraine is in for tough times.
Falling demand for steel was widening the external trade deficit to a hefty $12.5 billion so far this year, compared to $5.9 billion last year. After excessive reliance on foreign credit to feed its vast consumer boom, which sent Ukrainians rushing to buy mobile phones, cars and apartments on credit, the economy was hit hard when panicked foreign investors abandoned emerging markets and European banks slashed lending, crippled by their own liquidity crunch. Inflation soared to 31 percent in May, year over year, and cooled to 16 percent in September.
The government spent $2.9 billion buying hryvnas to support the currency this month alone, bringing its reserves down to $34.2 billion, according to the central bank. One global rating agency after another has downgraded Ukraine`s creditworthiness.
Today Ukraine is pinning its hopes on a loan of up to $14 billion from the International Monetary Fund. But unlike Hungary, which has also turned to the IMF for money, Ukraine does not benefit from European Union aid.
Plans to receive the much needed loan were threatened by a marathon political struggle between President Viktor Yushchenko and Prime Minister Yulia Tymoshenko, as the IMF negotiating team could not be certain if the next government would stick to the commitments of the current one.
A standoff over early elections, which Tymoshenko wants to avoid to retain her job, has further soured the investment climate as Ukrainian stocks lost more than 70 percent of their value this year.
"This will hurt," said Olena Bilan, a microeconomic analyst with Dragon Capital investment bank. "It will be painful in any case. The question (is) how painful it will be."
The effects of the financial crisis have been quick to trickle down into the real economy. Banks have hiked interest rates and slashed lending, for example, bringing the car boom to an abrupt end.
Output in the construction industry, which is highly dependent on loans, was down 7.2 percent compared to last year`s figures, according to Dragon Capital. The real estate market has seized up and many real estate agents have been forced to look for new jobs. Investment banks in Kiev have also slashed jobs.
Anna Kiptenko, whose firm services cash registers for retail traders, was promised a $100,000 loan for her business but the bank froze the money. Now she can`t afford to pay for her son`s law studies in Kiev.
"The government is assuring us that there is no crisis but I can see that it is already here," said Kiptenko, 42, as she emerged from an office of Pravex bank in downtown Kiev.
Experts say the expected IMF loan will save the country from all-out collapse. "They want to cool the economy in general to avoid a crash landing," said Randolph.
But a deep economic slowdown appears inevitable.
Ukraine exports steel and cast iron to the Middle East, Europe and former Soviet Union countries, where they are used in housing construction, machine and ship building. But production by the country`s metal industry, which represents 6 percent of the GDP and accounts for 40 percent of the country`s exports, was down by 30 percent.
Steel magnate Serhyi Taruta, chairman of the Industrial Union of Donbas, told the newspaper Kommerstant Ukraine that his company plans to lay off as many as 20,000 people.
Dragan Capital`s Bilan predicted the economy, which grew at an average 7.4 percent over the past four years, will slow to 4.8 percent this year.
Tymoshenko urged Ukrainians to "tighten their belts" and proposed to raise taxes for the rich.
Yushchenko, meanwhile, called for the laying off of every fifth state bureaucrat, promising to start with some in his own office.
Ukraine faces further stress from a likely hike in the cost of its natural gas, almost all supplied by Russia. That could mean a drastic increase in utility bills.
"There will be a lot of angry people," said independent financial analyst Geoffrey Smith.
By Maria Danilova and Yuras Karmanau, The Associated Press
If you see a spelling error on our site, select it and press Ctrl+Enter