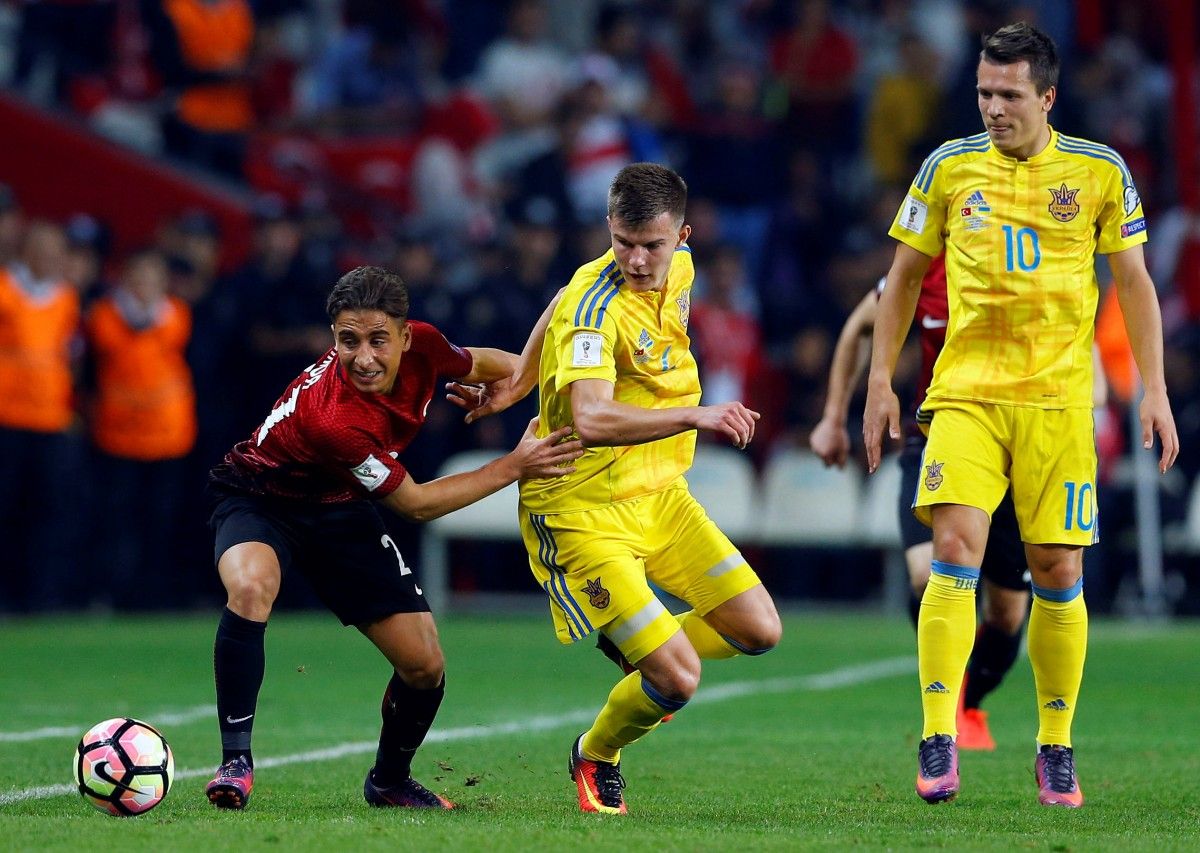 National Team Ukraine: Minimum points with good prospects
Andriy Shevchenko's team saw a minimum result while playing quite ambiguously, as the coach admits. UNIAN analyzes the team's play at the current stage, predicting a thorny path in the near future.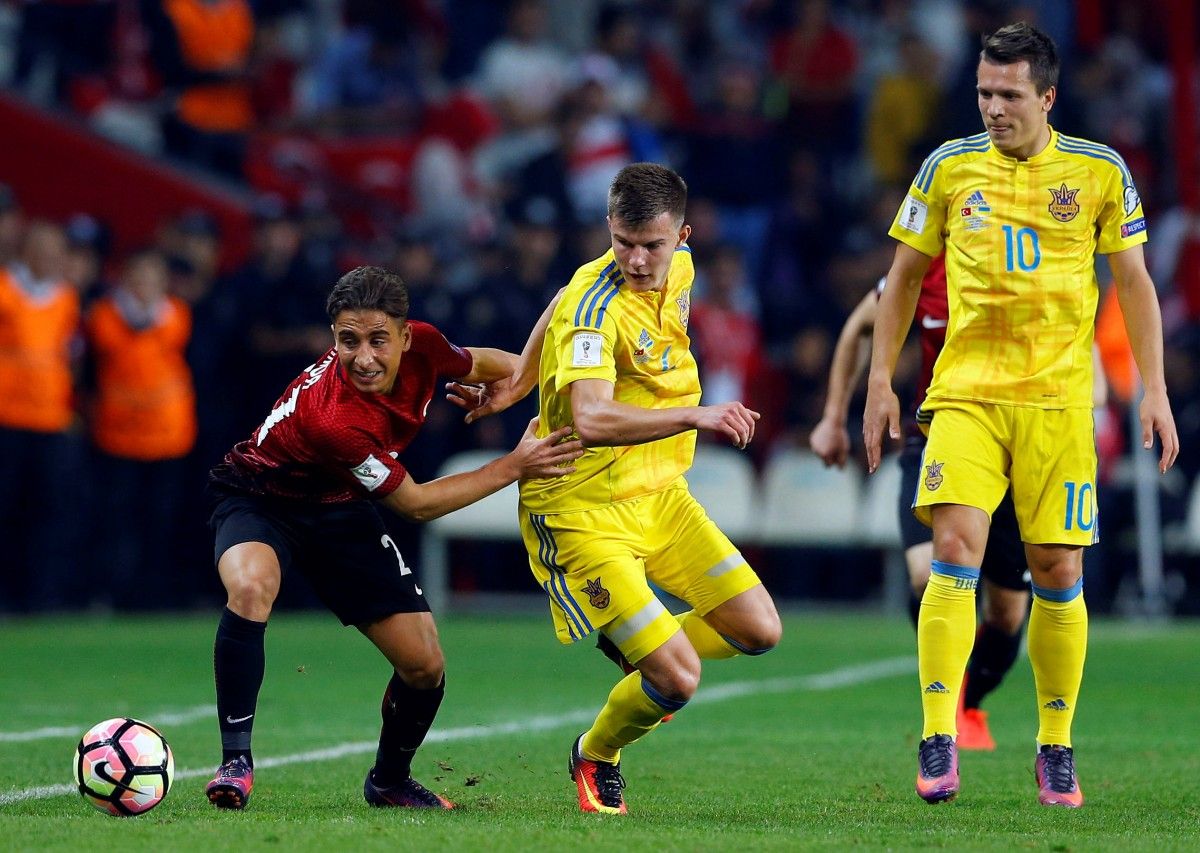 Reuters
Last week, the Ukrainian national football played two qualifying matches of the World Cup 2018, having achieved a draw in the game with a fairly mediocre Turkey and securing a victory over the outsider Kosovo.
Just as a starting the game with Iceland, the next two matches of the national team coached by Andrei Shevchenko left a rather mixed impression. Again, there is a sense that these games could bring more than we have actually achieved. However, there are two sides to every coin. Some would say that we would beat Iceland, had Konoplianka scored his penalty. But what would we say if the Icelanders made use of all our blunders in defense while they were one goal ahead in the game.
Something like this happened in the Turkish Konya, where Ukraine was two goals ahead as early as in the middle of the first half. Had Artem Kravets used his 100% chance just before the break, we would get a 3:0 lead, which would not leave any chances to the Turks. But instead we got a goal into the locker room and an inspired play of our rivals in the second half of their home game. The Turks not only leveled the score, they had all the chances to put the squeeze on our team in the end. And had we actually lost in that game, we couldn't have said that the result was unfair. A renowned expert, a star of Lobanovsky's Dynamo team in mid-1980s Vadym Yevtushenko said that there was "an impression that we lost."
It was anything but an easy game in Krakow, too. Ukraine had a big advantage, but it just could not turn it into a comfortable score. And when you're just one goal ahead, you should always be prepared for surprises. And it could as well go bad when the Pyatov's goal was saved by the crossbar. Had Kosovo scored at that moment of the game, who knows, it seems that Ukraine would have really hard time picking the keys to the goal, which would most certainly be guarded by the whole team in their own penalty area. In these situations, the even more experienced teams face problems.
At a post-match presser, Shevchenko repeatedly drew attention to a 5-minute episode early in the second half, when the defensive line of Team Ukraine completely lost control of the game. And he lamented that such play is completely unacceptible. Any higher-end team would definitely punish us for such a failure.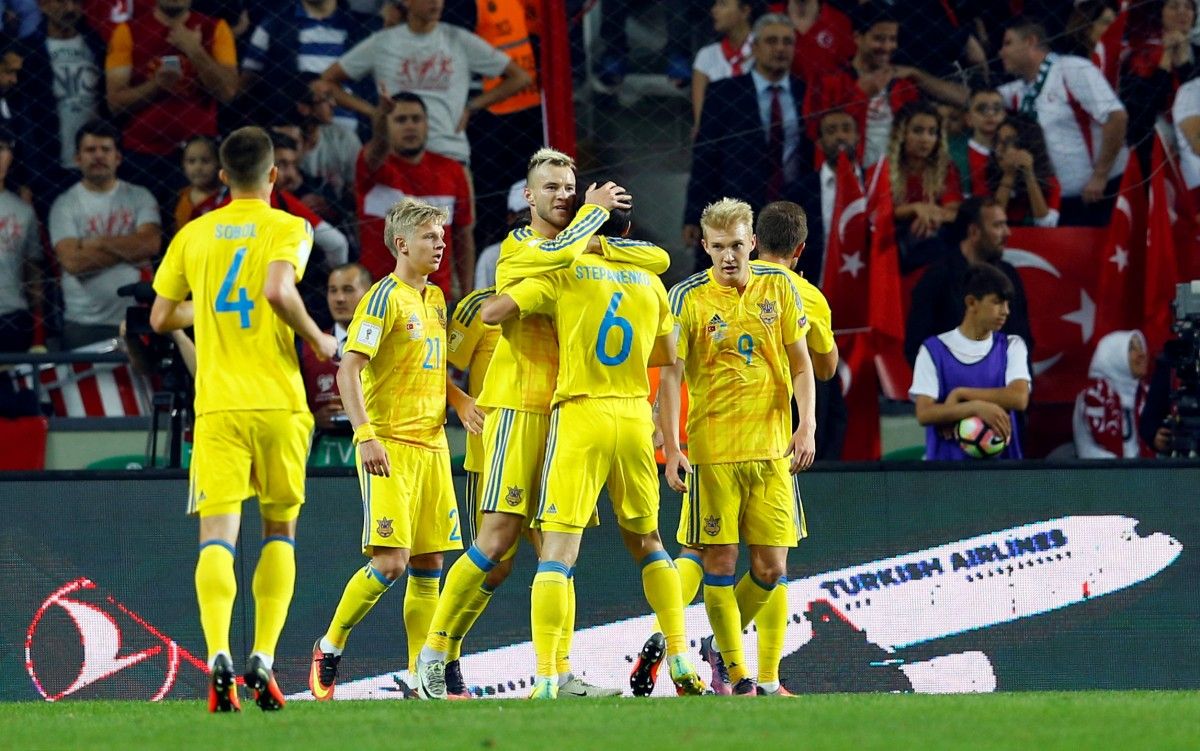 Reuters
Anyway, the situation after these three rounds could develop in a way that we would now be hopelessly behind our rivals, with, say just one point secured. However, we could as well easily hope for the maximum. As a result, we have what we have - five points from a possible nine, zero defeats, and the first victory of Andriy Shevchenko as a coach. We are two points behind Iceland and Croatia, while there is still seven rounds of the tournament to go. But these are just dry figures ...
Now it's much more interesting to speculate about where our team is moving, how it is changing and what it can do in the future. So, Andriy Shevchenko keeps his word. He did not want his team played "kick-and-run". He wants to see modern, attacking football, with his team in control of the situation on the pitch. Besides, the fans should be pleased this action, he believes. It is clear that such things do not appear out of the blue, they are not made quickly. Moreover, building up such play is a very difficult task, Shevchenko says. And, quite frankly, the performance of our players is not very high these days. It is much easier in this situation to play underdog, building up quality defense and waiting for the opponent's errors. But Shevchenko had already vowed that this would not be the case.
The coach chose a difficult path, and we should respect Shevchenko for that alone. So far, he has not turned off of it. Shevchenko does not swing from side to side, pursuing his line. And although in his first two attempts, not everything went well in terms of the final score, he kept on insisting on his vision.
Compared to the debut game against Iceland, in the match against Turkey, Shevchenko made two substitutions in the starting lineup. One of them was forced – an injured Rakytskyy of Shakhtar Donetsk was replaced with his teammate Ordets, although everyone was convinced that it will be Dynamo Kyiv's Khacheridi who will start the game. The second substitute was rather a tactical one. While it was Kovalenko who played against the Icelanders as a striker, in the game against Turkey this position was taken up by a nominal striker Kravets. In turn, Kovalenko pulled back into the midfield, while Sydorchuk became the fifth wheel in this scheme.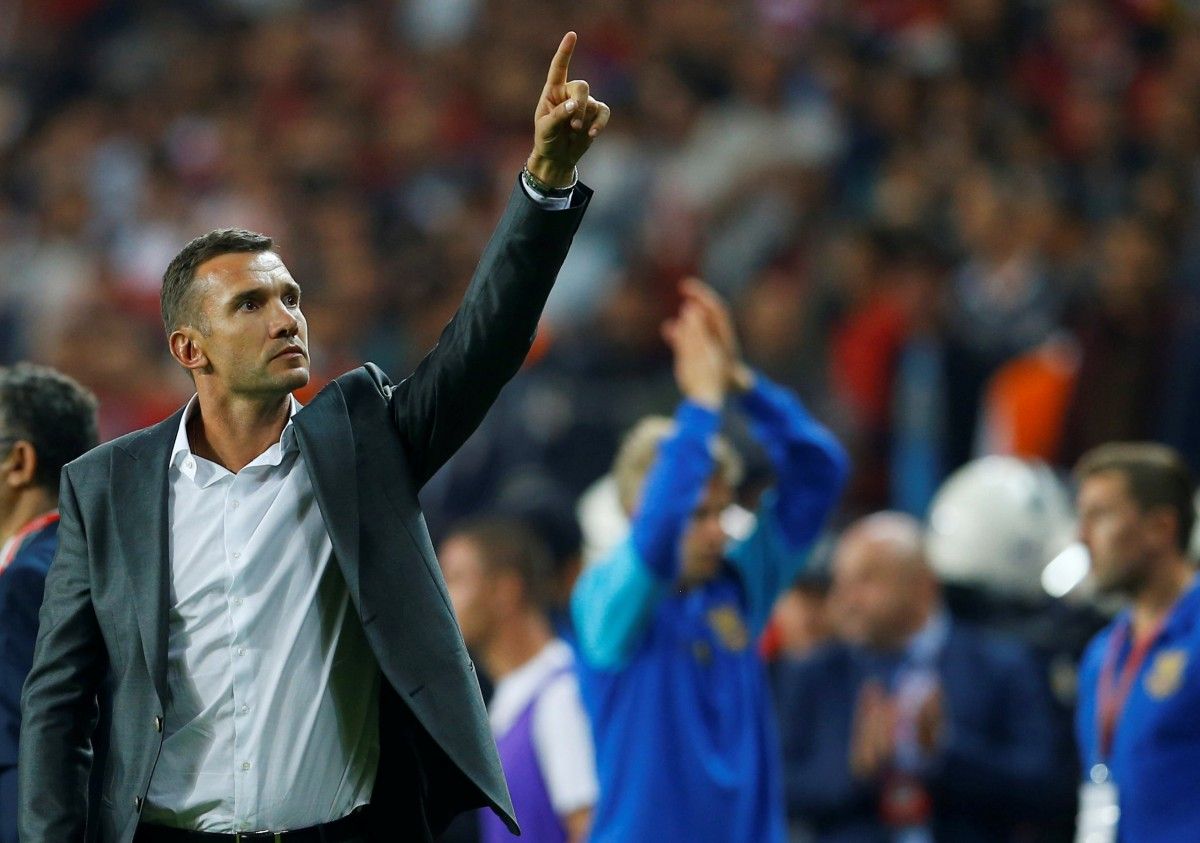 Reuters
Team Ukraine of the times of Mikhail Fomenko is rapidly going into oblivion, although the performers are almost the same. Instead of the ubiquitous scheme with three anchormen in the midfield, we saw a Stepanenko-Kovalenko-Zinchenko trio, with two of the latter helping the offensive. And it's not just a tactical change by a new coach. For Team Ukraine, it's almost a revolution. None of the head coaches throughout 25 years of Ukraine's independence allowed himself such boldness.
And it was not a match with some outsider – that was the away game against Turkey, who are always very aggressive at home arenas, exerting tremendous pressure on their opponents. And what is most interesting, in the next game against Kosovo, the starting lineup of Ukraine was totally the same. This only confirms Shevchenko's words that the Ukrainian team will not be adapting to the opponent, but rather thinking about building their own game and developing their own style.
Speaking about the substitutes, it should be noted that in contrast to the starting line-up, they were different in the last two matches. It looks like Shevchenko is learning on the go. In the game against Turkey, Shevchenko made a wrong guess with substitutions. He greenlighted Sydochuk before the second half, putting Zinchenko on the bench in the hope that Dynamo Kyiv player would help Stepanenko in curbing the Turkish onslaught. But this move did not work. Also, Konoplianka was substituted for Petriak, and Kravets - for Zozulia. These substitutions have failed to put out the Turkish fire. In the last 15 minutes of the game, the situation around our goal was electrified to the max, so Ukraine were lucky that the Turks limited themselves to just two goals.
However, in the game with Kosovo, Zincehenko was replaced by Rotan. As soon as Rotan took on the pitch, it became clear why this change was made. It was Rotan who has become the figure, who calmed down the whole team. It was Rotan who reinstated order in the middle of the field and become a real master there. And he also scored ... Perhaps, Rotan was what we lacked in Turkey's Konya in the second half.
Konoplianka sat down to give way to his teammate Karavayev instead of Petriak. And he created a goal a few minutes into his play. And only Kravets was traditionally substituted for Zozulia. This Betis striker had not so many chances to be remembered by, and he had too little time. Perhaps, had Shevchenko had other strikers at his disposal, he would someone else play.
After the match with Kosovo, Shevchenko told a press conference: "Regarding the substitutions, in particular, Karavaev, my assistants prompted me well. Successful substitutions are a fruit of the common work of the whole staff, my assistants, in particular."
As Taras Stepanenko noted after the match, a qualified specialist needs just a few team practices for the game to change radically. Of course, we all want very much for Shevchenko to grow up to become a good specialist. But he really had just a few practices as the National Team head coach. Before the debut game against Iceland, the team gathered on Monday, and exactly in one week, they played an official match. A whole week to prepare is a lot by today's standards. However, the team met again on Monday, and on Wednesday they flew to Konya for the Thursday match against the Turks. And from there, the team flew to Krakow, where they played Kosovo on Sunday. So, this was not about a full-fledged practice routine. Flights, transfers, matches, and recovery. We must admit that Shevchenko and his staff almost had no time to do coaching.
It is important to note that Shevchenko began to speak not only about the game but also about the creation of an actual squad. He wants the team to become one, doing all he can to achieve this result. For example, we have not heard from him the phrases like: "I don't know, you should ask the players…" It is evident that Shevchenko is standing strong for his players. He protects them and shifts the responsibility on himself, trying to guard the guys from unnecessary criticism. Judging by the words of Stepanenko and his partners, the players really appreciate this attitude.
Shevchenko defends his players, even when their guilt is obvious. Even when they have not their best day, Shevchenko still says they did well. There is no doubt that in the locker room and in theory classes, the talk is different, and he does not go easy on anyone. But in public, it's all about trust, protection, and respect. And one more thing ... The new team has only played three games, and the players have already taken the blame for some failures. It looks like they also choose not to blame everything on the coach.
The World Cup 2018 Qualifiers are gaining momentum. Andriy Shevchenko's National Team is only at the start of a long journey. No one is sure that Shevchenko will have everything done all at once. Those changes, which he started, require time and patience. And even more so, at the level of the national team, where there is no time for a full practicing process. But we already see some things of which we couldn't even dream of recently. It's a different team, indeed. And it is clear that there is no way back. At least, as far as Andriy Shevchenko is at the helm.
Kyrylo Stadnichenko
If you see a spelling error on our site, select it and press Ctrl+Enter