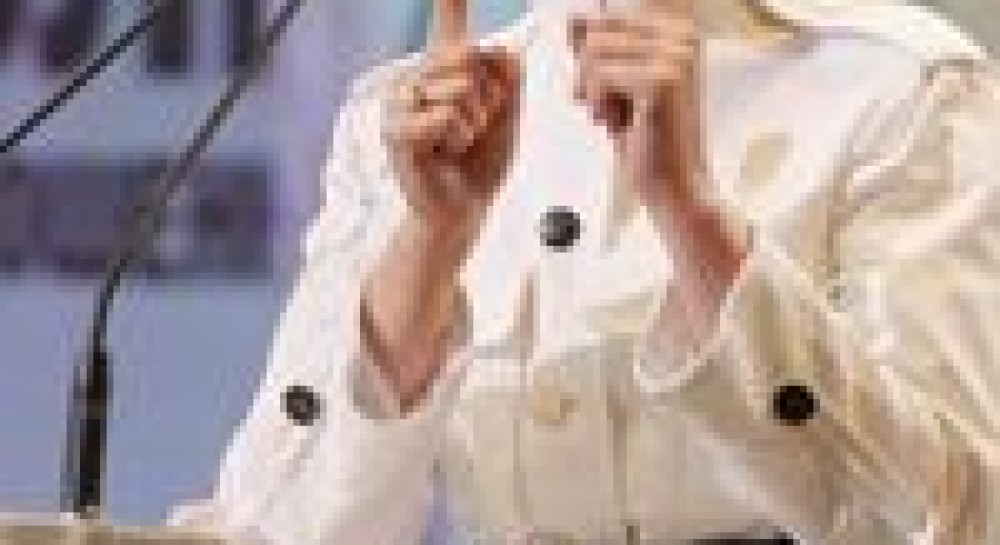 Obama's first Ukraine test – Vanco vs. Tymoshenko?
13:44, 24 November 2008
7 min.
2267
The way in which Obama deals with this problem could demonstrate whether the new president and his administration view Ukraine only through the prisms of Russia and energy supplies, or whether they...
During the presidential campaign, Vice President-elect Joe Biden famously suggested that an Obama administration would be tested internationally within its first six months. (1)  The McCain/Palin campaign quickly listed Ukraine as one potential test, with Vice-Presidential nominee Sarah Palin ominously warning of an imminent Russian invasion of Crimea.  More seasoned pundits, however, suggested that one particular "test" could come when President Obama is forced to decide whether to continue the US push in favor of NATO entry for Ukraine – and to a lesser extent, Georgia.
But, given the lack of support for NATO entry among Ukraine's voters (between 20-30 percent in most polls), it seems unlikely that this will be the first serious decision President-Elect Obama will need to make regarding Ukraine.  Instead, he likely will be faced with a much lower profile issue, but nevertheless one that clearly will signal the direction of the Obama administration's "Ukraine policy."
This issue very well could be the ongoing international dispute involving Houston-based Vanco Energy Company over gas exploration rights on Ukraine's Black Sea Shelf.  The way in which Obama deals with this problem could demonstrate whether the new president and his administration view Ukraine only through the prisms of Russia and energy supplies, or whether they see the country as a nascent democracy with the long-term potential to be a strong ally in Europe.
As discussed in the 24 July issue of The ISCIP Analyst, the Ukrainian government "revoked and terminated" its Production Sharing Agreement (PSA) with an affiliate of Vanco International Ltd. - a subsidiary of Houston's Vanco Energy Company – in May of this year.  The PSA had a 30-year span and reportedly could have involved up to 15 billion dollars of investments on Ukraine's Black Sea shelf. (1)
Recently, a Ukrainian oligarch acting on behalf of Vanco's position secured the high-powered Washington DC firm of Covington & Burling LLP to represent the company's interests to US officials.  Covington's lawyer-lobbyists include two individuals who worked in the Clinton administration.   These individuals, therefore, may be well-placed to secure US assistance either to overturn or undermine the Ukrainian government's decision.
If the US were to do so, however, this could signal acceptance of questionable business practices at a time when Ukraine is just beginning its struggle against an embedded culture of corruption.  In fact, the majority of companies involved in the deal are not US entities, and while a full independent examination of the Vanco agreement has not been completed, the information available creates concern over the way in which the deal occurred and is structured.
The termination of Vanco's PSA came several months after the current government of Prime Minister Yulia Tymoshenko took office.  Upon examining the contract, the new government discovered that the rights for Black Sea Shelf exploration had been passed from the company originally awarded the tender, Vanco International Ltd (US owned, registered in Bermuda), to a brand new affiliate, Vanco Prykerchenska Ltd (British Virgin Islands).  Moreover, this new company was owned partially by an ally of former Prime Minister Viktor Yanukovych.  Mr. Yanukovych approved the PSA just weeks before turning his office over to Tymoshenko.  
Thanks to that approval, twenty-five percent of Vanco's exploration rights were transferred to a corporation owned by billionaire oligarch Rinat Akhmetov.  The oligarch was and is a parliamentary deputy representing (and reportedly funding) former Prime Minister Yanukovych's party.
Akhmetov's corporation, the Donbass Fuel and Energy Company, was only one of four entities with interest "in parity" in Vanco Prykerchenska.  Vanco International controls a 25 percent interest, as do Integrum Technologies of Austria, and Shadowlight Investments Ltd., linked to Russian businessman Yevgeny Novitsky.  (2)
Only Vanco International completed the tender process.  And only after the new government took office and demanded explanations did the ownership of Vanco Prykerchenska become somewhat more clear.  To this day, however, the ownership of Austria-based Integrum Technologies is obscured.  This mirrors the difficulty Tymoshenko had earlier in identifying the owners of Austria-based gas intermediary RosUkrEnergo.  Eventually, the owners were found to be Gazprom and a well-connected Ukrainian oligarch, Dmitri Firtash.
Novitsky's interest in the deal also has been the subject of much discussion internationally.  Myroslav Demydenko suggested in the Eurasia Daily Monitor, "Evgeny Novitsky is alleged to be a member of, or very close to, Russia's Solntsevo organized crime gang."  (3)  These allegations are examined by David Satter in his 2004 Yale University Press book, "Darkness at Dawn – The Rise of the Russian Criminal State."
The new government cried foul on the Vanco deal, claimed a conflict-of-interest, suggested several laws were broken in the tender process and terminated the contract.  Vanco Prykerchenska appealed to the Stockholm Court of Arbitration, and the two sides now have begun the long process of choosing international arbitrators and preparing their cases.
Vanco International suggests that the PSA allowed it to assign its rights to its affiliate.  It is impossible to verify this claim since the PSA is not a public document, but there is no reason to question this statement.  (4)
A "Certificate of State Registration" viewed by this author clearly documents the transfer of rights, and is signed and verified by then-Vice Prime Minister Andriy Kluyev.  The former Vice Prime Minister is a high-ranking member of the Yanukovych-Akhmetov Party of Regions.  Therefore, while the correct documents were signed, the signature creates the impression – wrongly or rightly – that an individual (or individuals) connected to government officials benefited from the deal.
Now, US officials are being asked to become involved on behalf of Vanco Prykerchenska, which is 75 percent non-US owned and 25 percent owned by a Bermuda-based subsidiary of Vanco Energy Company.
Interestingly, US involvement is not being requested by Vanco.  According to documents filed under the Lobbying Disclosure Act of 1995, Covington & Burling LLP was hired by System Capital Management (SCM), which, according to those same documents, is 90 percent owned by parliamentary deputy Rinat Akhmetov. (5)  It is unclear why Akhmetov chose to hire a lobbying firm through SCM, instead of through the Donbass Fuel and Energy Company, which is a party to the contract in question.
SCM is being represented by Ambassador Stuart Eizenstat, who served under President Clinton as the US Ambassador to the European Union and as Deputy Secretary of the Treasury.  The Ambassador also worked as the Special Representative of the President and Secretary of State on Holocaust-Era Issues, negotiating restitution agreements with numerous governments.
He is joined by Ambassador Alan Larson, an Under Secretary of State in the Clinton and George W. Bush Administrations, and current Chairman of the Board of Transparency International USA. (6)      
The stellar resumes and reputations of both men should assist Akhmetov in making his case to US government officials.  It is not known what exactly that case is, however.  Covington & Burling representatives were not able to discuss the issue when contacted.  Nevertheless, those close to the situation in Kyiv suggest that Akhmetov and Vanco representatives have asked US officials to condemn the Ukrainian government's actions and to push Tymoshenko to reinstate the contract.  A Vanco Energy Company employee reached for comment denied this claim. 
But, earlier lobbying of US officials in Kyiv suggests Vanco and Akhmetov, in fact, are looking for US help against the government (or at least against the government's case).  Shortly after the PSA's revocation, the US Ambassador to Ukraine expressed regret over Ukraine's decision.  "I am very disappointed that the Cabinet of Ministers today took unilateral action to revoke the Production Sharing Agreement [that] the Government of Ukraine negotiated with U.S. company Vanco," Ambassador William Taylor said in a statement. (7) Later, when questions arose both about the true level of US involvement in Vanco Prykerchenska and about the deal itself, Taylor pointedly stopped discussing the case.
For her part, Tymoshenko served notice this week that she would not be bullied.  In a cabinet resolution on 19 November, the government reiterated that it would not pursue the PSA with Vanco Prykerchenska and continued to work toward arbitration. (8)
Tymoshenko is calling for an international investigation of the agreement that could encompass individuals in Austria, Russia, Ukraine and the United States.  She maintains that the PSA was the result of "a corrupt agreement concluded by the previous government."  (9)  Vanco Prykerchenska, meanwhile, is calling for new negotiations.
A number of individuals familiar with the issue are quick to note, however, that no one, including government officials, appears to fault Vanco Energy Company in this deal.  They point to the agreement as an example of how a US company can become immersed in Ukraine's murky business environment, particular if high-powered political leaders are involved.  Nevertheless, Vanco's perhaps unwitting involvement does not eliminate numerous questions about the company's three non-US partners.
The Vanco dispute does not include Russia directly.  For this reason, officials associated with the new Obama administration may be tempted to give the issue little attention.  Worse, they may be tempted to depend on the information supplied by former colleagues or US businessmen associated with the deal.  If this occurs, it will be clear that Washington no longer views Ukraine as a potential democratic partner, but rather, intends only to pay attention if Russian interests are at play.
But the Vanco issue is at the heart of Ukraine's rocky, chaotic transformation from an authoritarian state to a democracy.  Questionable business and political deals undermine the very core of a democratic government.  Transparency and fairness cannot exist if agreements are made in the dark.  This issue is one of the most important Ukraine will face in the near-term – far more important for the country's development than a decision on NATO.
To be sure, there are no angels in Ukrainian politics and the Tymoshenko government's decisions have produced plenty of their own questions over the last year.  Still, the government's decision to "put a stake in the ground on this issue," could send an important signal about intolerance for corruption in energy issues, if the issue is given the proper consideration by international officials.  (10)
Source Notes:
(1) The ISCIP Analyst, Volume XIV Number 14 (24 July 2008).
(2) Alexander Serafimovich, "Ukraine's government says: Vanco go home!," Oil and Gas Eurasia, June 08, No. 6 via www.oilandgaseurasia.com and www.eurasiapress.com.
(3) "Ukraine, Vanco Energy, and the Russian Mob," Eurasia Daily Monitor, 16 Sep 08.
(4) Press Release, Vanco Prykerchenska Ltd, 12 Jun 08 via PRNewswire.
(5) Lobby Registration, Lobbying Disclosure Act of 1995, House ID 31827, Senate ID 11195, via http://lobbyingdisclosure.house.gov and http://www.senate.gov/lobby.
(6) See website of Covington & Burling LLP at www.cov.com.
(7) "Statement by U.S. Ambassador Taylor on Vanco Case," Public Affairs Section, U.S. Embassy, 21 May 08.
(8) Unian News Agency, 1843 CET, 19 Nov 08 via www.unian.net.
(9) BYuT Inform Newsletter, 22 Jul 08 via email to author.
(10) Ibid.
By Tammy Lynch, Ph.D.Senior Fellow
Institute for the Study of Conflict, Ideology & Policy
If you see a spelling error on our site, select it and press Ctrl+Enter