Day of provocateurs
23:30, 01 December 2016
6 min.
479
Today someone recalls how they voted for the Ukrainian independence 25 years ago, someone remembers how three years ago the riot police were slamming on everyone who dared move outside the Presidential Administration, while someone daydreams for some reason to do another take of those events on Bankova.
The first day of winter three years ago was the day of provocations. Most of the participants of that mass rally (people came out to protest against the lawlessness of Berkut riot police manifested overnight November 30 against peaceful protesters of the Euromaidan) simply came to take part in the announced "Viche" [People's Assembly]. However, there were also those who on December 1, 2013, were seizing the building of the Kyiv City State Administration, the House of Trade Unions, and made attempts to "take over" the Ukrainian House on European Square and planned to storm the Presidential Administration on Bankova Street. It was there where three years ago was the most severe beating took place of protesters who had no relation to the provocations that had been staged several hours earlier.
We should recall that in the afternoon of that day, a group of protesters moved from the Maidan Assembly up to the government quarter, closer to the Presidential Administration. The strangest thing was to see some thugs sporting balaclavas arriving on Bankova on an actual construction tractor. Who and for what purpose had left it standing idle at the corner of Institutska and Bankova? How could it be that among the protesters there was a person able to start that huge vehicle and drive it freely through the cordon of police internal troops guarding the PA? Why was the perimeter cordoned by drafted troops with almost no special riot gear, instead of some specially trained units? Who were those young provocateurs who were initially shouting a Nazi chant in Russian and later crushing the soldiers with the tractor, throwing stones at them, and, once seeing Berkut engage, disappearing somewhere? These questions remain unanswered.
Meanwhile, Berkut officers also remain unpunished – those who brutally slammed on the crowd, beating people with batons and kicking them, without even trying to identify real threats, slamming journalists despite Press IDs presented. As a result, on that day blood of about 50 Ukrainian and foreign journalists was literally spilled on Bankova...
Who were the young provocateurs remains unknown / Photo from UNIAN
Moreover, the authorities tried to make the reporters the scapegoats. Tthree years ago, Shevchenkivsky district court in Kyiv arrested nine people on suspicion of organizing mass public disorder (they faced five to eight years in prison). Among these people there was an architect Mykola Lazarevsky, former director of Okean Elzy rock band Yuriy Bolotov, an engineer Oleksandr Ostaschenko engineer, a journalist from Dnipro Valery Harahuts, and others. There was no evidence of them being guilty whatsoever but there were still arrested for two months. A few days after this "verdict", high-profile calls of the public actually affected the situation - the prosecutor's office finally recognized the nine people who had been beaten up on Bankova victims.
When IDs do no help
Today Oleksandr Perevoznyk works at a school training pilots for UAVs called Vidkryte Nebo [Open Sky], but three years ago he was a photo reporter at "Liga.Business.Inform" and suffered more than others.
In the morning of December 1, the photographer was shooting protesters moving from Shevchenko Park down to the Maidan. He came to Bankova "when the tractor was approached".
Reminiscing on these events, Perevoznyk says that most of the protesters, who came from the Maidan, did not take active part in further provocation: they would come, look at what's happening and go back to the Maidan. However, a certain group of people on Bankova really stood out from the crowd. According to Oleksandr, they wore backpacks and sported balaclavas, concealed their faces and acted in concert. It was them whom the media would later brand "provocateurs". Perevoznyk notes that they did not look like those typical "titushky" [street thugs involved by authorities to suppress peaceful rallies], but rather reminded football fans: "They were no athletes. They were just some thin short guys."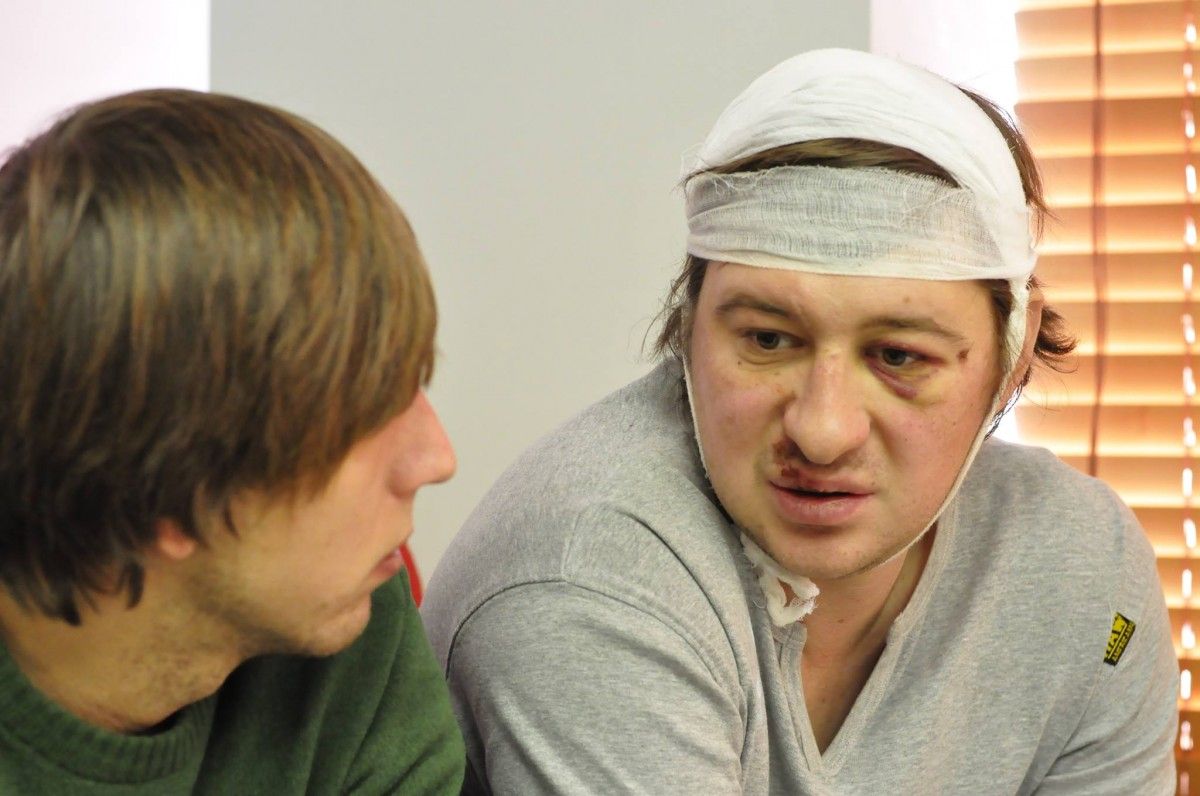 Perevoznyk cannot remember the exact number of riot police officers who beat him / facebook.com/alex.zakletsky
It was those guys who were throwing stones at security forces. Stones were also thrown at the protesters. But it was not the soldiers of internal troops who were throwing them. "They stood in a tight chain did not resist. Stones flew from behind them. I cannot definitely say who were throwing them. But perhaps it was Berkut," says the photographer.
Oleksandr did not witness Berkut rushing through the lines of internal forces. When light and noise grenades started to set off, the photographer went into the backyard of a building near the House of Writers to send pictures to the editor and report on the latest developments. Seeing people fleeing from something toward Institutska Street, the photographer came back out. At that time, Berkut was pursuing the crowd. "I had a camera in my hands. I told them I was the press. And they go: "So, you are the press, huh?!" starting to beat me," says Perevoznyk.
He does not remember the exact number of security officers who attacked him. But the testimony of another photojournalist, Oleksandr Ratushnyak, who made several shots of his colleague being beaten, says that there were some seven or eight Berkut officers. They continued beating him as he fell to the ground kicking and clubbing him. Perevoznyk remembers that he was unable to get up. His photo gear was, naturally, destroyed.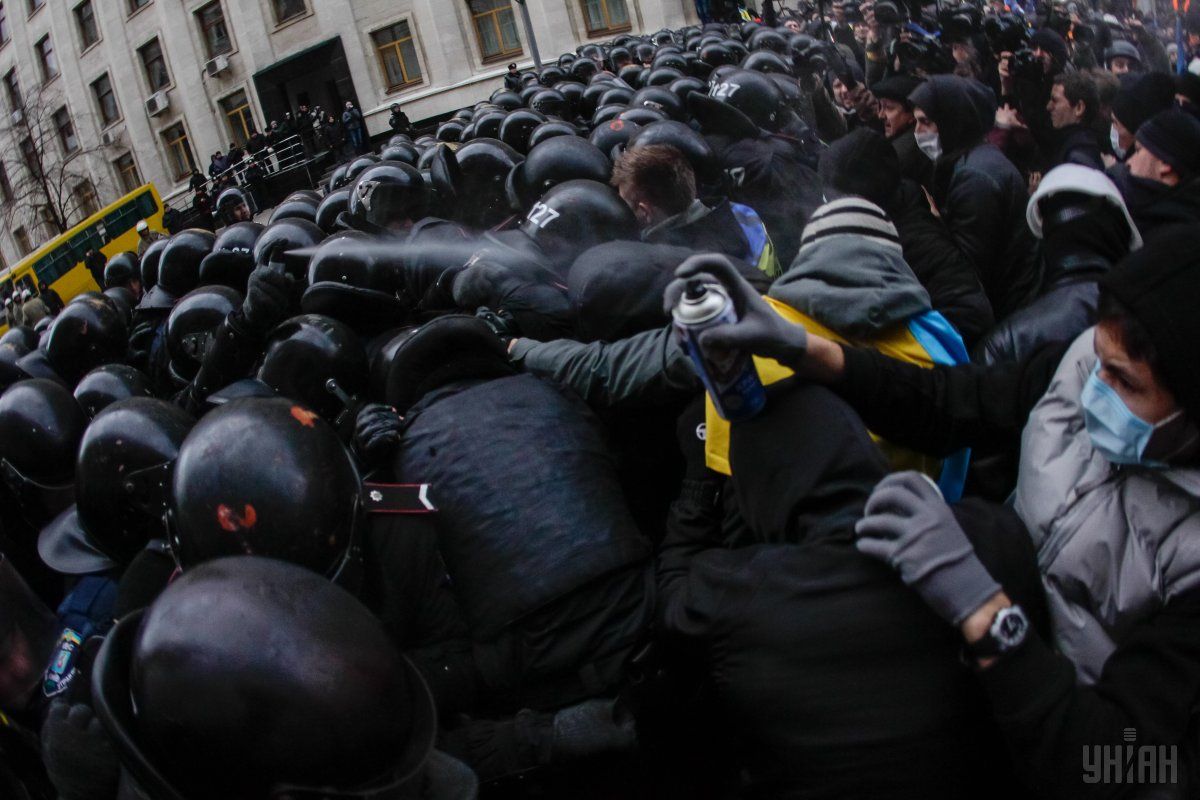 Perevoznyk did not witness Berkut rushing through the lines of internal forces / Photo from UNIAN
Unexpectedly, Oleksandr received assistance from a stranger "in black". "Judging by the photos, that was a soldier from the internal troops. He saw the broken camera and my Press ID torn from my neck. He asked: "Are you a journalist?" I said, Yes. He helped me get up and brought me to the yard of one of the houses where volunteer doctors provided first aid," says Perevoznyk.
Then the photographer went to the hospital, where his head was stitched up (11 stitches). His arms, legs, and back were badly bruised.
Themis is silent
As early as December 2, detectives came to his newsroom and said that criminal proceedings were opened into the beating of journalists. December 3, Perevoznyk testified in the Prosecutor's Office. It was back in 2013, and only in 2015 did the prosecution get their hands on conducting an investigative experiment ...
Oleksandr Perevoznyk tells us that is not monitoring the progress of criminal proceedings and, in general, does not believe in a just punishment for the perpetrators, because even if someone "gets locked up", this person will just be a scapegoat. Moreover, he believes that the reform of the law enforcement system has failed and in case "critical situations" repeat, security forces will act the same way Berkut did on December 1, 2013.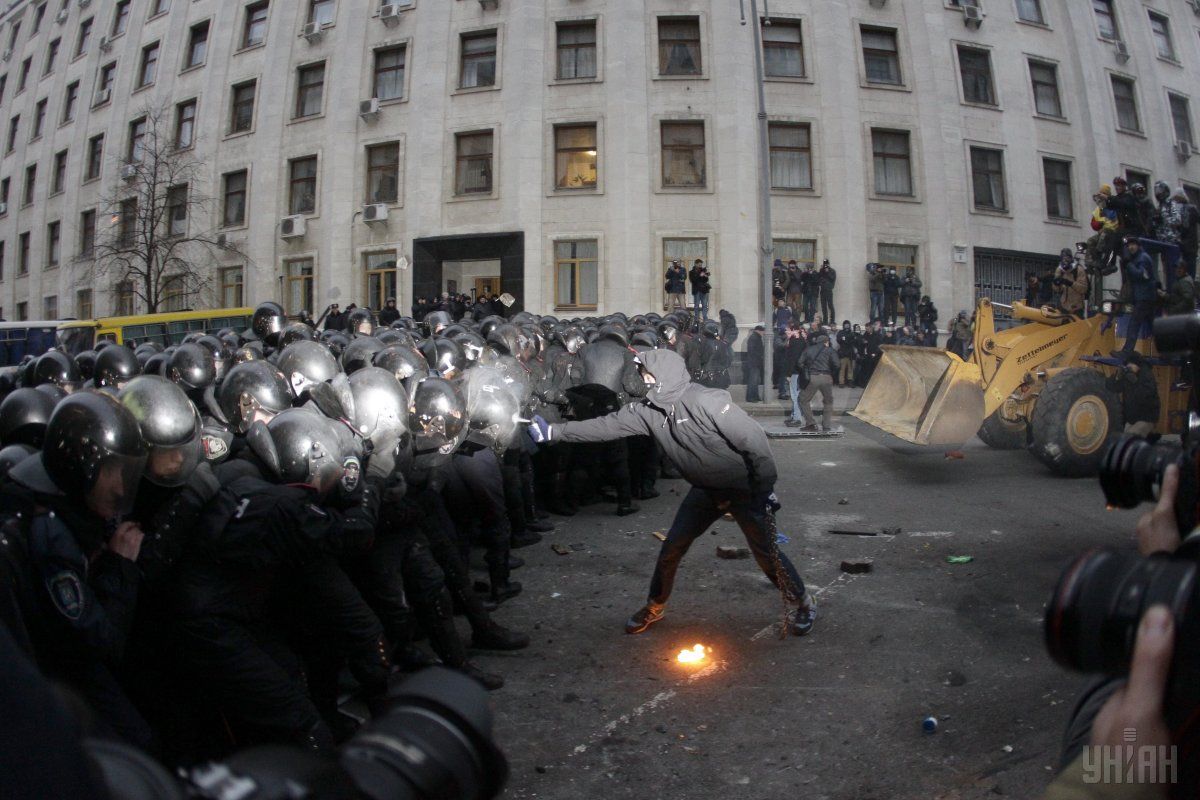 Photo from UNIAN
Unlike Perevoznyk, Oleh Havruk, today's coordinator of the Movement promoting territorial defense of Ukraine, who in 2013 was deputy chief editor at Comments.ua, three years ago reached the hospital on his own, where he also had his head stitched up and took to the prosecutor's office straight away to file suit. "Then, in particular, there was a hearing of the Committee on freedom of speech, which I attended. The meeting was chaired by Olena Bondarenko (former MP from the Party of Regions), and there were also chiefs of the Kyiv police, prosecutor's office. They were all saying that the investigation was underway. I realized that it would really be hard to find out who exactly hit me, so I had only one question, on whether the Berkut chief were suspended " I was told that they hadn't and that no one had any reprimands," he says.
According to him, the whole attack outside the PA on December 1 was pre-planned: "The first row of soldiers dispersed, and security forces flowed from behind it, all in full gear, with the shields and batons. They started just crushing everything in front of them, everyone that moved ... Berkut were just slamming on anyone they saw ... I thought their task was to protect the Presidential Administration. However, it seems that this time their task was a massive beating of people."
Havruk: The attack outside the PA December 1 was pre-planned / facebook.com/khavruk
Recently Havruk was informed that he could review the investigation case file in the PGO. "Probably, it means that the investigation is over and the case file will be forwarded to court," he said.
The former journalist says he is not inclined to demonize the prosecutor's office, who allegedly delay the investigation. He has many more questions to the judges and the Ministry of Interior. "Despite the fact that the minister has changed, in a number of cases we see that they cover up their staff and continue funding them. Most of the Berkut troops who were on Bankova, continue to serve in the police. And it kills me more than the fact that the investigation has been dragging for so long," says Oleh Havruk.
In addition to his own case, the man is a witness in other cases related to the events on Bankova of December 1, 2013, trying to keep track of their progress. Unfortunately, he sees nothing optimistic so far. The former journalist says he believes in a fair trial as a phenomenon, but not in Ukraine. In his opinion, for the national judicial system a fair verdict is rather an exception than the rule. "I hope that my case will be one of these exceptions, but, unfortunately, there is no reason to believe in it," he adds.
***
For three years, the public has been demanding justice. People also want to know specific names of those responsible for the massacre on December 1, 2013. However, the general negative trend of anti-investigation in cases of the Revolution of Dignity is also witnessed here. So far, there have been no court rulings, that is, no one has been prosecuted to a severe term. Although the cases are still in courts.
Three years ago, security officials slammed on anyone who moved / zyalt.livejournal.com
For example, the case has been dragging for a long time of the ex-commander of Kharkiv-based Berkut unit, Vladyslav Lukash. He is accused of abuse of power and official authority, as in the events of December 1 on Bankova as on February 18 2014, on the streets adjacent to the Maidan. Lukash is also charged with obstruction of journalistic activities and application of violence against 19 journalists, which led to grave consequences.
According to a member of the Lawyers Advisory Group, dealing with the cases of victims of the Maidan crackdowns, Pavlo Dykan, Lukash's case has not even moved to the trial stage yet.
Iryna Shevchenko
If you see a spelling error on our site, select it and press Ctrl+Enter