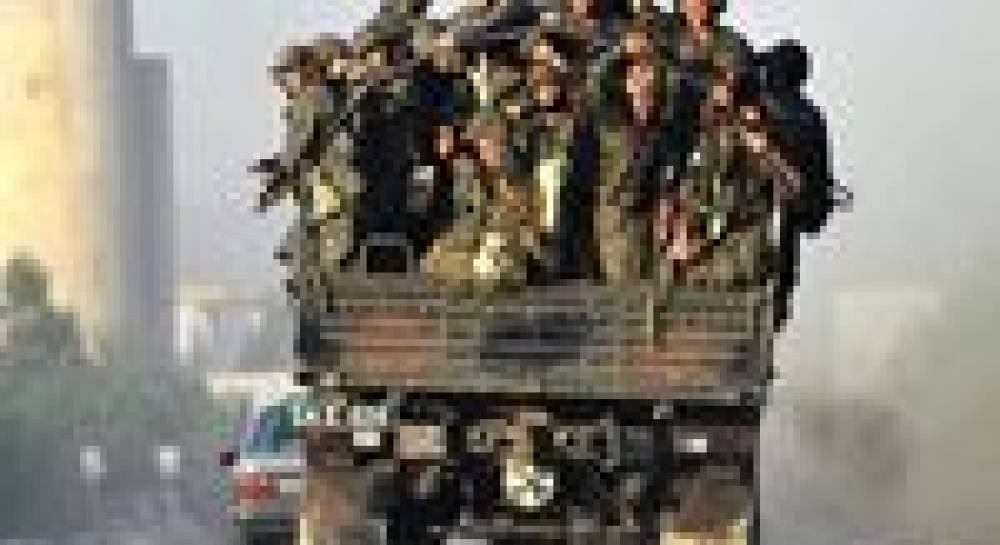 Claims of secret arms sales rattle Ukraine's leaders
The country's pro-Russian opposition has been leveling potentially damaging accusations of improper arms sales to Georgia during that country's brief war with Russia...
With the Ukrainian government reeling from a financial crisis and internal power struggles, the country's pro-Russian opposition has been leveling potentially damaging accusations of improper arms sales to Georgia during that country's brief war with Russia.
And Russia's leaders, furious with Ukraine's president over his pro-Western leanings and vocal support of Georgia, have personally weighed in, making accusations of their own.
It may not matter that the opposition has provided no conclusive evidence of the claims, despite weeks of pronouncements that the evidence — once released — will be explosive. The claims alone, which have made headlines, have nonetheless helped to further undermine the government's authority at a time of heightened political instability, while also roiling Ukraine's already tense relationship with neighboring Russia.
At issue are accusations that the government of President Viktor A. Yushchenko, who supported Georgia during the crisis, covertly supplied it with weapons before and soon after the fighting broke out in August, and sold tanks and an antiaircraft system to the Georgians at reduced prices.
A parliamentary commission set up by Ukraine's opposition parties has been investigating the claims, which also include allegations that the president decommissioned equipment sorely needed by Ukraine's military and gave it to Georgia.
President Yushchenko has flatly denied any wrongdoing, describing the investigation as nothing more than a political show. He has indicated that Ukraine has every right to sell weapons to any country, including Georgia, that is not under international sanctions.
The opposition lawmakers say the point is not whether Ukraine had a right to sell weapons to Georgia. They say the government secretly sent the arms, bypassing disclosure rules in order to avoid antagonizing Russia. They also say that some of the proceeds of the sales have gone not to the Treasury, but to people in Mr. Yushchenko's circle, even as Ukraine's military is in dire need of funding.
"We are on the verge of a huge political scandal that could have immense political repercussions," said Vitaly I. Konovalyuk, a member of Parliament who leads the commission. Mr. Konovalyuk is from the leading opposition party, the Party of Regions, which seeks warmer ties with the Kremlin.
The charges come at a time of a deep economic downturn and political discord in Ukraine, with a seemingly intractable power struggle between President Yushchenko and his main pro-Western rival, Prime Minister Yulia V. Tymoshenko. The Parliament has often been stalemated, and President Yushchenko's popularity has plunged.
Russia's senior officials have been fueling the dispute. Russia's prime minister, Vladimir V. Putin, called the alleged weapons sales a "crime against the Russian and Ukrainian people" in a meeting with Ms. Tymoshenko in October.
The Kremlin has long opposed Mr. Yushchenko because of his pro-Western bent and was infuriated by his vocal backing of Georgia during the crisis. The leadership of both Ukraine and Georgia took power in the so-called color revolutions and both want to join NATO. Russia has vociferously opposed such a step.
Russia's president, Dmitri A. Medvedev, last month accused countries that supplied Georgia with weapons of helping to provoke the August conflict. "Unfortunately, several countries close to us participated in this," he said. "We will never forget this, and, for sure, we will consider this when formulating policy."
Last week, Gazprom, the state-owned natural gas monopoly once headed by Mr. Medvedev, announced that it might double the price of gas for Ukraine if it failed to pay off $2.4 billion in debt by Jan. 1. Two years ago, in a similar dispute, Gazprom turned off the gas to Ukraine. (Gazprom has said it will try to refrain from doing so again this time.)
Ukraine was left with huge stockpiles of weapons and military equipment after the breakup of the Soviet Union in 1991, and has relied on arms exports as a major source of income.
In 2007, Ukraine sold Georgia 74 T-72 tanks, some armored combat vehicles, a BUK M1 surface-to-air missile system, two 2S7 self-propelled artillery guns, among other weapons, according to the United Nations Register of Conventional Arms.
Ukraine's National Security and Defense Council said in a statement that the country's last shipment of military hardware arrived at the Georgian Black Sea port in Poti on Aug. 8, the day the war started, but that the cargo "did not include weaponry." Rather, the statement said, "pyrotechnical equipment" for aircraft emergency and fire prevention systems were delivered.
Though Ukraine's weapons export system has been criticized for lack of oversight, most analysts say controls over weapons sales have improved since the 1990s, when the country was a main source of weapons sent to conflict zones around the world.
President Yushchenko has said that Ukraine's arms shipments did not violate any laws and has indicated that Ukraine will continue to sell weapons to Georgia. Ukraine also sells military hardware to Russia. "Ukraine conducts military-technical cooperation with countries that are not under international restrictions," the president said this month. "We will trade with those whose relations with us correspond to our national interests."
Though its inquiry began two months ago, the opposition's parliamentary committee has not yet released a full report on its findings, despite regular statements in the Ukrainian news media from Mr. Konovalyuk about the explosiveness of the information.
Ms. Tymoshenko, who rarely hesitates to snipe at Mr. Yushchenko, has remained largely silent, and no representatives from her faction sit on Mr. Konovalyuk's commission.
If you see a spelling error on our site, select it and press Ctrl+Enter