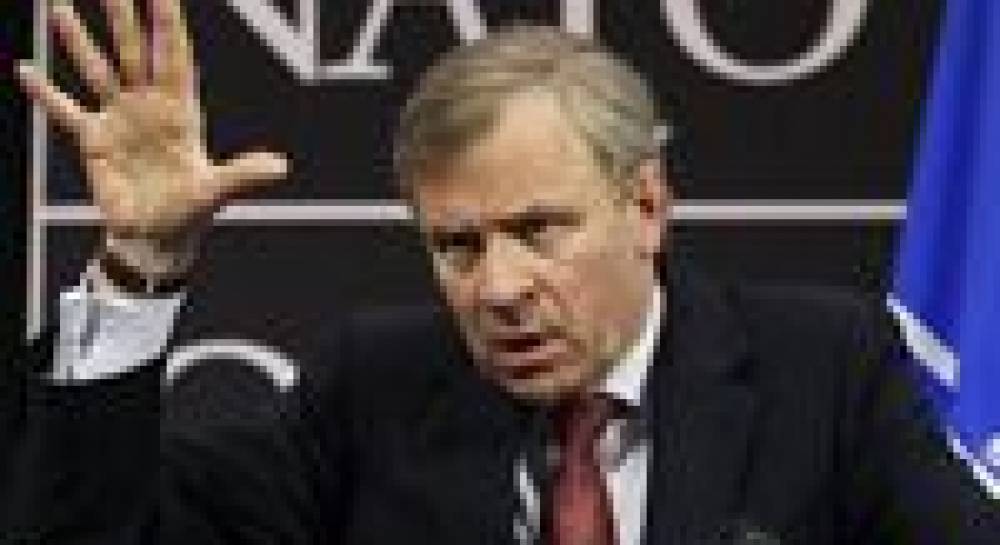 Use Her Refuse Her
The marriage between Ukraine and Nato failed to take place. Russia snickered with satisfaction that neither its nemesis, the United States, nor Nato's other member states, nor Ukraine together with its patriotic diaspora managed to pull it off...
It's regrettable that once again the marriage between Ukraine and Nato failed to take place.  Russia snickered with satisfaction that neither its nemesis, the United States, nor Nato's other member states, nor Ukraine together with its patriotic diaspora managed to pull it off. Russia won again: it decides who becomes a Nato member while Ukraine, despite its significance as the largest country in Europe and after some twenty years of nurturing democracy against great odds once again gets a harbuz, a pumpkin - Ukrainian vernacular for a marriage refusal. 
Why again? And the bureaucratese mumbo jumbo about "not meeting standards" simply doesn't stand up as others join in.  Was it because of Russia's Goliathan response to Georgia's legitimate claims to protect  its territory?   Fear of military engagement should Russia pursue other illegal land grabs like Ukraine's Crimea?  Threats of energy cut-offs to Europe? 
Are longer term aspiration with Russia—trade, space or power sharing--  influencing the two perennial opponents to Ukraine's entry reducing France and Germany to placating Russia even while the United States-- to whom they owe post War peace--supported Ukraine's entry?
Was it Ukraine's own lack of determination coupled with the disfunctionality of  President Victor Yushchenko, with  a dismal 3% rating,  that prevented the union?  
What about Ukraine's diaspora? Was its absence of pressure in Nato members' corridors of power a factor which turned former supporters, chiefly the United States, ultimately into refuseniks?
The answer lies in all of the above. 
Following Russia's over-the- top-response in Georgia this summer most members favoured Ukraine's admission.  To counter, Russia revved up its aggression. It refused to withdraw from occupied territory, threatened Ukraine with nuclear attacks, and distributed newly issues Russian passports to Ukraine's citizens. Instead of standing firm against increased bullying some Nato members caved while Ukraine's international diaspora failed to mount any significant support. The diaspora in Canada, for instance, couldn't tear itself away from summer holidays long enough to protest Russia's aggression let alone muster a vigorous political campaign to ensure Canada's ongoing support of Ukraine's membership would hold.   Elsewhere, members found little incentive to follow through when confronted with the gargantuan pressures from Russia to halt Ukraine's entry.
Furthermore, Germany and France appear to have their own agenda in appeasing Russia. Perhaps Germany's Chancellor Angela Merkel aspires to a more serious entente. Recently she's been leading Europe's rapprochement with Russia, supported by President Nicholas Sarkozy of France, clearly at Ukraine's expense. 
Sacrificing Ukraine is not a new phenomenon. Consider this.
Since Prussian Catherine the Great ascended Russia's throne in the 18th century, Germany has had hopes of ruling up to the Urals. To this end, she destroyed the Ukrainian Cossak military formation that had defended Europe from the Ottoman Empire for some three hundred years. The rest of Europe said nothing. 
After WWI when Ukraine sought recognition of its sovereignty over its newly reunited eastern and western lands, Britain's Prime Minister Lloyd George et al killed this aspiration at the Treaty of Versailles.  Ukraine was again to be divided, this time between Russia and Poland.  But  Poland was determined to Polonize it while Russia, de facto the USSR, starved some 10 million to ensure russification and Communism's dominance. 
There was more of the same after WWII when most of Ukraine was reunited but handed over to "friend and ally" Russia.  The West made little of the fact that it was Ukraine, with yet another 10 million dead, that won WWII against Hitler.  And last week the US, a staunch supporter of Ukraine backed away from seeking its Nato membership in exchange for support for the missile defense system.
Unfortunately for both Ukraine and others most attempts to appease Russia have brought agonizingly painful consequences.  In the last century alone czarist abuses precipitated the Communist era with its staggering 80 million victims in the USSR alone.  The post WWII appeasement gave the world some fifty years of the Cold War. 
Returning to Nato's latest rejection much of the blame also rests with President Yushchenko.  His pro Nato rhetoric over his four-year presidency did not transformed into action.  He failed to mount a robust public education campaign to increase support; there was no Nato ambassador in place months to the lead-up to April's critical talks in Bucharest; failed, again, to hold support among western members.  By default, the President-- directly responsible for foreign affairs under Ukraine's Constitution-- has worked Russia's rather than Ukraine's agenda.   
For over two centuries the West—ignorant and acquiescing --  has appeased Russia at the expense of Ukraine.  Each time Russia turned into a monster that ultimately turned on the West.
Following last week's meeting, Russia's Nato Ambassador snickered.  Nato, he said pomatrosyla y brosyla Ukrajinu.  In genteel vernacular is means Nato used her and refused her.  The expression is cruder in Russian.  It is obvious to all what happened, pretty rhetoric and promised of future membership in Nato notwithstanding. 
Perhaps next time Nato will get the point:  its best interests lie with Ukraine inside Nato not aligned with Russia. 
By Oksana Bashuk Hepburn
Oksana Bashuk Hepburn is a political commentator and editor of a bilingual English Ukrainian quarterly.
If you see a spelling error on our site, select it and press Ctrl+Enter