Flood in Zakarpattia: when currents change flow
23:10, 19 December 2017
4 min.
819
This winter, Ukraine's western Zakarpattia region was hit by a natural disaster, non-typical for this season. The flood saw water level in some rivers exceeding the historical maximum of 2001, while one river's current even changed the direction of its flow… While rescuers pumped water from flooded households and evacuated villagers, some local men formed into groups to protect dams from terrorist attacks.
Sharp warming and high precipitation in the upper reaches of mountain rivers were the main causes of the December flood in the region. According to experts, skies spat out some 110 millimeters of rain in just 36 hours, which is double a 10-day norm. Three flood waves that formed in the upper reaches December 9-17, were overlaid and merged into one. As a result, 221 households were flooded along with almost 2,500 hectares of farmland and 8 sections of motor roads totaling 2,000 meters, and two bridges were damaged. Rescuers had to temporarily resettle 170 residents of Vilkhivka village in Irshava district, urgently reinforce dams and pump millions of cubic meters of water. More than 500 people took part in emergency rescue and flood control operations for almost 3 days.
The main flooding was recorded on December 16, and as of December 18, flood wave level in the upper and middle reaches of local rivers was already seen declining. In the mountainous and central areas of the region, water in the Tisa River has fallen by an average of 3 meters. However, the flood wave still keeps locals anxious in the areas close to Ukraine's border.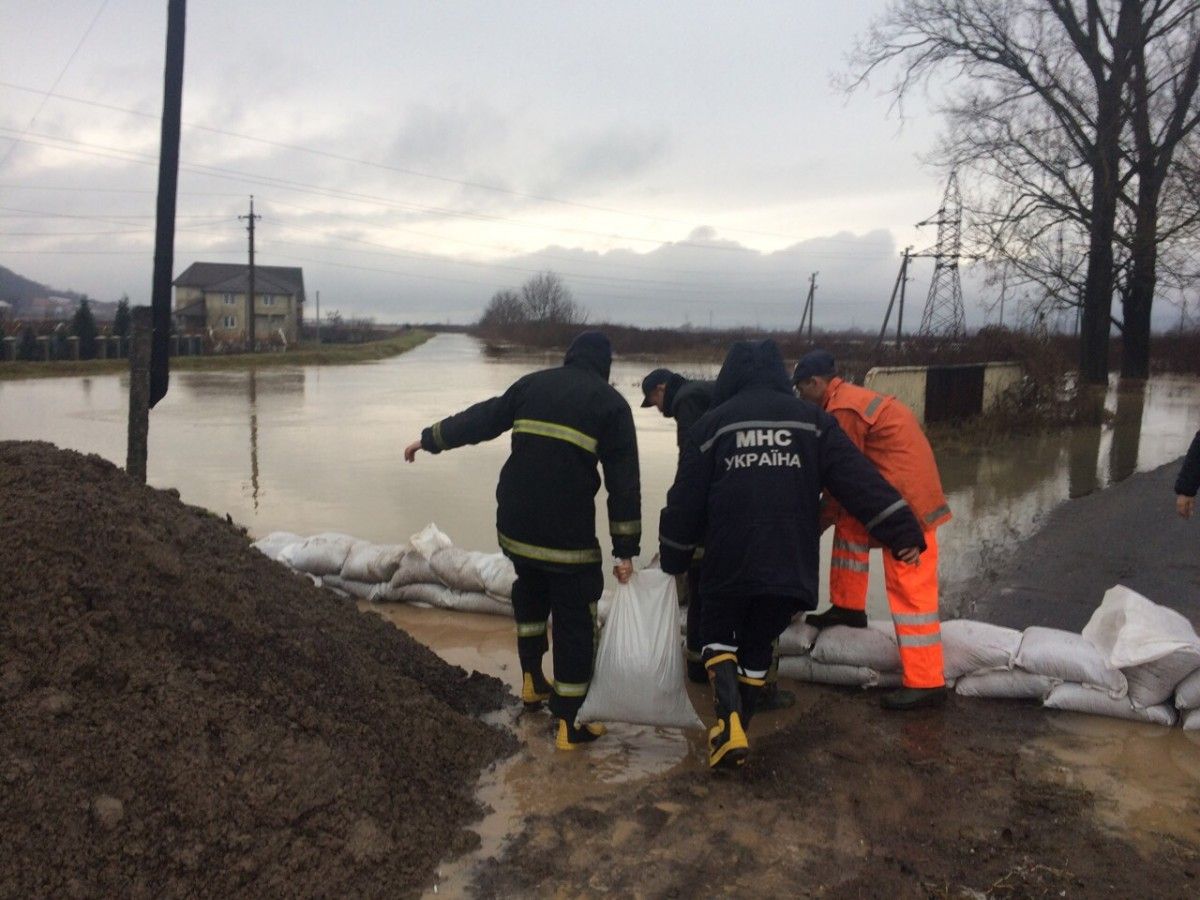 Zakarpattia emergency service
The Regional State Administration istated that in Irshava and Vynohradiv districts, verflows at dams and the flood area exceeded the level of catastrophic flood of November 1998, while water level near Chop exceeded the level of another disastrous flood of 2001. Fortunately, this time no casualties and destruction of private households were reported. But people were terrified anyway...
Vilkhivka was flooded for the first time in more than half a century.
"Just for you to get the picture: some 1,810 people live in Vilkhivka, that's 595 households, of which a third (220) was flooded this time," says Ivan Moshkola, head of the Irshava district emergency service.
At 16:00 on Dec 16, as he remembers, the Borzhava River suddenly turned its flow back.
"Borzhava could not flow into Tisa, because the latter was extremely overloaded. As a result, Borzhava suddenly and rapidly ran the opposite way, so the water did not go downstream, it turned back and, after breaking the dam, poured out into the village!" Moshkola said.
Meanwhile, the experts have their own point of view on the topic of flooding. Chief of Tysa water reserves agency Volodymyr Chipak believes that it would have been possible to avoid flooding of households had they not been built right near the rivers: "No need to be built in floodplains of rivers! Because it turns out that first they distribute the land, we build there, and then file claims without knowing, to whom they should be addressed. See, there's simply nowhere to build any hydraulic engineering facility – private land everywhere! You can't build it in the air, can you?"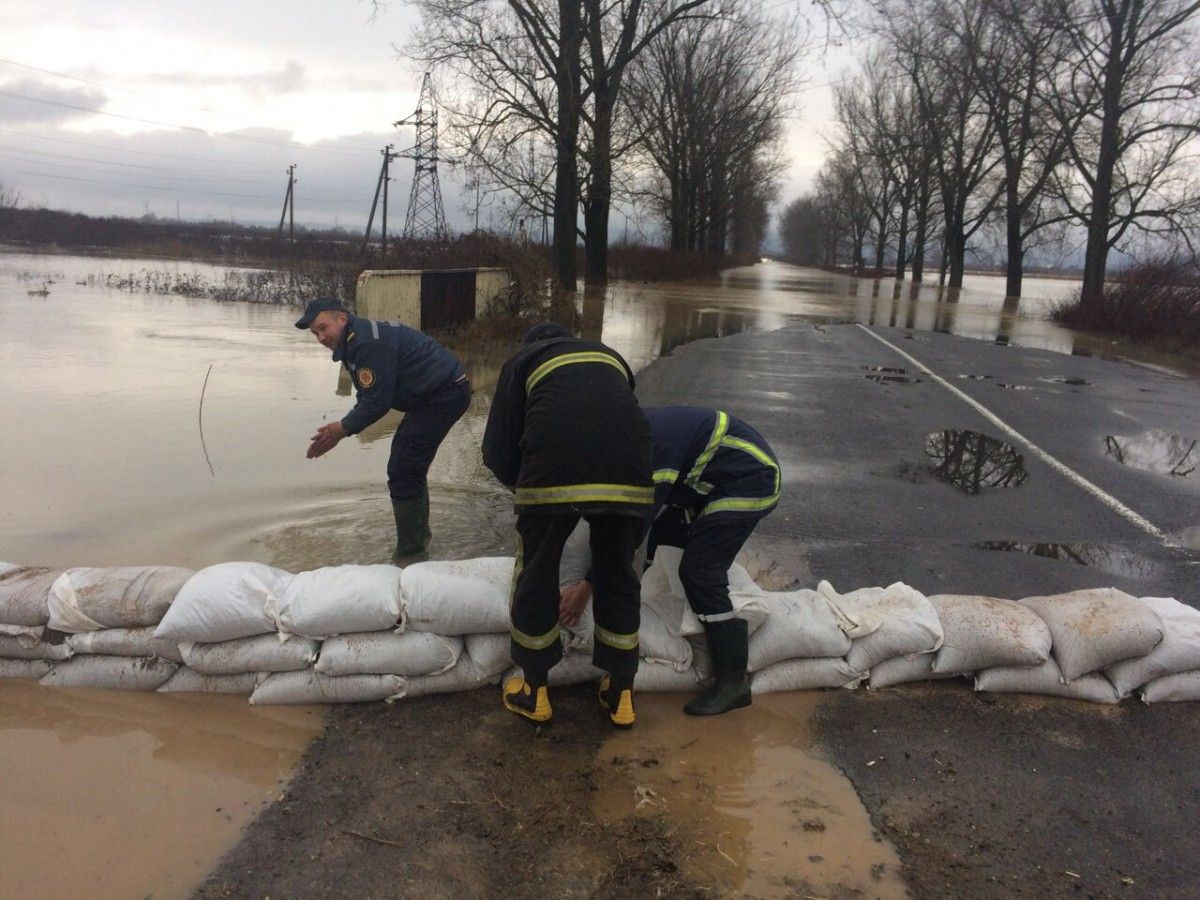 Zakarpattia emergency service
According to the spokesman for the regional administration chief, Yaroslav Halas, today special commissions aimed to assess damages are working in all affected areas. "After the damage inflicted by the flood will be documented, the Zakarpattia Regional State Administration will draft an appeal to the Prime Minister with a request to allocate funds from the reserve fund to reimburse the consequences of the flood. It may take some time, maybe, a few weeks, but fortunately, now the main thing is that there are no devastating consequences," added Halas.
The question of how to actually protect oneself against floods remains relevant. First of all, it must be noted that Zakarpattia region has always been under the threat of flooding because of its geographical location. Floods here are repeated every 3 to 8years. Therefore, planning and building up a security system is the only way out, especially considering positive practices of European countries.
For example, Hungary during the last three historical floods had no overflows at any of engineering structures, which means that expenditures from the national and EU budgets have been effective.
The flood in Zakarpattia was most devastating in November 1998. Then the water flooded 120 towns and villages, and destroyed more than 2,500 homes. Seventeen people died and more than 20,000 were evacuated. During the flood in March 2001, nine people were killed and 2,000 homes were destroyed along with over 50km of roads, 255 towns and villages were flooded, and 14,000 people were evacuated. The regional damage from a 1998 flood amounted to UAH 835 million.
In 1999, the "Flood Control Program in Zakarpattia region for 1999-2000" was adopted, and though it was only half-funded, it allowed minimizing to UAH 317 million losses from the next flood in 2001, which exceeded historical levels by its capacity. So this was a concrete result of the adopted flood control measures.
Since 2002, the "Program of integrated flood protection in the basin of the Tysa River" has been enforced in the region, but in the next three years from its start it was implemented only by 13%. In fact, only in 2006, after some adjustment, the program received full financing (UAH 70.9 million), and then each year there was a significant lack of financing.
Over the past 3 years, since the undeclared war in eastern Ukraine began, the funds, if any, are symbolic. At the same time, according to regional council, "... it should be noted that the December 2010 flood, which in its capacity was close to the historical flood of 2001, has shown that the new hydrotechnical structures constructed and reconstructed within the program do perform their protective function".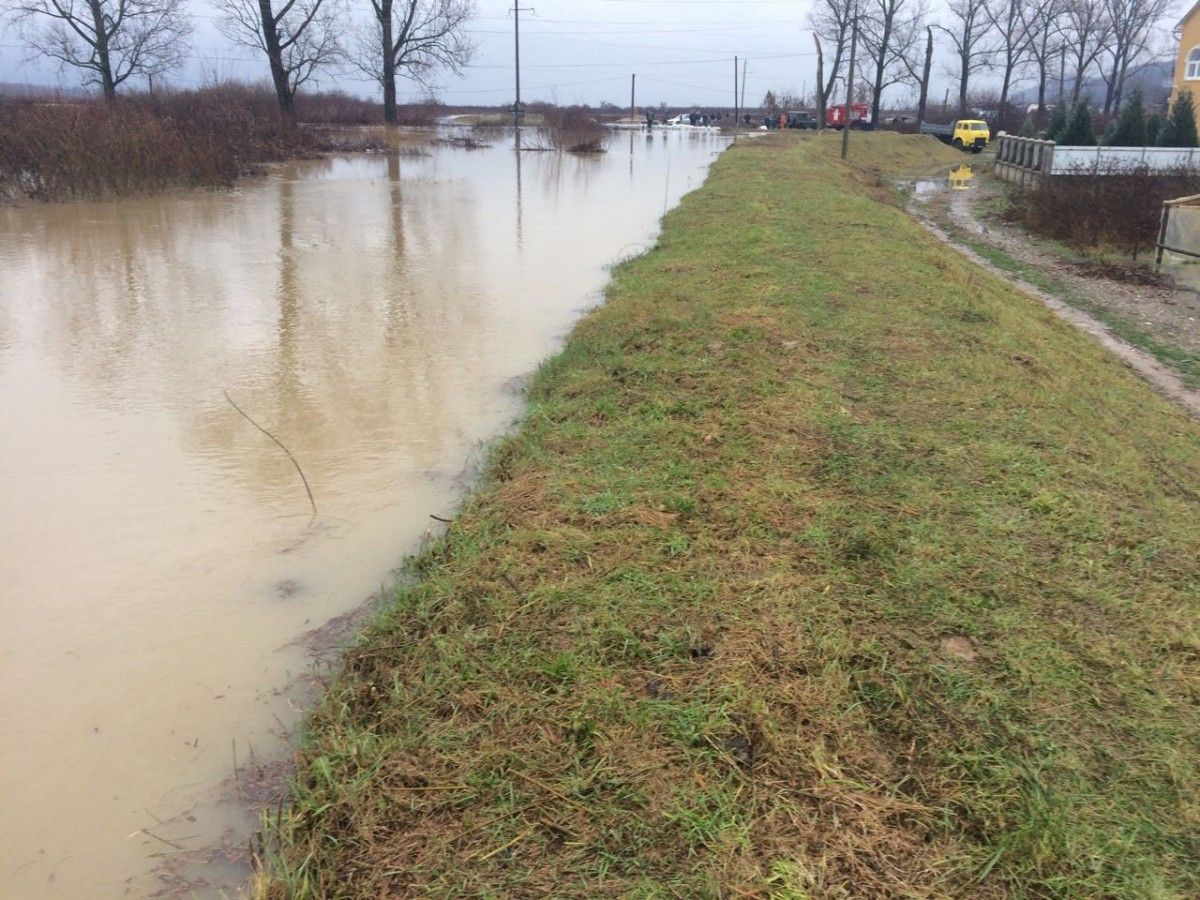 Zakarpattia emergency service
Incidentally, during the flood of 2010, losses totaled only UAH 61 million, and that's another showing fogure. That is why the regional council has repeatedly appealed to the government to restore funding but the please have fallen on deaf ears... And this is despite the fact that a lot has actually been done in Zakarpattia toward tackling floods.
For example, an early flood warning system Tysa, unique for the post-Soviet space is in place. Built in cooperation with the EU, it includes about 50 observation points. As a result, every five minutes, data on water level in the region's rivers flow to Uzhgorod. In addition, more than three dozen pumping stations have been automated almost completely, which ensures real-time control of their work, as well as the state of water locks, etc. That is, everything needed to prevent disasters seems to be out there but nothing will work out effectively in separated efforts, especially considering unfinished and abandoned engineering sites. So really, is it cheaper for the state to literally drown hundreds of millions of hryvnias instead of investing, albeit substantially, to enjoy a relative calm?
Natalia Peretvari, Zakarpattia
If you see a spelling error on our site, select it and press Ctrl+Enter