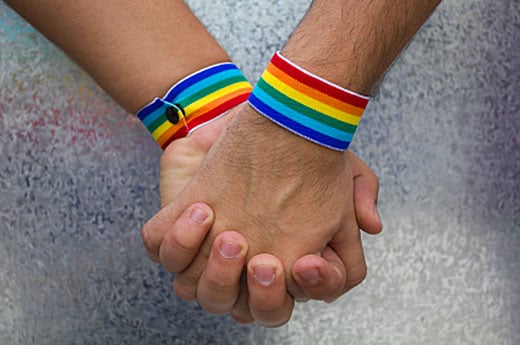 Same-sex marriage in Ukraine: accept or deny?
23:40, 14 February 2018
8 min.
2419
When on Valentine's Day the Minister of Justice personally greets Ukrainian newlyweds who decided to bond on this romantic occasion, perhaps it will also be great to recall that there are also many same-sex couples in Ukraine who, unfortunately, are deprived of the right to create a formal family.
Is a marriage possible between the two people of the same sex in the post-Soviet space? Definitely! So decided the two men from Russia who formally created a family in Denmark and confirmed their marriage certificate at the Moscow center of administrative services. However, after the newly created family shared their life-hack with others, they suddenly faced some real tough response that even forced them to flee from the country and seek happiness elsewhere.
In Ukraine, same-sex marriages are also impossible: no authority will register such an alliance. The reason lies in the domestic legislation. The Constitution of Ukraine puts it very clear that marriage is based on the voluntary consent of a man and woman (Article 51). In turn, the Ukrainian Family Code quite unequivocally determines that "marriage is a family union of a woman and man registered in the state registry of acts of civil status" (Article 21).
So it turns out that once homosexual couples with a Ukrainian passport cannot legalize their relations, they travel abroad, to the countries where same-sex marriage is allowed.
However, head of the Gay Forum of Ukraine LGBT organization Svyatoslav Sheremet says that not all countries allow two foreigners to marry. According to him, Portugal and Denmark allow such move for Ukrainians, as well as the U.S. and Canada across the Atlantic. "However, if our guys or girls apply for a refugee status abroad, marriage is also possible... For example, in the Netherlands, Belgium, Spain or France," he says.
Sheremet notes that, according to the latest estimates, about 5,000 Ukrainian citizens have sealed their same-sex marriage. Of these, the overwhelming majority are unions with foreign citizens, and only somewhere between 20-25% are purely Ukrainian couples.
Seeking a place with no discrimination
Ukrainians Katya and Vika are one of those couples, both coming from the city of Dnipro. They married three years ago, but say that they considered themselves a family long before the formal wedding. "Five years ago, Vika returned from Canada, where she'd worked for a year. We've never parted since then," Katya recalls.
The women searched online for information on how and where to formalize their relationship. At first they thought of going to Denmark, because they knew that it was easy enough for foreigners to register a marriage (on the website of the Copenhagen City Hall there is a list of paperwork needed, while even no personal presence is required when submitting documents). "However, when we were given a residence permit in Germany, the situation changed. We just needed our passports, German residence permits, birth certificates translated into German, certificates proving we were not married when applying (which we received at the Ukrainian embassy), and papers from our place of residence – that's in the city of Cologne. A month after we filed these documents, we had our wedding," says Katya.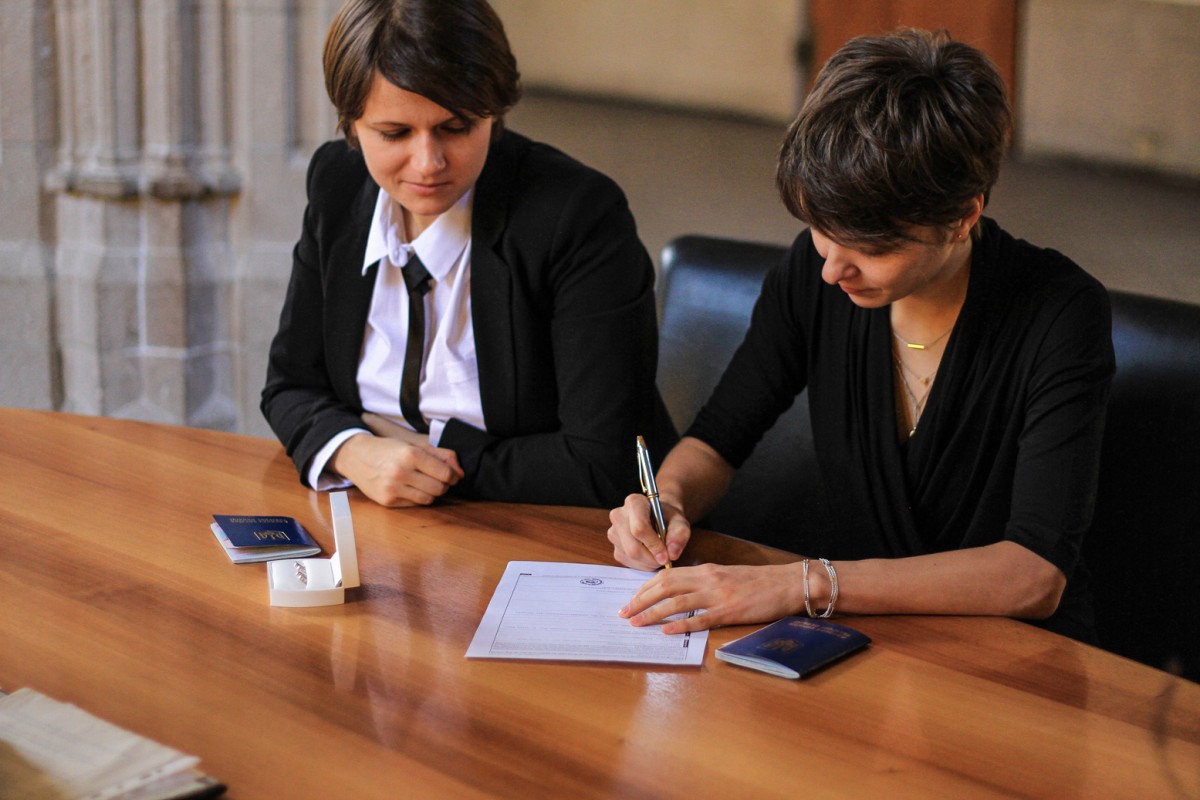 Girls are convinced that the Ukrainian society is not yet ready to calmly accept same-sex marriage / Photo from a personal archive
Formally, girls also had to formalize their relations in Germany twice. At first, it was a civil partnership since it was only on October 1, 2017, that same-sex marriage was allowed in Germany. And after this date, Katya and Vika finally became official spouses. "Our partnership did not automatically become a marriage. We had to once again apply to the local Town Hall to have our partnership transformed into marriage. To this end, we only needed our passports as all the necessary documents had been provided earlier. The new certificate of marriage has a back date in it, indicating the initial date of our partnership registration," says Katya.
They were married three years ago, but they say that they have considered themselves a family long before the wedding / Photo from the personal archive.
Now the girls continue to live in Germany. Vika is a programmer at an IT company, while Katya combines work and study in the same field - software development. They have no desire to return to their homeland. One of the reasons is the Ukrainian laws, which still don't provide for the possibility for them to have the same rights as heterosexual couples. In addition, the girls are convinced that the Ukrainian society is not yet ready to calmly accept same-sex marriages. They also want to live where there is no discrimination and hatred, where it is easy to create a family where two moms or two dads is a normal thing.
Marriage is about you, not about the society to recognize it
Actually, in order for same-sex couples to get a clue how to seal an official marriage abroad, they don't necessarily have to process hundreds of internet pages. According to Svyatoslav Sheremet, today there is enough of various agencies (mostly foreign ones) specializing in providing assistance on such issues. "You pay money – and you get instruction and assistance at all stages of marriage registration. No problem here," he says.
A homosexual couple - Dmytro from Kherson region and Dmytro from Luhansk region – have gone precisely this path two years ago when they used the services of such agency and got married in Denmark.
Now spouses, the two guys met thirteen years ago, and a year later they started sharing a home. "Immediately, on the first day, when I met Dima, I asked him to marry me. And ten years later, on our anniversary, we did get married," our interlocutor recalls.
According to him, despite such a long relationship, until now not all of their relatives are aware that they are actually a family.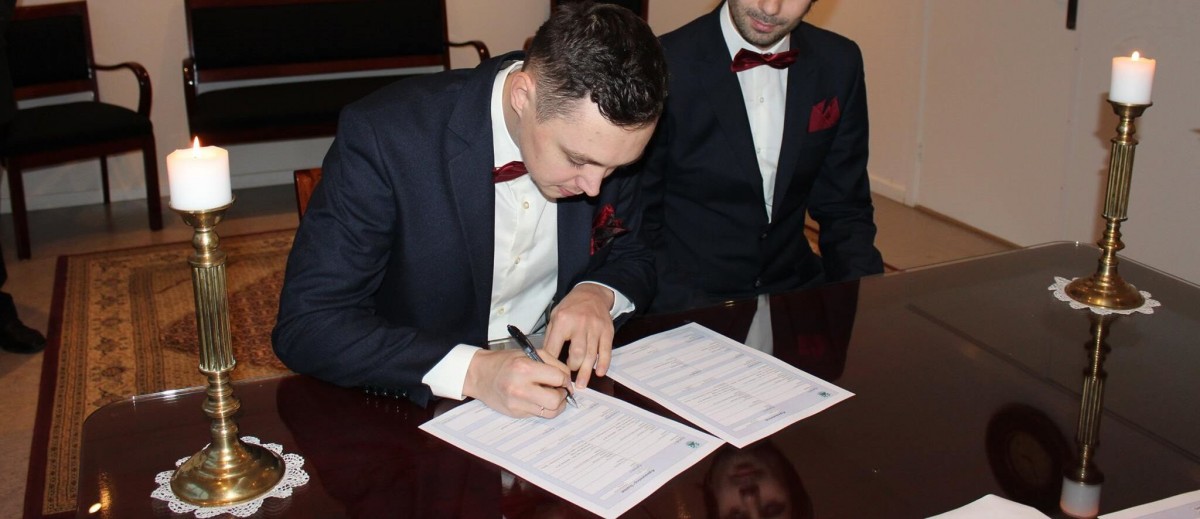 The guys were worried whether their Ukrainian citizenship would hinder their marriage registration, but there was no problem with that / Photo from Dmytro's personal archive
Dmytro says that to get married in Denmark they needed very few documents (an ID and a document proving they were not married when they applied – all formally translated into English). Both guys were worried about whether their Ukrainian citizenship would hinder their marriage registration, but there was no problem with that. "So, when everyone has already been done, we realized that it was possible to do all of this on our own. We even advised other couples later," he notes.
Spouses have been living in Kyiv for a long time, working in the IT sphere. However, here their marriage is not recognized. "Apparently, we need to file a suit and seek in court that our marriage be recognized. But I don't intend to go to court - we did it not for Ukraine, not for some bonuses or activism, but for ourselves," Dmytro said.
"And what if, God forbid, someone needs to get treatment in a hospital, and the other will not even be admitted to him?" we ask.
"Indeed, on the one hand, this is discrimination. But, on the other hand, this is Ukraine - givе someone a hundred hryvnias, and they'll let you through," replies Dmytro.
Not recognizing foreigners, turning a blind eye to Ukrainians
Svyatoslav Sheremet points out that Ukraine acknowledges by default all marriages legally concluded in another jurisdiction. Both heterosexual and same-sex marriages, that is. The only proviso is that this applies to persons who have no Ukrainian citizenship. "That is, Sir Elton John and David Furnish, while in Ukraine (they visited Ukraine more than twice) are legitimate spouses as they are in the UK," he explains.
The situation is similar as regards unions of a Ukrainian citizen and foreigner, since the norms of the Family Code of Ukraine, including on marriage, "as a voluntary union of a man and woman" can only apply to a citizen of Ukraine. "That is, firstly, our citizen must be a man or a woman, and, secondly, their marriage must be a voluntary act. Our Family Code cannot be applied to a person with non-Ukrainian citizenship a priori because Ukrainian laws in this case concern Ukrainians, not Germans, Brits or Portuguese living within their jurisdictions," Sheremet emphasizes.
"In this situation it is important that the marriage be recognized abroad, not here," Sheremet notes.
At the same time, the situation with the same-sex marriages between two Ukrainians concluded abroad is extremely complicated, unfortunately. Director of the Human Rights Bureau "WE'RE!" NGO Volodymyr Kosenko notes that, in addition to the stated norms of the Constitution and Family Code, there is also Law of Ukraine "On International Private Law ". It says that a marriage between Ukrainians concluded abroad is recognized in our country if there are no grounds to consider it invalid (Part 1, Article 58). The grounds that prevent marriage are stipulated in the Family Code (for example, if someone from the newly married couple is under the age of 18, the Ukrainian laws don't recognize such marriage). But since there is no information in the Code that marriage between persons of the same sex can be grounds for its invalidity, there is a point of view that Ukraine recognizes same-sex marriages concluded abroad. As they say, if it's not forbidden, it's allowed.
"Although we are still not aware of cases where same-sex couples who have gotten married in other countries had real precedents for having their marriage recognized in specific cases with legal consequences in the territory of Ukraine," Kosenko says.
According to him, there were no precedents in Ukraine of even "accidental" recognition of same-sex marriage, similar to the case in Moscow.
On the other hand, Kosenko notes that Law "On Private International Law" also contains a number of articles that formally don't allow same-sex Ukrainian couples to officially get married. For example, it's about the provision saying that one cannot apply norms incompatible with the foundations of the legal order of Ukraine.
Another two unpleasant articles of the aforementioned legislative act say that a Ukrainian, while abroad, must also follow the laws of Ukraine (Part 1, Article 16), while the right to marriage "is determined by the personal law of each of the persons who applied for a marriage" (Article 55). "Therefore, one can come to a disappointing conclusion that two citizens of Ukraine while getting married abroad must still be guided by the norms of the Family Code of Ukraine, which, in turn, does not provide for the possibility of concluding a same-sex marriage," said Volodymyr Kosenko.
In turn, Svyatoslav Sheremet is convinced that in the issue of recognition of same-sex marriages by Ukraine's registry offices, the practical side of the matter should be taken into account – what can be the legal manifestation of such recognition? "I am aware of the case where a Ukrainian guy married some high-profile man in Sweden, changed his last name for the Swedish one, came here with a paper confirming marriage there and on that basis changed his name in his Ukrainian IDs by the same procedure as if he was changing it to the last name of his Ukrainian wife," Sheremet says.
Head in sand won't help
The logic of the European legal field requires and demands that any European country recognize at least in some form partner-family relations of same-sex couples. In this regard, according to Sheremet, in the case of Ukraine, an institute of registered civil partnership should appear in the near future, apparently. "Because the state simply cannot forever ignore those several hundred thousand same-sex couples, one of whom is my partner and I. We have been in a stable relationship for 11 years already," he says.
Svyatoslav Sheremet's enthusiasm is not generally shared. Timur Levchuk, executive director of LGBT organization "Point of Support", recalls that the norm on legalization of civil partnership for same-sex couples was stipulated by the "National Human Rights Strategy until 2020". The activist recalls the process of how the strategy was drafted and tells how the working group was set up with representatives of the civil sector, noting how much effort was put into having that norm about civil partnership appear in the Strategy. "Of course, everyone had the understanding that in 2017 and in 2018 Ukraine will not fulfill this norm. But it was at least a starting point," says Levchuk.
Unfortunately, at the moment, the report on the implementation of the action plan of strategy implementation says that the norm cannot be implemented.
The Ministry of Justice, referring to the numerous appeals from the regional councils, the Council of Churches, and other religious organizations, states: "Having considered all these appeals, considering their large number, and having analyzed the Constitution of Ukraine, international treaties of Ukraine, and other relevant legislation, we believe that subparagraph 6 of paragraph 105 of the Action Plan [the development and submission to the Government of a draft law on the legalization of a registered civil partnership in Ukraine] cannot be implemented."
Timur Levchuk is convinced that for LGBT couples who did not leave Ukraine, this provision in the Strategy was a kind of a last hope. And now there is no such hope anymore.
Iryna Shevchenko
If you see a spelling error on our site, select it and press Ctrl+Enter