'It's not me consul tried to slap in face, but Ukrainian state'
12:59, 14.07.2009
6 min.
5554
"A diplomat stretched his lips with his fingers and started making faces. Then hit the glass partition in front of my face. A guard hurried into the room… "We ask questions here!"...
"A diplomat stretched his lips with his fingers and started making faces. Then hit the glass partition in front of my face. A guard hurried into the room… "We ask questions here!" An incident in the Consulate of Greece in Kyiv.
Valentyna Maley, a Ukrainian citizen, has been denied a Greek visa in the Consulate of Greece in Kyiv. Nothing special one might say, though it's not a  common practice any more as the number of people going to Europe to find a job has dropped dramatically due to the global financial crisis and growing unemployment. With decreasing tourist flows, most countries prefer not to throw unnecessary obstacles in the way of Ukraine tourists today.
But not only was Valentyna Maley unfortunate to be denied a visa… Head of the Consulate of Greece Dimitrios Michalopoulos chose to resort to some really extreme 'interviewing techniques', which might be classified as offense by the Ministry of Foreign Affairs of Greece.
As the news of the incident reached the press  we decided to contact all the parties involved.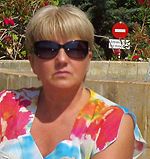 Valentyna Maley
"I have been to Greece several times", said Valentyna Maley. "I went there for a holiday with my family, staying normally at four- or five-star hotels of Crete, Zakynthos, and Peloponnese. This time I filed the required documents – through the Mouzenidis Travel tour operator – for a one-week Chalkidiki tour. I paid 1300 Euros for a hotel room and a ticket. I filed the documents to the Embassy as I normally do. But two days before the trip, I received a call from the tour operator who told me I had been denied a visa due to 'suspiciously frequent visits to Greece'. I called the Consulate and was told to come the following day at 10.30 for an interview with the consul who would check my documents. I arrived at the appointed time… The consul was talking to a lady, a Ukrainian clerk I believe, behind the glass partition. The latter told me to give her the documents. I handed them through the window. At that moment I noticed the council's hands were trembling, he nervously grabbed my documents and started going through them without actually looking. I kept silent waiting for him to finish. Suddenly, the consul started yelling something in Greek, it seemed he was addressing me, but the lady did not translate, she looked nervously at him and slid aside in her seat. But she didn't look surprised, not in the least".
"I'm going for a holiday to Chalkidiki, I have booked a hotel room, my family went there several days ago… Is something wrong?", I started".
"Keep silent, lady!", the Ukrainian clerk interrupted me. "We ask questions here! Which of your family members are currently in Greece?"
"My daughter, son-in-law and their child", I said.
"Then it's not a tourist visa you need…", the Ukrainian lady obviously translated the consul's words. "Your daughter should send you an invitation".
"You don't understand", I said. "They are tourists, just like me… How can they send me an invitation taking into account they are citizens of Ukraine, having come to Greece on a holiday?"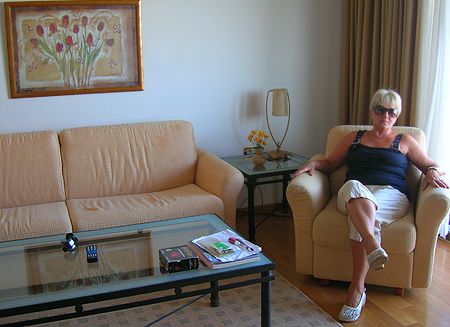 Valentyna Maley at the Aldemar Hotel
"I told you to keep silent!", interrupted the Ukrainian clerk again.
"The consul grabbed my passport and slammed it against the table, yelling something in Greece. Then he hit the table with his hand… And then I just couldn't believe my eyes: he put his fingers into his mouth, stretched his lips and his eyes like children do and started making faces… Then he hit the glass partition in front of my face several times as if trying to slap me in the face and threw my documents at me…
"I couldn't move. I was so shocked I couldn't say a word… Having heard all the yelling and screaming, some clerk, probably a security guard, ran into the room and looked at the consul rather nervously. I took my passport and left".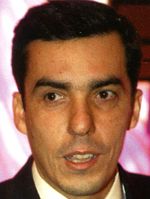 Dimitrios Michalopoulos

"Did you understand what the consul said?"
"No. He was yelling in Greek… But I'm an experienced teacher and I'm absolutely sure that judging by his violent body language and facial expression, his words were far from neutral…"
"What do you think all the making faces was supposed to mean?"
"I have no idea. He must have thought I was some poor woman going to Greece to find a job. That's probably the way he talks to them, and he considered me to be one of them…"
"Were there any witnesses of this conversation?"
"I'm telling you, there was this Ukrainian clerk and then the Greek clerk. I do hope there are video cameras in the consulate and the consul's superiors will see the recording. I'm sure they'll be as shocked as I was".
"Did they explain to you what 'too frequent visits' were supposed to mean?"
"No… I was going to tell them I went to Greece on holidays quite often, my latest visit was in May. But nobody listened to me… It's actually not about the visa… I can understand if the consulate had no time to check my last visit to Greece – it's a tourist season, there are great many people going to Greece now. And it's not a great loss for me either… What was really shocking was the consul's inadequate conduct. It was not me he tried to slap in the face, but my country! Can't my government protect me from such abusive actions?"
According to our information, after spreading of information of this incident, the Consul was ready to issue a visa to you...?
"Whether the matter is in visa? I do not need "bribes" for silence, I just want civilized, European attitude towards to my state!"
We tried to contact Consul Dimitrios Mikhalopoulos on the phone. A clerk told us she knew about the incident but the consul would not comment on it "until the Ambassador arrived" (the Greek Ambassador was out of the country at that time).
The infamous Greek consulate in Ukraine has had its poor reputation for years. People going to Greece to get a job have told us they had to pay thousands of Euros to companies sending workforce to Greece for a visa. Ex-consul in Ukraine Konstantin Bibikos was charged with bribery and corruption and sentenced to 21 years in jail. His accomplices – a Greek clerk and a citizen of Ukraine working for a Kyiv-based tour operator – received a 19-year sentence and a 9-year sentence respectively. The Ministry of Foreign Affairs of Greece had to start rotation of its diplomats in Ukraine. But apparently the problem has not been solved yet…
Unfortunately, we do not know the biography of present Consul Dimitrios Michalopoulos. But a person with the same name at the post of Greek Consul discredited himself  in Macedonia because of his "brutality". Macedonian mass media reported about "slighting, uncivilized, brutal attitude" towards receiving state and "wilfulness" of Consul of the Embassy of Greece to Skopje Dimitrios Michalopoulos. According to data of "West" Macedonian newspaper, he receives a reputation of "conflict person" in Greek Foreign Affairs Ministry.
We are less than happy to write about this incident… We really love Greece. And we have to admit we go to this amazing country a little "too frequently" too… We like the slow pace of the local life and its timeless philosophy… "Sega-sega (which  means "slow down")", they say when somebody is fussing about some little things.
As we interviewed the parties involved in the incident and collected comments we realized how awkward and unnatural the situation was… We understood from the phone conversation with the consulate clerk that Valentyna Maley must have been mistaken for another woman trying to get a job in Greece. We could easily imagine thousands of poor Ukrainian women, totally worthless and defenseless in the consul's eyes, ready to endure any humiliation to receive the precious visa. They will endure it all – anger, bad temper, hysterics, even offensive body language – they won't complain no matter what since their petty career depends solely on the almighty official.
Comments of the Ministry of Foreign Affairs of UkraineThe press service of the Foreign Ministry of Ukraine disclosed to UNIAN that Director of Consular Service Department Sergiy Pogoreltzev said that this case will not be left without a reaction from the side of the Foreign Ministry, so representatives of the Foreign Ministry promised to study the situation and take necessary measures.
Representatives of the Embassy of Greece to Ukraine disclosed to UNIAN that the Ambassador is not ready to give comments in the written form now, because he carried out investigation of the incident – he needs 2-3 days for this. Valentyna Maley is invited for meeting with the Ambassador.
Comments of a lawyer
Lawyer Andriy Ginkul, from Navigator company, which works in tourism sphere said us the following:
- Estimating an incident, which took place in the Embassy of Greece from judicial point of view, it is necessary to mention two main moments. First of all, it is necessary to define where are the actions of the Consul as an official and where are the action of the Consul as a person. In both cases citizen Valentyna Maley has a right to lodge a complaint against decision of the official and behaviour of citizen of Greece Dimitrios Michalopoulos. The difference is in procedure of lodging a complain. The decision of the Consular can be appealed: in the Embassy of Greece to Ukraine ( before Ambassador), and in the Foreign Affairs Ministry of Ukraine, and Foreign Affairs Ministry of Greece – in the special department - Complaints, Greek and Foreign Citizen Accidents, Lost or Stolen Traveling Documents, Search for Foreign Persons in Greece, tel.: +12103682357, +12103682358
As a result it is possible to reach a decision on issuing a visa. The behaviour of citizen of Greece Dimitrios Michalopoulos can be of appeal in the Embassy of Greece to Ukraine (before the Ambassador), Foreign Ministry of Ukraine and Foreign Ministry of Greece (the same departments, the behavior can also be a subject of civil action on protection of honour and dignity and compensation for obscene and offensive behaviour. As a rule an action is brought according to location of defendant, in this case at the territory of Greece. As a result of considering of the suit it is possible to receive a compensation for moral damage.
By Volodymyr Hetman, Anna Yashchenko