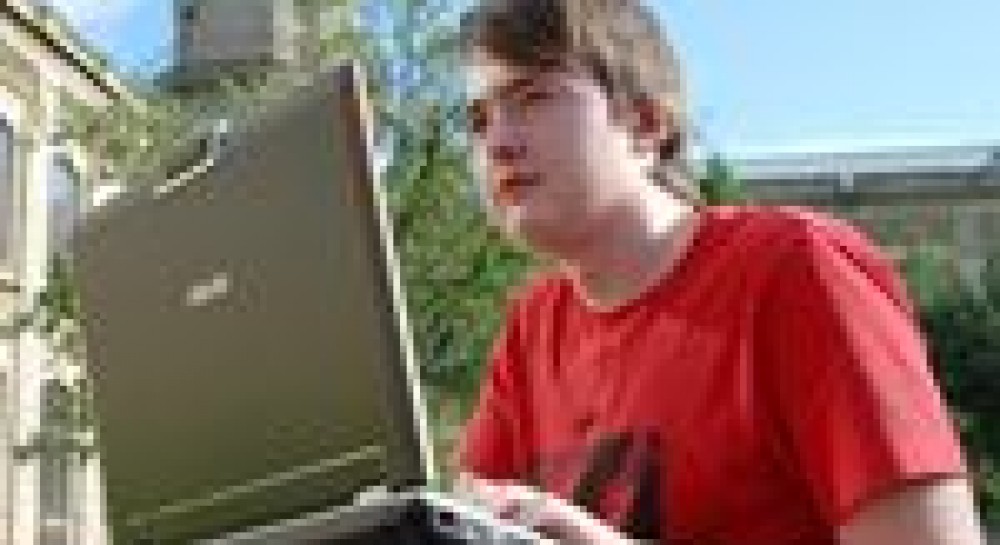 Story about Ukrainian student who sells virtual diamonds
It is difficult to deny that social networks are kitsch and reality of modern life and society. Refusing to register in a social project, we may easily remember two or...
It is difficult to deny that social networks are kitsch and reality of modern life and society. Refusing to register in a social project, we may easily remember two or three friends (and even three tens of friends) who hang on-line. We do not need to go far to find a first love, class-mates and course-mates we studied with, colleagues we used to work with and just people we met some time, or just look for contacts. Networks carry away. Sometimes we feel that networks make us bored, as they are single-type, predictable and stable.
Recently I have got to know that an eighteen-year-old student works at new international social network, Feelfame, which does not copy something like Facebook but offers new topics and targets on creative personalities. Just imagine that an English poet places his poem in the network, then the poem inspires an American composer for creating new melodies and a Canadian producer buys a future hit for his group looking for a new vocalist for his new project. All these we may do inside our offices or homes. The student's idea for financing the international internet project is also curious.
The UNIAN's representatives held the interview with Roman Puhalsky, author of the project, and  got to know more about the future global social network.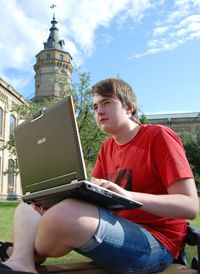 Roman, social networks are the basis for looking for old friends, communication and new contacts. What will differ significantly your project from others?
For the time being, all social networks are mainly used for communication. In fact, social networks provide much more possibilities. Our project targets on creative people who will be able to place their works in the network. An artist will have a chance to place photos of his pictures there and a dancer or singer will load videos of their performances. For example, a music group is looking for a guitarist. It is easy with the project, as they may just choose an appropriate candidate in the network. Search option is expected to be very easy and detailed with the possibility to choose a city or even street. Thus, a poet or musician will not face a distance problem in creating new hits any longer.
We also consider the possibility of competitions in each sector. We will have a unique chance to trace the development of a gifted person, starting with his first steps and up to the public recognition and adoration. So, it is naturally if a gifted person will be further promoted on TV. Thus, the idea of a same-name thematic TV channel occurred to me.
Screen rounds and various castings performed by producers in different cities and countries are difficult to reach for many people as physically as due to other reasons. But now all a person needs to become known is an access to Internet. Professional producers, filmmakers and clipmakers will have a wonderful possibility to look for group members, soloists for their new projects.
How was the idea coined?
I had an inspiration in December. I was talking with my friend who had troubles with searching for a new guitarist. I concluded that a social network would become a perfect solution, as it can be easily integrated. We united the experienced, brilliant and like-minded programmers willing to design something large-scale and global.
Who chose the name for the social network?
Currently, many business-like people register all domain names which sound perfect or even good and earn money. All perfect sounding domain names cost a fortune. Thus, I faced a difficult task: the domain name of my project should be easy to catch by all users.
Next three days I analysed over two thousand of possible word-combinations. First, I wrote out all words which people may associate with art. All the word-combinations were taken up. Then I looked for synonyms for the words and finally found the free domain www.feelfame.com. It was the fortune which smiled on me!
You do things in a big way, namely make the project international. What about the countries of CIS to begin with?
Start in the West will make the globalization of my project easy. Internet technologies in the countries of CIS are about ten years behind the western countries. Odnoklassniki.ru and Vkontakte.ru social networks which are very famous nowadays were designed by type of the western projects. Vkontakte.ru is the copy of Facebook, coloured and designed identically.
What will be the project language?
The network will operate in two languages: English and Russian. The English language is universal for the western countries, whereas Russian variant will serve for the countries of CIS and the Baltic states. Further, we plan to add other languages depending on the project popularity with a specific country.
How will you attract users?
To make the project popular, an earnest promotion is required. We concluded an initial agreement with one of the famous American producers whose name and names of his colleagues (quite famous people) will certainly promote the project substantially.
What is the budget of the project?
Technical aspect of the project amounts to USD 500 thousand. Further investments will depend on the quality and scale of my project. We may follow two ways: add some languages and interesting options and stop, or constantly work on development which certainly requires more funds.
Tomorrow is with IT technologies. Bill Gates would never buy shares of Facebook, if he put in doubt the success of the project. Did you try to cooperate with the Ukrainian businessmen?
The western countries understood the importance of IT technologies about ten years ago. I tried to look for a Ukrainian investor but became certain that 90% of businessmen in Ukraine did not realise the huge possibilities of IT technologies. And I rejected this idea. Additionally, upcoming presidential elections and current financial situation do not inspire with hopes.
I also contacted EastOneGroup International Investment Advisory Group headed by Viktor Pinchuk, as I took into consideration his deep interest in modern technologies and art. Apparently, Viktor Pinchuk could not even hear about my project "thanks to" people surrounding him. After several vain attempts to find an investor I decided to raise start-up capital on my own.
Therefore, I launched Page of names project. 272 creative personalities from all over the world are expected to participate in the project. Buying the virtual diamonds, they may use an advertising space within next ten years. Their pictures and names shall be placed on the front page of 'Page of names'. So, each user of Page of names project can click on a "star's" picture and link with his personal Internet profile. Feelfame project is targeted on the creative audience, therefore, funds for my project development I will raise there.
As my project is international, people from all over the world are expected to participate. For example, the Italian singers will have a chance to meet their Ukrainian colleagues and vice versa. I believe that the world will hear about new extraordinary duets shortly due to such kind of communication.
Are there any Ukrainian show-business representatives in your project?
Currently, the Ukrainian singer Masha Fokina takes part in the project. One of her secret admirers presented her a precious stone. She was very delighted and wished me the successful project development.
UNIAN contacted some people who deal with the tendencies of the social networks development and got to know more about the perspectives of this field in Ukraine.
Sergey Blazhko, HR Manager at Soyuz Victan Ltd.:
Did anybody hear about Odnoklassniki.ru in 2005?
Social networks are very interesting from the advertising point of view. Every day millions of people use such resources. Using the targeting scheme, you may always determine your target audience on the geographical or demographical basis, whatever.
Social networks are very popular in Ukraine, but I doubt that new projects will succeed rapidly. Odnoklassniki.ru and Vkontakte.ru – large-scale Russian social networks – have just absorbed the market segment. Owners of new social networks have to offer something more interesting and tempting. But things happen. Did anybody hear about Odnoklassniki.ru in 2005?
It is necessary to understand that social networks all over the world make profit from pre-paid services and finally from banner ads. Pre-paid services are not popular with the Ukrainian users due to both mental and economical reasons.
Svetlana Kalinina, Managing Partner of Kwendi Media Audit:
Social networks are required to be in abundance
There are plenty of social networks, and it must be like that. A number of social roles require the same number of social networks, as they are keeping friends, colleagues and like-minded people in touch. Further audience segmentation, single-purpose networks development and, certainly, social graphs are in the near future.
Social networks provide advertisers with new possibilities to work with a specific number of the target audience which demand new approaches and skills, but not TV rolls, makeups and even banner ads. Optionally, you may design your own network and become the primary sponsor of a current social network. The main condition is open and constructive dialog with users.
Anna Yashchenko