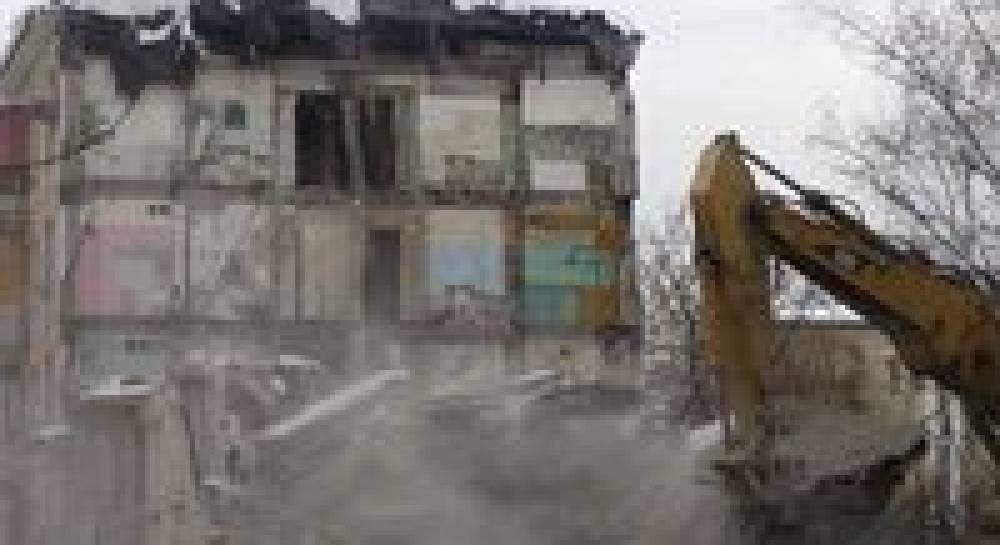 The khrushchovkas
14:23, 04 February 2007
8 min.
1457
We sincerely believed the party that promised that our generation "will soon build communism" and thus thought the khrushchovkas with their shared bathrooms were only temporary abodes.
Housing problems and food deficits plagued average Soviet citizens for years. They learned to live humbly with their legs half bent in a Neanderthal manner. Officials were always superior and could decide who would get a free apartment or a food ration by writing secret letters to influential people.
The Soviet people experienced two great resettlements. After the 1917 October Revolution those living in basements and barracks moved to lavish bourgeois apartments, forcing their owners to share excess square meters.
The noisy halls of such flats stank of cats and shared washtubs; psychological conflicts roared in shared kitchens and near shared bathrooms and toilets.
The devastating war with Hitler`s Germany deprived tens of millions of people of their homes. Stalin seemed not to care that one third of the population of Stalingrad was still living in huts and cabins in 1950. Unlike Stalin, Nikita Khrushchev wished his compatriots to have better.
Massive construction lasted from the 1950s to the 1970s. Herds of four- and five-storied paneled houses with black roofs filled my city.
These ugly boxes smelled of fresh paint and allured all of us with their private coziness and festive gas fire stoves. The people dubbed these twin houses the khrushchovkas to perpetuate the name of their creator.
We sincerely believed the party that promised that our generation "will soon build communism" and thus thought the khrushchovkas with their shared bathrooms were only temporary abodes.
                                A PRIVILEGED TENANT
In the summer of 1964, almost all the people in my house were given new flats, so we had a merry group housewarming.
I saw men carry an oak cupboard, a big wardrobe and a leather sofa, things that obviously belonged to a privileged member of the Communist Party.
Then I heard curses on the cramped narrow staircase of the house with no lift: the carriers were carrying a chest of drawers and a nickel-plated bed with a spring mattress.
We all admired a sofa with attached tables and a wardrobe with a splendid bluish mirror. We had two bars of soap in our bags: brown laundry soap and a pale piece of wild strawberry soap. We also brought tin cans with sunflower oil, kettles and brass saucepans, stools and Soviet fiber suitcases.
There were three kinds of queues for those wishing to have a new flat: ordinary, privileged and extra privileged. I was in the second group as a young specialist.
My wife and I were standing in front of our new house, looking pretty poor: we had only a few bundles of books, two suitcases with clothes, a table, two chairs and two convertible armchairs.
                      NEW SOVIET LIFESTYLE EVOLUTION
A new Soviet lifestyle gradually penetrated these flats. We left our pre-Revolutionary trunks, rich fur coats, samovars, leaden stewing dishes and grandmother`s icons in the past.
The Soviet lifestyle of the khrushchovkas was about families consisting of parents, their children and parents and living in a cramped flat with a fabric kitchen lamp.
We covered our bookshelves and commodes with starched napkins and decorated them with porcelain ballerinas and papier mache coin banks shaped like cats. We kept buttons and gilded broaches in metal tea boxes.
In our corridors, there were usually fleets of Soviet footwear: women`s shoes on the so-called Viennese heel, men`s boots with buttons, children`s and grandmother`s felt boots with galoshes. There were also hats with earflaps and velvet or felt hats for women, "crewcut" fur coats, and gabardine raincoats.
            THE COMMUNIST PARTY AND JESUS CHRIST
The Soviet Union`s anemic production resulted in permanent deficits. However, the State Supplies Committee distributed goods so impractically that storehouses throughout the country were full of useless junk. The planned economy became an invincible chaos swarming with vices.
The government authorized the Department to Prevent Thefts of State Socialist Property (DPTSSP) to eradicate these immoral practices. The ideological department of the Communist Party invented ten rules for communism builders to help the DPTSSP, which proved to have been plagiarized from Jesus Christ`s commandments.
However, the vices flourished and helped make profits, which was totally unacceptable and taboo. Our people gave witty nicknames to those "vicious guys."
                                        DEFICIT KING
Not only did he bring his luxurious leather sofa to our house but also his experience of covert speculation.
Before moving to our khrushchovka, he was a big boss in the supplies department and lived in a house whose hall was decorated with chandeliers shaped like bears and had a red carpet on its parquet.
The DPTSSP threw him down from Olympus and forced him to move to our poor house but did not confiscate his property. When he was still on the top, he was stealing things enthusiastically. Later, he was only helping his friends.
Deficit King was a very popular man. He could help buy refrigerators, tape recorders and television sets. His former colleagues told him beforehand where it would be possible to purchase furniture.
He knew phone numbers to dial to buy a washing machine or a carpet. He modestly called his services a fee.
                                             FEEDER
Feeder went to Moscow for work to stand in lines to buy smoked sausage and other rare dainties. One could, of course, buy sausage in provincial shops but it was made of some parts of animals, paper and starch because there was not enough meat to produce food of high quality.
The government decided that at least the capital of the Soviet Union, Moscow, should display socialist prosperity and abundance. Residents of the Soviet republics stormed Moscow`s shops and then went back home in the so-called sausage trains.
Feeder used all his physical strength to drag his forty-kilogram sack up to the fifth floor of our khrushchovka. Then he immediately phoned his customers to say he had brought "something delicious" and hear their reply, "You are my feeder, I owe you for your service." He also earned much money for his hard work.
           SELLER OF SPIDER WEBS
Shop assistants in department stores selling products of mass consumption were referred to as sellers of spider webs. These were usually arrogant and bold young men.
My wife wanted to buy some cotton fabric. One person could buy only five meters. A shop assistant asked her if she wanted to buy ten meters. She nodded.
The guy asked his colleague to print a receipt for ten meters of cotton, a cowboy hat and a knife to open oysters. My wife lied - her husband already had a cowboy hat. So he replaced the hat with another unusable object, a metal iron rack.
                   THE KUSTARS AND THEIR CLIENTS
The most punishable of the vices was what the so-called kustar did. The kustars, or handicraftsmen, worked secretly in cellars, soldering, sewing and chiseling something.
There were two such people in our house: a father and a son.
The old man was a retired cutter. He spent all his savings to buy an old "Zinger" (Singer) sewing machine. He called himself an independent businessman and a rival of those working in fashion ateliers. He retailored old coats and unfashionable suits and sewed smart skirts and jumpers from
sundresses.
Neighbors knocking on his door used the password "client" when asked, "Who is this?"
No clients came to his son, who was an engineer of a utility service. He found his clients in the black market, selling music hits by Russian emigrant singers and American jazz bands, secretly recorded on X-ray tapes, still bearing the forms of whitish human bones. His secret laboratory was in a basement of some residential house.
                                             CARRIERS
Communism builders that stole at their factories to later make profits were called carriers. The most exotic carriers worked in the alcohol and meat industries.
Ivan was always saluted with applause when he appeared at family celebrations. He opened his modest bag to produce the Soviet Union`s assortment of vodka: a red-labeled bottle of Russian Vodka,  a green-labeled Moscow Vodka and Stolichnaya with a gray skyscraper on the label.
"Try it, I will not get poorer if you do," he encouraged his clients magnanimously.
Butcher Tikhon once got into an embarrassing situation. There were no carcasses at his factory for a few days, so he decided to take what could be stolen. He must have drunk too much, having nothing to do, and hid an udder in his pants. It was in a special bag attached to his belt.
When he was in a tram, his pants got unzipped accidentally. An indecent teat fell out of his fly, scaring the shocked passengers. When Tikhon saw his fly unzipped, he tried to cram the nipple back but the udder was too tight to yield.
Butchers always have a knife in their pocket. Tikhon cut the teat off and put in his pocket. He explained idiotically to the fainting women passengers that he had "more such things."
       THE VOICE OF AMERICA AND YARD SWEEPERS
The Communist Party made a huge mistake when it destroyed shared apartments, where there was almost no way to freely exchange views. Our khrushchovka kitchens immediately became territories of freethinking. The KGB decided to help the party by sponsoring yard sweepers.
My neighbor, who I fully trusted, replaced some gadgets and lamps in my old radio set. He told me my Voice of America programs could be heard in the stairwell.
What he said meant that KGB agents could learn what I was doing and stifle the radio signal. The neighbor helped me resolve the problem and I soon heard no interference but clear voices.
Unlike me, my radio neighbor was born in Kyiv. His father and grandfather grew old in one of the shared apartments in Kyiv`s downtown. The dynasties of yard sweepers lived and grew old nearby.
Even before the October Revolution men with brooms were paid to report to police about suspicious people in their house. In the Soviet Union, they were also made to spy, being afraid to be expelled from their flats.
The neighbor told me our yard sweeper was a nephew of a sweeper that had worked and lived in his father`s house.
                                   A LEAP TO NOWHERE
The Soviet lifestyle died out with its attributes: plain food, cheap but durable clothes, ascetic but strong shoes, and badly designed and less functional household appliances, which were heavier than their western counterparts but made of natural metal.
Our products were only afraid of moths and time. Today`s imported mass consumption goods make us allergic.
The Soviet Union`s deficits and the vices they caused disappeared. Post-Soviet consumers suffer from abundance in shops and poverty in their pockets. Banks think their compatriots are all swindlers and so rarely risk giving big loans. But traffic jams signal great changes in the post-Soviet land.
Only the khrushchovkas do not change. These gloomy, rusty and dilapidated houses cannot be restored. Having a weak economy, Ukraine has not saved enough money to build a shelter over Chornobyl`s [burned-out fourth reactor] unit yet.
It is an even more grandiose and impossible challenge for us to demolish the khrushchovkas and build new houses instead.
The khrushchovkas were designed as a jumping-off place for building Communism but instead became a social sarcophagus for millions of people.
PERSONAL COMMENTARY: By Serhiy Kharchenko
The Ukrainian Observer magazine #228The Willard Group, Kyiv, Ukraine, February 2007
------------------------------------------------------------------------------------------------
NOTE: Serhiy Kharchenko is a retired Ukrainian journalist who writes about  his experiences during the Communist era exclusively for The Ukrainian  Observer. His journalistic style adds a touch of humor and pathos that is  unique for someone who writes about a very dark period in Ukrainian history.
-----------------------------------------------------------------------------------------------
This news was monitored by the Action Ukraine Monitoring Service for the Action Ukraine Report (AUR), Morgan Williams, SigmaBleyzer, Editor.
If you see a spelling error on our site, select it and press Ctrl+Enter