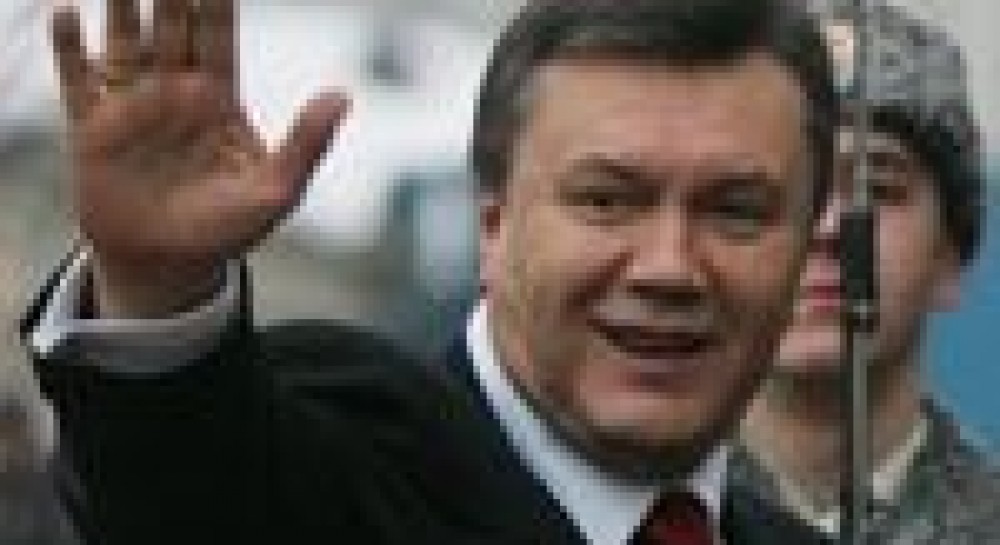 Ukraine president snipes at opponent, defends fleet move
10:57, 14 May 2010
5669
0
Ukrainian President Viktor Yanukovich said on Thursday he would not intervene in a criminal action against ex-prime minister Yulia Tymoshenko, and defended his decision to extend Russian navy`s stay in Ukraine...
Ukrainian President Viktor Yanukovich said on Thursday he would not intervene in a criminal action against ex-prime minister Yulia Tymoshenko, and defended his decision to extend the Russian navy`s stay in Ukraine, according to Reuters.
Yanukovich, speaking to foreign journalists, also shrugged off the threat from Russia`s South Stream gas project and said he was confident plans for modernising Ukraine`s gas pipeline system were economically competitive.
Yanukovich met journalists ahead of a visit to Ukraine next week by Russian President Dmitry Medvedev against a background of accusations by the pro-Tymoshenko opposition that he has sold out national interests since coming to power in late February.
They have focused their criticism on an April 21 agreement between Yanukovich and Medvedev in which the Ukrainian leader prolonged the lease of Russia`s Black Sea fleet in the port of Sevastopol until 2042 in exchange for cheaper gas.
Yanukovich on Thursday said his decision on the fleet had been taken "decisively and quickly" and had been based on hard financial necessity.
He said it had been the only way out of holding the state budget deficit down, as requested by the International Monetary Fund, while protecting pensioners and those on the minimal wage.
Tymoshenko, his old adversary, has seized on the fleet issue to re-invigorate the opposition and has accused Yanukovich of being Moscow`s puppet.
After being told by investigators on Wednesday that a 2004 case was being re-opened against her based on accusations of attempting to bribe Supreme Court judges, Tymoshenko accused Yanukovich of "open, undisguised repression" against her.
Yanukovich denied this on Thursday, saying he had had no foreknowledge of the case being re-opened. "The president can not interfere (in the legal procedure)," he said. He went on: "She likes to create a sensation. We have grown used to this extravagant woman."
Tymoshenko lost to Yanukovich in a bitterly-fought election for president in February and has refused to recognise him as legitimately elected, saying his camp had conducted electoral fraud.
Her opposition bloc has warned Yanukovich that they will hold protests during Medvedev`s visit if there are signs that he is about to further damage national interests by new agreements.
PRO-MOSCOW TILT
Yanukovich, who was denied the presidential post in 2005 after Tymoshenko and former president Viktor Yushchenko rallied street demonstrations against him in the "Orange Revolution", has sharply tilted policy towards Moscow since taking office.
He says, however, that the main priority of his foreign policy is to integrate his ex-Soviet country of 46 million people into the European mainstream, while improving relations with Ukraine`s powerful neighbour.
The government has said ahead of the Medvedev visit that only five routine agreements, apparently not touching sensitive areas of the relationship, will be signed.
It has said that no energy deals will be tied up during the visit and has played down any likely discussion of a surprise proposal by Russian Prime Minister Vladimir Putin for a merger between Russian gas giant Gazprom (GAZP.MM) and Ukraine`s state gas holding, Naftogaz.
Asked about Putin`s merger proposal, Yanukovich indicated that only Ukraine`s fully equal participation in such a venture could be envisaged. "Fifty-fifty -- that would be the only way," he said.
On the table there was still Ukraine`s proposal for Russian and the European Union to take part in modernisation of its gas pipelines, he said.
He said, anyway, that for an investment of $500-600 million Ukraine could increase its capacity for gas transit to Europe by 20-25 billion cubic metres.
He said the modernisation of the transit pipelines was an economically competitive project to the Russia`s South Stream project which Yanukovich described as "one of the means of pressure on Ukraine".
The South Stream project involves a 900-kilometre pipeline which would take gas to Europe, bypassing Ukraine.
If you see a spelling error on our site, select it and press Ctrl+Enter