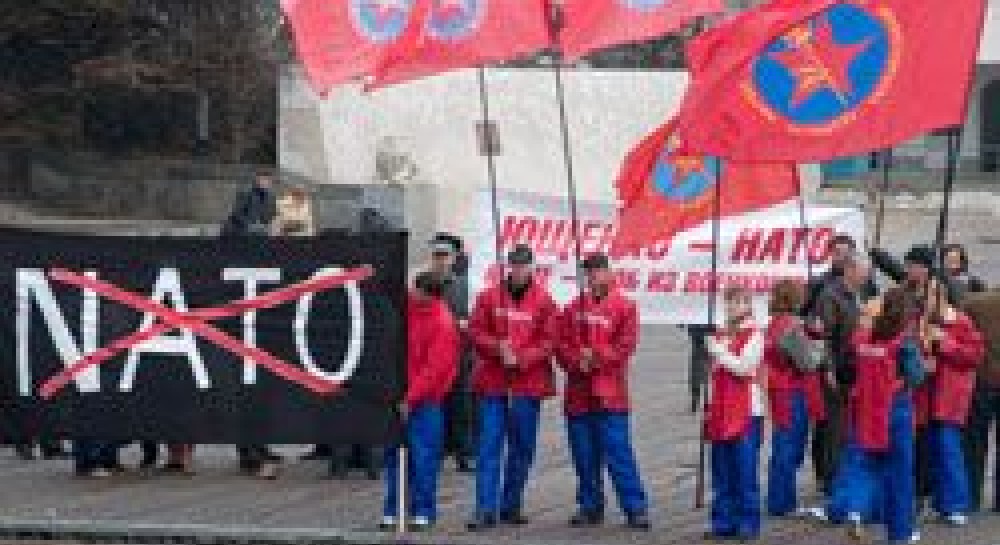 Ukraine needs to get the word out about NATO
10:48, 02 June 2006
6 min.
49257
In a dying Ukrainian village, a fragile grandmother turns to her visiting adult granddaughter a few weeks before last March`s parliamentary elections and asks: "Tell me child, what is NATO?"
In a dying Ukrainian village, a fragile grandmother turns to her visiting adult granddaughter a few weeks before last March`s parliamentary elections and asks: "Tell me child, what is NATO?" Surprised by the question, the young woman inquires, "why Grandmother?"
The elderly woman responds: "You live in the big city, dear. President [Viktor] Yushchenko says NATO is good, while former President [Leonid] ravchuk and his Ne Tak political party says it is bad. Tell me please, who is right?"
This testimonial, recounted on April 28 in Kyiv during the Third Assembly of the Ukraine-NATO Civic League, an umbrella organization for nearly 40 Ukrainian NGOs, underscores a serious problem on Ukraine`s road to NATO membership.
Put simply, more than 80 percent of Ukrainians remain in the dark about NATO, according to a recent survey conducted by the highly respected Democratic Initiatives Foundation.
To anyone who even casually follows the NATO scene in Ukraine, low public support for NATO, and Ukrainian membership in it, comes as no surprise. Earlier reliable surveys also reveal that few Ukrainians understand what NATO is and why it is worth joining.
Moreover, this low public support has dropped even further as a result of the fierce anti-NATO campaign launched by several political parties just months before the recent parliamentary elections. Significantly, the attack upon NATO was more vitriolic than any conducted by Soviet leaders, according to Ukrainian officials and NGO activists who participated in the recent Ukraine-NATO Civic League Assembly.
What is surprising, however, is that no systematic effort has been made by the Ukrainian government to harness the power of Ukrainian television and other media to dramatically increase Ukrainian understanding of and support for NATO prior to a possible future national referendum on the subject of Ukrainian membership in NATO. Nor is such an effort even on the horizon.
This situation is curious for several reasons. First, President Yushchenko`s commitment to NATO membership seems unquestionable. His intense desire to join the alliance is reflected in the country`s impressive defense reform strategy and his many bold declarations.
For example, in his speech at the "Common Vision for Common Neighborhood" summit in Vilnius on May 4, the president stressed that NATO is "one of the strategic targets of Ukraine`s state policy" and that "guaranteeing Europe`s enlargement is one of the most serious challenges of the day."
That same day, in an interview with Lithuanian television, Yushchenko asserted that there is "no greater challenge" today for the country`s political elite than NATO and EU membership. He also made a very important admission in Vilnius. He stated categorically that dramatic steps such as NATO membership require the overwhelming support of Ukrainian society.
The absence of a far-reaching information campaign is also very odd because reliable, detailed information about NATO and the advantages of membership is available in Ukraine. The information seminars and round tables conducted by NATO throughout the country in recent years, with the assistance of respected Ukrainian NGOs, have produced much useful literature and are an essential instrument for facilitating informed public debate here in Ukraine.
Ideally, this effort, which includes Euro-clubs and summer camps for members of the younger generation, should be expanded and intensified. However, as surveys show, the impact of these seminars and clubs on the wider population is still very limited. And, not surprisingly, these seminars often attract individuals who already support NATO membership for Ukraine. These are true believers seeking more detailed information, or simply the moral support of like-minded individuals.
Finally, the failure of the Ukrainian government to disseminate widely accurate information about NATO is curious because significant funding for this effort is available. The State Committee for TV and Radio Broadcasting, which is responsible for coordinating and disseminating information about NATO and Euro-integration issues, has been allocated more than Hr 5 million this year to implement special projects that promise to better inform citizens about European and Euro-Atlantic integration.
And yet, amazingly, one would have searched Ukrainian television in vain during the past year for a single information-commercial about NATO, which could help dispel negative stereotypes of the alliance and provide useful information.
Similarly, even in the country`s capital, a city where one passes countless meter-high glass-covered billboards every few steps, receptacles that displayed a wide variety of political posters during the recent pre-election campaign in addition to conventional advertising, incredibly, one will not find a single eye-catching, thought-provoking NATO image or information poster, neither in these glass-covered containers on streets, nor on public transport.
How can we better understand the government`s failure to launch a systematic, multi-media NATO information campaign that targets the masses in cities and villages throughout the country, and not just the sympathetic Ukrainian elite?
One Ukrainian NGO activist who spoke at the Third Assembly of the Ukraine-NATO League offered the following insight. He said this egregious official failure is not primarily about money. Rather, the problem lies with the "information politics" of the government. In his words, "It`s not that we can`t give the needed important information, we don`t want to. Today, there is insufficient political will."
Moreover, he stressed, "today society doesn`t know about NATO and therefore doesn`t support it," observing that information about NATO appears rarely, mostly on television news broadcasts, and only for a few seconds.
But the problem, unfortunately, runs much deeper than a lack of sufficient political will and is profoundly systemic. Today there is no clear understanding in the Ukrainian government about what needs to be done to effectively inform Ukraine`s masses about NATO and the advantages of membership, no description of short-term and strategic priorities, no breakdown of resources required, and no detailed action plan for implementing a far-reaching information campaign.
Instead, there is complacency, wishful thinking and a false sense of security within the Ukrainian government about NATO membership. There is also the apparent belief in the presidential administration that Ukrainians, left to their own devices, will gradually see the wisdom of joining NATO and that massive public support for Ukrainian membership will slowly but steadily grow over the next few years on its own.
This is a very unrealistic assumption that ignores several key facts: the recent decrease in Ukrainian public support for NATO, unwavering Russian opposition to Ukraine`s NATO push, and continuing public anti-NATO protests in Ukraine (for example, on May 9 in Sevastopol).
WHAT NEEDS TO BE DONE?
NATO seminars and round tables in Ukraine are very important, indeed, but the NATO discussion must move beyond the seminar room. It must catch the attention of millions of Ukrainians who instinctively turn away from any talk of NATO, individuals who are either indifferent or hostile to NATO and unlikely ever to attend a NATO information seminar.
The Ukrainian government can play a crucial role in disseminating widely reliable information and more accurate, nuanced images of NATO. The State Committee for TV and Radio Broadcasting can be a beacon of light and understanding for the vast majority of Ukrainians still in the dark about NATO.
It can let citizens near and far know that NATO membership is a big plus for the country: an important bridge to the European Union and a guarantee that a professional, didovshchina (brutal hazing)-free army will develop here in the foreseeable future. It can do this by supporting bold information projects which are homegrown, imaginative and even employ humor. The disarming power of humor should not be underestimated, nor its very special role in Ukrainian culture.
The State Committee for TV and Radio Broadcasting must not shy away from employing television, the most watched medium, which reaches even inquisitive grannies in distant villages. Its failure to do so, to date, is inexcusable. Importantly, Ukraine has 14 million pensioners, individuals more likely to vote in any future national referendum on NATO membership than many members of the country`s MTV generation.
Given the conspicuous, institutional incapacity of the Ukrainian government to implement important programs - the NATO information campaign is but one example - one thing is clear. President Yushchenko must be the catalyst for action in the government`s NATO information campaign.
All the good news in Ukraine`s NATO picture, and there is a great deal indeed, should not blind him to the daunting NATO information challenge at home. The president will need to play a very active role on the domestic front if significant progress is to be made during the next few years.
More specifically, he will need to act as a whip or enforcer and personally oversee the development of an action plan with specific and achievable benchmarks, appointing officials who will be held accountable for the implementation of this plan.
Unless this is done, the president should expect business as usual from the government`s entrenched, largely unresponsive bureaucracy. And in a few years time, he may be unpleasantly surprised to learn that overwhelming public support for NATO membership, an essential requirement by his own admission, has not miraculously materialized on its own.
-------------------------------------------------------------------------------------------------
Walter Parchomenko, a Ph.D. and Senior Fellow with the Atlantic Council of the United States, is currently based in Ukraine. The views expressed above are purely his own.
-------------------------------------------------------------------------------------------------
The article was monitored by The Action Ukraine Report (AUR) Monitoring Service, Morgan Williams, Editor.
If you see a spelling error on our site, select it and press Ctrl+Enter