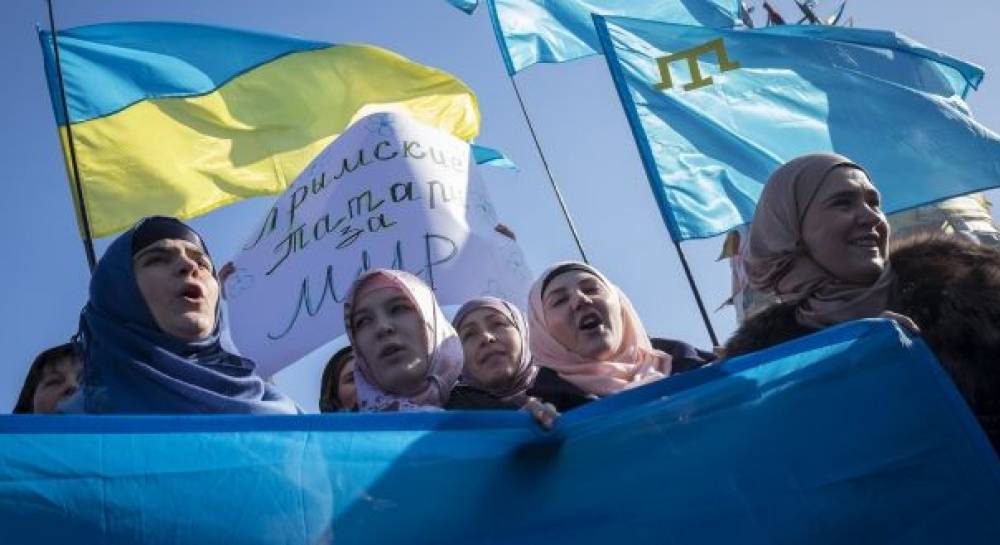 The Kremlin's Issue with Crimean Tatars
Russia's fierce fight for the rights of Russian-speaking citizens in Crimea, together with blatant neglecting of other inhabitants of the peninsula may turn into new sanctions because of oppression of indigenous people of autonomy - Crimean Tatars.
Even before pseudo-referendum on the peninsula, Ukraine's integrity supporters including Crimean Tatars, found themselves in opposition to pro-Russian illegitimate government of the autonomy. After the "fateful election" and immediate joining of Russian Federation, their rights became object of severe infringement.
Crimean Tatar activists were interrogated and threatened with criminal cases on made-up charges / REUTERS
All started with total and frequent document checks, as most of Crimean Tatars refused to become citizens of Russia. "In fact, they are forced to obtain Russian passports, otherwise they cannot get a job ... Those who refuse to accept passports are being sacked", - said Mustafa Cemilev, MP, one of the leaders of Crimean Tatars.
In addition, Crimean Tatar activists were interrogated and threatened with criminal cases on made-up charges. Crimean Tatar TV channel was dictated on what and how things should be shown, whom to invite, how to cover certain events.
A bit later, the attack of a so-called "Crimean self-defence" on the Majlis of Crimean Tatar people office building happened, in order to remove a Ukrainian flag.
And it moved from bad to worse. Cemilev himself, as well as Refat Chubarov, head of the Majlis of Crimean Tatar people, faced obstacles when entering Crimea. Like on April 19, when Mr.Chubarov's car was stopped by traffic police on the Simferopol - Bakhchisaray highway. After that, unknown masked gunmen searched the vehicle. "Neither masked armed men nor civilians, who supervised them, did not provide their names, positions, and reasons of committed iniquities, saying only that they represent a "self-defense" unit, - it was stated in the Majlis.
At the same time, an unknown person tried to hand "Notice on exclusion from entering Russian Federation" for a period of five years (until April 19, 2019) to Mustafa Cemilev when he was leaving Crimea. "This is an indicator to how "civilized" the country, we are dealing with, is" - he commented, adding that there are no "legal acts" that can ban him from coming to Crimea.
Fake "Care"
The most cynical in these situations is the fact that all the manifestations occurred on the background of "excessive concern" about the Crimea, and the population of autonomy expressed by the master of Kremlin, Vladimir Putin. At the end of April, President Putin signed a decree on political rehabilitation of Crimean Tatar people and other peoples suffered during Stalin's repressions. "We need no rehabilitation from Russia. Russia itself needs to be rehabilitated before us for crime committed in 1944, and undertake responsibilities to return and resettle Crimean Tatars on their land. Moreover, it should have been done in 1991, after Russian Federation emerged", - Crimeans regarded Putin's statement in such way. And their evaluation of President's actions sincerity is entirely correct.
Within a week after the above mentioned decree appeared, aggression against Crimean Tatars and their leaders has significantly increased. Since May 3, Crimean illegitimate government began to perform zealously someone's decision not to let Mustafa Cemilev in Crimea. As a result, several thousand unarmed Crimean Tatars came afoot to the border between mainland Ukraine and annexed Crimea to meet their leader. Sergey Aksenov, illegitimate Chairman of Council of Ministers of Crimea called these actions provocative and promised to punish organizers.
Searches and Threats
The "guilty" ones were appointed the very next day. Tatars, who participated in May 3 events, faced a wave of visits from state prosecutors and law enforcers for documents check and claims of illegal crosing of Russian border. Moreover, Natalia Poklonskaya, illegal Prosecutor of Crimea warned Majlis leader Refat Chubarov against "extremist activities" on the peninsula and threatened to ban ... Majlis. According to her, if "mentioned violations" are not stopped, the "Majlis of the Crimean Tatar people will be eliminated", while its "functioning in Russian Federation territory will be prohibited."
In the Majlis, however, no one is afraid of threats. According to Mustafa Cemilev, if the offices are closed, Majlis may turn to half-legal or illegal work. As for "extremist activity", seen by illegal authorities of Crimea in a free movement of Ukrainian citizens on its territory, Majlis leaders promise to do everything to make sure that Crimean Tatars' protests take place in "purely non-violent democratic manner". However, if occupants apply force, no one will vouch for Crimean Tatars' response.
Searches in Crimeans' homes continue till this day. According to Ali Khamzin, Majlis press-secretary, there is no information about detained or arrested but searches are massive. "They searched the house of our leader Mustafa Cemilev in his absence. Tonight massive searches of Crimean Tatars' houses took place under one indictment - suspicion in involvement in terrorism, "- he said on May 15 and added that at five in the morning a search has been held at his house as well.
Human Rights Violations
Such behavior of the occupant authorities have been noticed by international organizations. In a manner, assessment mission on the situation of human rights in Ukraine of the Organization for Security and Cooperation in Europe in the first place gathered information concerning events in Crimea in March-April of this year. Collected data give grounds to assert existence of significant violations. "Events in Ukraine have seriously affected situation of national minorities, and especially in Crimea. There Crimean Tatars are in a particularly dangerous situation ... " stated the mission.
UN is also concerned about situation with human rights in Crimea. Thus, according to the UN Secretary General for Human Rights Ivan Šimonović, special attention should be paid to the rights of Crimean Tatars as an indigenous people, and Ukrainians who have not received Russian citizenship. "It is important that commemoration of victims of forced deportation of Crimean Tatars took place in calm environment, so that people could enjoy their right to peaceful assembly. Everything must be done to keep this complex situation stable", - he said, and promised to continue to follow a situation in Crimea, despite the lack of physical access to autonomy.
Ukrainian Foreign Ministry as well tries to draw international attention to Russian aggression directed among other on Crimean Tatars. "There is a threat of violence and terror over the long-suffering Crimean Tatar people again. Kremlin and self-proclaimed Crimean government increase pressure on representatives of Crimean Tatar people and number of crimes against its members every day"- stated in the Ministry as it calls for support for Crimean Tatars, who appeared in a very difficult situation in annexed Crimea.
Genocide Memorial Day under Ban
However, illegitimate Crimean authorities, acting under Kremlin auspices seem to have decided to prohibit Crimean Tatars to commemorate their relatives on May 18, the 70th anniversary of Stalin's deportation of Crimean Tatar people. Since May 16, the head of illegitimate government of Crimea Sergey Aksenov issued an "order" to ban all mass events on the peninsula until June 6. Official explanation of the decision sounds simple: restrictions, they say, are introduced in connection with "the situation in the East of Ukraine". Crimeans also offered not to gather at rallies, but hold all events from 11 to 13 PM in the area of "Abdal" Muslim cemetery.
Thus, despite public statements of invaders on equal care for all residents of autonomy, Crimean Tatars continue to be harassed.
Moreover, on the eve of the 70th anniversary of Crimean Tatars deportation, Russian President Vladimir Putin allowed himself some derogatory statements against them. In this manner, on the one hand, he said that Russian authorities were not going to involve people living in Crimea in political controversy. On the other hand, he recalled that, besides Crimean Tatars, there are other indigenous peoples in Crimea. Master of Kremlin, for example, emphasized that Greeks came to the peninsula before Tatars.
Meanwhile, Majlis reports that no prohibitions can stop people if they want to rally. Thus, according to Mustafa Cemilev, this tragic date is always celebrated by Crimean Tatars together and usually 30-40 thousand people participate in public events. Therefore, in his opinion, on the 70th anniversary of the deportation people will gather no matter what. Considering the fact that illegitimate Crimean government has already pulled a huge number of police, riot police, metal detectors and paddies in Simferopol one cannot exclude provocations by occupants, as well as clashes with police.
May 18, 2014 Crimean Tatars commemorate the 70th anniversary since the beginning of Stalin's deportation, which is considered genocide by Crimeans. In 1944, during three days - from May 18 to 20 - Tatars were forcibly resettled in Uzbekistan, Kazakhstan and Tajikistan; small groups were sent to Mari ASSR, the Urals and Kostroma region. During this time more than 190,000 Crimeans (almost 50,000 families) have lost their homeland.
Officially, the authorities accused Crimean Tatars in collaboration with the Nazis during World War II and cooperation with pro-German formations. Even those Crimean Tatars, who served in Soviet Army, were later repressed by Stalin's regime. A significant number of people died during the first years of the deportation - both during the journey, and because of hunger and diseases in resettlement sites.
Tatiana Urbanskaya
Translated by Anastasiia Matviiets
If you see a spelling error on our site, select it and press Ctrl+Enter