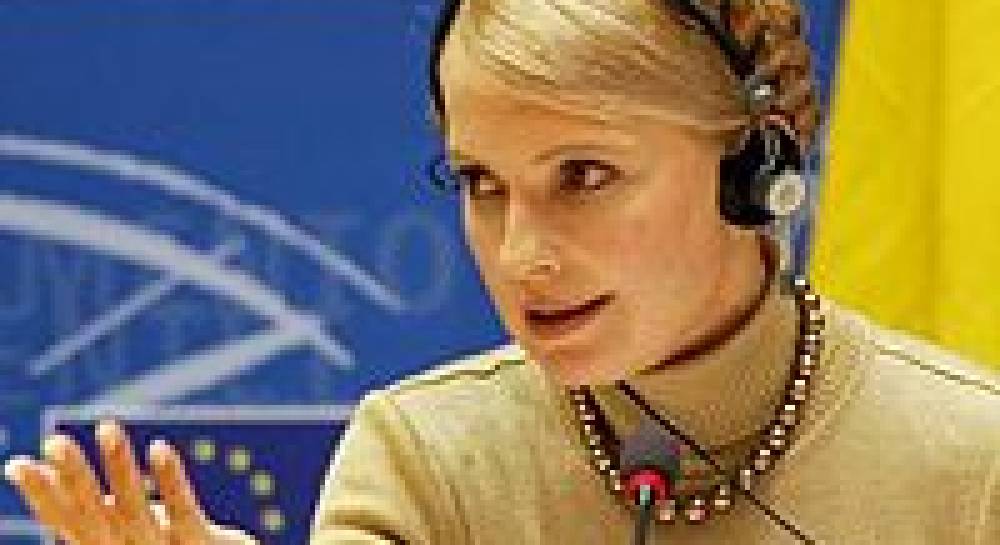 Successful start to Ukraine`s new government
The worst policy that Tymoshenko pursued in 2005 was reprivatization, but she seems to have learned that lesson as well, so far staying away from such a destabilizing policy. The new Ukrainian government has delivered a very impressive start...
After Ukraine`s extraordinary parliamentary elections on Sept. 30, it took no less than 2 1/2 months to form a government, and it was confirmed by the slightest of parliamentary margins. The new coalition government headed by Yulia Tymoshenko, however, has started ambitiously and auspiciously.
The Ukrainian economy is in good shape with a growth rate of 7.3 percent last year. The stock market surged by no less than 120 percent last year, and it has barely fallen during the January turmoil.
The new government`s biggest achievement is to make Ukraine ready to join the World Trade Organization at a February 5 meeting of the WTO General Council. One month after the parliament ratifies the accession, Ukraine will become a full-fledged member of the WTO. This could boost the country`s growth by one percentage point a year.
Ukraine`s WTO accession is a joint accomplishment of the four last governments. The very last obstacle was a European Union complaint about the country`s export tariffs, primarily on steel scrap. It has been relegated to the negotiations about a free-trade agreement with the EU, which are likely to be concluded before the end of 2008.
As elsewhere in the region, the greatest economic concern is the high and rising inflation, as consumer prices rose by 16.6 percent last year. As a consequence, experienced Finance Minister Viktor Pynzenyk immediately tightened the budget by balancing it. Fortunately, no price controls or export controls are being discussed. Tymoshenko says that she has learned not to do so from her tenure in 2005.
Tymoshenko`s most worrisome campaign promise was to compensate Ukrainians who lost their bank savings in the early 1990s because of hyperinflation and to do so in the course of two years. Fortunately, the government has capped this compensation program at $1.2 billion, which is less than one percent of gross domestic product, and it has distributed the money swiftly and equally.
As in all democratic post-communist countries, corruption was the biggest concern during the election campaign. Wisely, Tymoshenko made it her key theme. In order to substantiate her promises to combat corruption, she has moved quickly on three fronts.
The most obnoxious and conspicuous corruption was the previous government`s practice of selling value-added tax refunds for exporters at a "commission" of 20 percent to 30 percent. Tymoshenko has appointed a competent former economy minister, Valery Khoroshkovsky, to head the tax administration and to sort that problem out.
The customs problem, which Tymoshenko cleaned up in 2005, has again become one of her focal points of corruption, and she is set to repeat her prior success.
The most intricate corruption is persistently in gas trade, which Tymoshenko is very knowledgeable about from her old business. The intermediary RosUkrEnergo does not appear to have any reason to exist. Nor does its half-owned Ukrainian subsidiary, UkrGazEnergo. The apparent purpose of these two nontransparent joint ventures is to siphon off money to a number of prominent Russians and Ukrainians. The costs of this boondoggle are so large that the Ukrainian state oil and gas corporation, Naftogaz Ukrainy, is on the verge of bankruptcy.
We do not need to know the details to understand that something has to be done. Tymoshenko has moved to exclude these dysfunctional structures from Ukraine`s gas trade. Fortunately, Gazprom chairman and Russia`s president-in-waiting Dmitry Medvedev expresses the same view.
In the last two years, Ukraine has carried out minimal privatization. On Jan. 18, the new Ukrainian government published a list of 19 state-owned companies slated for privatization this year. The total value of the stakes to be sold is assessed at some $5 billion. Sensibly, the new government has abandoned its predecessor`s tactic of selling very small posts, instead offering large majority posts in three major companies, including Ukrtelecom, Ukraine`s old fixed-line monopoly.
Year after year, Ukraine has prolonged a moratorium on the sale of private agricultural land, benefiting only large businessmen who have bought up tens of thousands of hectares. The new government has let this moratorium lapse, and it is intent on swiftly adopting the necessary legislation to facilitate land trade.
President Viktor Yushchenko, Tymoshenko and parliamentary Speaker Arseniy Yatseniuk have signed an application for a Membership Action Plan to NATO in advance of the alliance`s summit in Bucharest in April. This was somewhat surprising because Tymoshenko has avoided the topic. Together with WTO membership and a free trade agreement with the EU, the MAP, which may or may not lead to NATO membership, defines Ukraine`s firm Western-oriented foreign policy.
The worst policy that Tymoshenko pursued in 2005 was reprivatization, but she seems to have learned that lesson as well, so far staying away from such a destabilizing policy.
The new Ukrainian government has delivered a very impressive start, and there is strong hope that much more is to come. One outcome of the last parliamentary elections was that the three dominant parties share a broad market economic consensus. All three are democratic, center-right parties that are financed by big businessmen, most of whom are quickly gentrifying because the market values of their corporations surge with transparency and orderliness.
Several of the biggest Ukrainian businessmen have voluntarily abandoned transfer pricing and started paying taxes in full. They are also devoting large resources to charitable donations, mainly in education and health. Yet, as a consequence of scandals with big businessmen-cum-ministers, they are almost absent from the new Cabinet.
Ukraine has all along suffered from constitutional disorder. Although the constitution has not changed, improved practices are apparent. The dominant opposition party, the Party of the Regions, has set up a shadow government. The two coalition partners, the Yulia Tymoshenko Bloc and Yushchenko`s Our Ukraine, have divided the Cabinet posts so that Tymoshenko controls all economic appointments while Our Ukraine controls foreign policy, security and culture. An orderly balance of power between the president and the prime minister seems to be emerging out of their persistent power struggle.
Obviously, one month is far too early to pass any judgment on a government, but its start has been truly impressive.
Ukraine sets an illustrative example for how Russia could have evolved if it had developed its democracy and market economy through competition among the oligarchs instead of abandoning democracy. Because of its more radical, market-based economic reforms in the 1990s, Russia still benefits from better legislation. Even so, property rights appear more secure in Ukraine now because of democracy`s greater transparency and checks and balances.
By Anders Aslund, The Moscow Times
Anders Aslund, a senior fellow of the Peterson Institute for International Economics, is the author of "Russia`s Capitalist Revolution: Why Market Reform Succeeded and Democracy Failed."
If you see a spelling error on our site, select it and press Ctrl+Enter