Sea of corruption
17:50, 23 June 2020
6 min.
1912
More than 200,000 Ukrainian seafarers roam the seas worldwide, generating up to a quarter of all forex earnings of Ukraine's labor migrants – every year sailors bring to Ukraine some UAH 80 billion, which is UAH 20 billion more than Kyiv's annual municipal budget. While part of this money fills the treasury, in the form of taxes and fees, the other one feeds handlers of shady corruption schemes.
The Hroshi [Money] investigative project decided to start untying the corruption knot from one of the country's major port cities of Mariupol. It was here, in one of the naval training centers, that journalists set up a meeting with a ship electrician who has been sailing across the globe for over eight years.
"The city hosts a seaport. First I got to the port, I liked the port, it was interesting… All those large ships… Then I engaged with small fleet, cabotage, and so it went… I met some people who advised that I take up this good job," says Oleksiy, the man who asked not to reveal his full name or show his face, worrying that he might lose his lucrative job over his testimony.
After all, according to him, he receives some $5,000 a month. "It all depends on the type of ships – dry cargo, container ships, tankers, vessels carrying chemicals – so wages could even be higher, up to $7,000," he says.
He claims part of the hard-earned money he must share with fleet officials. One of the main areas of extortion, Oleksiy says, is a profile exam run by the state qualification commission.
"It doesn't matter if you studied or not. You only pass the test if you pay," claims Oleksiy. Legislation says the exam commission is formed by the Inspectorate for the Certification of Seafarers, which, in turn, is subordinated to the Maritime Administration, colloquially known as MorAd.
This is the last link in the infrastructure ministry's pyramid. So the wrongdoings reported by seafarers are ultimately in the field of the ministry's responsibility.
"The system works in such a way that they'll pump money out of you anyway. Varying figures. In my case, it was $800 per exam if you're a ship officer. If you're an ordinary sailor, it's $500. Something like that," says Oleksiy.
Not only graduates of specialized educational facilities who haven't yet practiced on ships, but also each of the 200,000 experienced seafarers have to confirm their skills with money before the state qualification commission.
"According to standards of certification, the STCW Convention, every five years seafarers pass tests to extend their paperwork or in cases if they require a skills upgrade," says Viacheslav Kyslovskyi, vice president of the Ukrainian Naval Chamber and long-distance captain.
Besides the international convention, Ukraine has a set of unspoken rules, according to which every seafarer is obliged to pay their "due" to intermediaries ahead of the exam. The rules of the game are pretty simple: you pay – you successfully passed the exam. You don't pay – you go back and study, learning how… to pay.
Snapshot
"There were some principled people who didn't pay. I even know someone who didn't pay twice (you are allowed to take the exam three times), but eventually paid for the third time, and only then did he pass," says Oleksiy.
But who exactly is the recipient of these mandatory payments and how are they distributed?
Oleh Hryhorov, a former director of the Mariupol and Kherson branches of the Inspectorate for the Training and Certification of Seafarers and long-distance captain, knows firsthand how those shady schemes work. He spent more than five years in office – from 2013 to mid-2018.
The initial t schemes, says the insider, started not so long ago – only some four years back. Now the system of bribes works like a Swiss watch.
"Did intermediaries approach me? Yes, they did. They would say: 'Your work should be based on the principle – you work with the members of the commission to make sure that they do not confirm the level of skills, don't allow to pass the exam to those who haven't paid an intermediary. And the intermediary will be determined by that person from the business," Hryhorov says.
He is convinced that the intermediaries are closely connected not only with criminal businesses and the Inspectorate. They supposedly get assistance in building a corruption vertical from those who are supposed to tackle graft.
"The man representing the 'business' was named Dmytro. He lives in Dnipro. He directly and quite often referred to the names of certain law enforcement officers. One of those names was Denys Matkovsky, an officer with the SBU state reserve," says Oleh Hryhorov.
Journalists stopped short of claiming that the reserve officer of the Security Service, an adviser to former Deputy Minister of Infrastructure Lavreniuk, decided to violate law instead of protecting it, but Mr. Matkovsky's asset declaration is so eloquent that it cannot be ignored.
He has officially declared assets more than 10 times higher than his profits. According to official data alone, the security official keeps $150,000 in cash, while his wife has another $55,000. Meanwhile, the family's total income declared is UAH 22,000 per month.
Assuming that the security officer is indeed part of the scheme, the origins of this money can be simply explained.
"When I was in the Mykolaiv branch, these people approached me and said: 'Here, look, we offer the following terms: you will get $60 from each seafarer, another $60 we will give to the commission – to the chair and at least two members – these people will also receive $60. They said that $5 to $10 would be given to the inspection for legal support. And everything else will be sent to Kyiv'," says Oleh Hryhorov.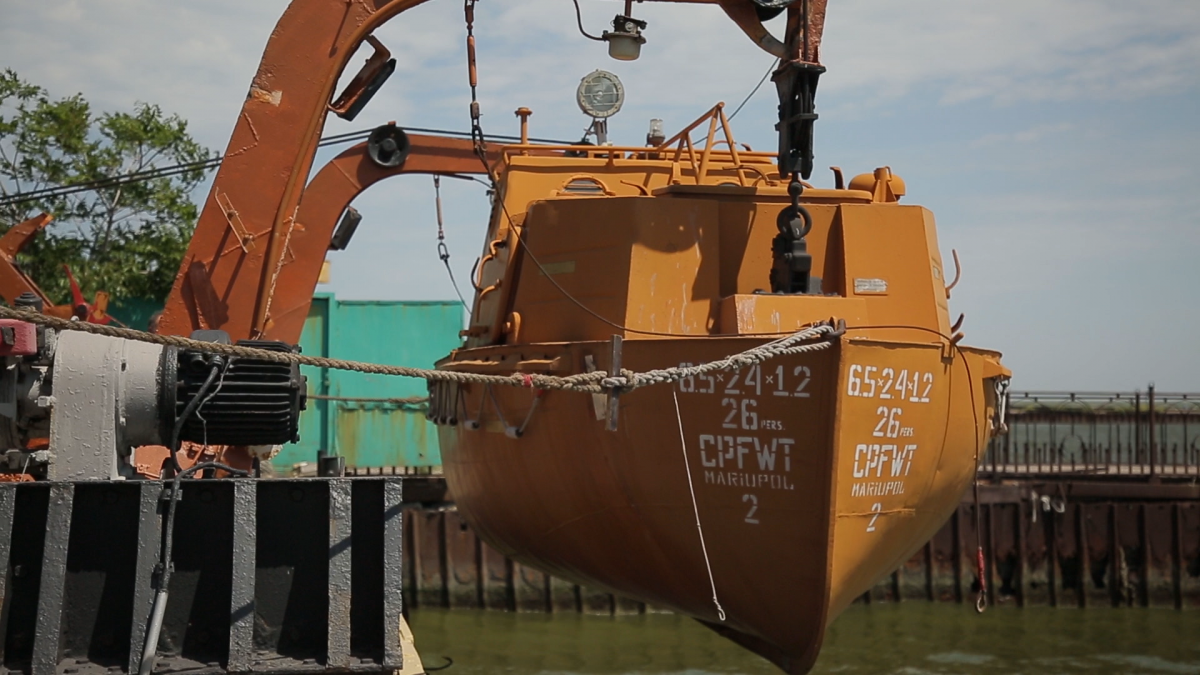 Snapshot
According to him, usually the black ledger cash is divided in half. One half is sent to local performers, and the other – to handlers from influential Kyiv offices who provide cover-up. But it's not only money for the qualifying exam that is sent to Kyiv.
To prove this, a journalist disguised himself as a seafarer and joined a private Viber chat involving sailors of all kinds. No one is hiding there that Ukrainians are forced to pay intermediaries not only for the exams, but also for the entire package of documents required for passing the state qualification commission. Sailors say that a full package of documents could cost some $4,000.
In general, judging by the communication in that chat, everything is bought and sold in their field. As a result: "… there are three motorists on board who passed their exams for money… For four months they can't learn to start a fire pump, they don't know maritime terminology… it's scary to leave them on duty alone at night shifts… They buy diplomas, get on the ship for a bribe, and then expose people to risk because of their unprofessionalism."
It is the state qualification commission that should prevent such ignoramuses from passing. But it does not seem to filter out unfit seafarers, as required by law. Instead, they target those who haven't paid for the exam or haven't purchased the "right" package of maritime documents from intermediaries.
For example, before passing the exam, seafarers must undergo training in a special training center. There, they refresh their basic knowledge and acquire invaluable practical skills to respond to emergencies. In fact, the training center's certificate must guarantee that, in the event of a critical ship malfunction or fire, the seafarer will be able to save lives of their colleagues and passengers.
"There are certified training centers, passing which will allow you to be hired by any shipowner. They meet all international maritime standards so they are fine everywhere. But when you receive their certificate and come to the Commission, they tell you that certificate doesn't fit so they tell you to go to a specific training center, with which they have established connections," says Oleksiy.
Usually, in these convenient centers, tuition fees are much higher than those offered by less convenient competitors. "I've had not one captain, not one senior mechanic since year-start. Although my captain's package costs UAH 15,000, while these centers charge UAH 70,000. Nobody comes to me. Because they can't pass the commission with my documents," says Ilya Makhno, director of the Kyiv Training Center.
But the problem is not only about the cost of services at a convenient training center, it's also about the fact that certificates can be easily purchased without applicants having to actually undergo critical training.
Besides the fake practical training, the All-inclusive package of services provided by intermediaries includes the renewal of a seafarer's certificate, health certificates, and a diploma confirmation called "endorsement".
To find more evidence, Hroshi approached one of such intermediaries. The journalist disguised as a sailor told the made up story over the phone, claiming he had a break from the job so he has old-type paperwork and endorsement received back in 2001 so he needs an update for the whole package of documents. And the intermediary agreed to help with a standard price tag of around $3,000.
And now let's count. The full package of documents and the exam will cost a seafarer from $3,000 to $8,000, depending on position and appetite or those hustlers. Given the fact that there are 200,000 sailors in Ukraine, the minimum annual turnover of the black market of seafarers' paperwork is over $120 million.
"The level of professionalism and knowledge ceased to play an important role. You just have to pay, while they don't care about your opinion and your skills," says Captain Oleh Semeniuk.
But is Minister of Infrastructure Vladyslav Kryklii, who was appointed almost a year ago, aware of these multimillion-dollar schemes?
In order to talk in detail about total corruption in the maritime sphere and to pass hand over the evidence, some of which journalist have published, the Hroshi host tried to arrange a personal meeting with the minister, called him up and send an inquiry... However, all attempts were in vain.
Unfortunately, such an approach to the problem on the part of the minister could have fatal consequences.
"Their own lives and those of passengers depend on professionalism of all crew members," Oleh Semeniuk emphasizes.
Also, Vice President of the Maritime Chamber of Ukraine Vyacheslav Kislovsky says sailors began to flee from Ukraine to seek assistance in other countries' administrations – to Romania, Bulgaria, Poland, Lithuania, and Latvia.
Snapshot
Finally, before the heart of Ukraine's maritime industry finally stops due to corruption and the country loses a quarter of foreign exchange earnings, journalists remind the minister of his promises and that on August 13, 2019, he was already briefed on "draconian" extortion targeting sailors. Vladislav Krykliy then assured that "Four to five people who will work in the Verkhovna Rada Committee on Infrastructure should be used as carrot and stick for the market."
One can only hope that Vladyslav Krykliy didn't confuse the terms because today the promised stick is only hitting active sailors, while the ministry seems to feed carrots to intermediaries, commission members, and officials with the Maritime Administration.
Oleksandr Sokolov
If you see a spelling error on our site, select it and press Ctrl+Enter