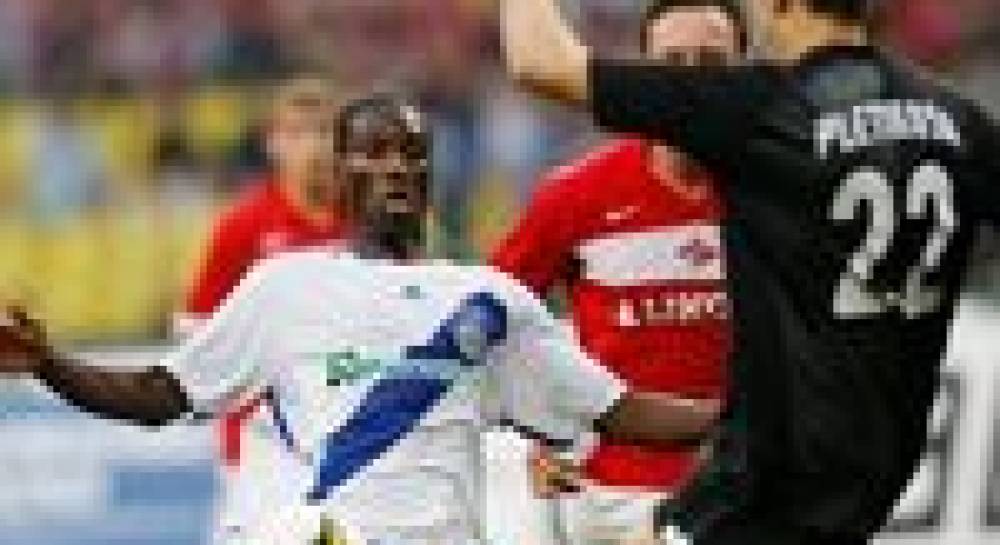 Kyiv make mincemeat of Spartak
17:29, 14 August 2008
3 min.
1120
Let`s step back from the details of the match for the moment and look at the bigger picture. Spartak - Dynamo is regarded as one of the classic derbies of world football, certainly among those old enough to remember the Soviet era...
It might seem strange to write an article mid-way through a Champions League third round qualifying tie. After all, you might expect things to still be in the balance, for both sides to have a chance of victory, and for journalists to put on hold their commentaries until the second leg.
Not so for Wednesday`s first leg in Moscow between Spartak and Dynamo Kyiv. The home supporters had anticipated a classic, and 45,000 fans (an impressive figure, even in a city of 12 million inhabitants - the average Russian Premier League attendance is somewhere around the 15,000 mark) turned out. Instead, they were treated to a demonstration of Dynamo`s incisive attacking play, and Spartak`s comical defending.
Let`s step back from the details of the match for the moment and look at the bigger picture. Spartak - Dynamo is regarded as one of the classic derbies of world football, certainly among those old enough to remember the Soviet era. Under Communism the two teams fostered a mythology, portraying themselves as the people`s teams, standing apart from the state-run teams such as CSKA (the Army) and Dinamo Moscow (the KGB).
The Moscow side were originally part of the trade union which represented catering workers and chefs, and even today their supporters refer to them as `myaso` (meat). Dynamo, meanwhile, portrayed themselves as representatives of Ukraine, a formerly independent nation drawn under the Russian yoke. In the Soviet era both teams were extraordinarily successful. Spartak won the Soviet Championship twelve times, Dynamo thirteen.
Under such circumstances the two sides became rivals. But in the post-Soviet period this rivalry has taken on a number of interesting connotations.
Firstly, fans of both sides remember in particular a Champions League encounter in 1994, in which Dynamo came from behind to snatch a 3-2 win in Kyiv, with a young Serhiy Rebrov - later to spend a much less distinguished time at Tottenham and West Ham - scored an 86th minute winner to send the Olympic Stadium into rapture. Spartak won the return leg 1-0, but the memory of Rebrov rolling about on the ground abides. Prior to Wednesday`s match pundits were billing the clash of 2008 as a potential repeat of these scenes.
Secondly, both sides are going through rather uncertain periods. Kyiv were all-conquering in the 1990s, but recently Shakhtar Donetsk and Dnipro Dnipropetrovsk have caught up with them in domestic competition, and they have singularly failed to repeat their success in Europe which saw them almost reach the 1999 final, knocked out by Bayern Munich in the semis.
They almost lost in the second qualifying round this year to Ireland`s Drogheda United.
Spartak meanwhile are suffering from internal turmoil. The management of the club, unpopular with Spartak fans, decided last week to go for crowd-pleasing decisions, and invited former midfielder Valery Karpin onto the board of directors. Meanwhile former captain Egor Titov, god incarnate to fans of the red and whites, was sold last week to Premier League side Khimki. Coach Stanislav Cherchesov has been held responsible by fans for the departure of their hero.
Thirdly, the political picture has somewhat changed since the Soviet period. While Russia arguably seems to be moving towards retrenchment (demonstrated perhaps most starkly by the recent violence in Georgia), Ukraine`s political affiliations are moving ever westward. The city of Kyiv, Muscovites note ruefully, was the centre of the demonstrations which eventually led to the Orange Revolution of 2004/04 and Ukraine`s move out of Russia`s sphere of influence.
In many ways this shift in the regional balance of powers was the reason why so many Russians came out to support Spartak on Wednesday. Judging by the chants bellowed out from the red and white parts of the Luzhniki stadium - various slanders against Ukrainians and `Forward Russia` being the favourites - this was an occasion for national pride, not just club football.
Pride, as it turned out, went back to Ukraine with Dynamo. Despite falling behind to an early Nikita Bazhenov goal, the Kyiv side pushed forward with purpose. A horrendous error by Spartak`s Brazilian midfielder Mozart gifted Ismail Bangura with an equaliser, before Artem Milevsky scored before half time to put Kyiv in front. Further goals from Bangura and Milevsky - the latter applauded by the few remaining Spartak fans who had bothered to stick around - put the tie beyond the Moscow side`s reach.
After a 4-1 defeat against your biggest rivals, in the Europe`s most illustrious club competition, changes are expected. Speaking after the match, newly ensconced director Karpin would not confirm if Cherchesov would keep his job. `We`ll see,` he said ominously. `I would just like to thank the fans who sat through this shameful match until the end.`
Like a harbinger of doom, Egor Titov also appeared in the stands to watch the game. `After such a game I really doubt if they`ll go through,` he said. `Spartak will have to score four goals. I`m sure Dynamo`s players won`t lose like that at home.`
Dynamo coach Yury Semin, a former Spartak player and coach of a number of Russian clubs as well as the national side, gloried in this away thrashing. `I travelled to Russia with a feeling of great responsibility. I work now in the Ukraine and I had to show what I had taught the players. Not only that, but recently Dynamo have been criticised a lot and people have doubted whether it would be possible to get such a result. I`m satisfied now that we have done something great in front of all those watching.`
Who knows, perhaps Spartak will mount a heroic comeback in Kyiv to snatch victory, and we will be talking about that game for the next 14 years. However, it`s probably fair to say that we will see Dynamo progress, and while Kyiv gorge themselves on top level European football, Spartak will have to settle for the far leaner diet of the UEFA Cup.
If you see a spelling error on our site, select it and press Ctrl+Enter