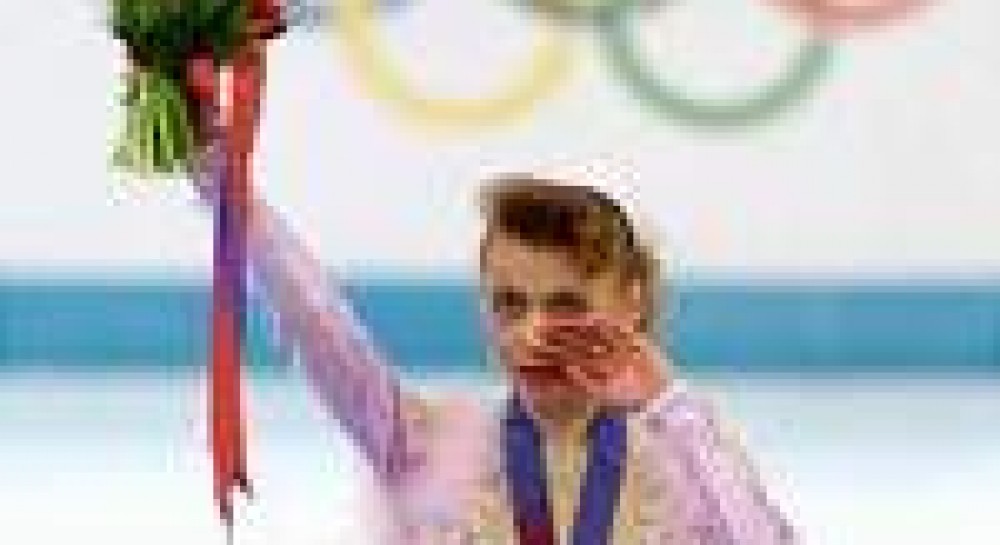 Regaining her balance
18:19, 17 February 2009
5 min.
2890
Fifteen years after the little girl in the pink dress won an Olympic gold medal, Baiul is trying to adhere to this lesson: Sometimes you have to hit the gas pedal, sometimes you have to step on the brakes...
She does not see the snowplow. It is sliding backward, each wheel rotation carrying it closer to her black Mercedes C300.
Oksana Baiul looks up a few moments before impact. She has two choices. She can jerk the steering wheel to the side. Or she can slam the brakes and hope they hold.
Inside this snow-encrusted Hackensack parking lot, on an 18-degree morning, Baiul chooses the second option. Ever the figure skater, her right foot goes to work, crushing the brake pedal.
The brakes cooperate. Her Mercedes stops on a dime. The plow stops too.
Baiul believes in fate. She believes that each person has a path, that there are fingers at work behind the scenes that keep us tethered to that path.
"But I really do believe that we`re able to change that with our own hands," says Baiul, steering her car through the streets near her Cliffside Park home. "Sometimes we can change the karma."
The former gold medalist has lived in Cliffside Park for the past 11 years, fashioning a post-Olympic life in a luxury high-rise that is close to both the city and the rink where she skates. She keeps an odd kinship with her past – at times embracing it, at times distancing herself from it. Can you blame her?
Her path resembles the arc of a grandfather clock`s pendulum. Follow the swings, as the little girl loses her mother, wins an Olympic gold medal, takes an alcohol-induced ride into a tree trunk, and then uses rehab as a way to climb her way back toward the top.
"I thank God every day for what I have," Baiul says. "But on the other hand, you really have to work hard. And nothing makes me [happier] than to be No. 1. It`s really sick. I really understand, it`s sickness, but this is who I am."
A figure skater from Massachusetts got clubbed in the leg. A different figure skater`s husband and bodyguard were responsible. Oksana Baiul showed up with a tragic story – Mom died, Dad was not around – but none of the tabloid-laced fanfare that greeted Nancy Kerrigan and Tonya Harding.
Wearing a pink dress, Baiul took the ice for the long program at the 1994 Winter Olympics in Lillehammer, Norway. She landed her first jump during her long program – a triple lutz – and then landed eight more jumps after that. It was a gold-medal performance, the high-water mark of her figure skating career.
"The times have not allowed her to fulfill a professional career that could have taken her further," said Dick Button, a longtime television figure skating analyst, "but as an amateur, she was a charming and delightful young sprite who won the Olympics and looked elegantly qualified in doing so."
It was after the Olympics that everything unraveled.
"At the time when I met her," said Baiul`s longtime stylist Johnny Lavoy, "that`s when she was in her party mode. It was all about party, party, party with her. … She did her work, but she was more concerned with having an adulthood."
"I never tasted alcohol before the Olympics," Baiul said. "I started doing it right after. Everything I do, I do it to the fullest. Everything I do, I do it to 150 percent. And the truth is, I couldn`t handle the pressure. Absolutely I had too much and it led up to a car crash."
Ah, the crash. It smudged her reputation, transforming her into a punch line for late-night talk show hosts like David Letterman. Baiul said Letterman joked that she did a triple axel into the trees.
The sad part was that everyone around her (Lavoy, Baiul`s coach Galina Zmievskaya, other skaters) were hesitant to tell this young skater how to live her life away from the ice.
"We didn`t feel like we were in a position to tell her what to do," said Nina Petrenko, Zmievskaya`s daughter. "We could only give her suggestions."
`I was so, so, so not happy`
 She likes movies.
On her bedroom dresser, she keeps a collection of VHS tapes. "LA Confidential." "The Godfather: Part II." "A Perfect Murder."
She enjoys going to the movies, too. A few weeks ago, she went to see "The Curious Case of Benjamin Button."
"I watched that movie and I can really honestly say that is my life," Baiul said.
The film`s plot description on imdb.com: Tells the story of Benjamin Button, a man who starts aging backwards with bizarre consequences.
"I won the gold medal," Baiul said. "You can`t go any higher than that at the age of 16. And then you have to learn to live your life."
A few years after she stopped drinking, Baiul stopped skating. It was an attempt to move forward, to leave the skates in the closet and her past in the shadows. Baiul was living with her fiancé, attempting to play the role of housewife. (They have since parted ways.) She put on weight and settled into a routine.
It left her miserable.
"I was unhappy," Baiul said. "I was so, so, so not happy. I can`t separate that from my life because this is my life. This is what I`ve been doing since 3 1/2 years old."
In searching for an escape hatch from the tedium, she turned to her roots. Back to the ice, back to her skates. Each morning she made the nine-mile drive from her Cliffside Park home to the Ice House in Hackensack.
In 2003, she returned to skating. Baiul is a regular at the Ice House, where employees say her presence keeps the Olympic dream alight for future medal hopefuls.
The arrangement is symbiotic. By staying trim, by keeping her body in figure-skating shape, Baiul can continue to make on-ice appearances. On-ice appearances help pay the bills.
"We did this show last summer," said Craig Maurizi, director of figure skating at the Ice House. "And I just remember watching her walk around before the show with curlers in her hair."
"In her bathrobe," said Christine Rutherford, an administrative assistant at the Ice House.
"Out in the lobby," Maurizi said.
A few years ago, Baiul showed up for an audition in Manhattan wearing fuzzy slippers and pajama bottoms. Frank D`Agostino didn`t know what to make of this young lady. He wasn`t sure if she was uninterested or just a touch eccentric.
Baiul did not want to be rushed. She leisurely picked up a script and began reading.
"A couple of us were around the table and our mouths just dropped open," D`Agostino said.
Baiul was a natural, said D`Agostino, the creator of "Cold as Ice" – a stage show that chronicles the fictional lives of six skaters. Baiul plays Maya, a Russian skater who loses both her parents in a car accident.
"We did the first read-through of the script," D`Agostino said. "And when we got to that point in the script, Oksana burst out crying."
Her own ice show
She grabs the picture frame off a shelf in her living room. The photo inside the frame is nearly 15 years old. It was taken during a post-Olympic tour.
"Everybody moved on," Baiul says.
One by one, Baiul points at the different figure skaters in the photo.
"Married," Baiul says. "Married. Married. Five kids. Three kids."
She giggles.
"This is not really funny," Baiul says, "but it is my life."
"Trust me," she says. "If somebody would tell me right after the Olympics 15 years later I would still be skating at the age of 31 and still … producing projects, trust me, right there, right then at the age of 16, 17, 18, I would say, `No, I will be married with 25 kids.` "
Instead she has this Cliffside Park apartment with a breathtaking view of the Hudson River. Her show, "Cold as Ice," is expected to open in Brooklyn this spring (D`Agostino hopes to bring it to Broadway after that). She filmed a pilot for a reality show, is working on her autobiography and donates her spare time and energy to Tikva, a charity that helps "the homeless, abandoned, and abused children of Odessa, Ukraine."
"There`s a lot of things that are coming her way again," D`Agostino said. "She`s going to be a huge, huge national figure again, a big, big, big star. The second time around, I think she`s got the level head and the ability to deal with it."
"I think balance is everything," Baiul said. "I really do balance my life with skating and work."
Fifteen years after the little girl in the pink dress won an Olympic gold medal, Baiul is trying to adhere to this lesson:
Sometimes you have to hit the gas pedal, sometimes you have to step on the brakes.
By Mike Kerwick
If you see a spelling error on our site, select it and press Ctrl+Enter